In this post, you'll find 27 best bowhunting gifts for bowhunters in 2023, sorted by price. You'll find hunting gift ideas for all types of bowhunters, at all budgets, for any skill level, and sorted by price.
This post contains Amazon and other affiliate links, which means I'll receive a commission if you purchase through my link, at no extra cost to you. Of course, you are not obligated to use my links, but it does help fund these posts in hopes of bringing more value to you!
Without further ado, here are 27 best gift ideas for bowhunters:
Best Bowhunting Gifts Under 25$
Bowhunting Storage Rack Gift
It's much more convenient and safe to have a place to hang a bow during the hunting season than digging it out of a case or setting it on the ground. This hanger can also be used to hang guns and gear. It's also great for allowing bows to dry after a day in wet weather.
Mobile Trail Camera SD Card Viewer
Every hunter with a game camera will appreciate a mobile SD card reader. Instead of wasting time by bringing the SD card back home to plug into a computer, you can just download photos and videos to your phone and put the SD card back in the camera. This saves a lot of unnecessary time dealing with SD Cards.
Additionally, they can be used to make sure game cameras are taking photos properly when you first set them up. I know I've been frustrated a number of times because my cameras were slightly off-angled.
This SD card viewer is compatible with almost all interfaces such as IOS, Mac, Android, and Windows. It is also compatible with all trail camera brands. Nothing else is needed, just plug and play.
Camo Neck Buff/Gaiter Facemask For Bowhunters
Buffs are versatile and can be worn in many different ways. They can be used as a facemask, sun protection, and insect protection. This versatile piece of clothing makes for one of the best gifts for bowhunters that seem to have everything.
The Best Deer Hunting Book Gifts For Bowhunters
All bowhunters are striving to become better hunters. Why not get a book so they can take their hunting to the next level? Check out my post: 10 Best Deer Hunting Books – Wisdom from the Top Big Buck Killing Gurus. I have read many books on deer hunting and these by far are the most impactful and would make a great gift. One of my absolute favorites is Bowhunting Pressured Whitetails by Chris and John Eberhart.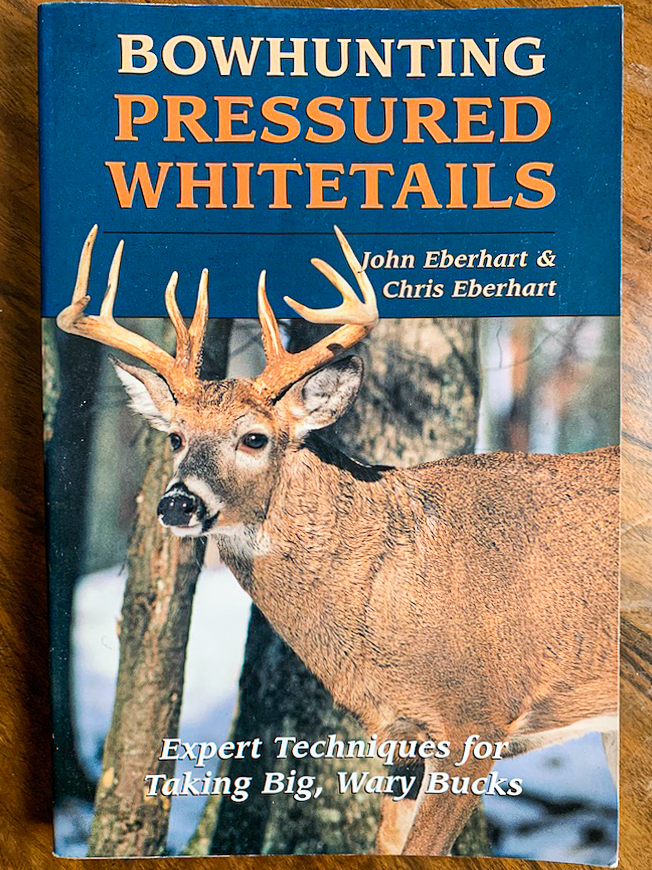 Lumenok Lighted Arrow Nock
Lumenoks are lighted arrow nocks, when an arrow is shot the nocks light up making them easily visible in low light. For this reason, Lumenoks are a bowhunter's best friend and are one of the bests bowhunting gifts. The ability to clearly see where the arrow connects with the animal is important for effective recovery decisions.
Having a lighted nock also makes finding the arrow after the shot much easier and can make the difference between a recovered and not recovered animal. Lumenoks make great gifts because you will be a hero to the hunter if the Lumenoks were the only reason a deer was able to be recovered after a sub-par shot.
Best Bowhunting Gifts Under 50$
Bow Stand & Arrow Holder Bowhunting Gift
Bow stands are a simple yet useful tool when practicing with a bow. Without a bow stand, you have to set your bow on the grass after you're done shooting in order to retrieve the arrows. A bow stand keeps your bow off the elements and relieves the shooter from having to bend down over and over again to pick up their bow.
It's a small thing but actually is annoying after shooting for a while. Especially if the grass is wet. The Bow Buddy comes with a ring to hold arrows which is another convenient feature. This way you don't have to stick the arrows in the dirt to get them to stick up.
OnX Hunt GPS App & GPS Chips
Getting permission to hunt new properties is one of the most challenging aspects of hunting, especially for new bowhunters. The OnX Hunt App helps to solve this time-consuming process. OnX does this by showing property boundary lines as well as the owners of the property.
This makes seeking and asking for permission in order to get new hunting grounds so much easier making it one of the best gifts for bowhunters. This phone application works across all platforms (apple, android…etc.). 
With the purchase of the OnX App, the desktop version is unlocked (aka WebMap) which is directly linked to your phone. This means that all points taken on the phone will automatically transfer to the desktop. This makes trip planning, scouting, and hunting more efficient. It's like an even better version of Google Earth.
You can also purchase OnX Chips for an already owned Garmin GPS. When doing so, you will also get free access to the OnX Hunt App.
Black Diamond Storm Headlamp
A headlamp is a great bowhunting gift because just about every type of bowhunting I can think of can benefit from a headlamp. They also come in handy in many ways other than hunting. Buying cheap headlamps is usually a waste of money, they usually break or stop working.
The Black Diamond Storm headlamp is a great headlamp for hunters because it is waterproof and dustproof, has red, green, and blue light settings, and takes replaceable AAA batteries. Replaceable batteries are great because you can use lithium batteries which are much more reliable in cold weather.
Best Bowhunting Gifts Under 100$ 
Muddy Treestand Harness Safety Gift For Bowhunters
Although most tree stands come with a harness, a specialized, quality harness can make all the difference for safety and comfort while treestand hunting. Show the hunter in your life you want them to come home safely!
The muddy harness is an excellent harness that I've been using for years. It's quiet, quick to put on, and is padded for comfort. These harnesses can be used for more than just sitting in a treestand. I use my Muddy treestand harness all the time in order to prepare treestands for the coming hunting season.
Best Adjustable Blind Chair Gift For Bowhunters
All bowhunters will appreciate a fully adjustable blind chair. The legs of this chair adjust which allows for a perfectly leveled sit. This is key in order for maximum comfort.
Additionally, the chair swivels 360º so that you can shoot out of any window of a blind easily at approaching game.  A comfortable chair is key for success because when you're comfortable you can last longer in the blind. There aren't any armrests so that drawing a bow is seamless.
Check Amazon's Price
Best Bowhunting Gifts Under 300$
Best Pop-Up Blind For Bowhunting
Not only are ground blinds quite affordable, but they also make a huge impact on a hunter's comfort level and success. Hunting blinds have adjustable shooting windows with removable mesh screening. It's very easy to put up and to take down. It's completely blacked-out on the inside, so hunters stay out of sight.
The best aspect of this blind is how easy it is to travel with because it comes in a carrying case similar to that of a lawn chair. Also, it's very easy to set up because it pops up in sections similar to an umbrella.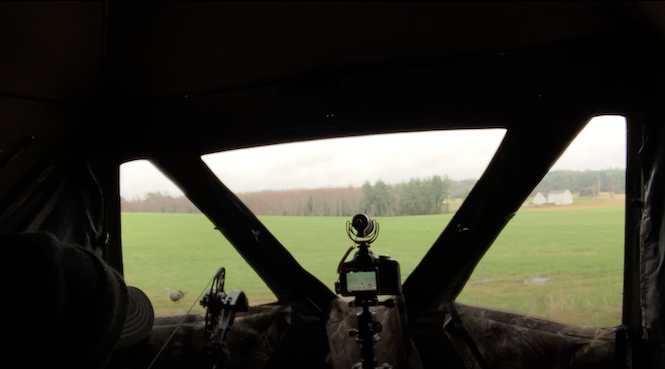 Best Arrow Fletching Jigs For Bowhunters
An arrow fletching jig is one of the best bowhunting gifts because it allows them to customize their arrow fletchings exactly how they want them. Hunters like to be able to build their arrows because it gives them more control depending on their hunting style.
One of the most common reasons to get a fletching jig is to add some helical (spin) to the fletching's and to add additional fletchings to increases accuracy with broadheads.
I own both the Bohning and Bitzenbirger and they both work well. The Bitzenbirger is more pricey because its metal but it can be worth it because it does not chafe when you scrape the glue off as plastic ones can. the You can control the steepness of the helical and has the option to evenly place 3 or 4 fletchings. There are different clamps you can buy for this jig so that you can get a left, right, or straight fletching offset.
Trophy Ridge Hotwire Bowhunting Sight
If you know someone who's looking for a sight for their bow this Trophy Ridge Hotwire is one of the best. It offers 2 fixed pins and a 3rd tool-less adjustable floating pin which is very helpful for practicing at long-ranges. The adjustability of this sight makes it versatile and a great bowhunting gift.
Sitka Windstopper Hand Muff Hunting Gift
Hand muffs are basically gold to bowhunters in frigid temperatures. When hands are cold it's hard to enjoy yourself or think about anything else until your hands become warm. Hand muffs are one of the best gifts for bowhunters for this reason. The Sitka hand muff uses Gore-Tex and Windstopper layers with Primaloft insulation to block wind and keep hands warm.
Another benefit is that you don't need to wear gloves when you have a hand muff. This means shooting there is less to get in the way of accurate shooting. I know my big gloves change my anchor points when shooting a bow. This forces me to re-sight in my bow which is really annoying. A hand muff would prevent this.
Heated Sweatshirt Gift For Bowhunters
It's heated, but it also charges your phone! With 12-hour battery life, this heated sweatshirt will help you stay warm with fewer layers. That means more mobility when bowhunting and extra heat when you need it. To top it off, this sweatshirt is washer and dryer safe. This highly versatile gift would be perfect for any bowhunter.
Check Amazon's Price
Best Archery Block Target For Bowhunters 
Believe me, there is no such thing as "too many block targets" when it comes to archery. You can set up spare targets at different ranges, heights, or even have them moving to increase your skill and accuracy. Additionally, they get worn out over time so the more targets you have the more you can spread out the wear.
Broadheads and field tips can both be used on this target. Each side of the target has different targets to shoot at to keep things interesting. The durability and versatility of this block target make it one of the best bowhunting gifts.
Best 3D Buck Target Gift For Bowhunters
Every bowhunter loves 3D targets. The GlenDel Full-Rut Buck is one of the most popular 3D targets and is one of the best gifts for deer hunters. One of the best aspects of this target is the replaceable core. The replaceable core is key because it enables the target to last so much longer.
This is a great target for bowhunters because it is nearly life-size and helps shooters visualize the moment of truth, as well as the location of the vitals. This target is suitable for longbows, compound bows, and even cross-bows!
Best Invisible Flash Trail Camera Bowhunting Gift
Tail cameras make some of the best gifts for bowhunters because hunters can literally never have enough.  They are incredibly helpful for scouting because they let hunters know what animals are in the area. Increasing the number of cameras means better odds of finding and learning about the animals in the area, leading to more bowhunting success.
Not all trail cameras are created equal, there are some features that make some trail cameras worth the money over others. This Browning trail camera offers great performance for the price.
Browning Spec Ops Elite HP4 Trail Camera
The Browning Spec Ops Elite HP4 is a top-notch trail camera with some great specs for the price. For example, it has a blazing fast 0.01 trigger speed, the 22 megapixels take high-quality photos, has a 90 ft detection range, uses invisible infrared flash, has a fast 0.6s recovery time, and can last an amazing 36 months on one set of lithium batteries.
The HP4 also takes 1080p Full HD video up to 60 fps. With the fast trigger speed and high frame rate of this camera, there should be virtually no blurring in photos with movement.
Scentlok OZ Active Odor Destroyer For Bowhunters
Scent killing products make awesome gifts for bowhunters because scent plays a huge role in hunter success for many types of hunting. Many animals like deer, elk, moose, and hogs have incredible senses of smell. You may not be able to completely eliminate your scent, but you can reduce it to such low levels that it does not feel as threatening to animals.
A good scent control regimen is key and it starts with clothing storage. The ScentLok OZ Active Odor Destroyer storage bag uses Ozone to kill odors caused by bacteria, fungus, and mold. This leaves clothes scent-free and ready to head into the woods.
Best Camera Arm Gift For Filming Bowhunting
Whether the hunter in your life is a professional videographer, or a hobbyist wanting to capture their hunting adventures, this camera arm is one of the best gifts for bowhunters looking for a quality camera arm. Fourth Arrow makes one of the best camera arms that is affordable yet durable. This arm will keep footage still for professional-looking video, keeping the hunting memories alive and well long after the season has ended.
Fourth Arrow has a great reputation in the outdoor industry for great camera arms that create leveled and smooth footage even on awkward trees. This camera arm features loads of adjustments and can handle up to 10 lbs. of camera gear weight. It's made of lightweight aluminum too so it won't weigh you down while hiking out to your stand.
Scentlok Savanna Aero Quickstrike Bowhunting Coverall
ScentLok uses carbon alloy technology (activated carbon) for maximum odor adsorption. Activated carbon naturally adsorbs human odor because it has a huge surface area.
When used properly Scent-Lok activated carbon clothing is very effective at reducing odor and preventing animals from smelling the hunter. This is a big advantage for hunters making it a great gift. The coverall is the best type of clothing from keeping scent from escaping the body.
Check Amazon's Price
Best Mobile Climbing Sticks Gifts For Bowhunters
Easily one of the best gifts for a mobile bowhunter. The best climbing sticks are lightweight, durable, interlocking, quiet, and easy to transport, pieces of ladder that will get you in the most awkward of trees safely.
There are also many 3rd party attachments that be added to these sticks for ultimate customization. This is a great gift for the serious mobile hunter in your life!
Vortex Impact Rangefinder Gift For Bowhunters
Rangefinders are helpful for almost any hunter and especially bowhunters. Bowhunters rely on rangefinders more than gun hunters because arrows drop fast when shot. For this reason, rangefinders are used to accurately give distances so bowhunters can make ethical shots while hunting and sight their bows in at known distances.
That being said, rangefinders are very handy for sighting in guns at known distances as well. The Vortex rangefinder is waterproof, shockproof, and offers a scan feature for continuous range readings. It also compensates for angles and offers some magnification for added accuracy. It also comes with a lifetime Vortex VIP warranty, meaning you can get it replaced for free if it breaks.
Best Binoculars To Gift Bowhunters
Binoculars are an essential tool for bowhunters, making them one of the best bowhunting gifts. Being able to effectively identify animals in different scenarios can be the difference between a successful or unsuccessful hunt.
However, not all binoculars are created equal which is why I tested 14 different binoculars from all price ranges to see which binoculars were the best value for the money. IMO the Athlon Midas binoculars were by far the best value. You can check out my video review below:
Best Bowhunting Gifts Under 500$
Best Compound Bowhunting Gift Package
Compound bows are a lot of fun to shoot and to hunt with. Additionally, in many states hunting with a bow allows hunters to extend their hunting seasons significantly. Compound bows are very accurate, and with a little practice, they are easy to learn how to shoot. You can get a fully loaded read-to-shoot high-quality compound bow bundle for a very reasonable price.
This Bear Archery Cruzer G2 is a great bow because it is highly adjustable and can grow with the hunter for a lifetime! The draw length is adjustable from 12" to 30". The draw weight can be adjusted from 5 lbs to 70 lbs. This bow can literally fit anybody and mold to any experience level. I've personally shot some Bear Archery bows and really like their smooth draw cycle.
Check Amazon's Price
Best Bowhunting Insulated Fleece Jacket Gift
Made for the whitetail hunter, the Sitka Fanatic Fleece jacket has all the things you love about fleece-like warmth, comfort, and silence. It also has specifically designed pockets for bowhunting tools. This jacket has a built-in muff, a high neck to cut the wind, and a built-in treestand harness leash port.
The Gore-Tex and Windstopper fabrics prevent wind from penetrating the fleece making it incredibly warm during cold hunts. Because Sitka specifically designs gear for whitetail hunters, this fleece is one of the best gifts for deer hunters. This will likely be the last fleece a whitetail hunter will ever need!
Best Insulated Bowhunting Bibs Gift
For ultimate warmth, the Fanatic Bibs are designed to be worn with the Fanatic Fleece Jacket. The bibs offer the same benefits as the jacket, but for the lower half. These two articles of clothing combined offer an incredible amount of warmth. Bibs have always been one of the best ways for hunters to stay warm when hunting. Big heavy pants keep the lower half warm. The benefit of the Fanatic Bibs they're designed to be quiet, have many pockets, and have Gore-Tex and Windstopper fabrics to really prevent the elements. This makes a great gift for the cold-weather hunter in your life.
Conclusion
Hopefully, you found these 27 best bowhunting gifts for bowhunters helpful. What are some of the best bowhunting gifts you think should be added? Let me know in the comments below.
More Hunting Gift Idea Articles:
Find Me On: