Here are 53 best gifts for outdoorsmen and outdoor lovers in 2023. You'll find thoughtful and unique gifts for every outdoorsman, sorted by price. Finding unique gifts for outdoorsmen can be hard, especially if you're not outdoorsy yourself. I make it easy for you in this post.
This gift guide includes gift ideas for all types of outdoorsmen. For example; gifts for fishermen, campers, hikers, hunters, backpackers, travelers…etc.
This post contains Amazon and other affiliate links, which means I'll receive a commission if you purchase through my link, at no extra cost to you. Of course, you are not obligated to use my links, but it does help fund these posts in hopes of bringing more value to you!
Best Gifts For Outdoorsmen Under 30$
1. Ball Compass
Carrying a directional compass and a ball compass is a good idea for both safety and functionality. Ball compasses are handy because after you determine your line of travel with a directional compass, you can stay on track by periodically peering down the ball compass that is pinned to your outerwear. This makes exploring much easier and more enjoyable.
2. Directional Compass
A compass is a useful tool for navigating while in the wilderness. It can be used to get out of the woods when lost, or to maintain a straight line. It is also an essential backup for any hunter using a GPS. A GPS can fail because it is electric and runs on battery. A compass requires no battery making it very reliable and thus a great gift for outdoorsmen.
3. Bushcraft 101: A Field Guide to the Art of Wilderness Survival
Learning about what it takes to live in the wild is intriguing to any outdoorsman. Additionally, this book is helpful if something unexpected happens while out exploring, like getting lost. The advice in this book will help outdoorsmen be more confident in less-than-ideal situations and to be prepared for those situations properly. This book has excellent reviews.
4. UCO Stormproof Matches
Every outdoorsman should have stormproof matches in their emergency kit. The UCO Stormproof Matches are incredible! They will maintain a flame even after being buried in sand or dunked in water. This match technology is invaluable when in a survival situation and the weather is not cooperating.
5. Lifestraws
These straws allow outdoorsmen to drink out of lakes, streams, ponds…etc. They will filter "the bad stuff" so you don't get sick. They are super lightweight and it beats carrying a heavy water bottle when walking long distances.
6. Electric Lighter
Electrical lighters are flameless and require no gas or butane, making them an excellent choice for getting a fire started in poor conditions. The Icfun Explorer is waterproof, windproof, and made from PVC and Zinc alloy for durability making it a unique gadget gift for outdoorsmen at a reasonable price. This makes a great gift for outdoorsmen who seem to have everything.

7. Space Blanket
Space blankets are handy in survival situations to block the elements and reflect heat back toward your body. They're incredibly small and lightweight inside their packaging so it is almost a no-brainer to throw some into a first aid kit.
8. Thermacell Portable Mosquito Repeller
There's nothing worse than being outdoors while there are a ton of bugs eating you alive. A Thermacell is a great gift for outdoorsmen because it makes being in the outdoors so much more enjoyable with protection from bugs.
The Thermacell uses highly effective mosquito repellent that is non-spray, non-DEET, no open flame; scent-free, and includes 12 hours of long-lasting refills.
9. The Meateater Fish And Game Cookbook
Level up an outdoorsmen's cooking skills with a wild game cookbook. This cookbook is written by the well-known writer, T.V. Host, hunter, and conservationist Steven Rinella. Within this book, Rinella offers cooking instructions and fantastic photography. Getting better at preparing wild-game meals is something every hunter can appreciate, making it one of the best gifts for outdoorsmen.
Rinella's Meateater cookbook is one of the most well-known cookbooks on the market today and has excellent ratings. If you know a hunter who wants to improve their wild-game eating experience, this is the book to get. (Who knows, maybe you'll selfishly benefit as well).
10. Instafire Waterproof Fire Starter
Waterproof fire starters in combination with stormproof matches make an amazing gift combination for an emergency kit. These items greatly improve the odds of getting a fire started in poor weather conditions. There is no need to take any chances in regards to getting a fire started in a survival situation.
11. Handwarmers
Handwarmers are like gold when temps dip low and your hands won't warm up, even with gloves on. They're also great for reducing glove bulkiness. For example, you can wear thinner gloves if you stuff a handwarmer in the glove. Since they work for 10-hours you'll get all-day warmth with just one pair.
12. Darn Tough Merino Wool Socks
Tired of getting holes in your socks? Darn Tough's famous guarantee – "if these socks wear, tear, or develop holes, Darn Tough will replace them no questions asked. No strings. No conditions." Every outdoorsman needs quality socks.
On top of their guarantee, the socks are a merino wool blend and are soft, comfortable, and breathable. Wool is moisture-wicking and anti-bacterial keeping feet warm when wet and socks from stinking after use. These socks are worth every penny.
13. Solar Charged Battery Bank
A solar charger is a great option for outdoorsmen who need to keep electronics charged after days without predictable electricity. This charger is durable, weatherproof, and can be conveniently folded up and stored when not in use. The Qi battery bank has excellent reviews offers a 100% money-back guarantee so you know they offer a quality power bank.
14. Camping Cookware Set
Cookware is a necessity for outdoorsmen who spend multiple days camping. This camping set is made of stainless steel and packs down very tight so it takes up very little room for the amount of cookware you get.
Best Gifts For Outdoorsmen Under 50$
15. Vehicle Dog Seat Cover
Outdoorsmen who are also dog lovers will enjoy a dog seat cover. Outdoor explorations with a dog almost always result in a dirty dog. A dog seat cover will keep the vehicle clean after outdoor adventures. It's waterproof so no mud or water will seep through, keeping the vehicle clean.
Another reason a dog seat cover is an excellent gift for outdoorsmen is because of its hammock-style design that covers the entire backseat with sidewalls. This keeps the dog safe and from falling down 'the crack'. It fits most trucks, SUVs, and cars. 

16. Estwing Sportsman's Axe (

One-Piece Forged)
A hatchet is a classic tool that all outdoorsmen will appreciate. These small tools can be used to cut, hammer, chop…etc making them very versatile. They are small, lightweight, handy, and reliable making them a great tool to keep in a vehicle.
17. Yeti Rambler Colster
The Yeti Rambler Colster is a drink insulator that is stainless steel for longevity and durability and is vacuum insulated in order to keep drinks cold for a much longer time. You will be shocked at how much longer your drink will remain cold.
With over 6500 reviews and a 5-star rating on Amazon, you know it works well. Every outdoorsman appreciates a cold and crisp drink, making it one of the best gifts for outdoorsmen. But who doesn't appreciate keeping their drink frosty?
Check Amazon's Price
18. Black Diamond Storm Headlamp
A headlamp is a great gift for outdoorsmen because so many outdoor activities can benefit from a headlamp. Just don't skimp on a good headlamp because cheap ones will break or stop working. The Black Diamond headlamps are great options and have great reviews.
The Black Diamond Storm headlamp is a great headlamp for outdoorsmen because it is waterproof and dustproof, has red, green, and blue light settings, and takes replaceable AAA batteries. I like replaceable batteries because I can buy lithium batteries which are much more reliable in cold weather.

19. Merino Wool Base-layers
Merino wool base-layers (top and bottom) are excellent gifts for outdoorsmen. Wool has a lot of great natural properties:
Great moisture-wicking abilities (dries fast)

Odor resistant

Temperature Regulation (warm when wet, breathable and cool when hot)

Quiet Fabric

Very Breathable

Wonderful Insulator
20. Rynoskin Clothing – Chemical Free Insect Protection
There are many reasons to not spray yourself with bug spray. The poison from the spray is able to penetrate your skin and is unhealthy. Additionally, if you're hunting game with a good sense of smell using bug spray is a great way to ruin a hunt.
Rynoskin works well to protect and prevent ticks but also helps with mosquitos and other insects. They are a chemical-free baselayer that helps prevent bugs from penetrating the tight mesh. Check out my full review here: Rynoskin Review: Insect and Tick Proof Clothing | Does it Work?
 21. 4-Ton Dual Gear Power Puller
This winch is the most basic winch for getting vehicles unstuck. This winch can also be anchored anywhere to pull yourself out of a ditch but has some limitations. For example, manual operation and cable length. That said, it's helpful in a pinch.
This winch would be a great gift for an outdoorsman who drives off the beaten path and has the possibility of getting stuck in mud or snow. This winch is relatively small making it a great option to keep in a vehicle for emergencies.

Best Gifts For Outdoorsmen Under 100$
22. Coleman Propane Portable Cooker
Coleman is a well-known outdoor camping gear and outdoor equipment company with a great reputation. This portable propane cooker is perfect for hunting in remote areas or camping. There's no better feeling than a warm meal or beverage after all day in cold weather. This is a very lightweight option compared to an entire stove.
Check Amazon's Price
23. Yeti Thermos
A thermos is a great gift for any outdoorsy person. Nothing lifts the spirits more than a warm beverage on those blustery cold days or a cold drink on those scorching days.
Yeti is well-known for being one of the best companies for keeping drinks at the desired temperatures. If the outdoorsman in your life doesn't have a thermos he'll be pleasantly surprised at this thoughtful gift.
24. Leatherman Multitool
It doesn't matter what type of outdoor activities someone does, all outdoorsmen can use a Leatherman multi-tool. This 14 in 1 tool is not only convenient but in my experience, it manages to reduce a lot of frustration when things go awry or fall apart. 
There have been many times where the leatherman has saved the day when doing repairs while camping or for fashioning a stream-spanning walking stick…etc. Their usefulness in unideal and unexpected situations makes them one of the best gifts for outdoorsmen.
These tools are made in the USA and has a 25-year warranty.
25. Yeti Rambler Coffee Cup
Yeti Rambler Coffee cups are popular gifts for outdoorsmen because they just work downright great. This stainless steel, vacuum insulated coffee mug will keep his drink at temperature (hot or cold) for a very long time. This is nice to have during hunting trips that require a lot of driving time. The bottom of the cup is skinnier so that it fits in cup holders nicely.
26. Waterproof Seat Cover For Vehicle 
Getting wet and dirty from being in the elements and then repeatedly getting in your vehicle will over time wear out seats. Seat covers keep a vehicle in good shape through the seasons. The outdoorsmen in your life will appreciate the extra vehicle protection.
27. Anker Portable Powerbank Battery Charger
This power bank has a very large charging capacity and can charge electronics many times over. You never know when a GPS or phone could die for an unexpected reason so it's nice to know you have a backup if batteries die. I love my Anker powerbank, this particular powerbank has a huge storage capacity and can charge an iPhone 8 up to nine times on a single charge! The Anker powerbank is one of the best gifts for outdoorsmen because it's an extra layer of security.
28. Knife With Replaceable Blade
A knife is one of the most important tools an outdoorsman can own. This knife is not like conventional knives, making it a unique gift for outdoorsmen. The blades can be swapped and replaced and are as sharp as surgical blades.
The Havalon knife is one of the best gifts for outdoorsmen because it offers these razor-sharp replaceable blades. It's difficult to sharpen a regular knife as sharp as the Havalon. Also, Re-sharpening a knife is time-consuming, with the Havalon you can easily replace the blade at any point.
Additionally, you can get different blades. There are regular blades, gut hooks, and saw blades for versatility and other hunting-related purposes.
29. Waterproof Duffle Bag
Waterproof duffle bags are very handy for outdoorsmen. Sometimes rain, snow, water, mud catches you off guard when traveling and it can get your gear wet if it's not covered properly. With a waterproof bag, there is no need to worry about the elements. Additionally, there is more flexibility while packing because you don't need to worry if your gear is exposed to the elements or not.

30. Coleman Propane Stove
The Coleman Propane Stove is one of the most useful tools for outdoorsmen and it will last forever! The stove is a step up from the portable cooker because of the ability to have two full burners. This allows hunters to cook larger meals, especially when cooking for more than just one person. It offers wind-blocking panels and the burner intensity is adjustable. The reviews are amazing, they are inexpensive for what you get, and it comes with a 3-year warranty.
31. Vehicle Battery Backup Jumper Cables
One of the worst feelings is when you are in the middle of nowhere and your car won't start. A battery backup is a great safety gift for outdoorsmen because it eliminates the issues that come from a dead battery.
A battery backup can turn a bad situation into an easy solution. The outdoorsman you are shopping for will be very grateful to have this gift in a situation like this. It also adds peace of mind when hunting in remote places.
A battery backup can turn a bad situation into an easy solution. The guy you are shopping for will be very grateful to have this gift in a situation like this.
32. Cold-Weather Sleeping Bag
Many outdoorsmen spend time tenting, and a quality sleeping bag is a necessity. Maybe the outdoorsman in your life already has a sleeping bag, but does he have a cold-weather sleeping bag? This mummy sleeping bag is rated down 0ºF to keep him warm in very cold conditions.
33. Colman Tent
A high-quality tent is a great gift for any outdoorsman looking to spend multiple days in an area and be confortable. Colman makes good quality gear, this tent would make a great gift for any outdoorsmen looking to do more tenting. This tent also has a lot of reviews and good ratings.
Best Gifts For Outdoorsmen Under 200$
34. Jetboil Flash Cooker – Camping & Backpacking Portable Stove
Jetboils are great because they boil water in under 100 seconds which is pretty incredible. They are super compact and useful tools when camping or backpacking because they are fast, lightweight, efficient, and give you a warm meal in remote areas, making the Jetboil one of the best gifts for outdoorsmen while he's in the remote wilderness.

35. Costa Del Mar Sunglasses Designed For Outdoorsmen
Costa Del Mar or "Costas" are very well-known sunglasses in the outdoor industry, especially among those who spend a lot of time on the water where the ultimate eye protection is necessary. They use technology to eliminate reflection and filter out the harshest colors so that your eyes are protected under the harshest of sun. They also offer a variety of lens colors so you can customize your glasses to your specific outdoor use.
36. Boot Dryer By Peet with Sanitizer and Deodorizer 
Boot dryers are awesome. Period. This definitely one of the top gifts for outdoorsmen as every outdoorsy person needs and wants dry boots. There is nothing more uncomfortable than damp or wet boots the next day. Damp or wet boots will also speed up getting frozen toes or blisters.
Instead, just place boots on this dryer after a day of use and they'll be toasty and dry for the next day. Boot dryers also kill odors and bacteria for even more scent control. This Peet boot dryer can dry every type of boot, even chest waders when folded down.
37. DeWalt Battery Powered Chainsaw
During blizzards or just windy days, trees can blow down in the middle of the road when off-roading. With a chainsaw, you can easily remove any trees blocking your path back to the main road. These chainsaws are also handy to have at the house to remove trees. This chainsaw isn't big, it has a 12″ blade, making it very portable and storable.
Check Amazon's Price
38. 4-Wheel Wheel Barrow (That Dumps!)
These 4-wheeled wheel barrows are great gifts for outdoorsmen because they are very strong and stable, making them very easy to work with compared to other wheel barrows. This wheel barrow also has a hinge so that it can dump objects or debris easily.
39. Garage Heater
This Dyna-Glo heater does an amazing job at heating up garages. These are great gifts for outdoorsmen because they're often working on gear or vehicles in the garage and when it gets cold it's not as enjoyable. This puts off 80,000 BTU's which is a lot of heat.
40. L.L. Bean Hunting Boot (16-inch)
Originally released in 1912, this is the original hunting boot and is still handmade in Maine. These boots offer a moccasin-like design, you can truly be intimate with the environment underfoot in order to be as quiet as possible. The leather wrap-molds to your leg to ensure a solid fit. These boots are time-proven and very comfortable making them one of the best gifts for outdoorsmen.
This boot is waterproof and a little more breathable than rubber due to the breathability of the leather, this is a great boot for all early/mid-season outdoor activities. I would suggest getting this 16" tall boot for hunters because it will allow outdoorsmen to cross shallow streams and creeks without going over the boot. It will also keep dew from tall grasses from soaking the legs.
L.L. Bean has always offered a 100% satisfaction guarantee on all their products.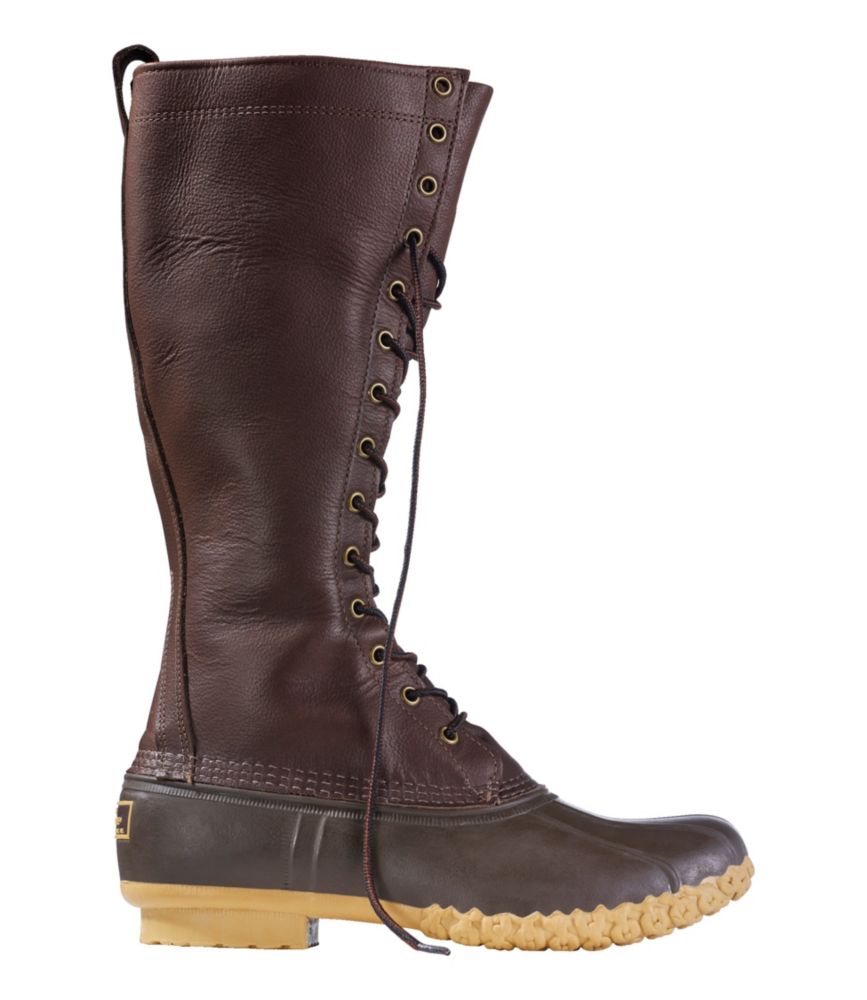 Best Gifts For Outdoorsmen Under 300$
41. Lined L.L. Bean Boot (10-Inch)
This boot is similar to the boot above, except that they're shorter and provide extra insulation for the cold. These boots are perfect for outdoor activities during colder weather. L.L. Bean has always offered a 100% satisfaction guarantee on all their products.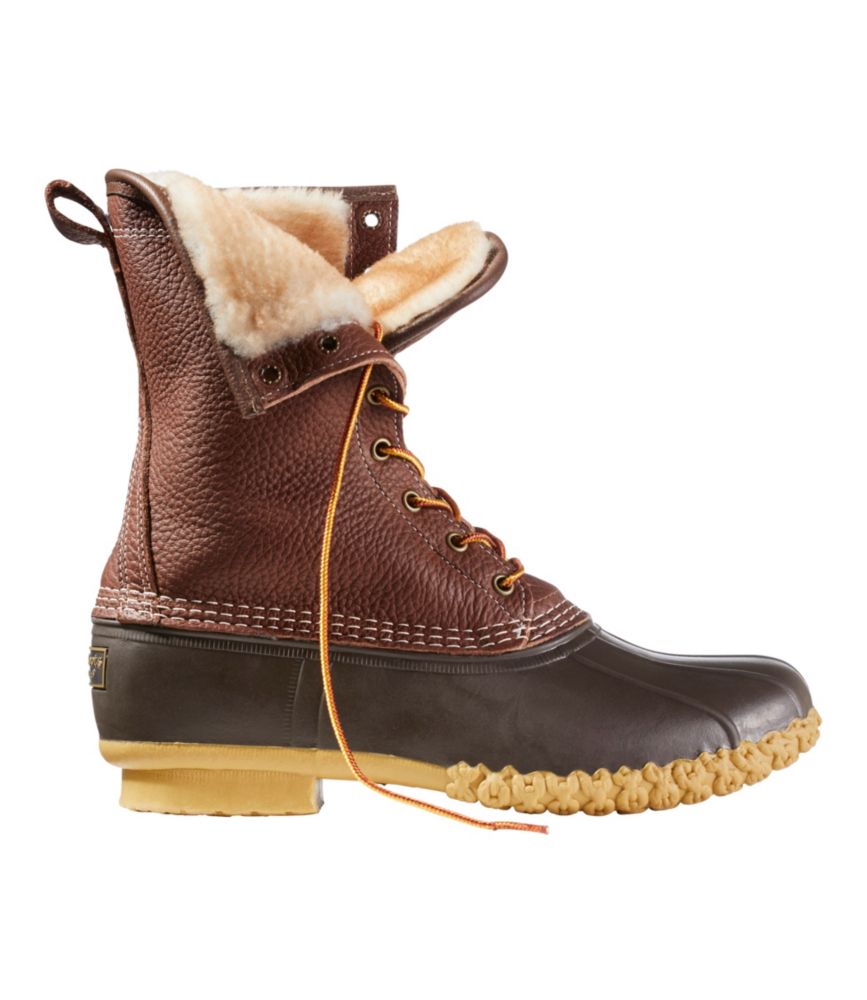 42. Yeti Hopper Flip 18 Cooler
This cooler is perfect for day trips to keep lunches and drinks cold and fresh while hunting. This cooler offers a waterproof, mildew, and tear-resistant exterior and the remarkable ability to stay cold as you'd expect from Yeti. It is important for outdoorsmen to have gear that stands up to the elements, and this cooler does just that.
47. Garmin GPS – GPSMAP 64SX
This is a high-quality GPS for the price. It has all the basic features one would need to get to and from destinations as efficiently as possible. My personal favorite part of this GPS is that the arrow points in the direction the user is facing (3-axis electronic compass). This option is lacking in some of the more basic GPS's. The software for this GPS is very similar to the Garmin InReach (below).
43. Athlon Midas Binoculars (Tested Best Value Binoculars)
Binoculars are a staple for all outdoorsmen. Whether you're looking to buy for a hunter, wildlife watcher, or for camping…etc. binoculars are a handy tool.
I tested 14 different binoculars from all price ranges to see which binoculars were the best value for the money. In my opinion, the Athlon Midas binoculars were by far the best value. You can check out my video review below:

Best Gifts For Outdoorsmen Under 700$
44. Yeti Tundra Haul Cooler
This is a Yeti product that offers more space and would make a great gift for an outdoorsman. The Tundra Haul cooler has wheels making it much easier to transport than traditional coolers. They make great coolers for outdoorsmen going on long trips where keeping food and drinks cold without electricity for long periods of time is essential.
45. Yeti Tundra 125 Cooler
The Yeti 125 cooler is one of the best hunting gifts for outdoorsmen for the same reasons as the cooler above. That said, this cooler offers more space for storing food and drinks for long trips or to keep wild-game cold. This cooler has thick 3-inch insulation in order to keep things cool for a long time as you'd expect from Yeti. In addition, this cooler is certified 'bear-resistant' meaning that it is extremely durable and can stand up to the toughest of trips.

46. GoPro Hero 10 Black
The new GoPro's are fantastic for capturing outdoor trips on film. They are one of the best gifts for outdoorsmen looking to get into filming. The new internal computerized gimbal-like stabilization makes the footage look buttery smooth even with excessive movement. Not only do they have great stabilization but they also have 5K+ video, slow motion, and much more. The GoPro Hero 10 black has 5.2k video, 20 MP photos, a FAST brand new processor (finally), and also has excellent stabilization.
Best Gifts For Outdoorsmen Under 1000$
48. Garmin In-Reach GPS (Texting Without Cell Service & S.O.S.)
The Garmin in-reach is a great GPS choice for outdoorsmen that spend time in remote settings. The main benefits of this GPS over others is that it offers an emergency SOS feature and texting without cell service! You heard that right, the InReach uses satellites to send and receive messages instead of cell towers.
Another great feature of this GPS is that it comes with a pre-downloaded topo map of the U.S. For this reason, the map can also be used without service. The off-grid capabilities of the Garmin InReach are unmatched for the price. The gift of safety and peace of mind is priceless.
49. 4-Season Canvas Bell Tent (Wind/Water/Fire Proof)
Canvas tents are the next step up from conventional tents. These tents can be used in all 4-seasons, including cold, snowy winter days. The benefits of the canvas are that it is wind/waterproof and fire/mildew resistant. These tents have a stovepipe hole so that you can add a wood stove to stay warm on the coldest days. These tents are great for outdoorsmen who would enjoy more comfort on remote trips.

50. Canon EOS Rebel T8i Camera
Many outdoorsmen like to document the trips they go on to share them with others. This is one of the best value cameras for beginners and when paired with a good lens it takes professional-quality photos.
The one benefit of DSLRs and mirrorless cameras is that you can achieve a much more cinematic, customized, and professional look than with other cameras. They also have the ability to be much better in low-light situations than camcorders (with the right lens).

Best Gifts For Outdoorsmen 1500$+
51. Jackery Explorer 1000 Portable Power Station With Solar Panels
If you know an outdoorsman who has a remote camp that does not have electricity or looking for an alternative/backup to a generator, these Jackery portable power stations are great. They are long-lasting rechargeable lithium batteries with many outlets and plugs to recharge anything you might need.
They can be recharged via a wall outlet, car outlet, or using solar power making them very versatile for getting recharged. They're great for remote trips for keeping essential gear charged, especially when there's no electricity.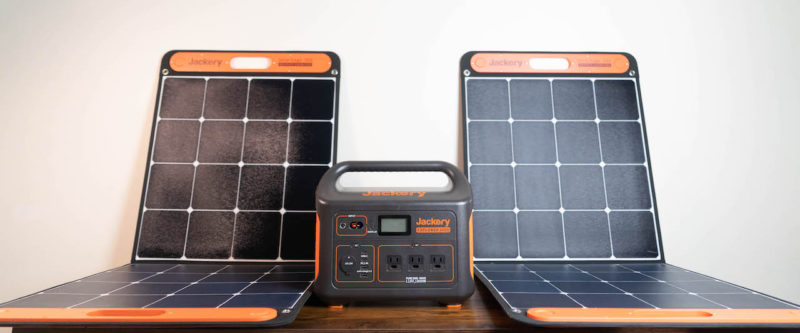 52. Portable Gas-Powered Winch (Honda GHX-50 Engine)
All outdoorsmen would appreciate this winch as a gift. The benefit of this winch is that it is mobile, so no matter how you get stuck you can pull yourself out by positioning it in a way that makes the most sense. You can anchor it to a tree and pull your vehicle out of a ditch with no issues.
Additionally, it is great for pulling fallen trees out of the road, pulling other people out of ditches, pulling moose out of the woods…etc. This winch does it all and with minimal effort on your part because it's gas-powered. It's expensive but worth the money for safety and handiness.
53. Sony Alpha 7 IV Full-frame Mirrorless Camera
If the outdoorsman in your life is looking to capture professional photos and take filming to the next level this Sony mirrorless camera is an excellent choice for both photo and film. You might like my blog post: How To Choose The Best Video Cameras For Hunting | Filming Your Hunt.

Conclusion
I hope you've found some great gifts for the outdoorsman in your life. If you still haven't found what you're looking for and want something a little more specialized/specific you might like my hunting gift idea post liked below:
More Hunting Gift Idea Articles:
Find Me On: