Here are 17 best hunting gifts for her in 2023, making it easy to find the perfect hunting gift (even for non-hunters). You'll find hunting gift ideas for her at all budgets and for any skill level.
Without further ado, here are 17 best hunting gifts for her:
This post contains Amazon and other affiliate links, which means I'll receive a commission if you purchase through my link, at no extra cost to you. Of course, you are not obligated to use my links, but it does help fund these posts in hopes of bringing more value to you!
Cookbook – Buck, Buck Moose
This is a cookbook by Hank Shaw that is specifically for cooking four-legged antlered animals. This cookbook is one of the best gifts for her if she's looking to level up her wild game cooking skills.
The Meateater Fish and Game Cookbook
This is another great hunting cookbook by the well-known hunter, Steven Rinella, which offers cooking instructions and fantastic photography. Getting better at preparing wild-game meals is something every hunter can appreciate, making it one of the best gifts for her (who knows, maybe you'll selfishly benefit as well).
Instant Pot Gift For Hunters Who Cook
Let's be honest, instant pots are basically the ultimate gift as long as the recipient likes eating. The instant pot can cook fantastic meals and cook them quickly. They're especially useful for hunters because they are great at tenderizing tougher meat. Instant pots are also ideal for wild game stews.
Darn Tough Merino Wool Socks
Tire of getting holes in your socks? Darn Tough's famous guarantee – "if these socks wear, tear, or develop holes, Darn Tough will replace them no questions asked. No strings. No conditions." Every hunter needs quality socks. Because these socks are made from merino wool they are soft, moisture-wicking, anti-bacterial, durable, comfortable, and breathable.
Rynoskin Clothing – Chemical-Free Insect Protection
Rynoskin is chemical-free tight mesh clothing that protects against ticks, mosquitos, and other insects. Bugs have a hard time penetrating the tight mesh which makes being outdoors more enjoyable. Check out my full review here: Rynoskin Review: Insect and Tick Proof Clothing | Does it Work?

Sitka Windstopper Hand Muff Hunting Gift
Hand muffs are basically gold to hunters in frigid temperatures. When hands are cold it's hard to enjoy yourself or think about anything else until your hands become warm. Hand muffs are one of the best gifts for her for this reason. The Sitka hand muff uses Gore-Tex and Windstopper layers with Primaloft insulation to block wind and keep her hands warm.
Sitka Gear Women's Fanatic Insulated Hunting Fleece Jacket
The Sitka Fanatic Fleece jacket has all the things you love about fleece-like warmth, comfort, and silence. It also has specifically designed pockets for hunting tools. This jacket has a built-in muff, a high neck to cut the wind, and a built-in treestand harness leash port. The Gore-Tex and Windstopper fabrics prevent wind from penetrating the fleece making it incredibly warm during cold hunts.
Sitka Gear Women's Fanatic Insulated Bibs
For ultimate warmth, the Fanatic Bibs are designed to be worn with the Fanatic Fleece Jacket. The bibs offer the same benefits as the jacket, but for the lower half. The benefit of the Fanatic Bibs is they're designed to be quiet, have many pockets, and have Gore-Tex and Windstopper fabrics to really prevent the elements. This makes a great gift for her if she hunts in cold-weather.
Heated Sweatshirt Hunting Gift For Her
With 12-hour battery life, this heated sweatshirt will help you stay warm with fewer layers. That means more mobility and extra heat when you need it. To top it off, this sweatshirt is washer and dryer safe. This gift would be perfect for her if she hunts in a cold temperatures.
Vehicle Dog Seat Cover Gift For Hunting Dog Owners
Dog seat covers make excellent gifts for anyone who has a hunting dog. No matter what dogs are getting messy after a hunting trip. Hunting and training with a dog will usually result in a wet, muddy, brushy, and stinky pup. Seat covers keep the dog safe and keep the vehicle clean, especially after hunting trips.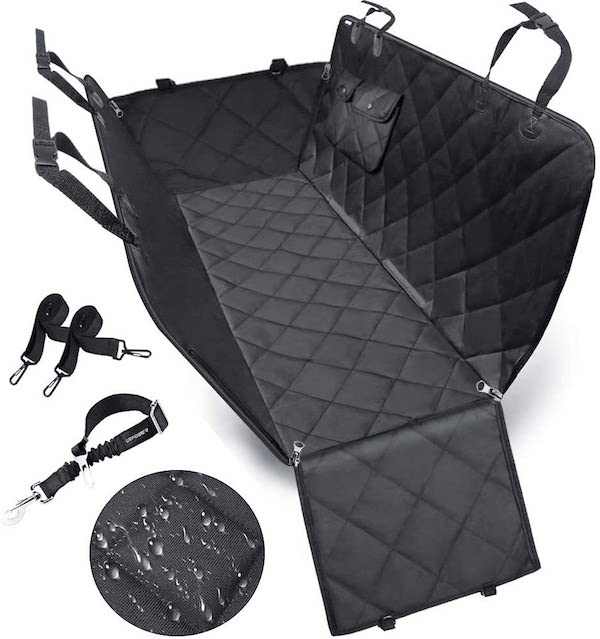 Boot Dryer By Peet
A boot dryer is definitely one of the all-time best gifts for her. There is nothing more uncomfortable than damp or wet boots the next day. Instead, just place boots on this dryer and they'll be toasty and dry for the next day. Boot dryers also kill odors and bacteria for even more scent control. This Peet boot dryer can dry every type of boot, even chest waders when folded down.
Wood Printed Hunting Photograph Gift For Her
Get one of her favorite hunting photos printed on a slab of wood. The combination of a personalized photo on a unique slab of wood picture frame makes for one of the best Christmas gifts for hunters who seem to have everything.
Binoculars Are One Of The Best Gifts For Hunters
Whether you're looking to buy for a waterfowl hunter, deer hunter, turkey hunter…etc, binoculars are a handy tool. I tested 14 different binoculars from all price ranges to see which binoculars were the best value for the money. In my opinion, the Athlon Midas binoculars were by far the best value. You can check out my video review below:
| | | | | | |
| --- | --- | --- | --- | --- | --- |
| Binocular Model | Vortex Diamondback HD | Athlon Midas ED | Athlon Midas G2 UHD | Vortex Razor UHD | Swarovski EL |
| Award | Best Budget | Best For The Money | Runner Up For The Money | Excellent High-End | Best Overall |
| Price* | 239 | 265 | 299 | 1500 | 2200 |
| Availability | Shop Amazon | Shop Amazon | Shop Amazon | Shop Amazon | Shop Amazon |
*Price At Time of Post
Funny Deer Poop Hunting Necklace For Her
The deer poop necklace – 'cause you ain't killed crap all season' (consider going vegan) is one of the funniest gag gifts for hunters because not only are you getting them deer poop as a present, but you're making fun of them at the same time.
Hunting Smartwatches For Her
Hunting smartwatches are one of the coolest gifts for hunters in 2023 because of their customizability and abundance of cool hunting features. For example, smartwatches are helpful tools for hunters because they have GPS, ABC (Altimeter, Barometer, and Compass), weather, sunrise times, sunset times, moon phases…and much more. For more information check out my article: 7 Best Smartwatches For Hunting In 2023 Reviewed and Compared will help you choose the right smartwatch for her.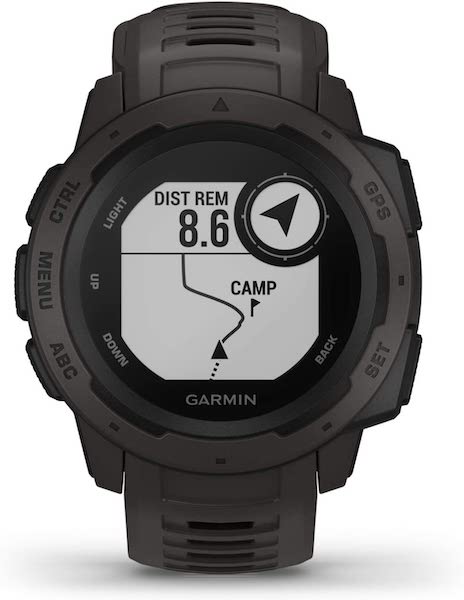 *Price At Time of Post
**Battery Life Depends on Settings
OnX Hunt GPS Mobile App Subscription
The best last minute gifts for hunters are those that can be easily either ordered online with fast shipping, are subscription-based or are common items that can be purchased at your local hunting stores. The OnX Hunt App is one of the best subscription-based gifts for hunters. OnX shows property boundary lines as well as the owners of the property to help with land access and getting permission to hunt.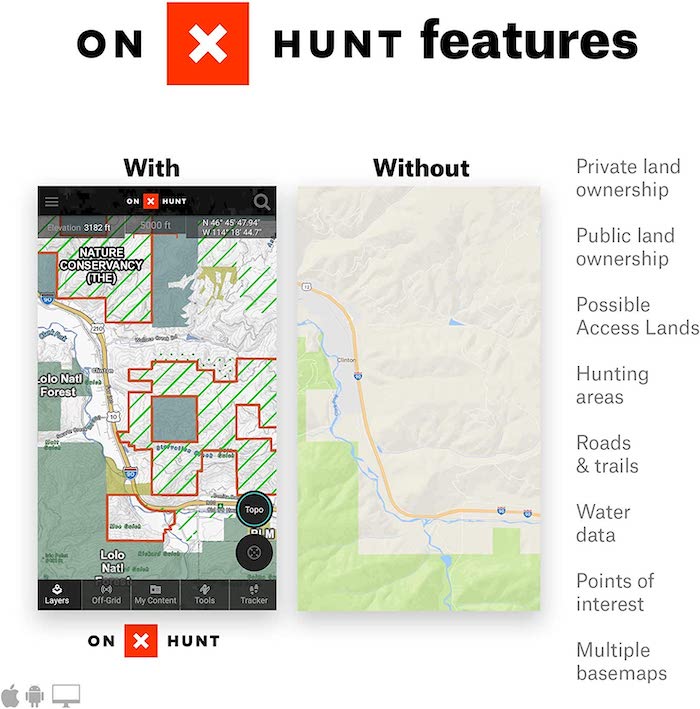 Yeti Thermos Gift For Hunters
A thermos is a great gift for her, nothing lifts the spirits more than a warm beverage on those blustery cold days or a cold drink on those scorching days.
Yeti is well-known for being one of the best companies for keeping drinks at the desired temperatures.