In this post, I share the 41 best Christmas gifts for hunters in 2023 to make it easy to find the perfect gift. You'll find Christmas gift ideas for all types of hunters at all experience levels. All gift ideas are sorted by price for your convenience.
Without further ado, here are 41 best Christmas gift ideas for hunters:
This post contains Amazon and other affiliate links, which means I'll receive a commission if you purchase through my link, at no extra cost to you. Of course, you are not obligated to use my links, but it does help fund these posts in hopes of bringing more value to you!
Best Christmas Gifts For Hunters Under 50$
The Meateater Fish and Game Cookbook
Level up a hunter's cooking skills with a wild game cookbook. This cookbook is by the well-known hunter and fisherman Steven Rinella. The cookbook offers cooking instructions and great photography.
Getting better at preparing fish and game meals is something every hunter can appreciate, making it one of the best Christmas gifts for hunters.
If you know a hunter who wants to improve their wild-game eating experience, this cookbook would make an excellent Christmas gift (maybe you'll selfishly benefit as well).
The Best Deer Hunting Books
Most hunters are striving to become better at their craft. Why not get a book so he can take his hunting to the next level? Check out my post: 10 Best Deer Hunting Books – Wisdom from the Top Big Buck Killing Gurus. I have read many books on deer hunting and these by far are the most impactful and would make great Christmas gifts. One of my absolute favorites is Bowhunting Pressured Whitetails by Chris and John Eberhart.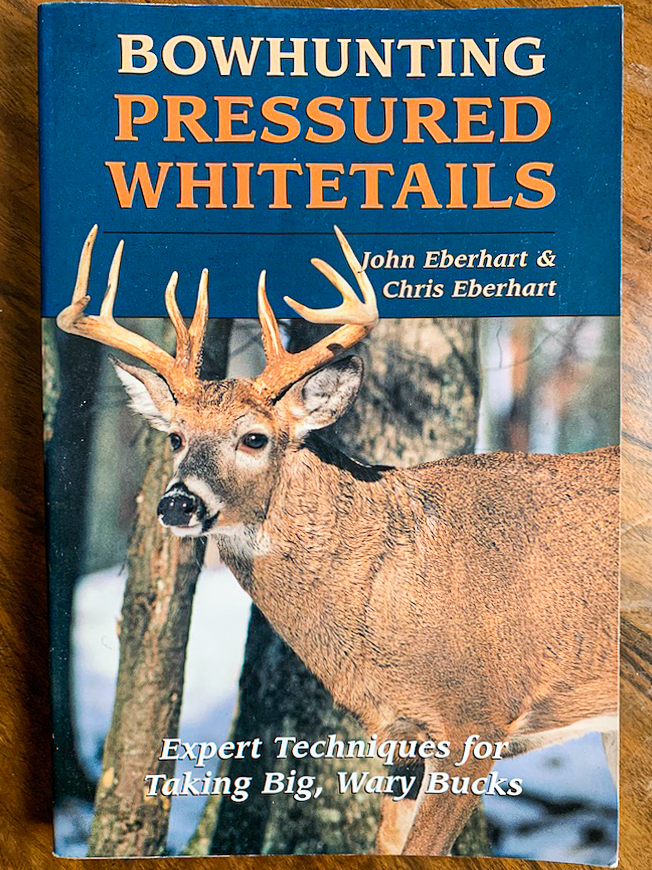 Cookbook – Buck, Buck Moose
This is a cookbook by Hank Shaw that is specifically for cooking four-legged antlered animals. This cookbook is a great gift idea for those looking to level up their wild game cooking skills, making it one of the best Christmas gifts for hunters.
Cookbook: Duck, Duck, Goose
This is another cookbook by Hank Shaw that is specifically designed for cooking waterfowl, both wild and farmed. This cookbook is a great Christmas gift for waterfowl hunters looking to level up their waterfowl cooking skills.
Skull Hooker – European Mount Hanger
European mounts are a cost-effective way to show off a trophy. These "Little Hooker" hangers by Skull Hooker are pretty cool because you can adjust the skull up and down, as well as the side to side. This is great to be able to place the mount in many locations and position the skull so it still looks good.
I also like the movement of the skull hangers because the "good side" can be shown off. The adjustability of these hangers makes them one of the best Christmas gifts for hunters.
Camp Quitcherbitchin' Sign
Camp is for having fun only, no complaining. Let everyone know with a Camp Quitcherbitchin' Sign. These signs are perfect for hunters who have a sense of humor. This sign would make a perfect Christmas gift for hunters with a hunting camp.
Darn Tough Merino Wool Socks
Tire of getting holes in your socks? Darn Tough's famous guarantee – "if these socks wear, tear, or develop holes, Darn Tough will replace them no questions asked. No strings. No conditions." Every hunter needs quality wool socks, making them one of the best Christmas gifts for hunters and outdoorsmen in general.
On top of their guarantee, the socks are a strong merino wool blend and are soft, comfortable, and breathable. Wool is moisture-wicking and anti-bacterial keeping feet warm when wet and socks from stinking after use.
The deer poop necklace – 'cause you ain't killed crap all season' (consider going vegan) is one of the funniest gag Christmas gifts for hunters because not only are you getting them deer poop as a present, but you're making fun of them at the same time.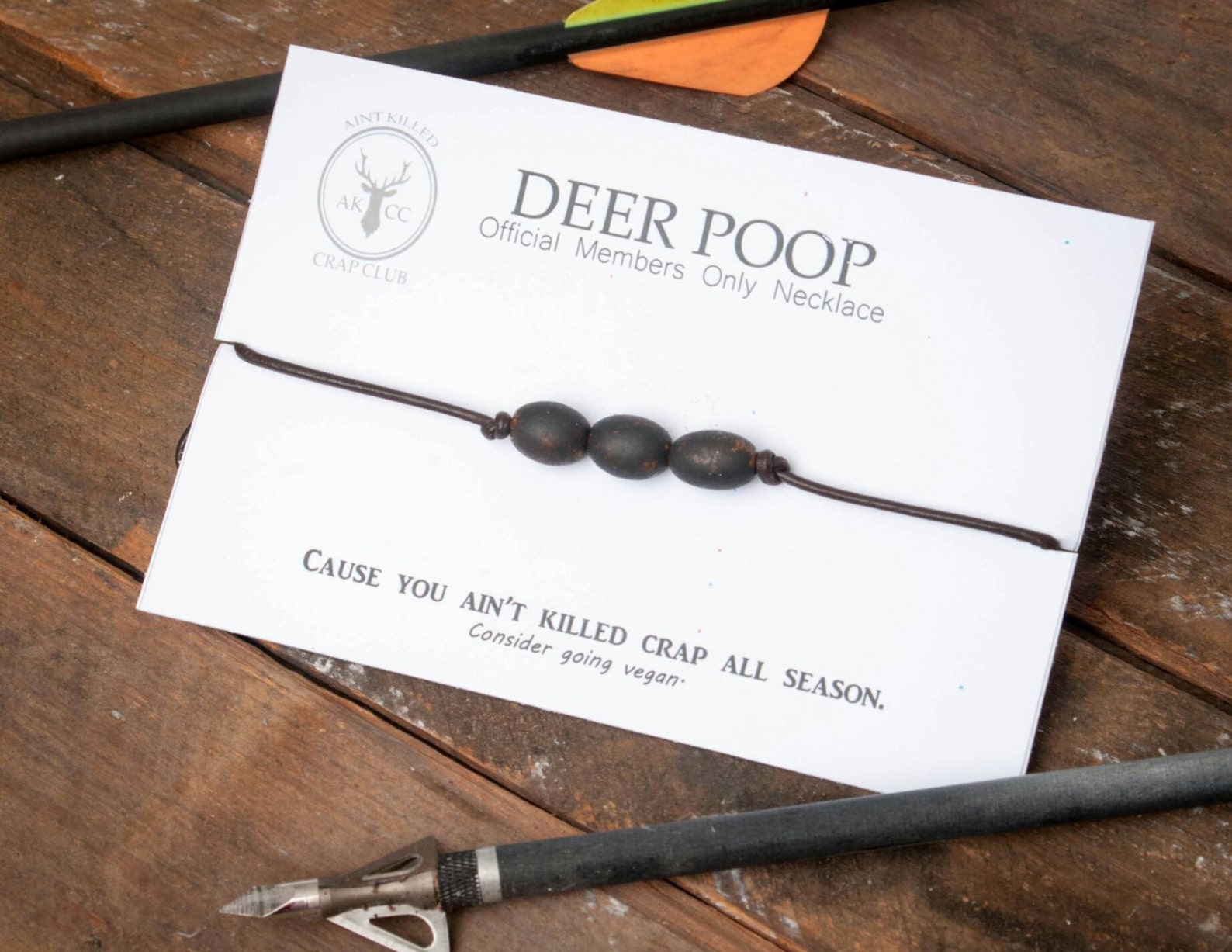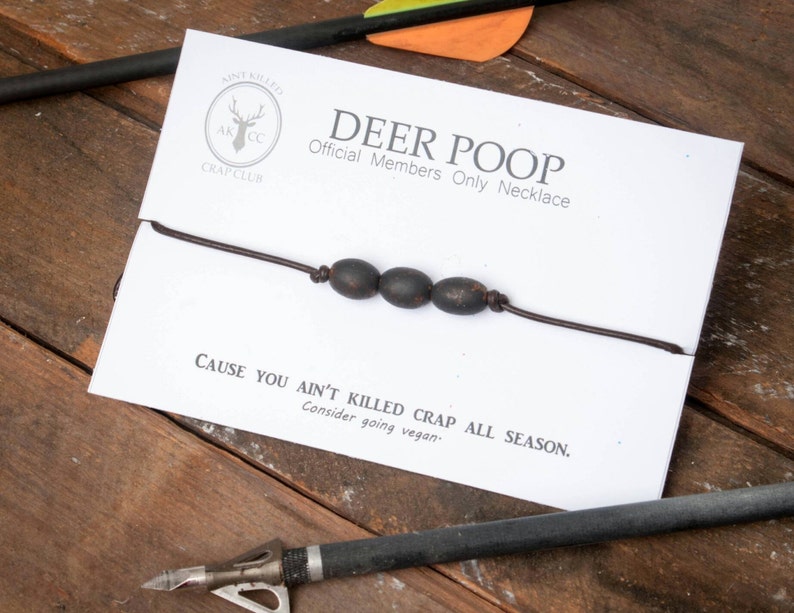 Thermacell MR300 Portable Mosquito Repeller (Scent-Free)
There's nothing worse than hunting while there are a ton of bugs eating you alive. A Thermacell has to be one of the best Christmas gifts for hunters because hunting is so much more enjoyable with protection from bugs.
The Thermacell uses highly effective mosquito repellent that is non-spray, non-DEET, no open flame; scent-free, and includes 12 hours of long-lasting refills.
Solar Charger Chirstmas Gift
This solar charger allows hunters to keep their phones or electronics charged in remote areas without predictable electricity. This charger is durable, weatherproof, and can be conveniently folded up and stored when not in use. The Qi battery bank has excellent reviews offers a 100% money-back guarantee.
Check Amazon's Price
Mount A Hunter's Antlers For Them
An antler mounting kit is a great Christmas gift on its own. However, you can take it one step further and mount the antlers yourself for an even more thoughtful and unique Christmas hunting gift.
Unique Wood-Printed Hunting Photograph Christmas Gift
Get one of your favorite photos printed on a slab of wood. The combination of a personalized photo on a unique slab of wood picture frame makes an excellent and unique Christmas gift for hunters that seem to have everything.
Funny

Chistmas Gift

Coffee Mug For Hunters
Another coffee mug guaranteed to put a smile on a hunter's face during Christmas time. The mug says it all:
Personalized Laser Engraved Yeti Tumbler
Yeti Ramblers are already great standalone Christmas gifts because they are stainless steel and vacuum insulated cups that keep your drink at the desired temperature (hot or cold) for a very long time. This is nice to have during hunting trips that require a lot of driving time.
Adding a personalized engraving takes this gift up another notch, making it a unique Christmas gift for hunters that seem to have everything.
Best Christmas Gifts For Hunters Under 100$
Howard Leight Hearing Protection
Hearing protection is one of the best Christmas gifts for hunters because keeping the ears protected during repeated shooting is essential for hearing longevity. If you know a hunter who needs a good pair of hearing protection they'll appreciate it, and even more so in the long term.
The Howard Leight earmuffs are great because they have an adjustable amplification knob so you can still have conversations. However, as soon as the noise is too loud, the headphones will block it. Now there is no reason to not wear hearing protection.
Yeti Thermos Christmas Gift For Hunters
A thermos is a great gift for any hunter or outdoorsy person. Nothing lifts the spirits more than a warm beverage on those blustery cold days or a cold drink on those scorching days.
Yeti is well-known for being one of the best companies for keeping drinks at the desired temperatures. The hunters in your life will appreciate this gift.
Knife With Replaceable Blade Christmas Gift
The Havalon knife is one of the best Christmas gifts for hunters because it offers razor-sharp replaceable blades which are as sharp as surgical blades.
Also, re-sharpening a knife is time-consuming and inconvenient, with the Havalon you can easily replace the blade at any point during the field-dressing process.
Additionally, you can get different blades. There are regular blades, gut hooks, and saw blades for versatility and other hunting-related purposes.
Anker Portable Battery Charger Christmas Gift
This power bank has a very large charging capacity and can charge electronics many times over. You never know when a GPS or phone could die for an unexpected reason when camping so it's nice to know you have a backup if batteries die.
Anker powerbanks work well, this particular powerbank has a huge storage capacity and can charge an iPhone 8 up to nine times on a single charge! The Anker powerbank is one of the best Christmas gifts for hunters because it's an extra layer of security and convenience.
Black Diamond Storm Headlamp Christmas Gift
A headlamp is a great Christmas gift for hunters because lights are a must at night when there's no electricity. A headlamp keeps both hands free so you can focus on the task at hand. Just don't skimp on a good headlamp because cheap ones will break or stop working.
The Black Diamond Storm headlamp is a great headlamp for hunters because it's waterproof and dustproof, has red, green, and blue light settings, and takes replaceable AAA batteries. Replaceable batteries are nice because you can put lithium batteries in, which are much more reliable in all weather conditions, especially cold weather.
Leatherman Multitool Christmas Gift
It doesn't matter what type of outdoor activities someone does, all outdoorsmen can use a Leatherman multi-tool. This 14 in 1 tool is not only convenient but it manages to reduce a lot of frustration when things go awry or fall apart. 
There have been many times where the leatherman has saved the day when doing repairs while hunting. Their usefulness in unideal and unexpected situations makes them one of the best gifts for hunters.
These tools are made in the USA and have a 25-year warranty.
Vehicle Battery Backup Jumper Cables
One of the worst feelings is when you are in the middle of nowhere and your car won't start. A battery backup is a great safety Christmas gift for hunters because it eliminates the issues that come from a dead battery.
A battery backup can turn a bad situation into an easy solution. Hunters will be grateful to have this gift in a dead battery situation. It also adds peace of mind in remote places.
Best Christmas Gifts For Hunters Under 300$
Jetboil Flash

Cooker –

Compact Portable Stove
Jetboils are great because they boil water in under 100 seconds which is pretty incredible. They are super compact and useful tools when camping or backpacking because they are fast, lightweight, efficient, and give you a warm meal in remote areas, making the Jetboil one of the best Christmas gifts for backcountry hunters.
Boot Dryer Christmas Gift For Hunters
This definitely one of the best Christmas gifts for hunters because every outdoorsy person needs dry footwear. There is nothing more uncomfortable than damp or wet boots the next day. Damp or wet boots will also speed up getting frozen toes or blisters.
Instead, just place boots on this dryer after a day of use and they'll be toasty and dry for the next day. Boot dryers also kill odors and bacteria for even more scent control.
Ameristep Care Taker Ground Blind
The Ameristep Care Taker Ground Blind has enough room for two hunters. It also has adjustable shooting windows with removable mesh screening. It's very easy to put up and take down. It's completely blacked out on the inside, so hunters stay out of sight.
A great aspect of this blind is how easy it is to travel with because it comes in a carrying case similar to that of a lawn chair. Also, it's very easy to set up because it pops up in sections similar to an umbrella.
Check Amazon's Price
Caldwell Shooting Rest Christmas Gift For Hunters
A shooting rest is a useful Christmas gift for hunters who use firearms. Shooting rests are handy because they greatly minimize human error when sighting in guns. A shooting rest helps get sighted in faster with fewer rounds in order to start hitting the bullseye, saving time and money making it one of the top hunting gifts for him.
The lead sled isn't any ordinary shooting rest though, it is highly adjustable to fit just about any shotgun or rifle. It has a spot to place weights so the rest does not move when shooting. It also has fine adjustment knobs so looking down your gun when sighting in has zero strain. Instead of adjusting your body to the firearm, this rest adjusts to your body.
Check Amazon's Price
Athlon Midas Binoculars Christmas Gift
Binoculars are a staple for all hunters making them one of the best Christmas gifts For Hunters. I tested 14 different binoculars from all price ranges to see which binoculars were the best value for the money. In my opinion, the Athlon Midas binoculars were by far the best value. You can check out my video review below:
Shappell Jet Sled Christmas Gift For Hunters
Jet sleds are simple yet versatile tools making them a great Christmas gift for hunters. They offer easy and clean transportation of gear and harvested game. Whether the harvest is being pulled through snow or floated across a beaver pond, the jet sled can handle it.
Better yet, they double as a catch for hanging, skinning, and butchering. The Shappell jet sled is helpful in many other non-hunting-related scenarios as well such as ice fishing. These sleds are commonly attached to ATVs or snowmobiles for maximum ease of transporting harvests or other goods.
Check Amazon's Price
Waterproof Duffle Bag Christmas Gift For Hunters
Waterproof duffle bags are very handy for many reasons and are one of the top Christmas gifts for hunters. They can be used on long hunting trips, or to keep gear dry in the duck boat, as well as an infinite amount of other scenarios where water is a factor. With a waterproof bag, there is no need to worry about the elements.
3D Buck Target For Archery
Every archery hunter loves a good 3D target. The GlenDel Full-Rut Buck is one of the most popular 3D targets and is one of the best gifts for deer hunters. One of the best aspects of this target is the replaceable core. The replaceable core is key because it enables the target to last so much longer. I've had my target for nearly 10 years, exposed to the elements, and still stands strong! This a great target for archers as it is nearly life-size and helps shooters visualize the moment of truth, as well as the location of the vitals. This target is suitable for longbows, compound bows, and even cross-bows!
3D Buck Target For Archery Replacement Core
One of the best aspects of the GlenDel buck target above is the replaceable core. The replaceable core is key because it enables the target to last so much longer. A great future unique gift could be this replaceable core.
Meat Grinder Christmas Gift For Hunters
A good grinder will save countless hours when processing your own game, making it a great Christmas gift for hunters. I highly suggest buying a meat grinder that does not slow down or bottleneck the speed of your butchering operation. The faster your meat grinder, the quicker you can get the meat in the freezer!
The STX Turboforce meat grinder has a good reputation and is an excellent choice for a gift. It can grind from 180-240 lbs. of meat per hour which is quite fast for a meat grinder at this price. The grinder comes with multiple attachments so you can make burger or sausage.
Food Dehydrator (Jerkey Maker) Christmas Gift
Jerky makers are awesome Christmas hunting gifts. Being able to make your own jerky from wild-game is a great way to change things up as far as wild-game consumption.
When making jerky you can flavor it to your liking and because it's so tasty, it's a great way to introduce others to eating wild game. The Cosori dehydrator comes with 50 recipes and 6 trays for dehydrating. It's easy to use, and easy to clean.
Mojo Robo Duck Decoy
A MOJO duck decoy is an excellent Christmas gift for a waterfowl hunter. The spinning wings from this motorized decoy can be seen and attract ducks from very far distances. The MOJO gives ducks confidence in a decoy setup, making them commit harder offering more opportunities and better shots. What hunter doesn't want better opportunities?
Tactacam FTS (Film Through Scope)
The Tactacam FTS is a cool gift, especially for hunters who seem to already have everything. It is an attachment for the Tactacam which enables it to attach to scopes and to record through the scope.
This means the magnification of your scope will allow the Tactacam to be magnified as well, allowing the hunter to zoom in extra far. The Tactacam FTS fits just about all scopes, and will not affect shooting form, making it a perfect Christmas gift for hunters who want to get new and interesting video angles.
Check Amazon's Price
Mobile Climbing Sticks Christmas Gifts
Climbing sticks are easily one of the best Christmas gifts for a mobile hunter. The best climbing sticks are lightweight, durable, interlocking, quiet, and easy to transport, pieces of ladder that will get you in the most awkward of trees safely. There are also many 3rd party attachments that be added to these sticks for ultimate customization.
Vortex Impact Rangefinder Christmas Gift
Rangefinders are helpful for almost any hunter and especially bowhunters. Rangefinders are used to accurately give distances so bowhunters can make ethical shots while hunting and sight their bows at known distances. Rangefinders are also very handy for sighting in guns for the same reasons.
The Vortex rangefinder is waterproof, shockproof, and offers a scan feature for continuous range readings. It also compensates for angles and offers some magnification for added accuracy. It also comes with a lifetime Vortex VIP warranty, meaning you can get it replaced for free if it breaks.
Vortex Spotting Scope Christmas Gift
When binoculars aren't up for the task it's time to break out the spotting scope. Being able to see animals at longer ranges than binoculars makes spotting scopes fantastic tools for scouting and hunting.
Vortex makes great quality glass and suggests them for spotting scopes as well. Again, you've got to appreciate that lifetime warranty. If you're buying for a hunter who hunts or scouts in vast landscapes and needs extra reach, a spotting scope makes a great Christmas gift for hunters.
Check Amazon's Price
Best Christmas Gifts For Hunters Under $500+
Yeti Tundra 125 Cooler Christmas Gift For Hunters
The Yeti 125 cooler is a great Christmas gift for hunters that need a lot of storage for long trips or keep wild-game meat cold. This cooler has thick 3-inch insulation in order to keep things cool for a long time as you'd expect from Yeti.
In addition, this cooler is 'certified bear-resistant' meaning that it is extremely durable and can stand up to the toughest of hunting trips.
Garmin In-Reach GPS Christmas Gift For Hunters
The Garmin in-reach is a great GPS Christmas gift for hunters that spend time in remote settings. The main benefit of this GPS over others is that it offers an emergency SOS feature and texting without cell service! The InReach uses satellites to send and receive messages instead of cell towers.
Another great feature of this GPS is that it comes with a pre-downloaded topo map of the U.S. For this reason, the map can also be used without service. The off-grid capabilities of the Garmin InReach are unmatched for the price. The gift of safety and peace of mind is priceless.
Jackery Explorer 1000 Portable Power With Solar Panels
If you know a hunter who has a remote camp that does not have electricity or is looking for an alternative to a generator, these Jackery portable power stations are great. They are a long-lasting powerful rechargeable battery with many outlets and plugs to recharge just about anything you might need.
They can be also recharged via outlet, car, or solar power making them very versatile. They're also great for remote hunts or trips to keep gear charged when there's no electricity.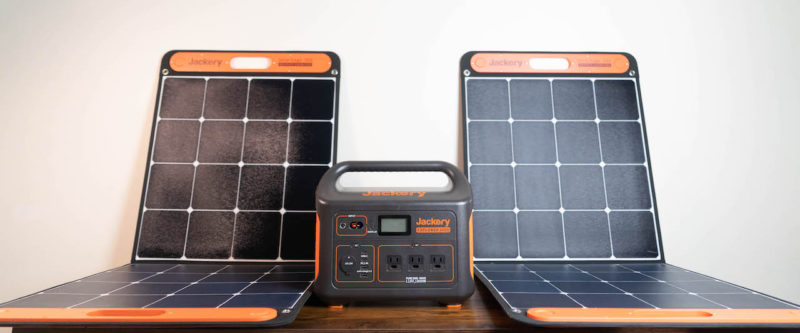 Canon EOS Rebel T8i Camera Christmas Gift For Hunters
Many hunters like to document the trips they go on to share them with others. The Canon Rebel series is one of the best value cameras for beginners and when paired with a good lens it takes professional-quality photos. For this reason, this camera is a great Christmas gift for a hunter.
The one benefit of DSLRs and mirrorless cameras is that you can achieve a much more cinematic, customized, and professional look than with other cameras. They also have the ability to be much better in low-light situations than camcorders (with the right lens).
Conclusion
Hopefully, you've found some great Christmas gifts for hunters in this post. If you're looking for more gift ideas for hunters, I have more hunting gift idea posts that you may find helpful or at the very least will help you spark some gift ideas of your own.
More Hunting Gift Idea Articles:
Find Me On: