Here are 25 cool gadgets for hunters in 2023. The coolest gadgets for hunters are often small pieces of gear that make life easier when hunting. For example, gadgets that help with navigation, safety, trail cameras, optics…etc are great options. You'll find examples of these below:
This post contains Amazon and other affiliate links, which means I'll receive a commission if you purchase through my link, at no extra cost to you. Of course, you are not obligated to use my links, but it does help fund these posts in hopes of bringing more value to you!
Hunting Smartwatches Are Cool Gadgets For Hunters
Hunting smartwatches are one of the coolest gifts for hunters in 2023 because of their customizability and abundance of cool hunting features. For example, smartwatches are helpful tools for hunters because they have GPS, ABC (Altimeter, Barometer, and a Compass), weather, sunrise times, sunset times, moon phases…and much more.
My article 7 Best Smartwatches For Hunting In 2023 Reviewed and Compared will help you choose the right smartwatch for the hunter in your life.
The Garmin Instinct Solar is one of the best smartwatches for the money on the market. The screen has an integrated solar panel so the battery lasts longer between charges.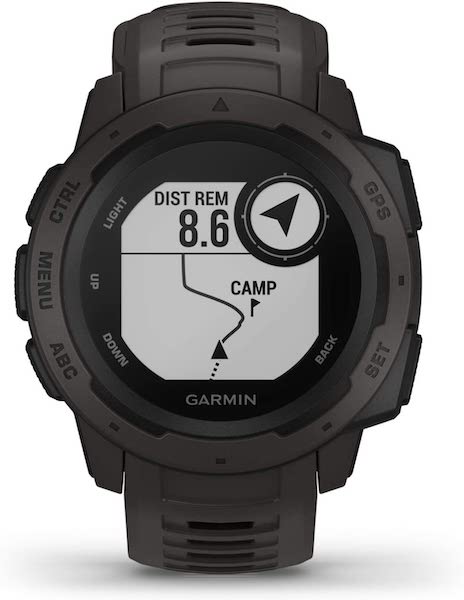 *Price At Time of Post
**Battery Life Depends on Settings
OnX Hunt GPS Mobile App Subscription
Getting permission to hunt new properties is one of the most challenging aspects of hunting, especially for new hunters. The OnX Hunt App helps to solve this time-consuming process. OnX does this by showing property boundary lines as well as the owners of the property.
This makes seeking and asking for permission in order to get new hunting grounds so much easier making it one of the best gifts for hunters. This phone application works across all platforms (apple, android…etc.).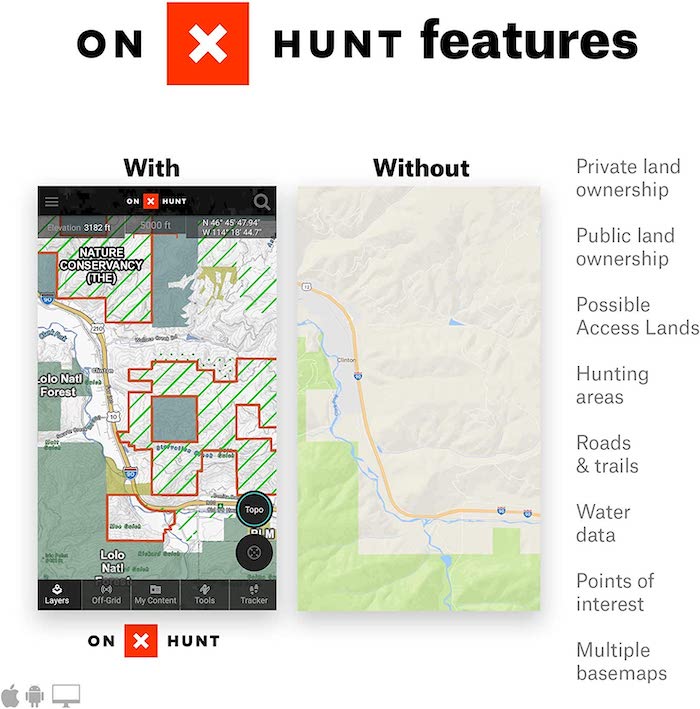 OnX Hunt GPS Chips For Garmin Devices
You can also purchase OnX Chips for an already owned Garmin GPS. When doing so, you will also get free access to the OnX Hunt App.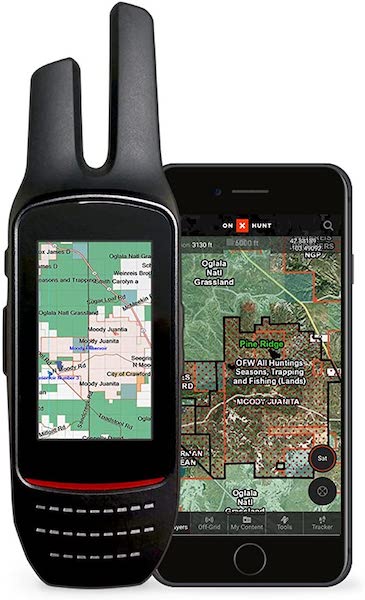 Check Amazon's Price
Electric Lighter Gadget For Hunters
Electrical lighters are flameless and require no gas or butane making them an excellent choice for getting a fire started in poor conditions. This lighter is waterproof, windproof, and made from PVC and Zinc alloy for durability. It's an interesting, unique, and functional gadget making it one of the coolest gifts for hunters for the price.
Compass Is One of the Best Gadgets For Hunters
A compass is a very useful tool for navigating while hunting. It can be used to get out of the woods when lost or to maintain a straight line. It is also an essential backup for any hunter using a GPS. A GPS can fail because it is electric and runs on a battery. A compass requires no battery making it very reliable and thus one of the best gadgets for hunters.
Mobile Trail Camera SD Card Viewer Hunting Gadget
Every hunter with a game camera will appreciate a mobile SD card reader. Instead of wasting time by bringing the SD card back home to plug into a computer, you can just download photos and videos to your phone and put the SD card back in the camera. This saves a lot of unnecessary time dealing with SD Cards.
Solar Charger Gadget Gift For Hunters
This solar charger is a great option for hunting in remote areas to keep phones charged after days without predictable electricity. This charger is durable and weatherproof. The Qi battery bank has excellent reviews offers a 100% money-back guarantee making it one of the best gadgets for hunters.
Check Amazon's Price
Spotting Scope Smartphone Adapter Hunting Gadget
Another cool and useful gadget for spotting scopes that would make a great gift is a spotting scope adapter.  This adapter allows the hunter to place their phone camera over the spotting scope eyepiece and see through the spotting scope. This attachment is pretty awesome because you can take photos and videos on your phone and review them in more detail when back at home on your phone.
Anker Portable Battery Charger
This power bank has a very large charging capacity and can charge electronics many times over. You never know when a GPS or phone could die for an unexpected reason so it's nice to know you have a backup if batteries die. This particular powerbank has a huge storage capacity and can charge an iPhone 8 up to seven times on a single charge making it a useful gadget for hunters.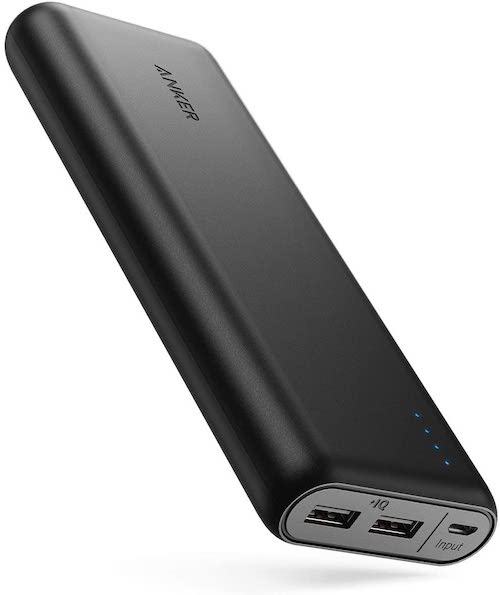 Vehicle Battery Backup Jumper Cables
One of the worst feelings is when you are in the middle of nowhere and your car won't start. A battery backup is one of the best gadgets for hunters because this eliminates the issue of a dead battery. A battery backup can turn a bad situation into an easy solution. The hunter you are shopping for will be very grateful to have this gadget in a situation like this. It also adds peace of mind when hunting in remote places.
Programmable Electronic Game Caller
An electronic game call is a great gadget gift for a hunter because they allow you to download new sounds and download custom sounds so that it can be used for any type of hunting. This call can play 2 sounds at the same time and has a 300-yard remote range.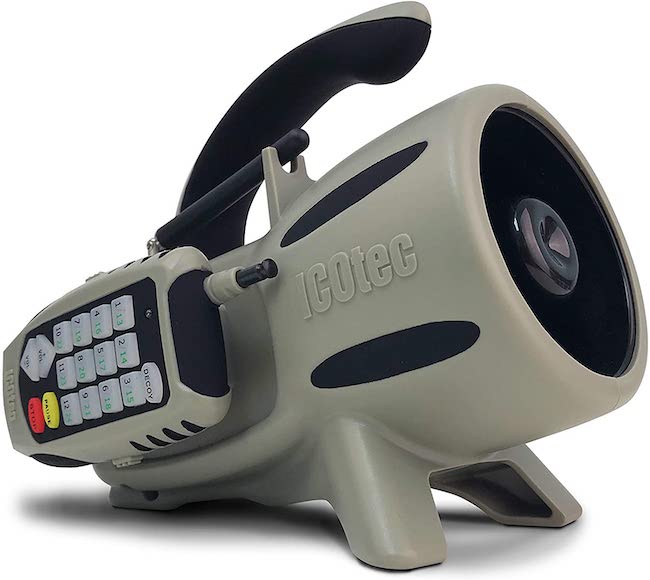 Tactacam FTS (Film Through Scope) Hunting Gift
The Tactacam FTS is a cool gadget gift, especially for hunters who seem to already have everything. It is an attachment for the Tactacam which enables it to attach to scopes and record through the scope.
This means the magnification of your scope will allow the Tactacam to be magnified as well, allowing the hunter to zoom in extra far. The Tactacam FTS fits just about all scopes, and will not affect shooting form, making it a perfect gadget for hunters who want to get new and interesting video angles.
Invisible Flash Trail Camera Hunting Gift
Tail cameras are one of the best gadgets for hunters because hunters can literally never have enough. They are incredibly helpful for scouting because they let hunters know what animals are in the area. Increasing the number of cameras means better odds of finding and learning about the animals in the area, leading to more success.
This Browning trail camera is one of the best trail cameras for hunters for the money. It has a completely invisible nighttime flash, a very fast 0.15 trigger speed (no blurry photos), 1080p Video, and 24 MP Photos.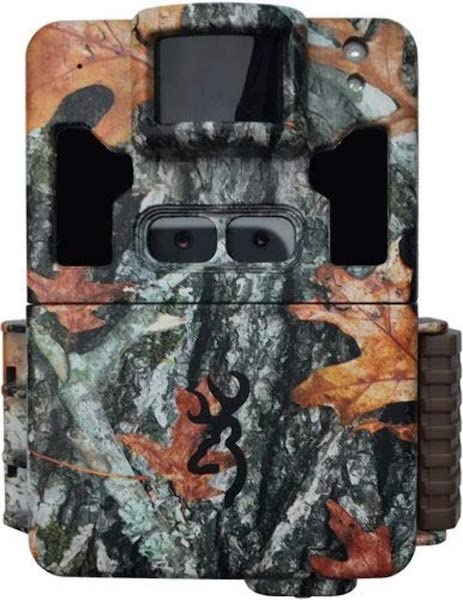 Rangefinders For Hunting
There is a lot to like about the Leupold RX-1400i TBR/W rangefinder. This rangefinder is one of the best rangefinders for hunting for the money because of the price and its ability to be used by both rifle hunters at long range and bowhunters at close ranges. It has angle compensation and internal ballistic profiles.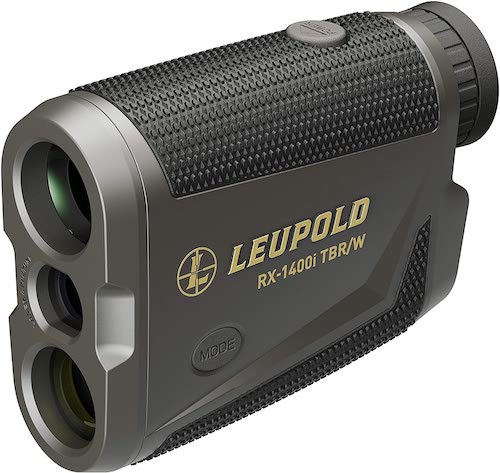 *Price at the time of this post
Tactacam 5.0 Action Camera Gift For Filming Hunts
The Tactacam is one of the best gadgets for hunters trying to get cool and interesting angles when filming. The Tactacam is an action camera that is weatherproof, image-stabilized, 4K, offers 120 fps slow motion, and has 8x zoom. The zoom is a great feature and is something that lacks in the GoPro. The Tactacam cameras are versatile and are easily mounted to scopes and bows in order to easily capture hunts. They also make a great backup in addition to the main camera to ensure you get the moment of truth on film.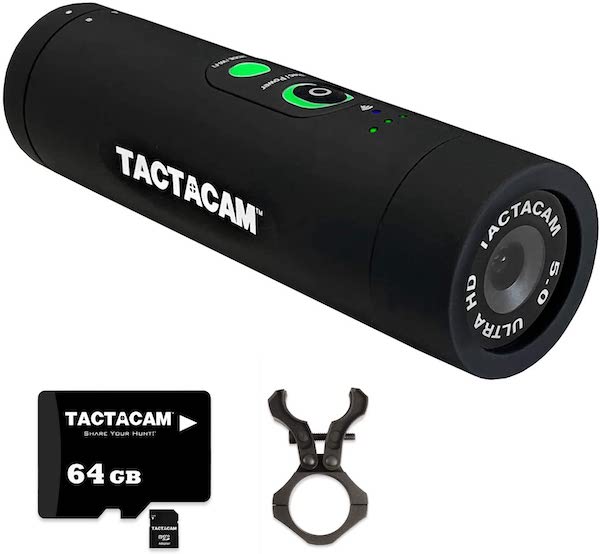 Garmin GPSMAP 64SX
This is a high-quality GPS for the price. It has all the basic features one would need to get to and from destinations as efficiently as possible. My personal favorite part of this GPS is that the arrow points in the direction the user is facing (3-axis electronic compass). This is lacking in some of the more basic GPSs.
The software for this GPS is very similar to the Garmin InReach. This GPS comes with a free TOPO map. Maps can also be downloaded onto this the Garmin 64SX using Basecamp so that you can use maps of your choosing. These maps come pre-downloaded making them available when hunting in remote areas.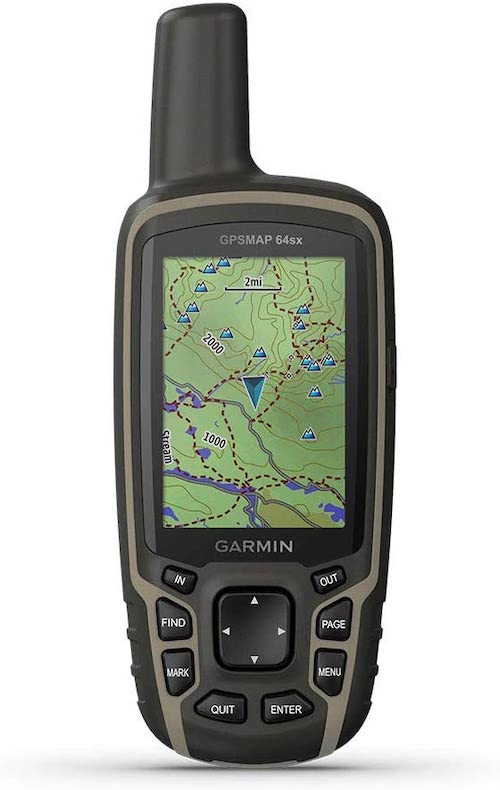 Check Amazon's Price
GoPro Hero 10 Black For Filming Hunts
The new GoPro's are fantastic for capturing hunts on film. They are one of the best gadgets for hunters looking to get into filming hunts. The new internal computerized gimbal-like stabilization makes the footage look buttery smooth even with excessive movement. Not only do they have great stabilization but they also have 5K video, slow motion, and much more. The GoPro Hero 10 black has 5.2k video, 20 MP photos, a FAST brand new processor (finally), and also has excellent stabilization.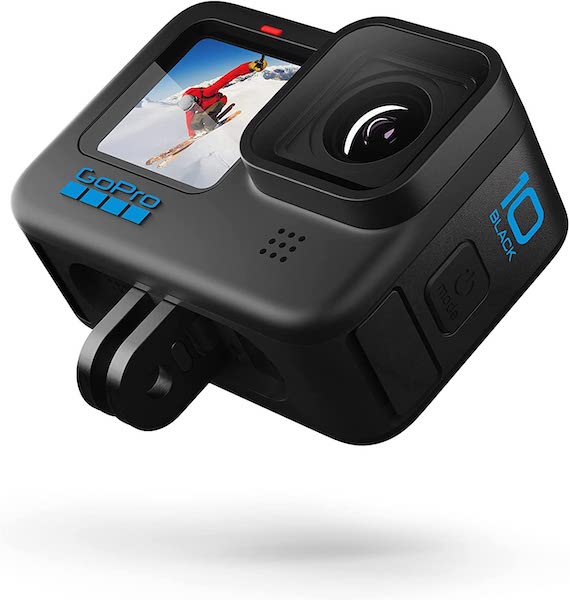 Jackery Explorer 1000 Portable Power Station With Solar Panels
If you know a hunter who has a remote camp that does not have electricity or looking for an alternative to a generator, these Jackery portable power stations are awesome. They are long-lasting rechargeable batteries with many outlets and plugs to recharge anything you might need.
They can be recharged via outlet, car, or solar power making them a very versatile gadget. I'm a big fan of mine when I'm going on remote hunts to keep my essential gear charged when there's no electricity.
Sony FDR AX100 4K Video Camcorder
Sony makes excellent video cameras for hunting, the AX100 is no exception. For the price, this camera has a lot of pro features. It has a 1" CMOS sensor which allows it to film in very low light situations. It also supports 4K video and 120 FPS slow motion. This is a one-stop-shop video camera for a hunter starting to film their hunts making it one of the best gadgets for hunters trying to film.
Although it may seem somewhat pricey for someone that is new to videography when you buy this camera you don't have to buy many add-ons like you do with DSLRs or mirrorless cameras (primarily lenses which often cost more than the camera).
All is said and done, this camera ends up being much less expensive and will get you professional-looking quality. The one benefit of DSLRs and mirrorless is that you get a more cinematic look, but they are also more difficult to film with than camcorders.
Sony Alpha 7 IV Full-frame Mirrorless Camera
The one benefit of DSLR/mirrorless cameras is that you can achieve a much more cinematic, customized, and professional look. They also have the ability to be much better in low-light situations than camcorders which can be very important in hunting situations.  Not only can they do video but they can take professional-quality photos as well.
If the hunter in your life is looking to capture hunting memories and take filming to the next level this Sony mirrorless camera is an excellent choice. You might like my blog post: How To Choose The Best Video Cameras For Hunting | Filming Your Hunt for more information.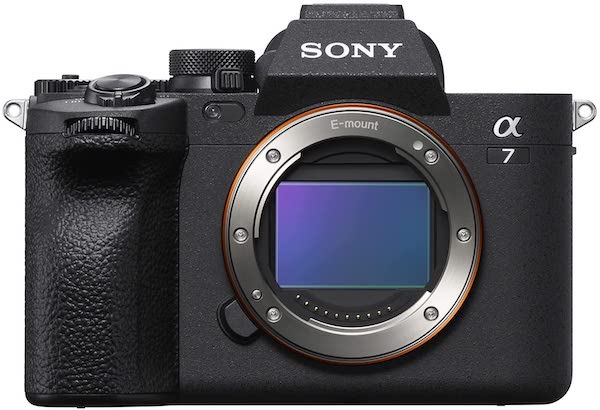 Leatherman Multitool
Both hunters and fishermen can make use of a Leatherman multi-tool. Made in the USA and with a 25-year warranty, this 14 in 1 tool is not only convenient but in my experience, it manages to reduce a lot of frustration when things go awry or fall apart.
There have been many times when this gadget has saved the day when doing repairs while out hunting, or for fashioning a stream-spanning walking stick. Their hardiness in unideal situations makes them one of the best gifts for hunters and fishermen. They also have a lot of applications outside of hunting.
Howard Leight Sound Amplification Hearing Protection
Hearing protection is one of the best gifts for duck hunters. Keeping the ears protected during repeated shooting is essential for hearing longevity. If you know someone who needs a good pair of hearing protection they'll appreciate it, and even more so in the long term.
The Howard Leight earmuffs are a great gadget for hunters because they have an adjustable noise amplification knob so you can still have conversations. However, as soon as the noise gets too loud, the headphones will block it out.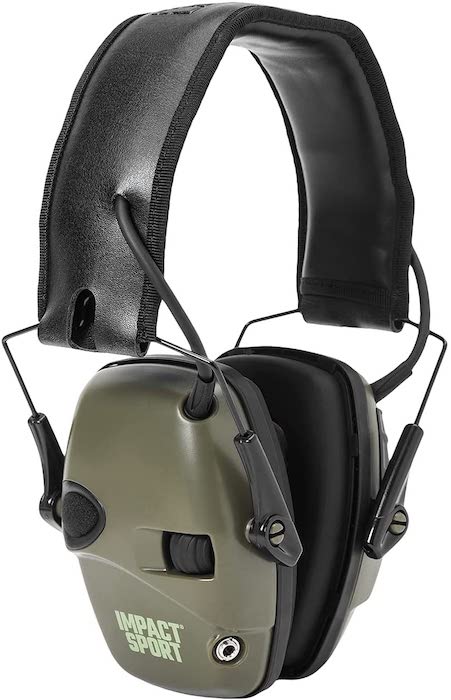 Spypoint Link Micro Cellular Camera
A cellular game camera is a very useful gadget because it can send photos and videos via text message or email so that the hunter does not have to physically go to the site to pull the SD card which has so many benefits for hunters.
Spypoint Link Micro cellular cameras have the modem built-in so no extra modem is needed. Subscriptions are needed in order to use cellular camera capabilities. Spypoint has one of the most affordable plans. The first 100 photos each month are free! This camera offers a 10 MP camera and a 5s trigger speed.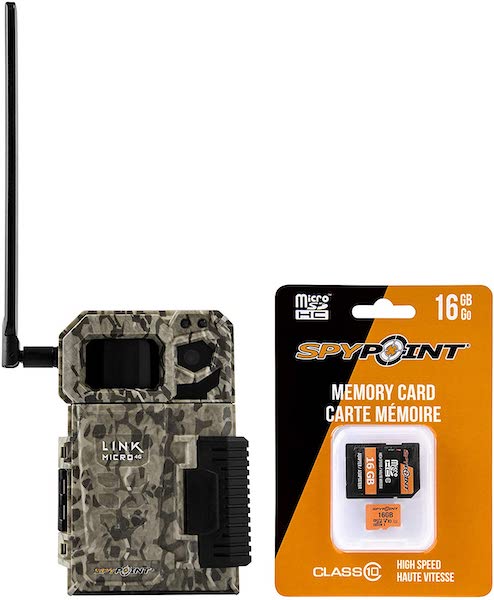 Garmin InReach GPSs
If you wanted to take safety to the next level you could opt for the Garmin InReach devices.
Garmin InReach Explorer+ GPS
With an affordable subscription, the Garmin In-Reach Explorer+ GPS has many benefits for remote hunting. The benefits of this GPS over others are that it offers an emergency SOS feature and texting without service. The InReach uses satellites to send and receive messages instead of cell towers.
The In-Reach GPS gives peace of mind when hunting in remote backcountry situations, making it one of the best gifts for backcountry hunters or remote wildlife watchers. 
Another great feature of this GPS is that it comes with a pre-downloaded topo map of the U.S. For this reason, the map can also be used without service. The off-grid capabilities of the Garmin InReach are unmatched for the price.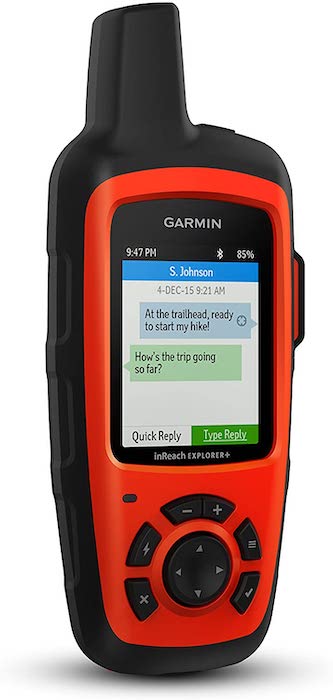 Garmin InReach Mini GPS
The InReach Mini is a more affordable and compact version of the InReach Explorer+. It has similar SOS and texting features as the Explorer+ and can be paired with your cell phone so that it is just as easy to use when using the free EarthMate App.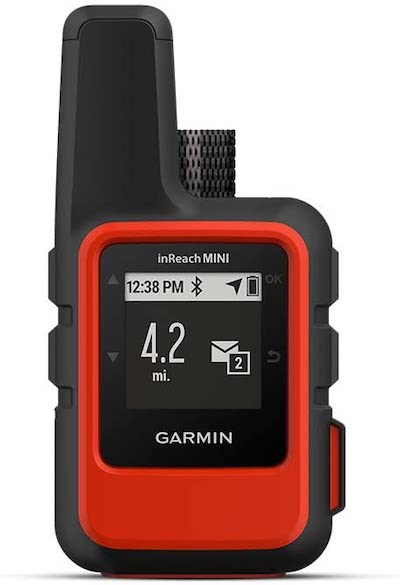 More Hunting Gift Ideas And Resources:
These are some of the best gadget gifts for hunters because they are small pieces of gear that make life easier for hunters when hunting. Hopefully, this post has helped you find some cool gadgets for the hunters in your life.
Find the perfect hunting gift faster by navigating to one of my more specific hunting gift idea articles:
Hunting Gift Idea Articles:
Related Gift Idea Articles:
Best Places To Shop For Hunting Gifts
Some other great places to find hunting gifts near you include:
Find Me On: