How to choose the best video cameras for hunting will depend on how you will be using the video camera. There are a few types of video cameras; camcorders, DSLR/Mirrorless Cameras, and action cameras.
The camera specs you are looking for will be the same across the board. It doesn't matter whether you're buying a camcorder, mirrorless/DSLR Camera, action cameras, or drone. But there is a trade-off for each type of camera. Below I go into detail on the pros and cons of each type so you can make the best choice when determining the best video camera for hunting for you.
If you're looking for more hunting video camera suggestions and information on the cameras you might like my post:
Best Video Cameras For Hunting – Filming Your Hunts (All Budgets)
This post contains Amazon and other affiliate links, which means I'll receive a commission if you purchase through my link, at no extra cost to you. Of course, you are not obligated to use my links, but it does help fund these posts in hopes of bringing more value to you!
Choosing The Best Camera Specs For Hunting
Some of the most important factors when determining how to choose the best video cameras for hunting include:
Price

Aperture

Sensor Size

Image Stabilization

Low-Light Performance

Depth of Field

Easy Focusing

Magnification/Zoom

Focus Peaking

Slow Motion

Autofocus While in Manual Focus 

Charging With Powerbank
Depending on the type of hunting you do you will want to weigh the importance of each of these.
Types of Video Cameras For Hunting
In order to choose the best video camera for hunting, you will need to decide which type of camera is best suited to your style of hunting. There are three main types of cameras:
Camcorders

Mirrorless/DSLR

Action Cameras
Below I list the pros and cons of each type of video camera:
Camcorders For Filming Hunts
Pros of Camcorder Video Cameras For Hunting
Built-In Lens
If you're looking for the best video camera for hunting on a budget, I would suggest a camcorder. Camcorders already have a lens built into the cameras, unlike DSLR or mirrorless cameras which you'll need to buy lenses and other add-ons for.
All-In-One Package
Camcorders also often come with many add-ons, for example, ND filters (sunglasses for your lens) built into the camera, making them easy to use in different lighting settings. With DSLR/Mirrorless you'll have to buy ND filters for each of your lenses.
These cameras are great options because they are versatile and basically are an all-in-one package whereas other cameras require you to buy additional attachments.
Zoom
Zoom is another big benefit that camcorders offer hunters. Camcorders usually can zoom very far in and out which makes them very versatile. In order to zoom in, you only need to press a button and the camera does the work. This makes it really easy and much smoother than DSLR and mirrorless cameras which require you to rotate a lens to zoom in.
Less Fidgeting
Another huge benefit of camcorders is that they can be controlled with just your thumb using a Varizoom adapter. DSLR and mirrorless cameras require manual functioning of the camera for the most part which requires a lot of unnecessary movement. Using one of these small controllers with your camcorder is worth every penny. It will save you lots of time and prevent you from missing opportunities, well worth it in the long run. Make sure the model you buy will work for your camera.
Cons of Camcorders For Hunting
Low-light Performance
In general, camcorders do not have the same low-light capabilities as mirrorless/DSLR video cameras. Sensor sizes in camcorders usually do not exceed 1″. You want a large sensor size in order to bring in as much light as possible. That being said, a 1″ sensor is not terrible and could be all you need for your style of hunting,
Camcorders also have a fixed lens, so you cannot replace the lens with one that is better for low-light (like you can with a mirrorless/DSLR)
Depth of field
Camcorders also do not have the same capabilities as DSLR/Mirrorless cameras when it comes to depth of field. Depth of field gives you that nice buttery Boca background effect. Since camcorders are stuck with a fixed lens they don't have the ability to use lenses that offer good depths of field.
Not as Customizable
Most camcorders do not have the same custom buttons that mirrorless/DSLR cameras have. Being able to customize your camera the most is nice for hunting situations because sometimes you have to be quick and don't have time to get the setting perfect manually. That being said, camcorders do have some degree of customizability.
Exposed External Battery
It seems like most camcorders have an external battery that is exposed to the elements. I'm not sure why this is the case but it is frustrating. I would recommend looking for a camcorder that does not have an exposed battery so it can withstand the elements better.
Best Camcorder For Hunting (Editors Choice)
Sony NX80 Camcorder
Mirrorless/DLSR Video Cameras
Mirrorless/DSLR video cameras are cameras with interchangeable lenses. The cameras are very customizable because you can put a specific lens on your camera that matches perfectly to the type of hunting you will be doing. There are also a lot of attachments and add-ons to make these cameras function exactly how you want them to. Below I go more into detail on the pros and cons of these types of cameras for hunting.
Pros of Mirrorless/DSLR Cameras For Hunting
Highly Customizable
These types of cameras often some with many custom buttons so that they are easier to navigate and to find the settings you want quickly in fast-paced situations.
Best For Low-Light
These types of cameras also generally have larger sensors than camcorders. A camcorder generally doesn't have a bigger sensor than 1″, which isn't horrible. However, Mirrorless/DSLR cameras have the ability to be 4/3″ or 35mm (full-frame) making their sensors able to pick up low-light much better.
This is often an important factor for hunters because wildlife is usually most active at dawn and dusk.
Weather-Sealed
Not all DSLR/Mirrorless cameras are weather-sealed, so I would recommend looking for one that is. Usually, the more expensive ones are. Hunters are often hunting in less than ideal weather conditions so it is important to keep your camera as safe as possible.
Interchangeable Lenses
Because these cameras have the ability to change lenses they have better depth of field, image quality, and low light performance. Having the ability to use interchangeable lenses is one of the main reasons to get a DSLR/Mirrorless. You can customize the lens to the exact type of hunting situation you expect to be in.
Cons of Mirrorless/DSLR Cameras For Hunting
Expensive
One downside to these cameras is that they are more expensive. But that is expected with the better overall performance out of these cameras.
Add-ons
Mirrorless/DSLR cameras also require more add-ons after you purchase the cameras (like audio, lenses, ND Filters…etc). This means that there is also a learning curve when setting up these cameras compared to camcorders.
Best DSLR/Mirrorless Camera For Hunting (Editors Choice)
Sony A7III Mirrorless Camera
The Sony A7III is an amazing mirrorless camera for the price, this is a highly recommended camera for someone who is a beginner to intermediate level. It's very good in low-light and has a lot of customizations that you can program to make it fast to get the settings you need when it matters.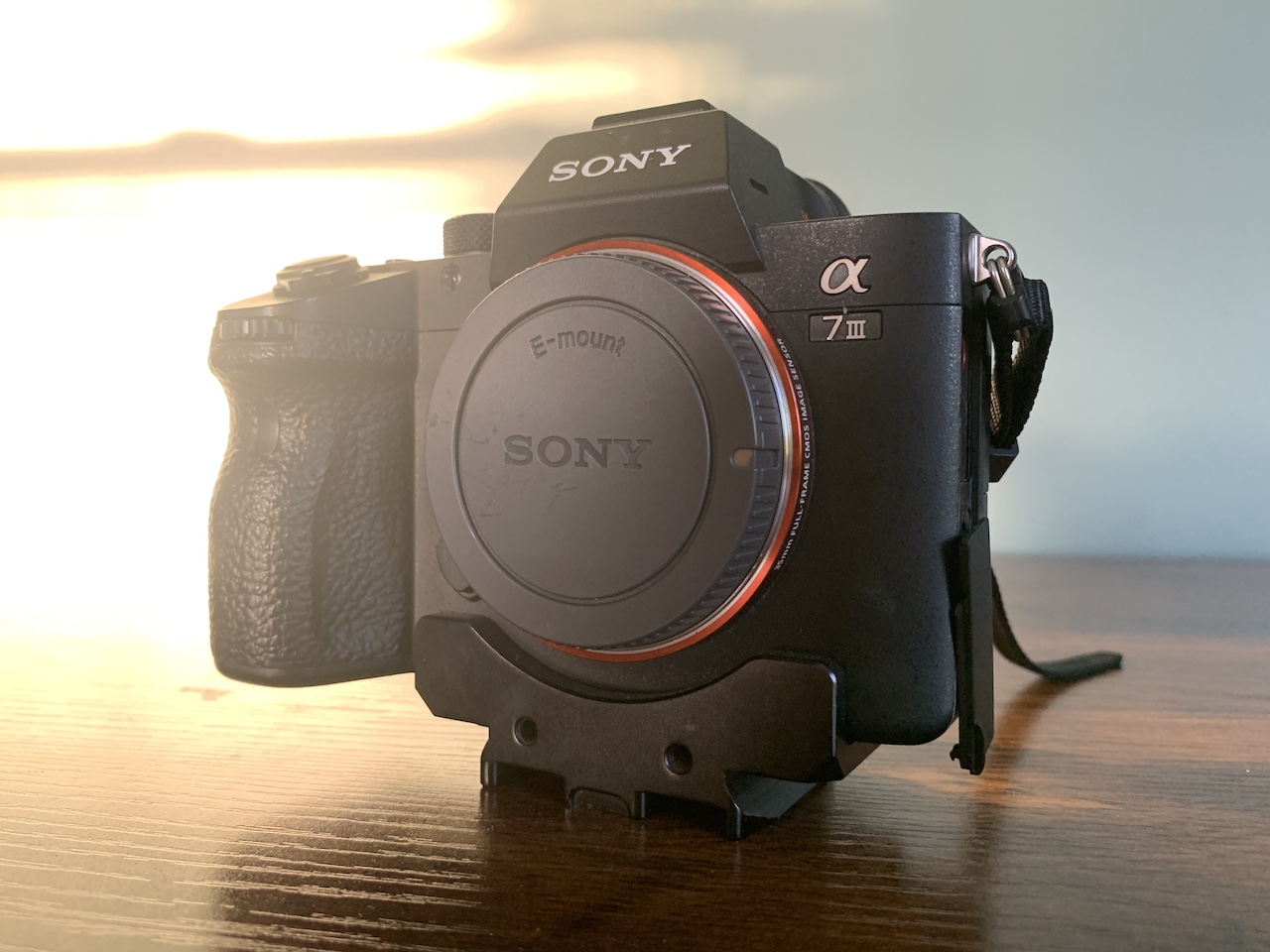 Sony A7IV Mirrorless Camera
The Sony A7IV is the next generation of the A7III and it addresses some of the quirks that the A7III had. For this reason, this camera is faster, more reliable, and easier to use than the A7III. That said, it is more expensive. If you're looking for one of the best cameras for hunting on the market for the price, look no further.
Action Cameras
Pros of Actions Cameras
Extremely Lightweight and Compact
Actions cameras are very small, which gives them a lot of appeal. They are great video cameras for filming hunts for this reason. You don't need to carry a heavy camera, camera arm, and a bunch of other accessories. You will likely need some accessories for better audio but the overall footprint will still be smaller.
Amazing Image Stabilization
The 5-axis image stabilization that actions cameras now off is downright amazing. You can go biking down the side of a mountain and the footage still looks smooth. If you're doing any running and gunning type filming don't underestimate how good these cameras are, especially for the price.
Durable and Weatherproof
Another great benefit of these cameras is that they are durable and weather-proof. This is something that both camcorders and DSLR/Mirrorless cameras lack. In certain hunting situations it may be best to leave the more expensive and fragile cameras at home and to just use an action camera.
High Resolutions

& Zoom by Cropping In Post
Another awesome feature of action cameras is that since most now have 4k resolutions of better they can be cropped in on using your editing software. This means you can have a 2x zoom when you crop from 4k down to 1080p and the video quality is still great. You can zoom in further as well but video quality will start to degrade more.
Remote Control With a Phone
Another feature that I use all of the time is the GoPro Quik phone app. I love this app because I can see if the camera is pointing in the right direction without adjusting it a million times.
Slow Motion
Another great benefit to action cameras is that they have slow motion capabilities, usually at least 120 fps if not 240 fps. These frame rates are very slow and make your footage look buttery smooth.
Good Value For The Money
For the reasons mentioned above action cameras are one of the best options for the money and are fantastic for beginners. They are super easy to film with because everything is always in focus because of their small sensor size. Additionally, they make great secondary cameras for those looking to have multiple camera angles. Basically, if you're a hunter you can't go wrong with an action camera. I still use my all of the time.
Best DSLR/Mirrorless Camera For Hunting (Editors Choice)
Cons of Actions Cameras
Poor In Low-Light
Since action cameras are so small they can't support large sensors, at least not yet. Because of their small sensor size, they aren't able to let in a lot of light compared to DSLR/Mirrorless and regular-sized camcorders. This can be a problem for hunters because a lot of the action happens in the first and last hour of light. Unfortunately, you will be hard-pressed to get good footage during these times with an action camera.
Battery Life
Again, since action cameras are so small they can support large internal batteries. Fortunately, there are ways around this using external batteries like power banks or battery extenders.
Sub-par Audio
Action cameras usually can record audio, and often times it is good enough unless it is really windy or rainy. But to really get great audio out of these cameras it is worth buying a microphone depending on the type of hunting you will be filming.
Zoom
As mentioned there is an opportunity to zoom in post-production using editing software if you're using high resolutions like 4k or 5k. However, there is no opportunity to zoom in any other way so if you need to capture something in the distance it can be difficult. I've seen 3rd party camera lenses for GoPros but have not personally tried them but is something to mention.
Best Action Camera For Hunting (Editors Choice)
GoPro Action Cameras
Check Amazon's Price

Conclusion
Each type of video camera has its pros and cons for hunting. I've done a lot of research on how to choose the best video camera for myself and it seems that no single camera is going to have it all. So just pick a camera that has more of the features that you want and get out there and start filming.
In general:
Camcorders are great for beginners looking for high-quality video but also want the process to be as easy and smooth as possible.

DSLR/Mirrorless Cameras are for those looking to step up their game and have more customizable options for more cinematic and low light capabilities.

Action cameras are small powerhouses that are great for run and gun filmers, beginners looking to start filming, or more advanced filmers looking for more camera angles.
Hopefully, you've learned some tips on how to choose the best video cameras for hunting. If you're looking for more camera suggestions check out my post:
Looking For More Hunting Information? Find Me On: