In this Jackery Explorer 1000 review, we'll dive into the specs, pros, and cons of this Jackery portable power station so you can decide if it will best suit your portable power needs.
Portable power stations have come a long way in the past decade. In the past, batteries couldn't do much more than charge your small devices a few times. Now, these more efficient batteries are able to last a lot longer and power larger devices. For this reason, they are becoming more popular and are now a tool to consider instead of, or in tandem with, a gas-powered generator.
The Jackery 1000 is a great option for camping, off-grid living, glamping, overlanding, tailgating…you name it. Pretty much if you need lots of power and there's none around, the Jackery 1000 will likely be able to keep up with what you're asking of it.
With that being said, let's jump into the Jackery Explorer 1000 review…
This post contains Amazon and other affiliate links, which means I'll receive a commission if you purchase through my link, at no extra cost to you. Of course, you are not obligated to use my links, but it does help fund these posts in hopes of bringing more value to you!
This Review's Credibility
My Credentials
I'm a professional ecologist, registered hunting guide, and outdoor content creator. I've personally owned the Jackery Explorer 1000 for about a year now and have used it a few times for off-grid remote-style camping and remote hunting trips. As a content creator, I need to be able to keep my camera gear and laptop charged while in remote settings. 
In the video below, I briefly show my Jackery Explorer 1000 camping setup while I am on a remote Maine moose hunt. If you click on the video it will automatically bring you to the part where I show my Subaru Forester camping setup and Jackery portable power station set up with solar panels.
I spent a lot of time researching portable power stations to determine which would be the best for me. With all of the other options on the market I ended up choosing the Jackery Explorer 1000 and I'm going to share why I made that choice.
No Affiliation
I am not affiliated with Jackery in any way. This Jackery Explorer 1000 review is based solely on my personal experience with this portable power station in the field.
Jackery Explorer 1000 Review (Field-Tested With Solar Panels)
Why I Chose The Jackery Explorer 1000 With Solar Panels For Remote Camping
I chose the Jackery 1000 because after researching the best portable power stations, I determined that this model of Jackery was the best value power station based on the specs and online reviews. I usually don't need the best equipment on the market at really high price points, but I also don't like to buy cheap equipment that is going to break which causes more frustration.
Based on my research the Jackery Explorer 1000 was very well built, could power/charge a lot of devices at once, could charge devices even while in use, was super easy to use, and had 3-different ways to charge it.
What I Liked About The Jackery Explorer 1000 With Solar Panels While Remote Camping
Having 3-ways to charge is important for me because there isn't always enough sun to get a full charge. That said, having solar panels was an awesome option to recharge the Jackery battery while I was away from camp. This way the Jackery would get significantly charged by the time I got back to camp at the end of the day.
When I'm creating content in remote settings I need to be able to recharge all my gear at night so that it's good to go in the mornings. Buying the Jackery battery helped me save some money because instead of buying a BUNCH of batteries for my camera gear (camera, drones, power banks…etc), instead, I could just have one big battery and just recharge the few batteries I needed for each day.
The Jackery never let me down when it came to charging batteries for all of my camera gear. I'm usually gone for one-week trips and it's not uncommon for me to have enough battery just from using solar for the whole week. That said, I haven't used it for larger appliances yet, I've used it mostly for just camera gear and my laptop.
I also lost my AC charger and asked Jackery if they could send me a link so I could buy a new one, they got back to me right away and shipped one to me for free which was awesome! Their customer service is really great, and many others have said the same thing.
What I didn't Like About The Jackery Explorer 1000 With Solar Panels While Remote Camping
The Jackery 1000 Internal Fan
There is not much I can say about things I didn't like about this power station, however, there were a few areas I would like to see improved. The fan was my biggest complaint because when charging equipment the fan would periodically kick on for about 3 seconds and then shut off. The fan is pretty quiet so this might not be a problem for most people, but I car-camp so I'm often sleeping in my car. With the battery inside the car, it would wake me up once in a while. It wasn't a huge deal but enough so that it's worth mentioning.
The Jackery 1000 Temperature Operating Limits
Another thing I found out after purchasing the battery is that it has temperature operating limits of between 14º F and 104º F. This is a pretty good range for most people, but I live in Maine and it can get cold. Additionally, the inside of vehicles tend to get hotter or colder than the outside environment, so you might need to be careful if you store your Jackery battery in your car all day.   
Charge Cycles – How Many Years Will The Jackery Explorer 1000 Last Before It Needs To Be Replaced?
Like all battery-operated portable power stations, the batteries will eventually become less effective over time. Jackery claims that this battery should handle approximately 500 charge cycles (from empty to fully charged).
This does not mean your battery will stop working after 500 charge cycles, it just means it won't be able to hold as much charge as it did when you first bought it.
Of course, how well you maintain your battery will also play a role in how long it will last (like storing it properly). I wish that this number was higher, there are other batteries on the market that have much higher charge cycles.
Pros
Very easy to operate

3-way to charge the battery

Solar Panels Are Awesome

2-Year Warranty

Great Customer Service

Free 30-Day Returns

Free Shipping

Quiet compared to a generator
Cons
Periodic Loud Fan Noise When It's Working Hard

Temp Operating Limits 14 F and 104 F

Only 500 Charge Cycles (To 80% Capacity)
Jackery Explorer 1000 Specs and Overview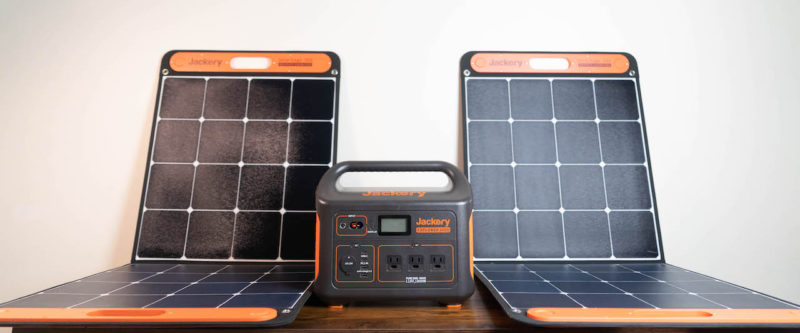 Unboxing – What Comes With The Jackery Explorer 1000?
Jackery Battery

Duel Solar Panel Charger/Splitter

AC Charging Cable Block Charger (Outlet Charger)

DC Charging Cable (Car Charger)

Two 100W Solar Panels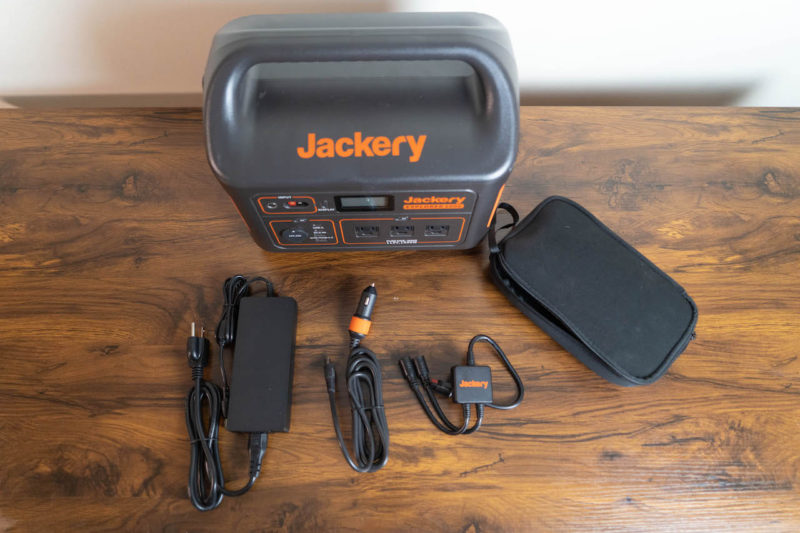 Build Quality & Design
The Jackery 1000 is has a strong hard plastic housing which no doubt also serves to reduce the weight if this power station. The power station weighs in at 22 lbs, which is not bad considering how much you get out of it for power vs other models on the market. This power station is a rectangular cube in shape and has a nice carrying handle on top for easy transporting.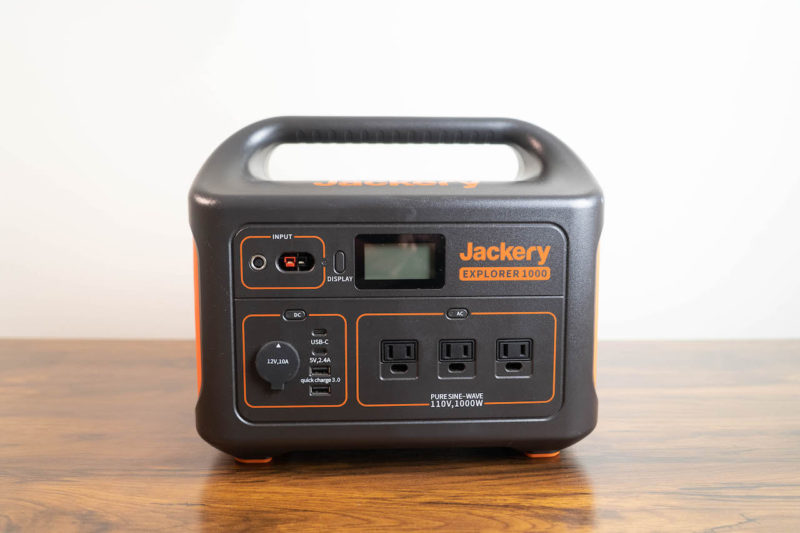 There are also fan vents located on either end of the Jackery which aid to keep the battery cool under intense charging loads. You can see the perforated sides of the Jackery which draws cool air in from one side and blows the warmer air out the other side.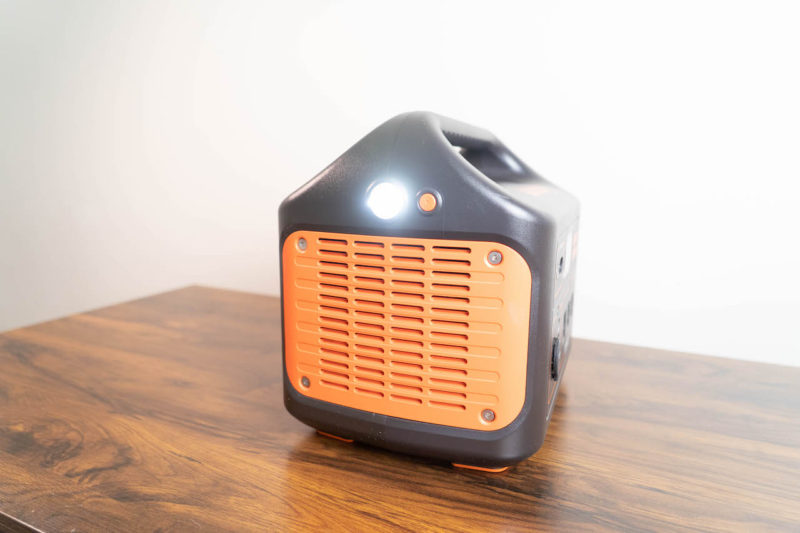 Ports and LCD Screen
The front of the Jackery battery is the only side that you'll be interacting with the device because everything is located on the front (except for the built-in flashlight). The other sides (top, back, and bottom) are solid plastic.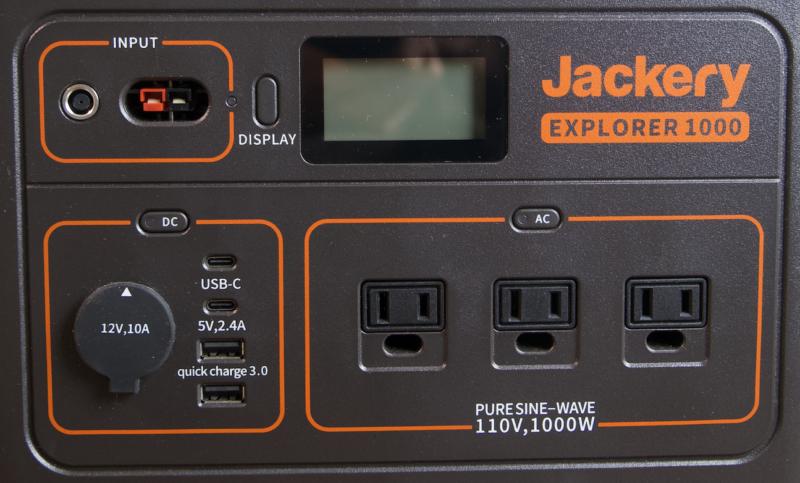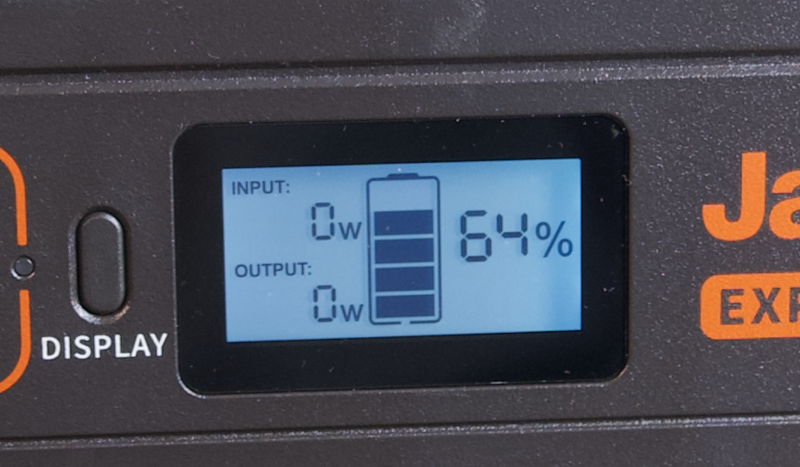 3 AC Ports
(Pure Sine-Wave 110V, 1000W)
5 DC Ports
12V, 10A Car Outlet Port

Two USB-C Ports

Two USB-A Ports
Two Inputs For Charging
Outlet Charging Input Port

Dual Solar Panel Input Port
Jackery Explorer 1000 Battery Specs
Capacity: 1002Wh Capacity / 1000W of Power (2000W Surge Power)
Charge Cycles: 500 cycles to 80% capacity
Charge Time: 7.5 to 17 hours depending on charging method
How Long The Jackery 1000 Last On A Full-Charge?
The Jackery Explorer 1000 has 1002 Wh of storage capacity. Using this number you can approximately calculate how long your Jackery will last while charging any device: Working time = 1002Wh* 0.85 / operating wattage of your device (approximate only).
Below are some approximate run times for different appliances to get you in the ballpark. Of course, these times will vary depending on device energy consumption.  
How Long Does It Take To Fully Charge The Jackery 1000?
7.5 hours via AC wall charger

14 hours via DC Car charger

17 Hours via one solar panel

8 hours via two solar panels
Jackery Solarsaga 100W Solar Panel Review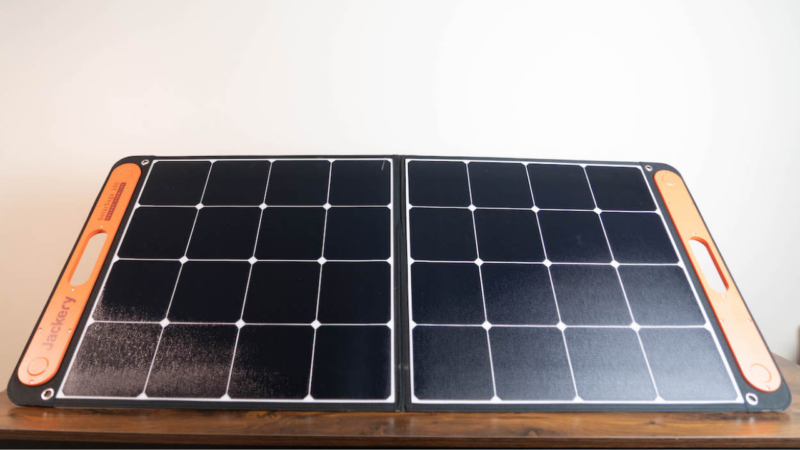 From my time using the Jackery Solarsaga solar panels, I don't have any complaints, they just work really well. They're very well-thought-out and make using them very easy, fast, and enjoyable.
For example, they're super compact and can be folded up into basically 2 ft squares. When they're folded they hardly take up any room because they're so thin. This makes them easily packable when you're not using them or when there's no sun.
They also have magnets in the orange end pieces (shown in the photos below) which keep them together, and the magnets work really well.
When you're ready to use them you just pull the magnets apart to open the panel, then pull out the built-in solar panel stand, then plug the cord (located inside a pouch on the panels) into the Jackery Explorer 1000. The photos below will show you more exactly what I am talking about: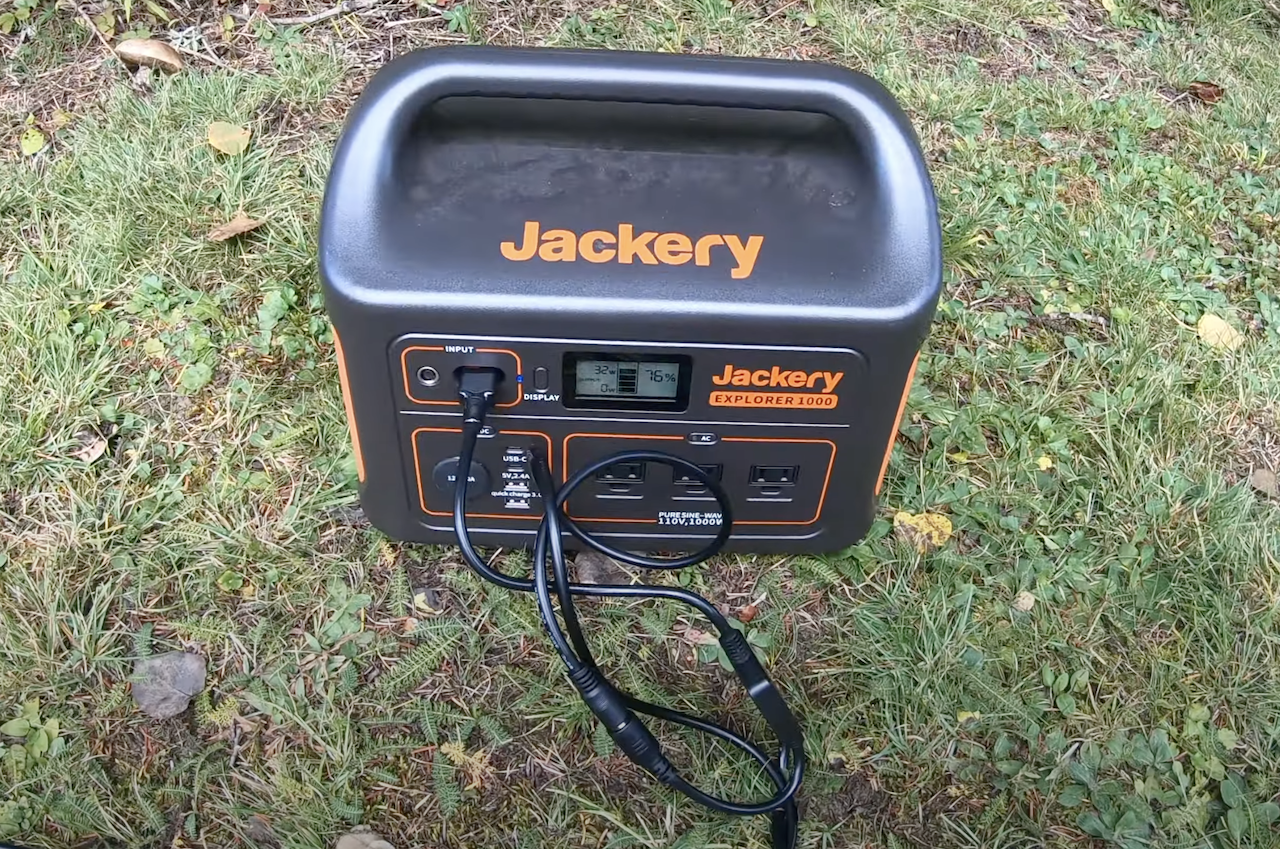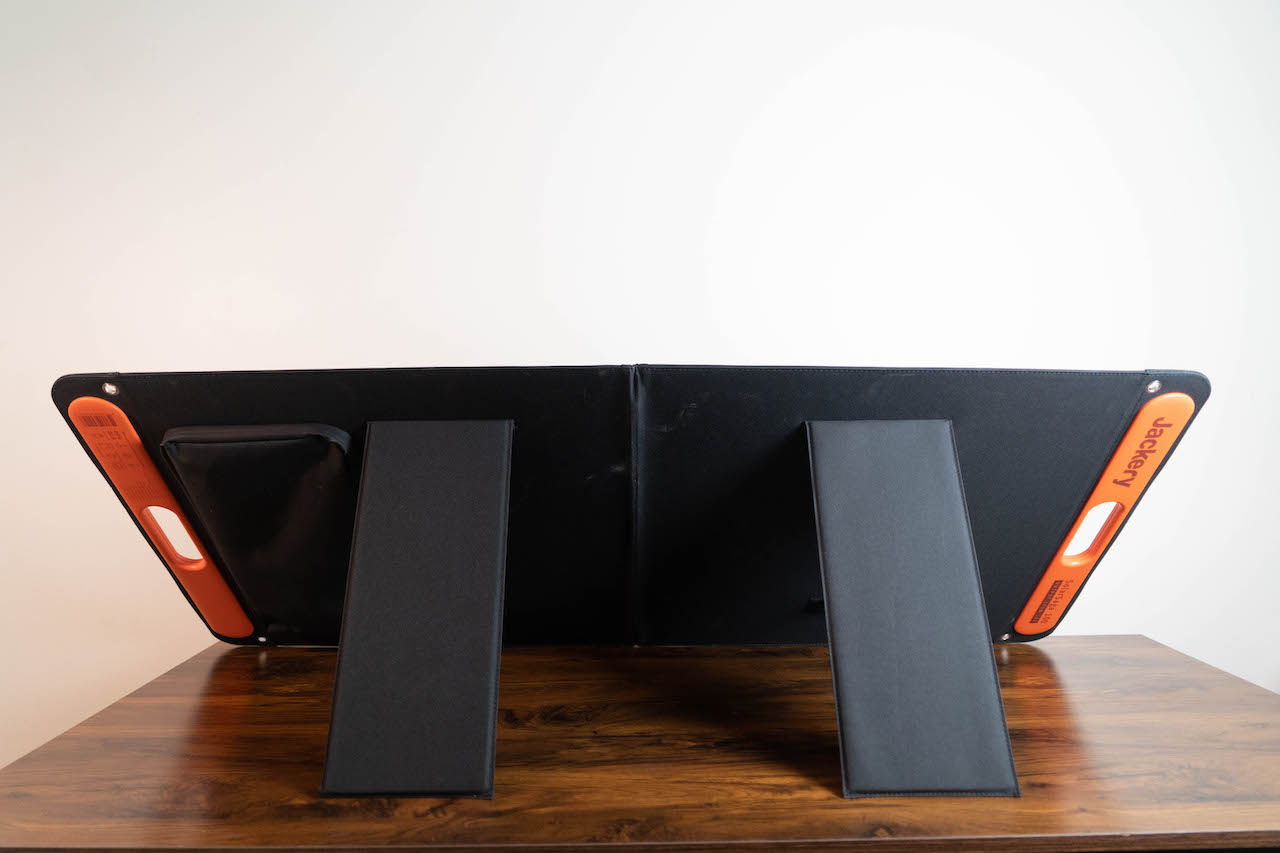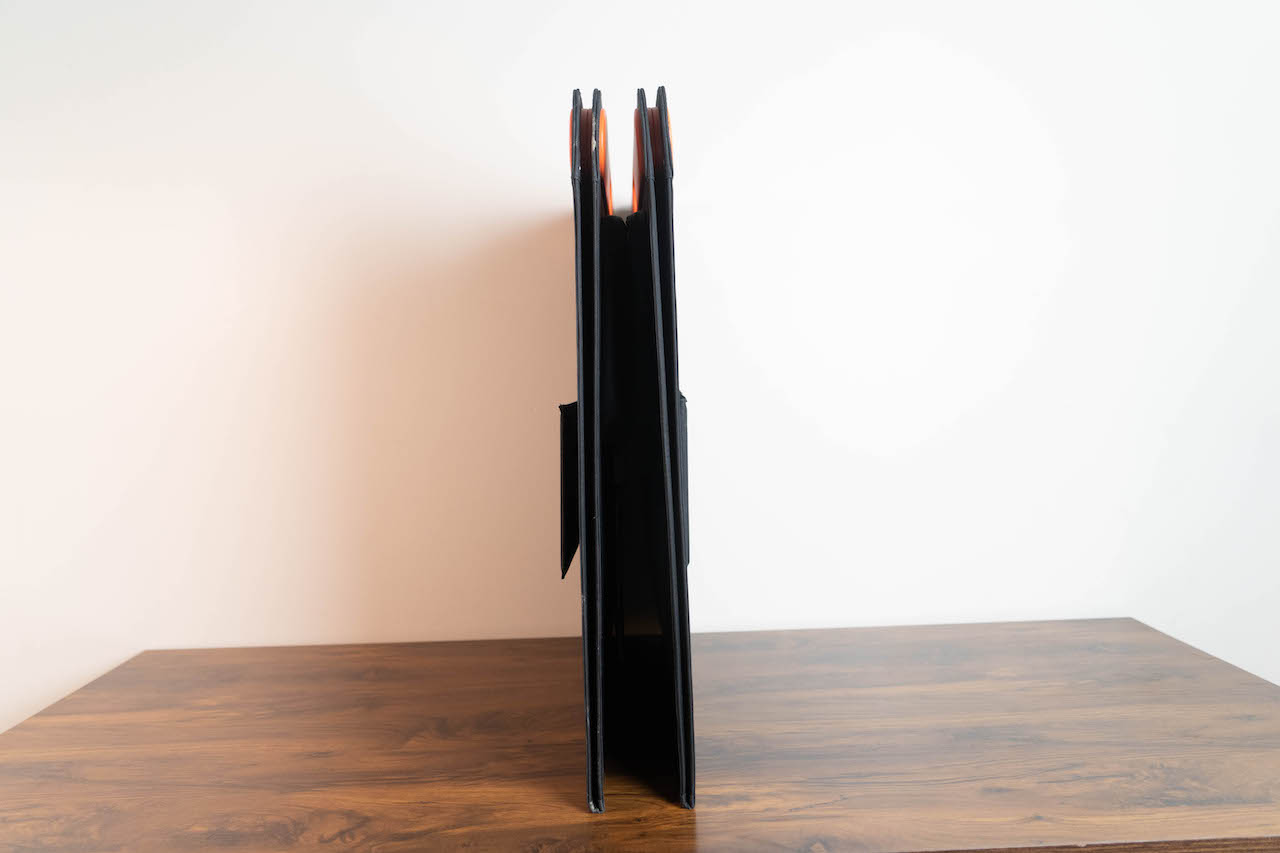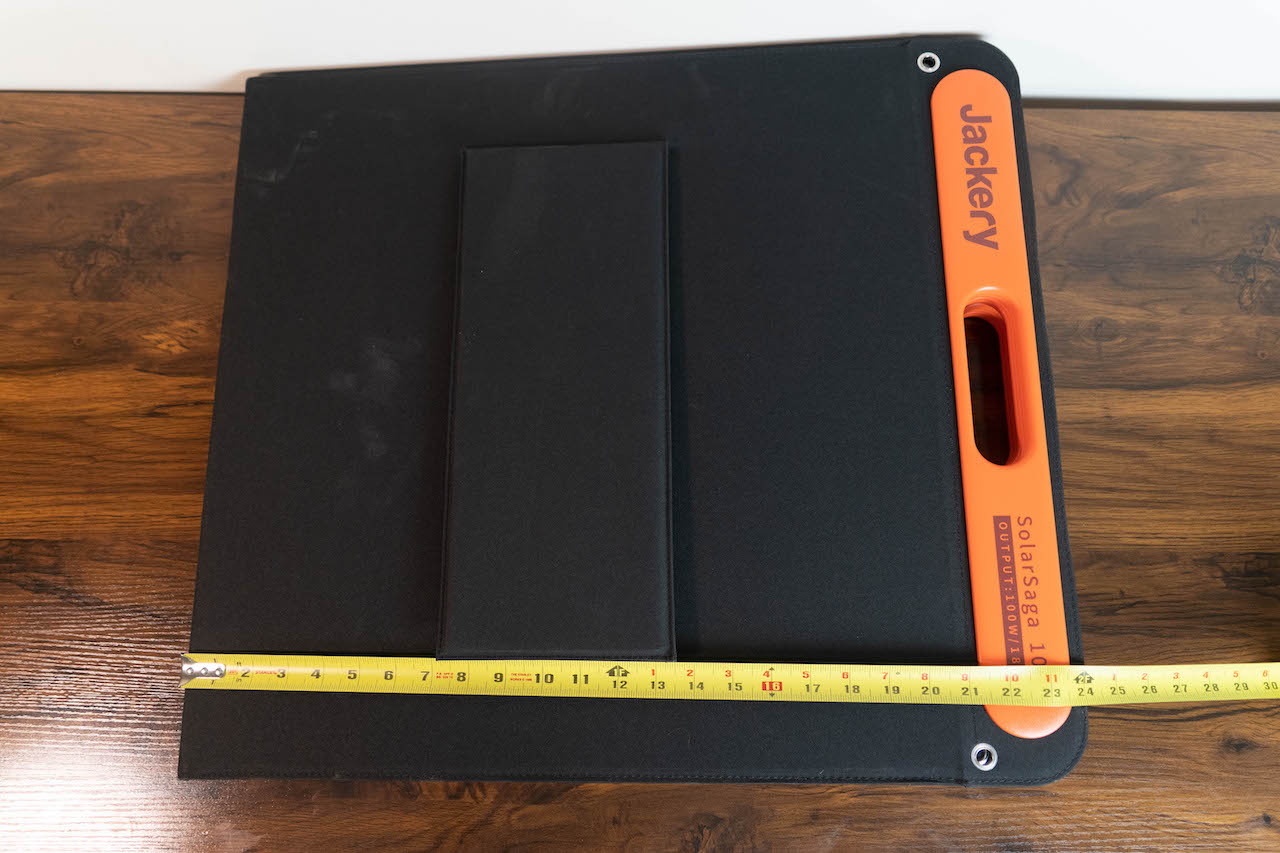 Conclusion
Hopefully, this real-world Jackery Explorer 1000 and Solarsaga 100W solar panel review has helped you determine if this portable power station system is right for you. I believe it is one of the best portable power stations for the money right now. You can get this power station without the solar panels but I've found them very useful, especially for longer trips.
Find Me On: