The best boots for ice fishing will be big, heavily insulated, waterproof, comfortable, and durable. These ice fishing boots were designed to keep your feet warm in the coldest conditions while being relatively stationary.
To have the most enjoyment while ice fishing it is important to have the correct footwear. Otherwise, you'll be focusing on your feet when you should be fishing and having fun. The boots below are great options for keeping your feet warm and dry while ice fishing.
This post contains Amazon and other affiliate links, which means I'll receive a commission if you purchase through my link, at no extra cost to you. Of course, you are not obligated to use my links, but it does help fund these posts in hopes of bringing more value to you!
The 4 Top Picks
Best Rubber Boots For Ice Fishing
Warmest Ice Fishing Boots – Baffin Titan Rubber Pac Boots
These Baffin Titan rubber boots are comfort-rated to -148ºF (-100ºC). They are perfect if you're stationary for long periods of time with your feet on the ice.
Also, they're waterproof and have thick removable liners for insulation and warmth. Since they're waterproof, you can be sure your feet stay dry, which is essential for ice fishing in cold weather. For how big and warm they are, they're surprisingly not that heavy.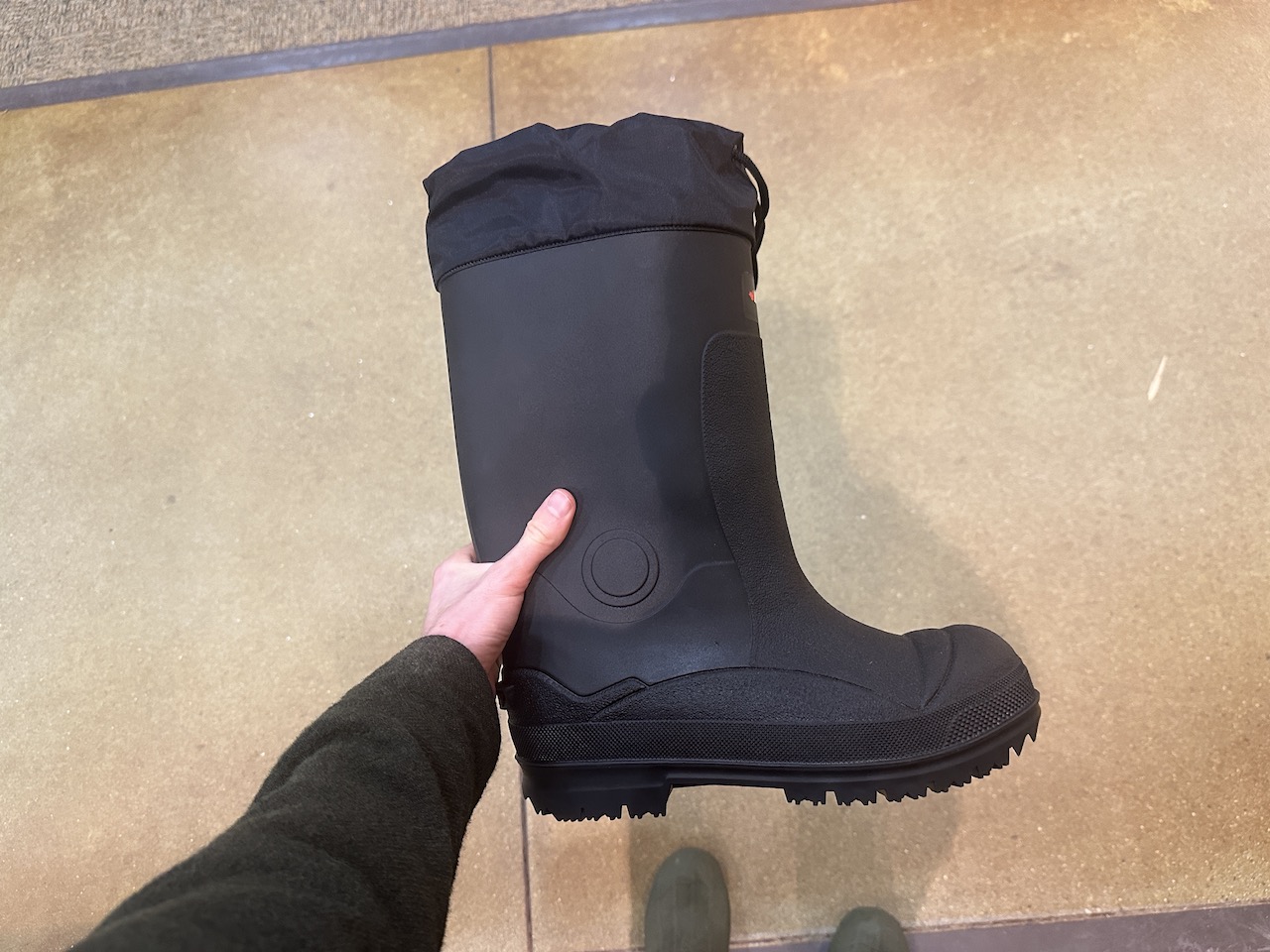 Cabela's Zoned Comfort Trac 2000g Insulated Boots
These rubber boots are made by Cabela's and are one of the warmest rubber boots on the market. They have 2000g of insulation in the toe area, 1600g in the arches, and 1200g in the heel. This design is for maximum warmth in the areas that need it but also to keep them mobile enough for walking.
Also, you can find these boots for a very affordable price compared to the other warm rubber boots on this list, making them a great budget option. These boots will fall apart if used for a lot of walking but if you're relatively stationary when you're ice fishing these could be a great option.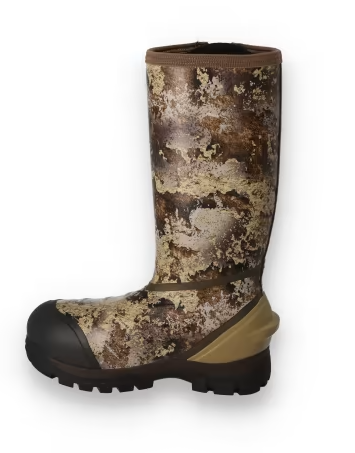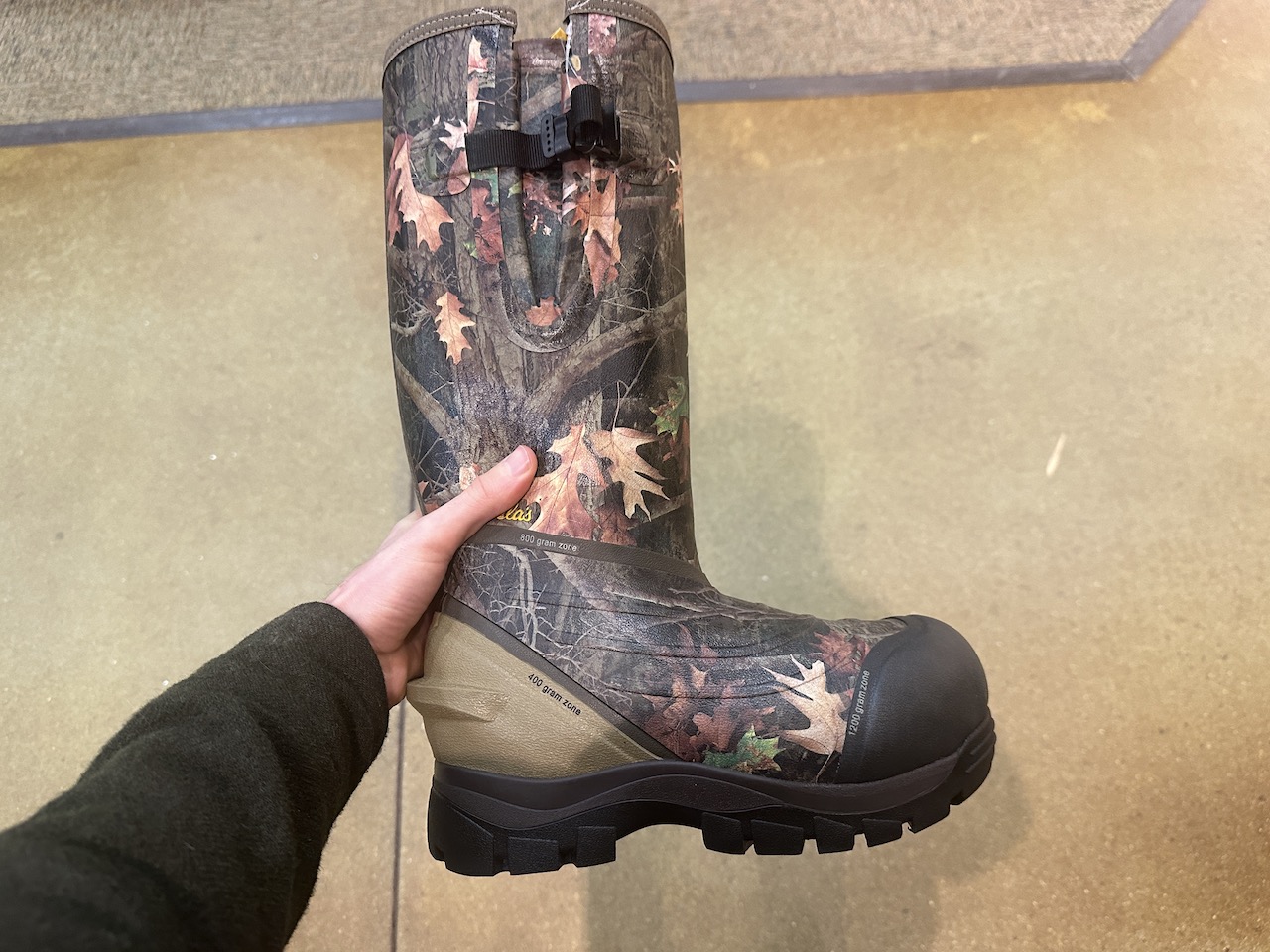 Lacrosse Alpha Burley 1600g Insulated Boots
The Lacrosse Alpha Burleys are one of the warmest full-sized (18″) rubber boots on the market with 1600g of insulation to keep your feet warm in the coldest weather while ice fishing. Also, another benefit is that they are waterproof so your feet don't get wet which will further which is key to keeping your feet warm on the ice.
Thorogood Infinity 1600g Solarcore Insulated Boots
Another one of the warmest ice fishing rubber boots is the Thorogood Infinity with 1600g of insulation. These boots are similar to the Lacrosse Alpha Burleys but they use Solarcore insulation (which NASA uses for insulating space things) to keep boots as insulated as possible and retain heat better than other boots.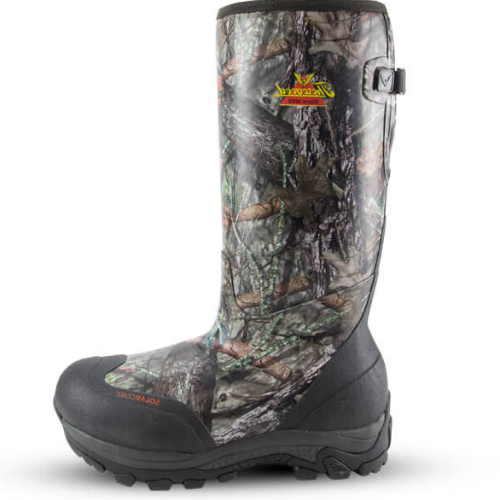 Best Winter Boots For Ice Fishing
Cabela's Saskatchewan – Warmest Winter Boot For Ice Fishing
The Cabela's Saskatchewan boots are one of the best boots for ice fishing because of the 3 inches of insulation between your foot and the ground surface that they offer.
This means it will be very difficult for the cold to penetrate from the ground up into your boot, which is key when your feet are on the ice for long periods of time. They have a removable liner which gives them even more insulation and warmth.
Although they're one of the biggest and bulkiest boots, they're very warm. They're also surprisingly lightweight for their size because of the synthetic material they're made of.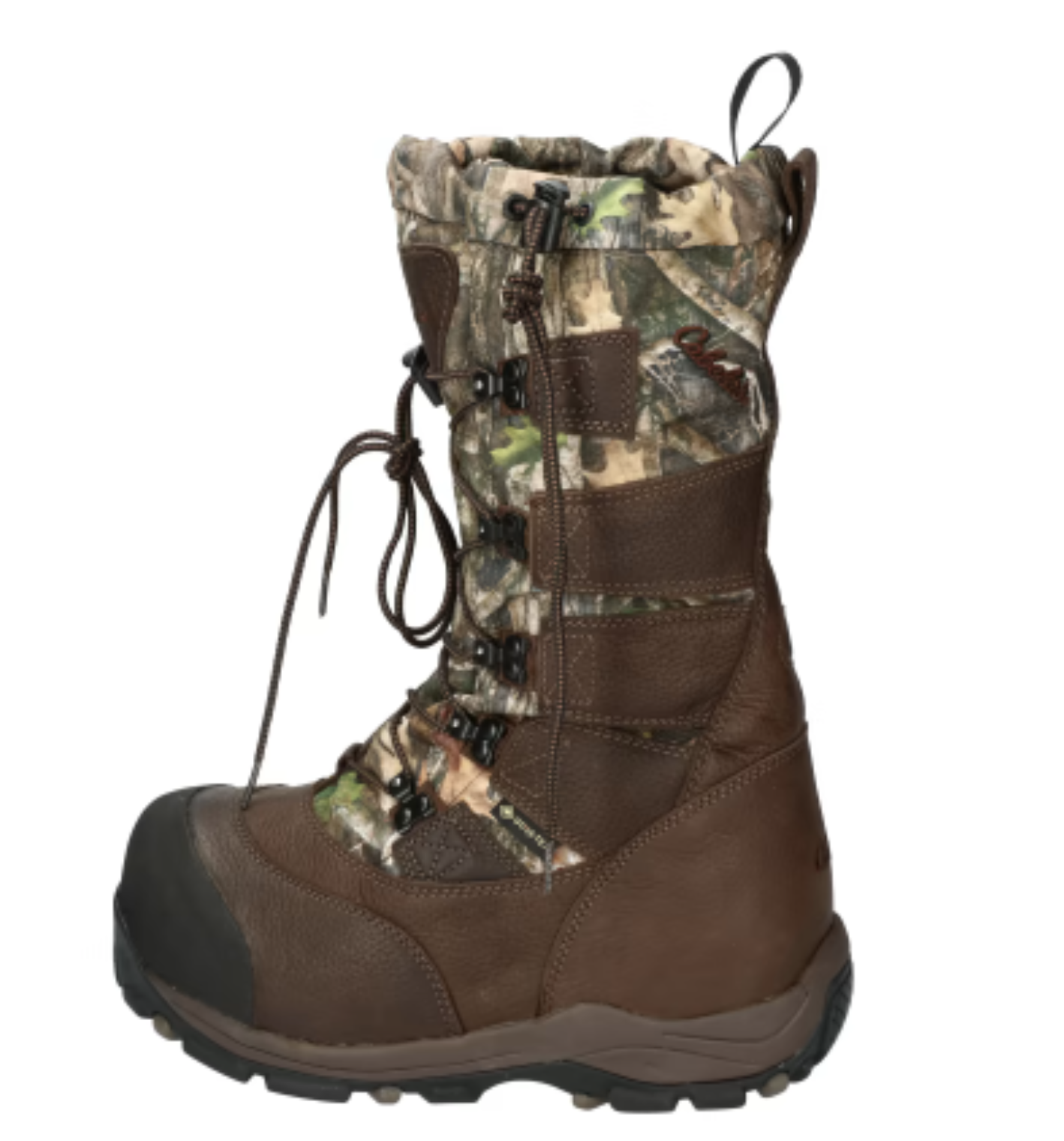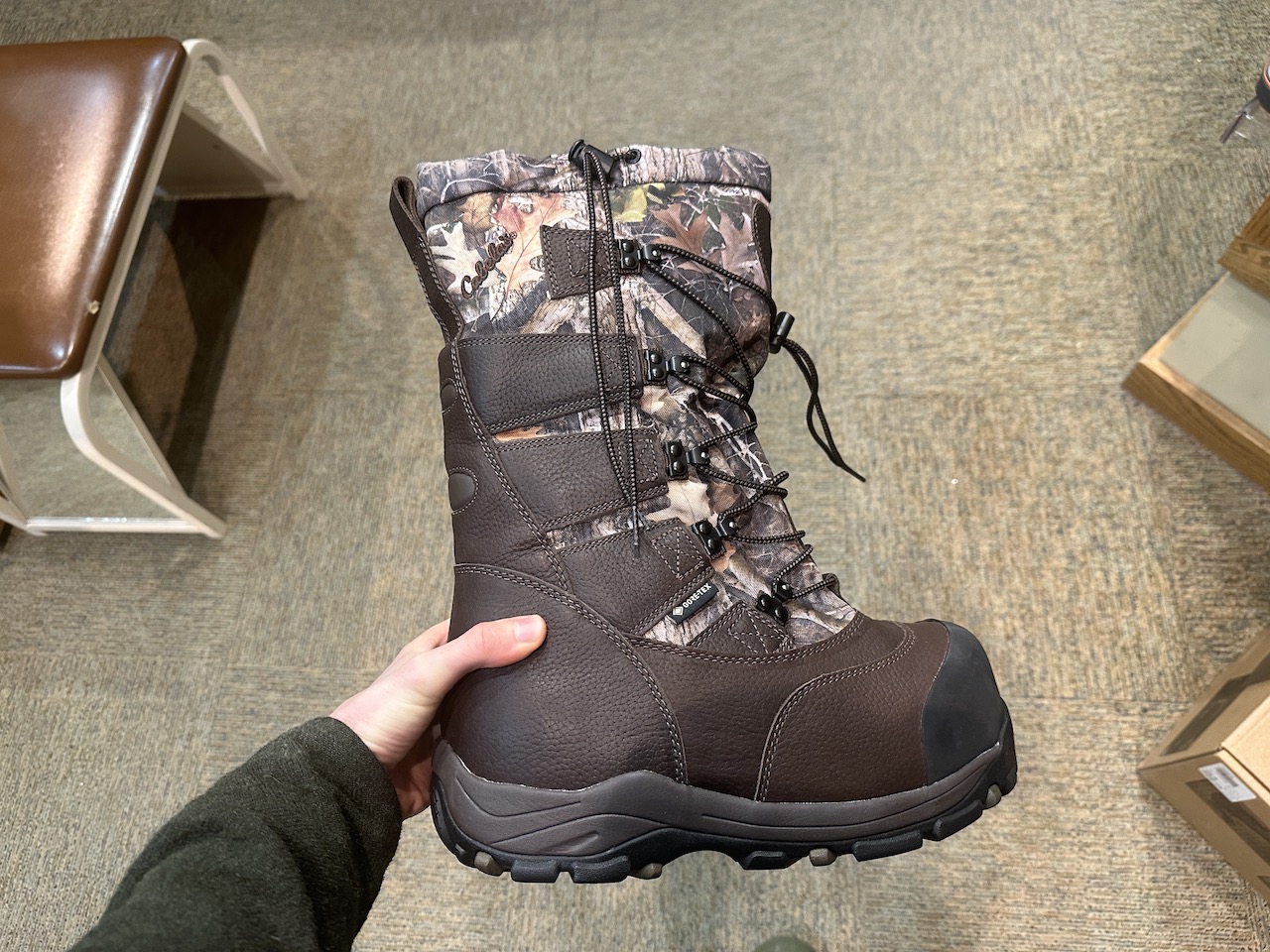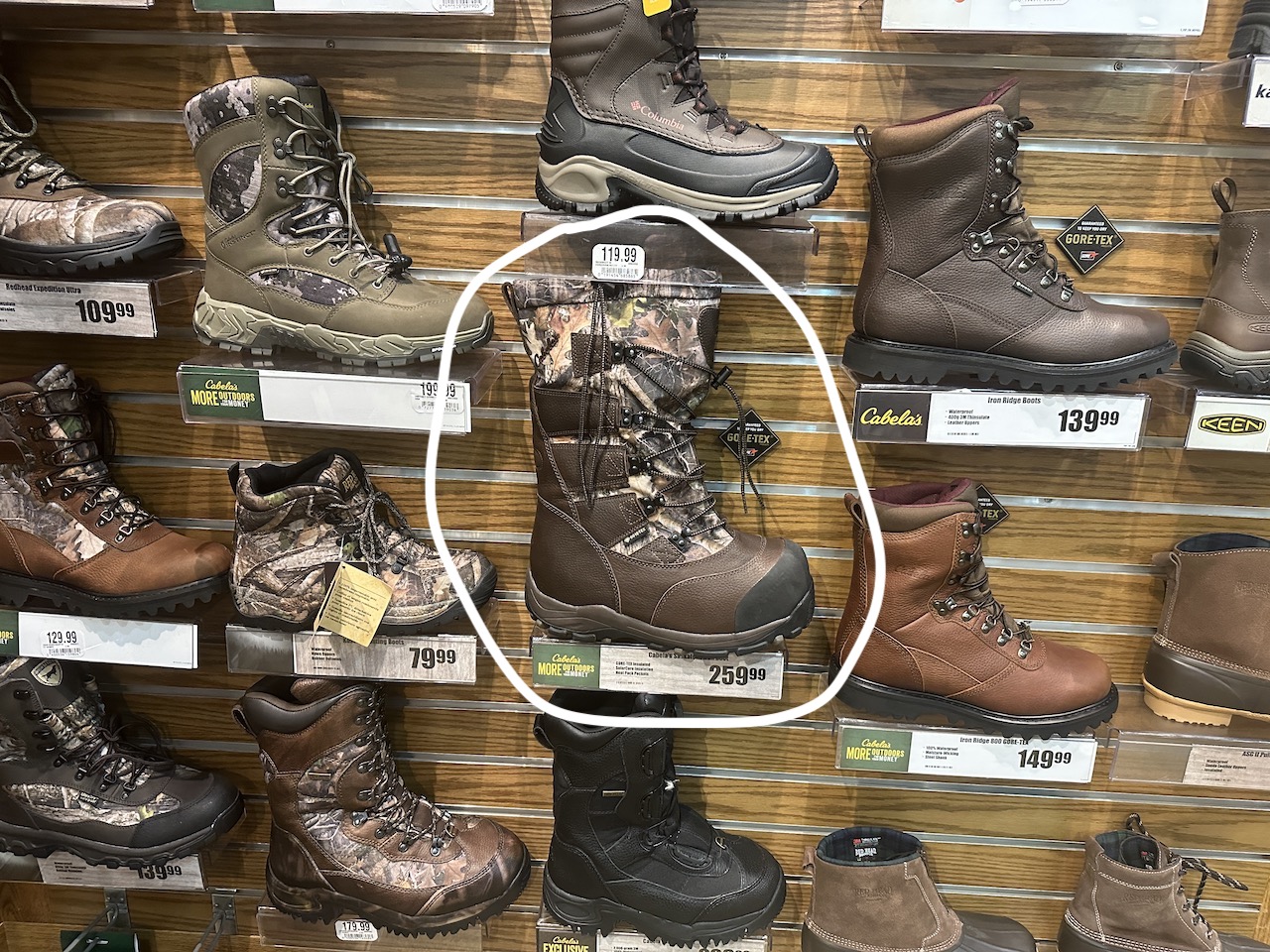 Korkers Polar Vortex 1200g Winter Boots
These boots are unique in that they have interchangeable soles so you can add ice grips to the bottom of them which is a great feature for ice fishing. They're comfortable, insulated (1200g), and waterproof making them great ice fishing boots. This is a versatile boot because it's fairly heavily insulated for warmth but agile allowing for better mobility.
Lacrosse Hunt Pac Extreme 2000g Insulated Boots
Lacrosse makes a winter boot called the Hunt Pac Extreme. They are big and bulky winter boots with 2000g of insulation which is great for keeping your feet warm on the ice. 2000g of insulation is a lot which means these boots can keep your feet warm during the coldest temperatures of the year. Although they aren't rubber, they are still waterproof. 
Cabela's Inferno 2000g Insulated Boots
Another one of the warmest ice fishing boots is the Cabela's Inferno 2000g insulated boot. These boots are big and bulky but they will keep your feet warm in just about any weather condition you throw at them. They're waterproof which is essential for keeping your feet dry and warm on the ice.
Baffin Snow Monster Ice Fishing Boot
The Baffin Snow Monsters are comfort rated to -94°F and are another top ice fishing boot. Additionally, they are waterproof and have a removable felt liner. The big and bulky winter boot offers a lot of insulation to separate your feet from the cold and retain foot heat. Baffin is a Canadian company they are well-known for its quality warm winter boots.
Kamik Nationplus Budget Ice Fishing Boot
If you're looking for some of the warmest ice fishing boots for the money, these budget winter boots are great. Also, they are comfort-rated down to -40°F. They won't be able to handle the coldest days but they'll be able to withstand most. If you're a beginner ice fisherman these are a good option. Especially if you know you won't be ice fishing on the most brutally cold days.
Tips For Buying The Best Ice Fishing Boots For You
What Does Boot Comfort Rating Mean?
A comfort rating for boots will tell you the effective temperature that a pair of boots are designed to keep you comfortable with light usage.
This is important to know because there is a big difference between in warmth between being stationary and walking around a bit.
For this reason, you will want a pair of ice fishing boots that are rated warmer than the temperatures you plan to fish in to ensure your feet stay warm while ice fishing.
More Ice Fishing Resources:
How To Ice Fish For Beginners – Ice Fishing 101 | Gear, Tips, & Tricks
Best Brands When Buying Ice Fishing Boots
Stores To Shop For Ice Fishing Boots
Some great places to find ice fishing boots include:
Amazon – Free Two-Day Shipping For Prime Members
Cabela's – Free Shipping on Orders Over 50$

L.L. Bean

– Free Shipping on Orders Over 50$
Find Me On: