There are two main types of saddle hunting platforms; ring of steps platforms and single-piece platforms. Examples of both of these styles are shown in the following sections. With the exploding number of saddle hunters, a lot of new saddle hunting platforms have come onto the market. We'll be diving into the many examples so you can determine which style of saddle platform is best for you.
This post contains Amazon and other affiliate links, which means I'll receive a commission if you purchase through my link, at no extra cost to you. Of course, you are not obligated to use my links, but it does help fund these posts in hopes of bringing more value to you!
Saddle Hunting Platforms
Saddles are used in combination with platforms. Saddle hunting platforms are a must-have piece of saddle hunting gear. The purpose of the platforms is to give your feet something to rest and maneuver on while you're in your saddle. Without a platform, you will not be able to effectively hunt out of a tree saddle.
Ring of Steps Platforms
Ring of step platforms are objects that are placed around the diameter of the tree (in a ring) at the height you want to stand. These objects are radiate out from the tree about 90º and are generally 4-7 inches long.
Ameristep Ring of Steps Platform (Screw-in)
These screw-in steps are a little noisy but are small and lightweight making them easy to carry. You only need 2 or 3 if you're using them in combination with climbing sticks, they take up very little space compared to other saddle hunting platforms. These are ideal when you can get permission to use them.
I like the Ameristep screw-ins because they have a lot of foot room and a good grip. They usually screw in very easily with one hand, but a downside is periodically you'll get a bad one and you'll have to use some effort to get it started.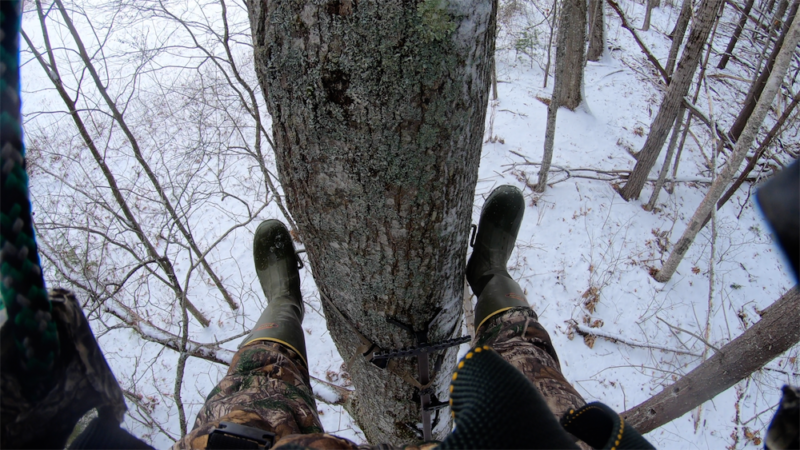 Cranford Ring of Steps Platform (Rope-Style)
These rope-style Cranford steps will work if you're looking for a lightweight option on public land. Since they fold up, they are compact. You'll only need 3 or 4 if you're using the top of your climbing stick as a step. These are really lightweight and packable options for creating a platform. They won't be as stable as their Ameristep screw-in cousins.
Wild-Edge Inc. SteppLadder Ring of Steps Platform
The SteppLadder steps can also be used to make a ring of steps platform. They use cam-over technology to get a really good grip on the tree without needing a buckle or strap. Compared to the Amieristep and Cranmore steps they are bulkier but do offer increased foot surface area. It can be time-intensive to place multiple steps because it is done one at a time to create a platform.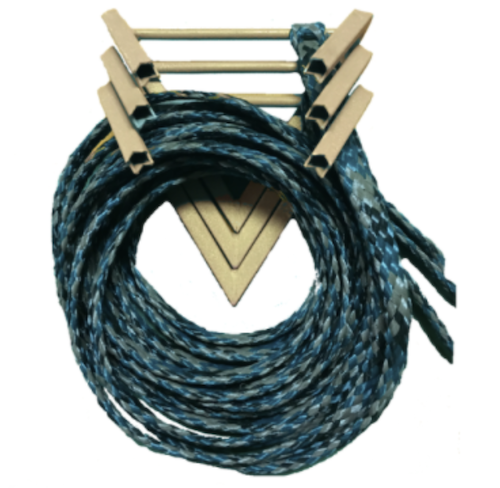 Bullman Outdoors Silent Approach Ring of Steps Platform
Bullman Outdoors ring of steps is one of the more popular rings of steps. They're a little bulky but are pretty lightweight because they're made of plastic. Once ratcheted down to the tree they provide a good amount of surface area compared to other rings of steps. They also have teeth for additional grip on your boots.

Eastern Woods Outdoors – Ring of Steps Platform (

Squirrel Steps)
Eastern Woods Outdoors has a very popular ring of steps as well. These are small and lightweight steps that are made of aluminum. You can purchase silencing tape with the steps to keep them from making noise and is highly recommended. Another nice feature of these steps is that they use an over-center buckle (OCB) instead of a ratchet strap so you can get them really right without the noise.
The over-center buckle (OCB) is a great option for those who don't like the noise a ratchet strap makes (I'm in that camp). These buckles cam over one time but will tighten down just about as good as a ratchet strap. They're great for a ring of steps because they tighten down well, are easy to set up, and are quiet.
Cranford Saddle Scaffold Set Ring of Steps Platform
Cranford recently started making a ring of steps option. These steps are interesting because they fold up so they're compact and they are a little more 'winged' so they are less apt to move with side pressure. They come with a ratchet strap, but you can buy an OCB buckle and replace the ratchet strap if you desire.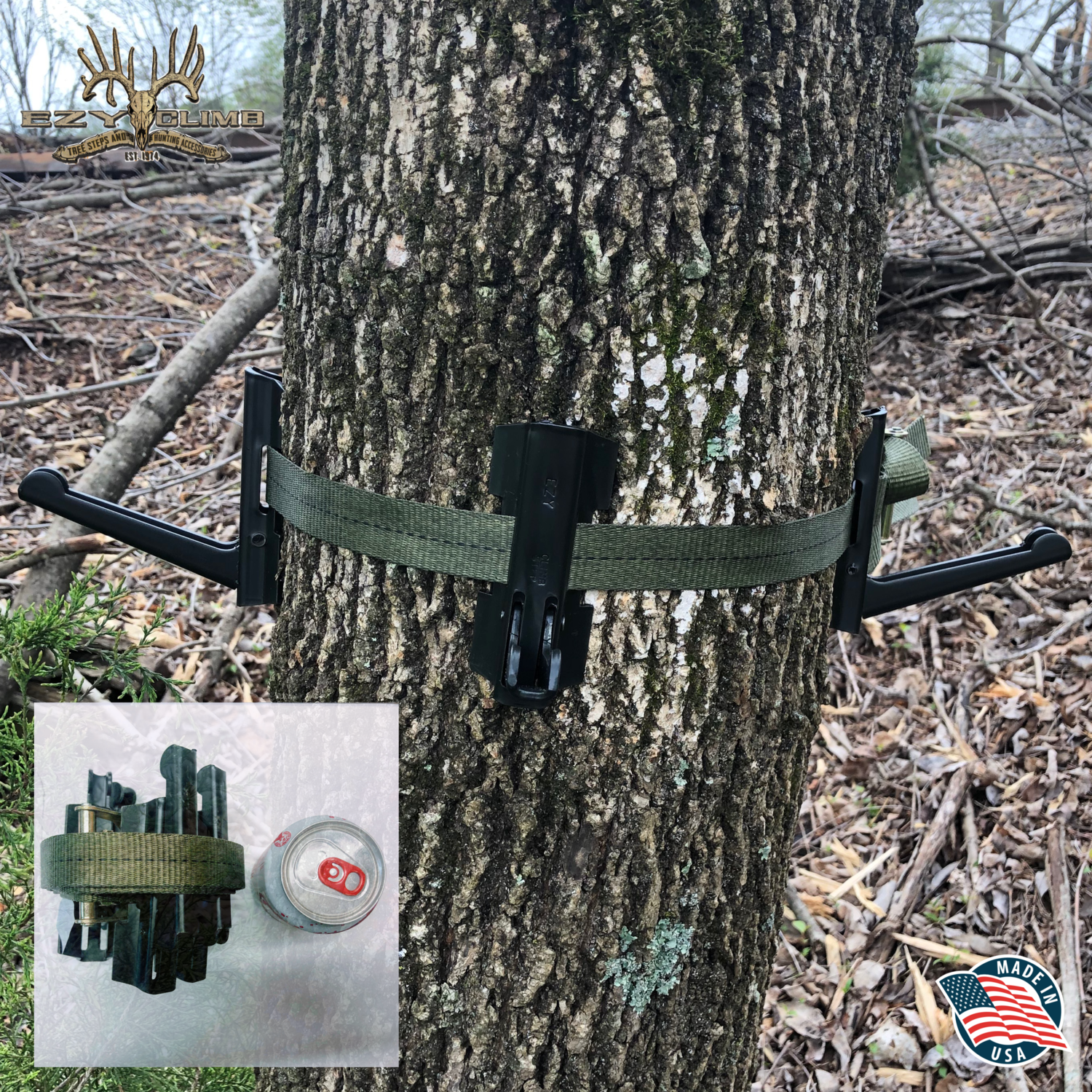 One-Piece Saddle Hunting Platforms
One-piece platforms are newer to the market than the older-school ring of steps. There are now a handful of companies that make these platforms. As the years progress these companies have continued to innovate their products. With each new version, these platforms become better and easier to use. Some of the best options on the market are listed below:
Lone Wolf Custom Gear – The Kuhnert's Ambush Platform
The Kuhnert platform uses cam-over technology to get extra tight to the tree. This is the largest platform in this review. The platform size is 16.5 x 14.5 inches and weighs 4.81 lbs with a weight limit of 300 lbs. You are able to angle the platform to your desired angle with the leveler. This platform also pairs well with Lonewolf climbing sticks, the platform has little tabs that allow you to use the platform strap to secure climbing sticks when on the move. A unique feature of this platform is that it comes with backpack straps making it very easy to carry.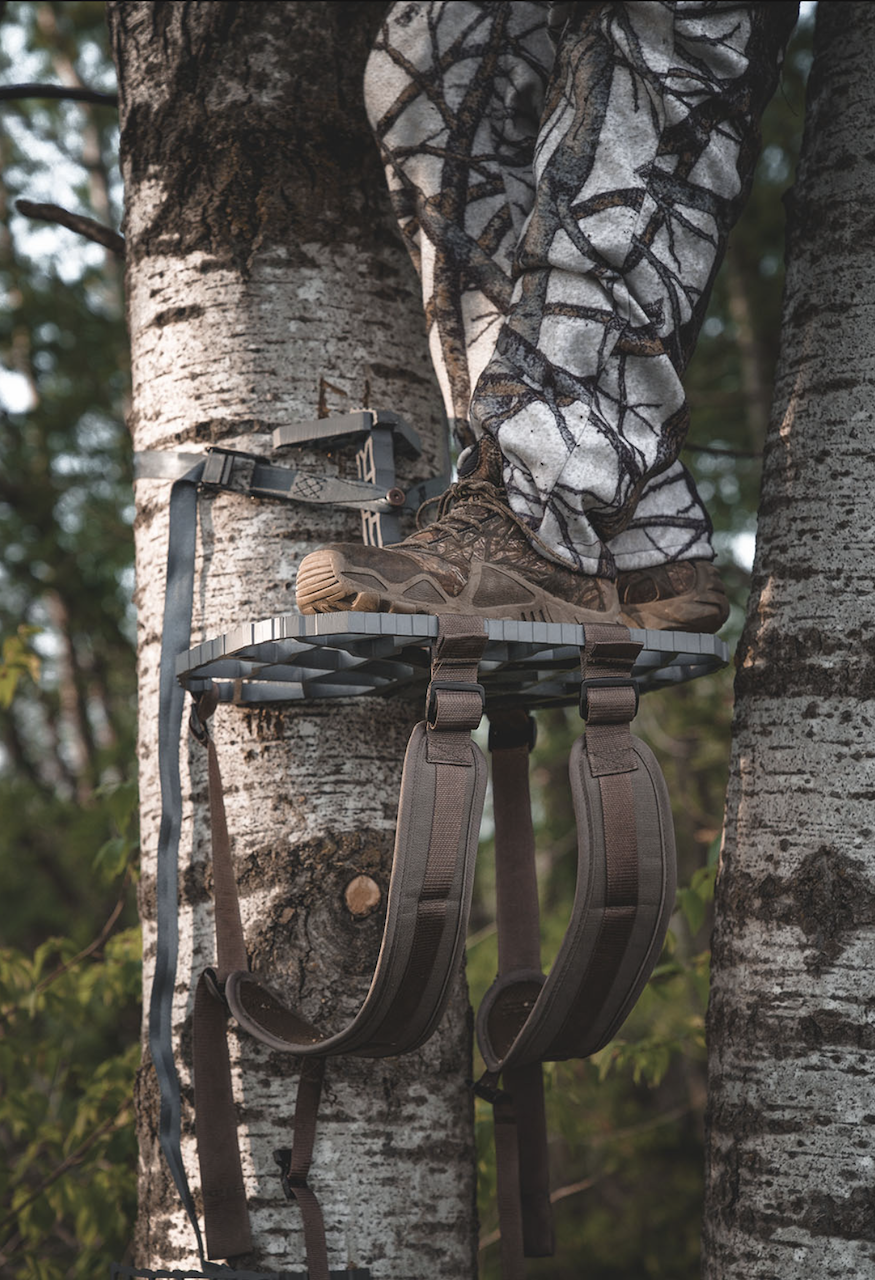 Out On A Limb – The Ridge Runner Platform
The Ridge Runner Platform is a new and great design. Because of its innovative shape, you can maneuver all the way around this platform so you can shoot at all angles (360º) easier than other platforms on the market. It's also easy to get secure to the tree because it uses cam-over technology. It's 18 x 8 inches and weighs 3.5 lbs. The traction on this platform is great, it has large notches that grip boots well, and utilizes an anti-skid finish. This platform also has a leveling system to get your platform where you like it. 
Tethrd – Predator Platform
The Tethrd Predator is one of the most well-known saddle hunting platforms on the market. It works well, it's lightweight, and it's sleek making it a favorite among saddle hunters. It uses cam-over technology to get extra tight to the tree. This platform is 12 x 13 inches and is 3 inches tall when packed up and weighs 3 lbs. The sides of the platform are grooved and have a small wing allowing for good side control and potentially shooting 360º around the tree. There is a way to level the platform which adds to the comfort.
Trophyline – The EDP Platform
This platform comes in at 13.5 x 13 inches and weighs 3.81 lbs and has a 300 lbs load limit. It has a small step above the versa button for extra maneavering. Having a small step here allows you to maneauver for side shots and rest your feet while keeping the platform secure. The Lone Wolf Kuhnert also has this feature but is smaller. Overall it's a very similar platform to the Tethrd Predator in shape and weight. 
XOP Outdoors – Ultra Series Edge Saddle Platform
This platform is 13.75 x 11 inches which is pretty compact. However, somehow it is the heaviest platform in this review, coming in at 5.4 lbs. This is over a half-pound more than the 16.5 x 14.5 Lone Wolf Kuhnert Platform. Although this platform is heavy, it has a weight rating of 350 lbs which is more than any other platform in this review which can only hold 300 lbs. The layout of this platform is very similar to the Kuhnert's Platform but is probably 1/3 smaller. The notching of this platform gives it a solid bite on your boots when maneuvering. It also has an easy hand-tightening leveling system.
For Just The Platform: Check Amazon's Price
For The Saddle Hunting Kit: Check Amazon's Price 
Hawk – Helium Hammock Apex Platform
The Apex platform is 12 x 11.77 making it the smallest overall in this review. Although it is the smallest platform it comes in at the 3rd lightest platform at 3.6 lbs and it is rated to 300 lbs. The build of the Apex is very similar to the Tethrd Predator platform. Unlike the Tethrd Predator though, this platform does not have much for grip and doesn't have any winged protrusions to aid with 360º shooting. Other reviews also mention that this platform is not able to handle side-pressure as well as the Tethrd. That said, this platform is very affordable compared to other platforms. You can often find it for under 100$.
Platform Attachments For Climbing Sticks
Climbing stick companies have started creating their own platforms that are specifically designed to be used in conjunction with the tops of their climbing sticks. This makes the platform installation faster and easier than before. This style of platform is new to the market and it will be interesting to see how these evolve as saddle hunting continues.
Wild-Edge Inc. – WEI Perch Platform Attachment
This platform is an attachment that can be purchased separately for the Wild-Edge SteppLadder climbing steps. The platform fits like a puzzle piece into the SteppLadder step. This platform a convenient if you're already using the SteppLadder steps. These attachments turn regular Wild-Edge SteppLadder steps into a mini-version of the Ridge Runner Platforms.
Eastern Woods Outdoors – The U.P. Ultimate Platform Attachment
The U.P. Ultimate Platform by Eastern Woods Outdoors is a good example of a climbing stick company that has created a top-of-stick platform for their line of climbing sticks – the Ultralight Feathersticks. These sticks were one of the best climbing sticks in my comparison review of 17 climbing sticks.
More Saddle Hunting Resources:
One of the best things about saddle hunting is there are seemingly endless combinations of saddle hunting gear. This allows you to fully customize your saddle hunting setups to what will work best for your style of hunting. Additionally, more saddle hunting companies are coming into the market and more innovations are occurring. It's an exciting time to be a saddle hunter!
Hopefully, this article has helped you find some useful saddle hunting gear for your setup. You can find more saddle hunting resources below:
Saddle Hunting Articles:
| | | | | | |
| --- | --- | --- | --- | --- | --- |
| Model | HAWK Helium | EWO Ultralight | Shikar FXD | Tethrd One | D'Acquisto Full Sticks |
| Award | Best Budget | Best Value | Well-Rounded | Best Mobile | Best Full-Sized |
| Price Per Stick* | 28.00 | 90.00 | 115.00 | 110.00 | 115.00 |
| Weight Per Stick (lbs) | 2.5 | 1.6 | 1.6 | 1.0 | 2.4 |
| Stacking Height Per 4-Sticks (in) | 9.3 | 10 | 8.1 | 7.3 | 4.6 |
| Stacking Length Per 4 Sticks (in) | 27 | 23.5 | 22.0 | 21.5 | 36.0 |
| Step To Step (in) | 17 | 18 | 20.0 | 17.3 | 14.0 |
| Footroom (in) | 3.5 | 4.9 | 4.0 | 3.5 | 4.5 |
| Availability | Shop Amazon | Shop EWO | Shop OOAL | Shop Tethrd | Shop Lone Wolf CG |
*Price at the time of this post
Best Places To Shop For Hunting Gear
Some great places to find hunting gifts include:
Find Me On: