This TideWe MAX5 Waterfowl Wader review consists of my first impressions and actual use of the waders in real hunting scenarios. TideWe makes affordable chest waders that get excellent reviews (4.6 out of 5) pretty much everywhere you look. Keep reading to find out if these waders are worth the money…
This post contains Amazon and other affiliate links, which means I'll receive a commission if you purchase through my link, at no extra cost to you. Of course, you are not obligated to use my links, but it does help fund these posts in hopes of bringing more value to you!
TideWe Realtree MAX5 Waterfowl Wader Review
Specs
Product Name: Realtree MAX5 Waterfowl Waders
Style Name: 600g and 800g Insulation
The Best Aspects of The MAX5 Chest Waders
Shoulder Straps
One of my favorite aspects of these waders was that they have buckling shoulder straps. If you're looking for new waders, do yourself a favor, and DO NOT buy shoulder straps that use velcro. They are noisy and do not stick well over time. Additionally, if they get wet and freeze they're basically useless.
Buckling shoulder straps on the other hand work no matter the weather conditions and keep your boots on your feet when you need to pull them out of a mud sinkhole.
Price
Another great thing about these waders is that they are affordable. These waders come in at about 150$ if you're around a size 11. The price will do down if you're smaller than an 11 and go up if you're bigger than an 11, but the is on average 150$. At the time of this posting, some sales are occurring and you can find them for 116.99 on the TideWe Website. Based on my first impressions these waders feel like they are a great value because you get great quality for a good price (see next paragraphs).
Heat Welded Seams, Tough E

xterior Cross-Hatch Finish, Extra Knee Padding
These waders have welded seams around the boot which means the area where the rubber boot and neoprene rubber are attached is stronger than stitched seams because more of the material is fused together. Stitched waders are more susceptible to leaks.
They also have a tough exterior cross-hatch finish which is great for being more durable. That said, because of the hatched pattern the neoprene is slightly noisy when the fabric rubs together when walking. They are not much louder than waders with a smooth finish but it's something to consider for deer hunters. For waterfowl hunters, it's a non-issue.
Another great aspect of these waders is the generous knee padding. The padding is located several inches above my knee down to just below the top of the boot. This is where waders are most likely to be punctured and having the extra material on the knee/shin gives me a lot more confidence they'll last longer and prevent holes when breaking through the ice and busting through swamp vegetation.
Extras
In the box with the waders, you also get an adjustable waist strap with an ammo belt, waterproof cell phone storage, a wader hanger, and a repair kit.
How Do They Fit?
I am 6'3" and they fit great height and width-wise. Normally, I'm between a size 10 – 11 when buying boots. I opted to get the 11s and they fit pretty well but I think a size 10 would fit even better. They still fit but they are on the bigger side, since they are on the bigger side, the shoulder straps really help to keep my feet down in the boots when walking and in sticky mud. I don't mind having chest waders on the slightly bigger side for adding big wool socks during cold-weather hunting.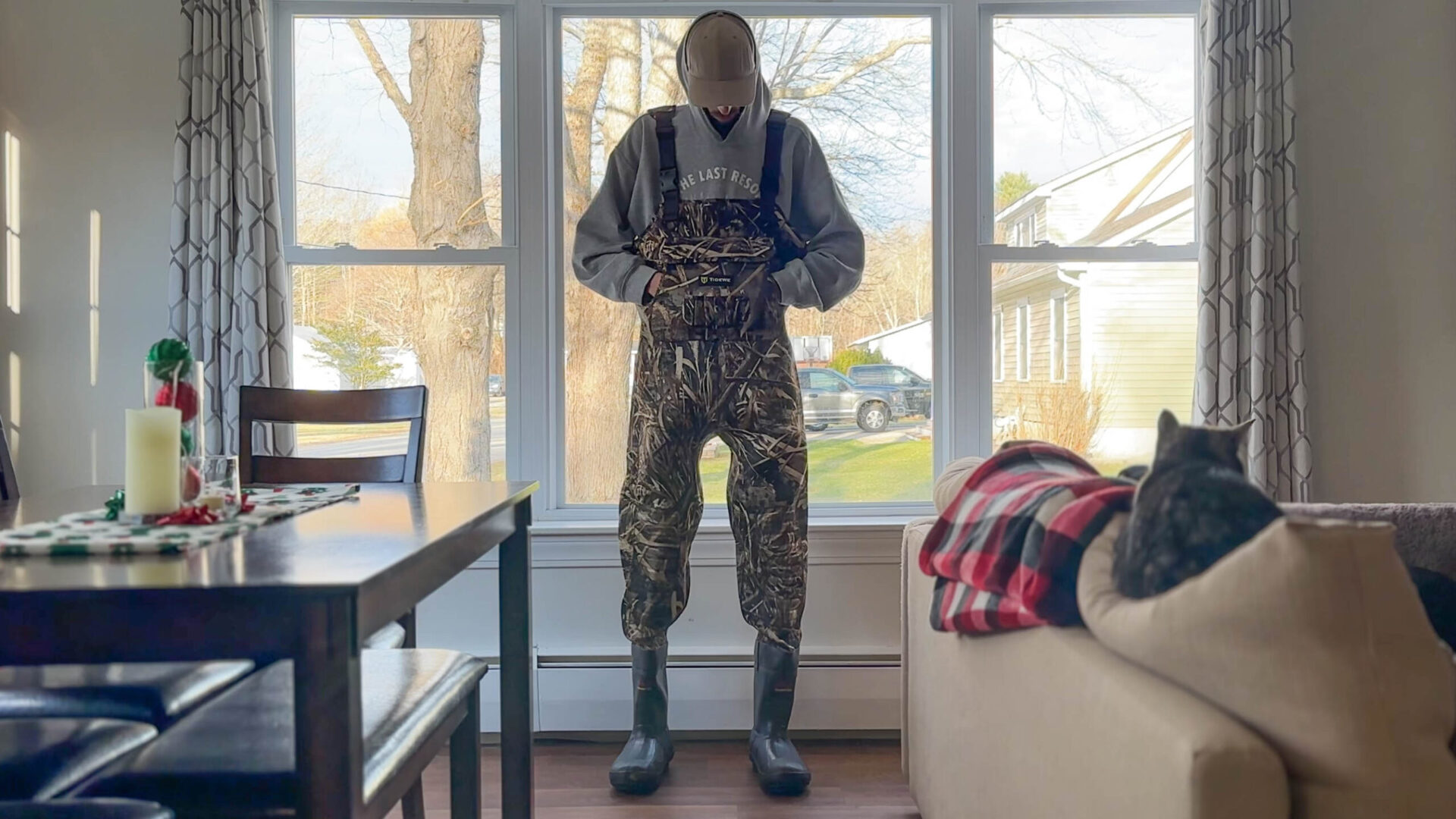 Is 3.5mm a Good Wader Thickness?
3.5mm is a great wader thickness because it keeps them lightweight. It's also nice because it does not provide too much insulation during the earlier parts of the hunting season. You can always add your own layers underneath these waders to adapt to the cold.
I also own 5mm waders and I do like them for busting through woody swamp bushes like winterberries and alders because I've found that sticks/ice are unlikely to puncture all the way through the thicker 5mm neoprene but they are heavier and hotter. I'm hoping the stronger cross-hatching of these TideWe waders will help prevent holes caused by bushes while also being thinner.
If you're someone who wants thicker waders, TideWe also has 5mm options (see below) which are great for late-season hunting because of their extra boot insulation and thicker neoprene for warmth.
Conclusion
My first impression of the TideWe MAX5 waders while hunting is that they are excellent budget waders. For the price, they are tough to beat because they are designed with durability in mind to prevent punctures and leaks.
The only consideration is that they are slightly noisy because of their finish, which is a consideration for deer hunters but not for waterfowl hunters or other applications when stealthiness is not important. On the flip side – the finish (although a bit noisy) increases their durability.
The MAX5 waders also get excellent reviews on Amazon and on the TideWe website (4.6 out of 5) which gives me confidence they will perform well over time. Overall I am impressed with these waders at their price point and they will be my go-to waders for hunting. 
More Hunting Gear Resources:
Hopefully, you found this review helpful! Find more gear reviews easily by navigating to one of my more specific articles:
Hunting Gear Reviews and Comparisons
Find Me On: