Here are field-tested details on the Badlands Monster Fanny Pack. This in-depth review covers its features, durability, and how it performs in the field so you can make an informed purchase.
The Badlands Monster fanny pack boasts a thoughtful blend of stealthiness, durability, water resistance, ample pockets, and customizable features, demonstrating a clear dedication to meeting the needs of hunters.
Beyond its core attributes, it's the attention to detail and subtle nuances that truly set this fanny pack apart, fostering a genuine appreciation for its seamless functionality when compared to other, less thoughtfully designed options on the market. Keep reading to get the full review on the Badlands Monster Fanny Pack.
Quick Bullet Point Overview
Pros
Water Resistant

Build Quality

Unconditional Lifetime Warranty

Comfortable

Pockets & Zippers
Cons
Pros of the Badlands Monster Fanny Pack
Water Resistant
I liked that the Monster is water-resistant, the material that the pack is made of is highly resistant to water (C6 DWR) to the point where you need a really good soaking for it to start seeping through.
Build Quality
It also has extremely strong and durable stitching. You can feel the excellent build quality of the material, it feels like it's bulletproof. It's made from their KXO-32 fabric which has an excellent balance of strength, stealth, and water resistance.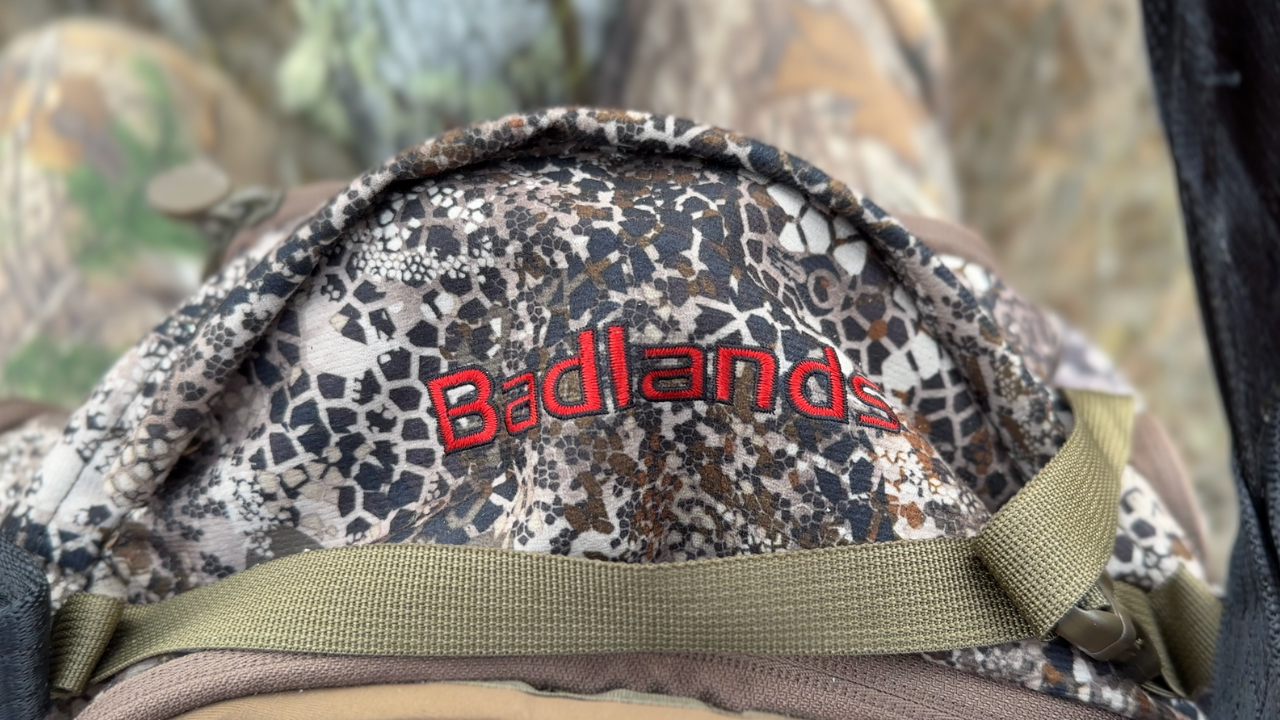 Badlands Unconditional Lifetime Warranty
My favorite aspect of this pack is that Badlands has an unconditional lifetime warranty. If you're unsatisfied in any way you can just return it. If you put a hole in it after years of use, they actually encourage you to return it so they can improve their products.
I'm always a big advocate for unconditional lifetime warranties because it shows how much confidence a company has in the quality of their gear and care for their customers.
Comfortable
There is a lot of padding which makes the Monster very comfortable for long hikes when deer hunting. It also comes with removable straps which I appreciate because I rarely shoulder straps.
I'm also tall and lanky (6'3" 150 lbs) and was worried it would not be comfortable or fit me well. I was happy to find that it fit just fine with the adjustable straps adjusted.
Pockets and Zippers
Another great aspect of the pack is that it has many pockets. This is important for deer hunters because when you have a lot of gear it is nice to dedicate certain pockets to specific gear so it is easy to find when hunting.
The pocket zippers have large tounges with grip so they are easy to grab with gloves. Additionally, they're made out of strong plastic instead of metal so they hardly make any noise. The zipping action itself is also quiet so you can get gear out of it while hunting without spooking deer. These stealthy features are critical for deer hunters.
Cons to Consider Before Buying
Size (Pro and a Con)
Although it is a comfortable fanny pack, it is big. This is a pro and a con. It's a pro because you can hold a lot of gear which is great, but if you don't need to hold a bunch of gear you may find this pack is too big. It has 1100 cubic inches of storage potential.
Waterproof?
One of my biggest reasons for buying this fanny pack was to reduce odor. I figured buying a waterproof fanny pack with a polyurethane lining with taped seams (this is what rain gear is made of) would be a good solution. This is because polyurethane isn't breathable so it would help trap odors. But after receiving the Monster I found out that it's not actually "waterproof" as it claims because it does not have a waterproof polyurethane lining or taped seams.
Instead, the Monster uses a different method of waterproofing that makes it highly water-resistant called C6 DWR. You need a really good soaking for it to start seeping through. However, it was not waterproof like I was expecting so keep that in mind when buying.
Here are the emails confirming this with Badlands Gear themselves:

Noise
The KXO-32 fabric with C6 DWR water-resistant coating is quiet but not silent. However, it is still a quiet finish compared to other fanny packs on the market, but it's worth mentioning. It's definitely quieter than a cheap plain nylon military fanny pack.
Badlands Monster Price
Check Amazon's Price Check Cabela's Price 
Badlands Monster vs

Sitka Tool Belt
I also conducted a field-tested review of the Sitka Tool Belt. Below I share some of the similarities and differences of the two fanny packs based on my reviews.
Brand and Reputation:
Sitka Gear: Sitka is known for its high-quality hunting and outdoor gear. They are respected for their focus on attention to detail and performance.
Badlands Gear: Badlands is another reputable brand in the outdoor and hunting industry, known for its rugged and durable products which include an unconditional lifetime warranty.
Capacity and Size:
Sitka Tool Belt: The Sitka Tool Belt is a smaller, streamlined, and a minimalist design. It holds 600 cubic inches of storage and is meant for carrying essential tools and equipment.
Badlands Monster Fanny Pack: The Badlands Monster Fanny Pack offers 1100 cubic inches of storage, meaning almost double the storage space for gear and accessories. However, this comes at a cost of more bulkiness.
Organization & Pocket Access:
Both offer many pockets for different tools and gear. The Badlands Monster has more space while the Sitka Tool belt is more efficient with the smaller space by having more pockets and dual access points.
Comfort and Fit:
Both fanny pack designs are comfortable and fit well. They both have great padding, do a great job at distributing weight, and have attachable shoulder straps that can be added for improved support. The sleeker design of the Tool Belts gives it a slight advantage in my opinion.
Material and Durability:
Both brands are known for producing durable and high-quality outdoor gear. However, Badlands prides itself on its tough custom-made fabric. They also offer a lifetime warranty to back up their durability claims. Badlands has the advantage here in material durability.
Both have a slightly noisy material that I would describe as soft-shell. 
Water-Resistance:
The Badlands takes the cake here, it has a C6 DWR coating on it that makes it water-resistant. There is no mention of the Sitka Tool Belt being waterproof or water-resistant that I could find.
Price:
The Sitka Tool Belt is more expensive than the Badlands Monster. That said, I got mine on clearance for the same price as the Badlands Monster. You may find sales after the hunting season is over for both so keep your eye out.
Questions & Community
Hopefully, you found this Badlands Monster review helpful. If you have more questions about the Badlands Monster or questions in general you can ask them on my  Forum and Facebook Group. If you have questions for me please put them in these places and I will get back to you. The community can also help answer your questions. You may also find answers to your questions on my YouTube Channel.