After conducting this Sitka Tool Belt review I found that, although it's not perfect, it is the most well-thought-out fanny pack I have ever used. It's fairly quiet and very comfortable, and the pockets and compartments are placed in all the right areas to easily access gear, demonstrating a clear dedication to meeting the needs of hunters.
Further, the attention to detail and subtle nuances that aid in seamless hunting functionality are what sets this fanny pack apart from other hunting fanny packs on the market.
Surprisingly, Sitka Gear does not provide much information about the Tool Belt. This review will give you the information you need to confidently decide if the Tool Belt is right for you.
How I Tested The Sitka Tool Belt
I bought the Tool Belt for deer hunting because I needed something to hold my saddle hunting gear in easy reach while I climbed the tree. I've been using the Tool Belt in front of me while I climbed instead of on my back. This has worked very well for climbing trees quietly and seamlessly. So far I've used it a handful of times while deer hunting and have been very impressed. Below I share my experiences, thoughts, pros, and cons.
Credibility
If you're wondering why I am qualified to write this article, you can head on over to my About Page to learn more about who I am.
Quick Bullet Point Review Overview
Pros
Build Quality

Comfortable

Storage

Well-Thought-Out Pockets, Dividers, and Zippers

Dual-Access Design

Stealthiness
Cons
Waterproof or Water-Resistant?

Fabric Noise

Warranty
Pros of the Sitka Tool Belt Fanny Pack
Build Quality
As you would expect from Sitka Gear the Tool Belt feels premium. That said, I do think more time is needed to determine the durability of the pack.
I carry my Tool Belt in my backpack until I plan to climb a tree. I also keep my climbing sticks in my backpack and the two rub against each other. Although I do think the Tool Belt could last years without getting damaged against the brush, it's still up in the air whether metal contact will cause a tear in the fabric.
If you're using this fanny pack in a more conventional way I don't foresee any durability issues fabric-wise. However, there are many small bungees that are great for securing items in pockets but I could see those eventually breaking if caught on a stick.
Comfortable
As you can see from the photo below, there is nice plush cushioning all the way around the waist of the fanny pack. This makes it very comfortable, especially for long hikes when you have a good bit of weight in the pack. 
Although plush and bulky-looking you don't really notice the bulk when it's against your waist and it's surprisingly lightweight. So the padding does not add a lot of unnecessary weight. In my opinion, it's worth the little extra weight for the comfort benefits you get.
The Tool Belt also comes with backpack straps, so if you're planning to carry it for long distances and/or have fairly heavy gear in it, then that would come in handy. Personally, I took the backpack straps off for more streamlined use. That said, I put mine in a backpack for transport so I have no need for them.
Storage
The Tool Belt has 600 cubic inches of storage capacity. For me, this seems to be the perfect size for everything I would need for hunting. Even for other types of hunting, I think this is a good size. Too much bigger and it starts to make more sense to carry a backpack.
For saddle hunting, I've successfully organized all my essential gear in the Tool Belt. Below, I've listed the specific gear I use, which fits perfectly into the Tool Belt. Additionally, I've included before and after photos of the Tool Belt to provide a visual representation of how it looks when empty and when filled with the mentioned gear.
The tool belt holds the following saddle hunting gear in easy reach while I climb:
Bullman Outdoors Apex Ring of Steps

EWO OCB Buckle & Strap

Saddle Harness

Dryad Drey Saddle Hammock

Extra Lineman Belt

Tether

Climbing Stick Straps

Bow and Gear Hangers

Tree Trimmers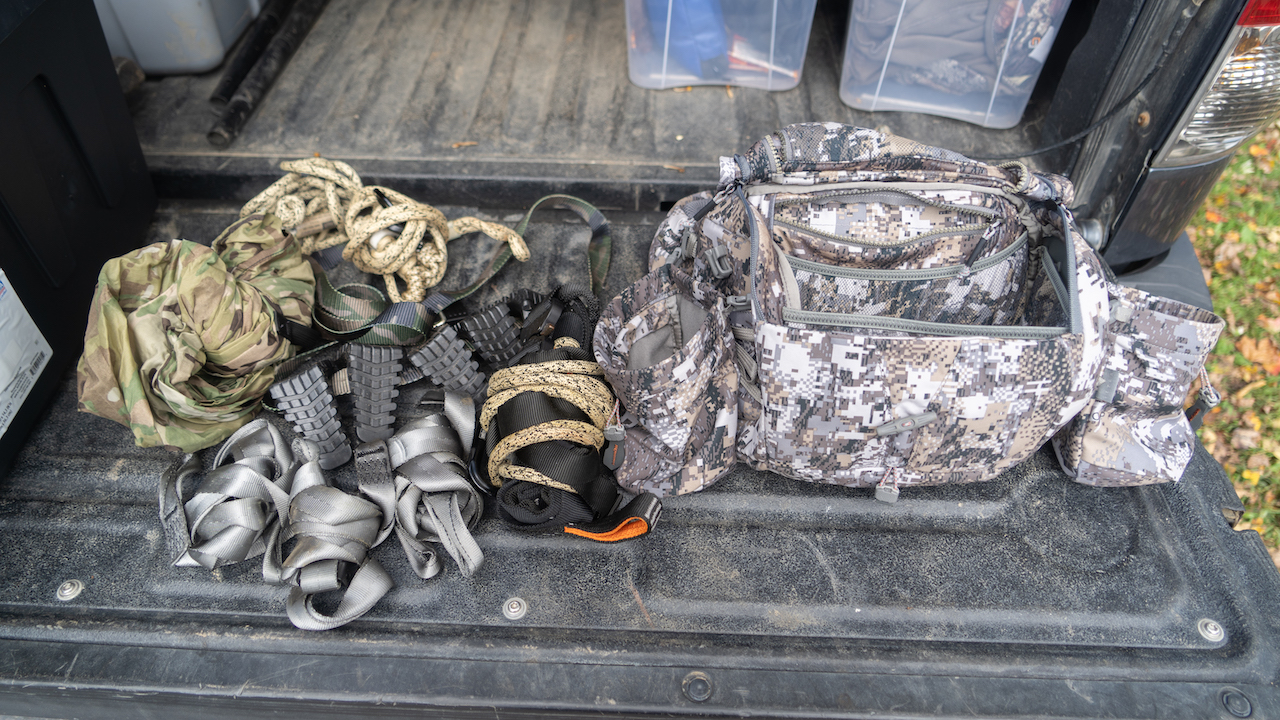 Well-Thought-Out Pockets, Dividers, and Zippers
The Tool Belt offers various pocket sizes, making it easy to organize specific gear for efficient use. It includes both zippered and elastic pockets, serving as dividers for dedicated gear storage. Sitka did an excellent job providing ample storage options while still leaving plenty of room in the main pouch for larger items.
Dual-Access Design
One of the standout features of the Tool Belt is its dual-access design, allowing access to the main pouch from both the front and back. This is particularly advantageous when wearing it on your waist, as it enables easy access to your gear without the risk of items spilling out.
This feature has been a game changer for me when climbing trees while saddle hunting. It allows me to access gear with minimal movement and noise, ensuring nothing falls out from the front.
Additionally, if you prefer to access the Tool Belt from the front like a conventional fanny pack, you have that option as well. I find this to be a great alternative when the Tool Belt is not worn around my waist.
If you're looking for the best fanny pack for saddle hunting, the Sitka Tool Belt is the best for this reason alone.
Sitka Tool Belt Stealthiness
Bungee Cords
The company appears to have gone to lengths to quiet the Tool Belt as much as possible by eliminating as much metal and noisy material on the exterior of the fanny pack. You can see this by the multiple bungee cords, including the T-bungee holding the main pocket of the bag closed.
Although there are some zippers, in a lot of cases the bungees have reduced the amount of zipping distance needed, reducing noise.
Magnet
The rear main access pocket uses a magnet to keep the pocket shut when you're regularly using it. This is something I've absolutely loved for climbing trees and need to constantly be in the bag pulling new gear out and want to ensure the remaining gear does not fall out.
When you're done using this pocket you can zip it and bungee it closed so you're not relying on just the magnet to keep gear in the bag.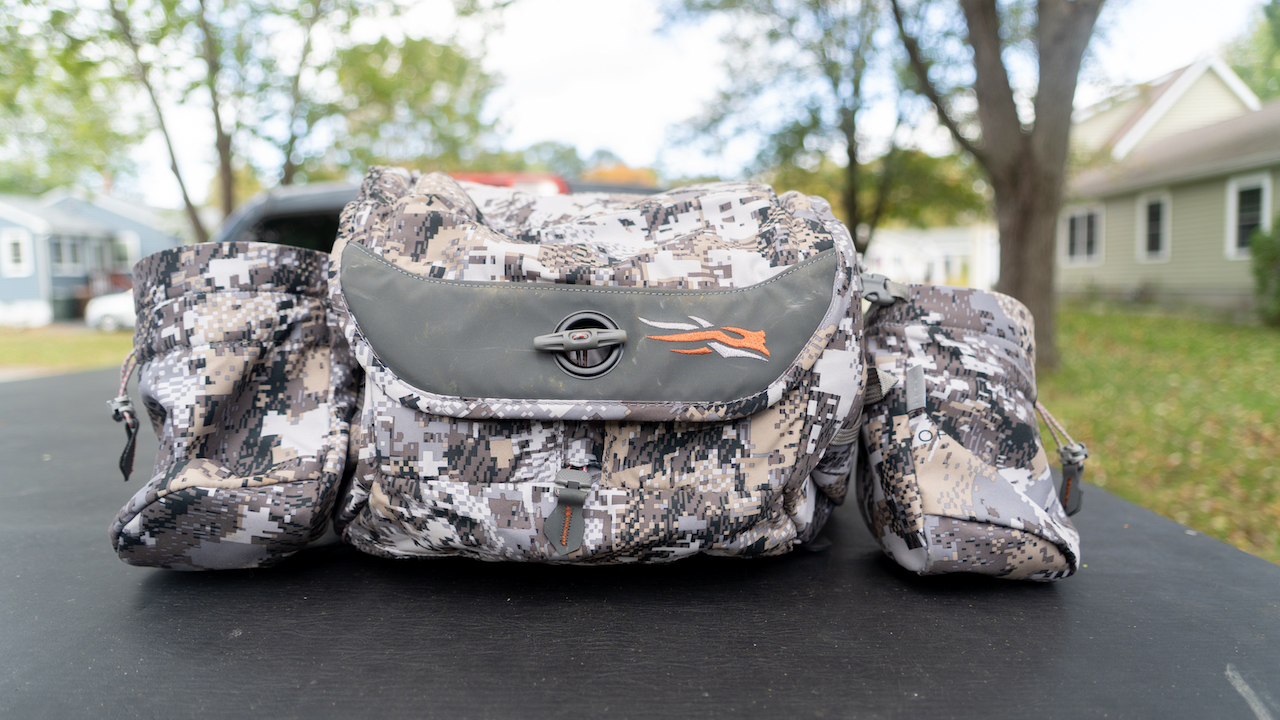 Cons to Consider Before Buying
Bungee Cord Cinch and Fragility
One of the stand-out cons about this fanny pack is that the dump pouch bungee cord does not completely seal, so gear could fall out. It might be enough cinch for a water bottle, but I use mine for gear. I only put gear in these dump pouches that I believe won't fall out, like my saddle hammock and ropes.
Additionally, time will tell how the dump pouch bungee cords hold up. They feel fragile and like they could get caught on something and break.
Fabric Noise
The fabric of the Tool Belt is pretty quiet but it's not silent by any means. It has a shell-like feel to it, but its soft, so it makes a little noise when sticks scratch against it. I am content with how quiet it is so I wouldn't let the noise discourage you from buying it. I do wish I was a little more quiet though.
Water-Resistant?
Based on the shell-like feel of the pack it seems like it could withstand some light rain without seeping through. I'm fairly confident in that, however, I do think it would seep eventually. That said, I can't find any evidence anywhere that this pack is water-resistant or waterproof. At the time of this review, very little information is given on the Sitka website about the Tool Belt.
No Lifetime Warranty
Something else to consider is that there is no Lifetime Warranty for the Sitka Tool Belt which isn't the end of the world. Sitka is also known for creating excellent quality products. That said, it's always nice to have that lifetime warranty like some other companies in the hunting industry.
Although they do not offer a lifetime warranty, they do offer "repairs at a reasonable cost".
Sitka Tool Belt Price
Check Amazon's Price Check Cabela's Price
Sitka Tool Belt vs Badlands Monster
I also conducted a field-tested review of the Badlands Monster. Below I share some of the similarities and differences of the two fanny packs based on my reviews.
Brand and Reputation:
Sitka Gear: Sitka is known for its high-quality hunting and outdoor gear. They are respected for their focus on attention to detail and performance.
Badlands Gear: Badlands is another reputable brand in the outdoor and hunting industry, known for its rugged and durable products which include an unconditional lifetime warranty.
Capacity and Size:
Sitka Tool Belt: Sitka Tool Belt is a smaller, streamlined, and minimalist design. It holds 600 cubic inches of storage and is meant for carrying essential tools and equipment.
Badlands Monster Fanny Pack: The Badlands Monster Fanny Pack offers 1100 cubic inches of storage, meaning more storage space for gear and accessories. However, this comes at a cost of more bulkiness.
Organization:
Both offer many pockets for different tools and gear. The Badlands Monster has more space while the Tool belt is more efficient with the smaller space by having more pockets.
Comfort and Fit:
Both fanny pack designs are comfortable and fit well. They both have great padding, do a great job at distributing weight, and have attachable shoulder straps that can be added for improved support. The sleeker design of the Tool Belts gives it a slight advantage in my opinion.
Material and Durability:
Both brands are known for producing durable and high-quality outdoor gear. However, Badlands prides itself on its tough custom-made fabric. They also offer a lifetime warranty to back up their durability claims. Badlands has the advantage here.
Water-Resistance:
The Badlands takes the cake here, it has a C6 DWR coating on it that makes it water-resistant. There is no mention of the Sitka Tool Belt being waterproof or water-resistant that I could find.
Price:
The Sitka Tool Belt is more expensive than the Badlands Monster. That said, I got mine on clearance for the same price as the Badlands Monster. You may find sales after the hunting season is over for both so keep your eye out.
Questions & Community
Hopefully, you found this Sitka Tool Belt review helpful. If you have more questions about the Tool Belt or questions in general you can ask them on my  Forum and Facebook Group and I will get back to you. The community can also help answer your questions. You may also find answers to your questions on my YouTube Channel.