The most comfortable tree saddles for saddle hunting have a lot of easy adjustments so that you can maintain comfort when hunting. If you're tired of uncomfortable saddles or are new to saddle hunting and want to be sure you'll get a saddle that you will enjoy yourself in, keep reading.
This post contains Amazon and other affiliate links, which means I'll receive a commission if you purchase through my link, at no extra cost to you. Of course, you are not obligated to use my links, but it does help fund these posts in hopes of bringing more value to you!
Single Panel vs Double Panel Saddles For Hunting
Double-panel saddles are generally more comfortable than single-panel saddles because they offer more adjustability. However, you can get some pretty darn comfortable single-panel saddles with new and innovative saddle features entering the market.
Most Comfortable Hybrid Tree Saddle
JX3 Hybrid by JX3 Outdoors
Say goodbye to hip-pinching and numb legs & feet! Because of the metal frame, there is ZERO pinching at the hips or anywhere else like other saddles. Comfort is where the JX3 Hybrid really outshines conventional saddles. Check out my full review of the JX3 Hybrid.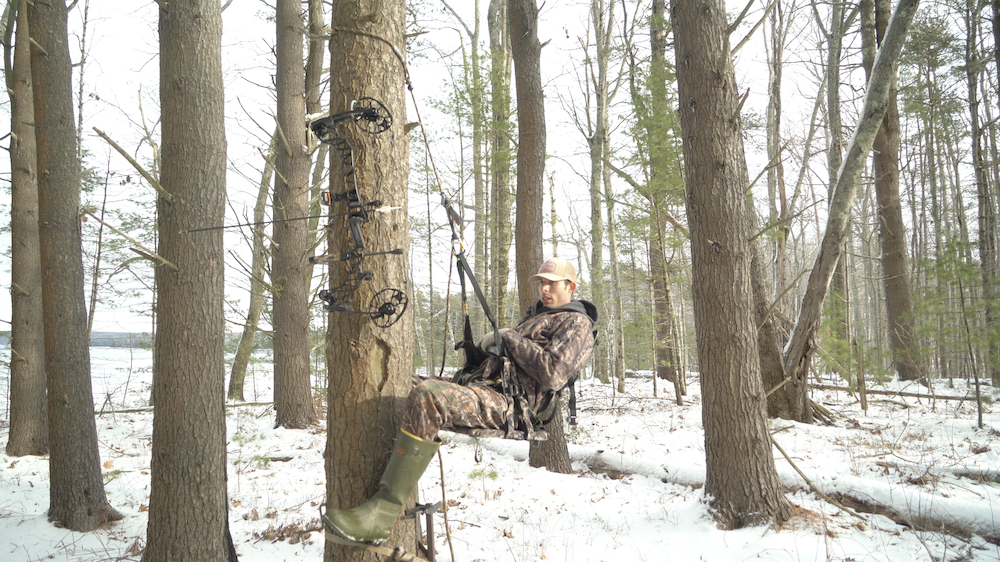 I had no issues sitting in the JX3 Hybrid tree saddle for 10 hours straight. It's like a recliner in a tree, making it one of the most comfortable tree saddles for hunting.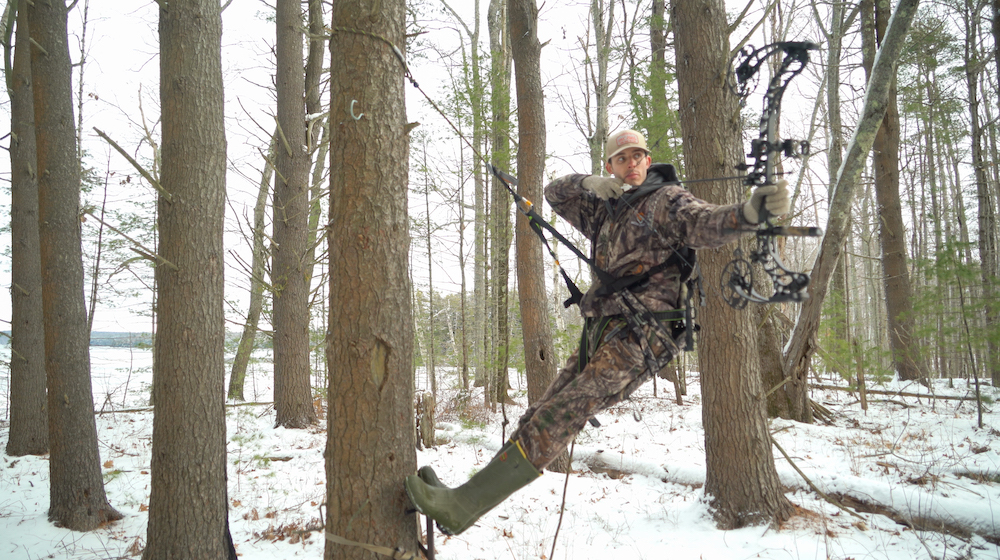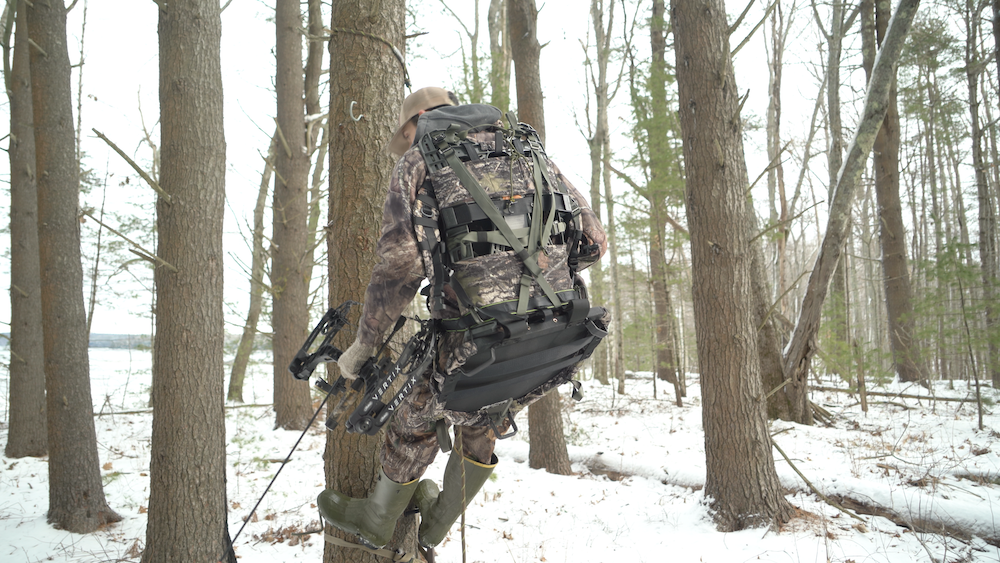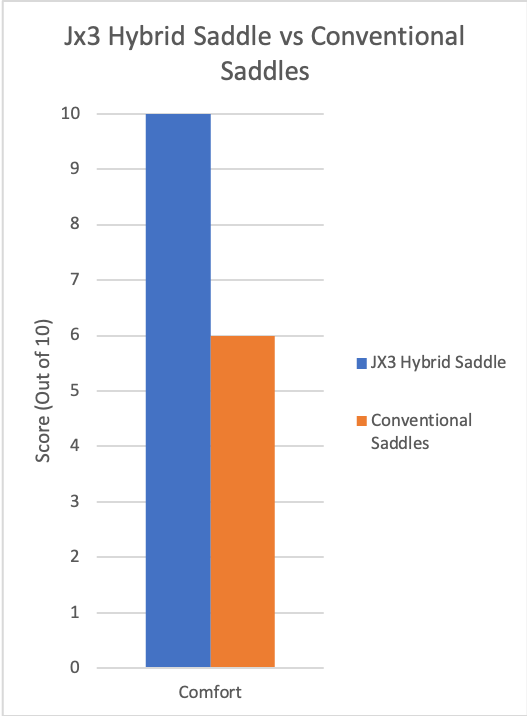 Metal Frame
The JX3 Hybrid has a metal frame. This is unlike conventional saddles which are made entirely of fabric and rope. There are some major comfort benefits of the metal frame. One benefit of the metal frame is that even when you're in awkward leaning trees the JX3 remains comfortable because the metal frame blocks the negative effects of gravity. In conventional tree saddles, gravity places more stress on your knees which makes them uncomfortable faster.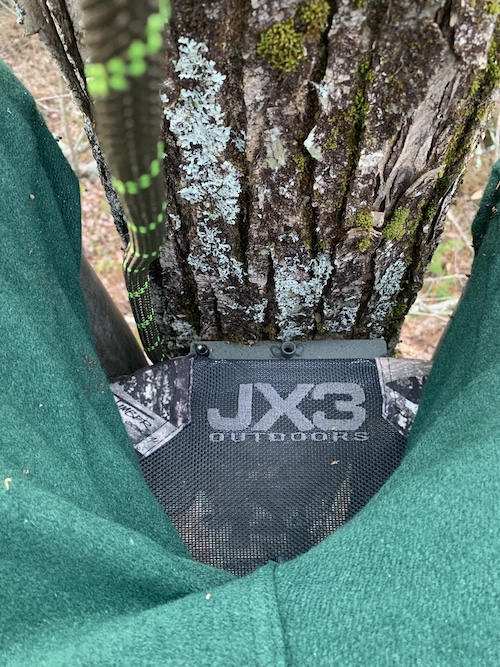 Metal Fork
Another benefit that the metal frame supports is the optional adjustable metal fork that can be attached to the frame which rests against the tree. With this fork, you separate yourself from the tree even further and gain more grip when maneuvering around the tree.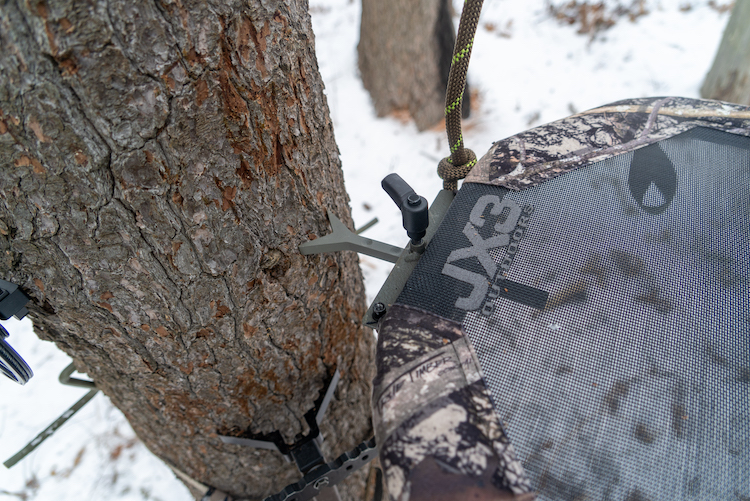 Adjustable Backrest
The backrest is also adjustable, allowing for adjustments to be made easily in the field while being used. If you start getting tired of sitting in a certain way, you can make the adjustments so you recline comfortably again.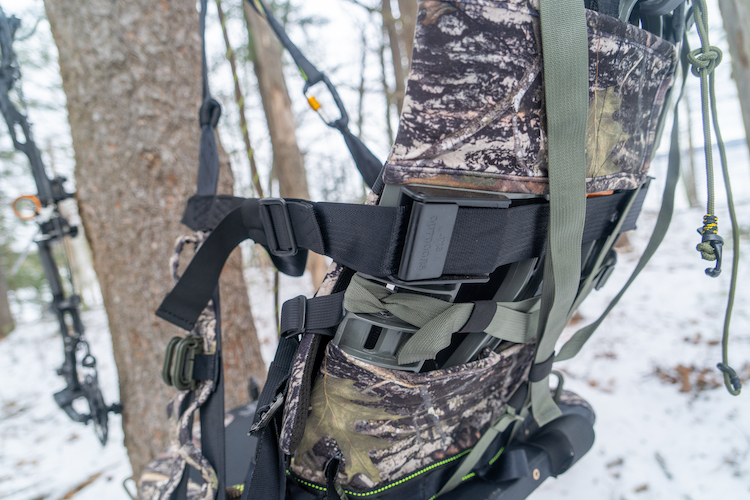 Your body can fully relax in this saddle. If you want to take a nap for a while, it is easy to do so. You can't nap well in other saddles because you can't lean back in them for long periods of time. Additionally, when you lean forward your head and neck get kinked on the bridge strap. This is not the case with the JX3 Hybrid. Instead, it's like being in a recliner in a tree. It's truly incredibly comfortable and I can't say enough good things about its comfort.
Most Comfortable Single Panel Hunting Saddles
CRUZR XC
The Cruzr XC is another very comfortable tree saddle for hunting because of its upgradeable adjustable bridge (both length and position). Another innovative feature of this single-panel saddle is that it has extra pleats to easily adjust the size of the saddle while you're in the tree. With these adjustments, there is no hip pinch which single-panel saddles are notorious for. For this reason, the Cruzr XC is one of the most comfortable and best overall hunting saddles on the market.
Tethrd Phantom
The Tethrd Phantom basically needs no introduction. It is one of the most popular saddles on the market and for good reason. The Phantom addresses hip pinch and have reduced the pinch from earlier models. It's a very comfortable saddle for how packable, lightweight, and mobile it is.
Most Comfortable Double-Panel Hunting Saddles
CRUZR Archon
Cruzr shows up a second time in this review. This time it is a double-panel alternative. Double-panel saddles are generally more comfrotable because of their increased adjustability. The Archon is very comfortable for this reason. However, it is surprising how comfortable its single-panel brother is (Cruzer XC) in comparison. 
Tethrd ESS Saddle 
Another Tethrd option would be ESS saddle, which is a double-panel saddle. This saddle was designed by John Eberhart who has probably been saddle hunting longer than anyone. It requires a but of a learning curve, but once you figure it out he argues it is one of the most comfortable saddles for saddle hunting on the market.
More Saddle Hunting Resources:
Hopefully, you found this review of the most comfortable tree saddles for hunting helpful. Find the best saddle hunting information easily by navigating to one of my more specific articles:
Saddle Hunting Reviews and Comparisons
Best Brands To Look For When Buying Hunting Saddles
Tethrd

JX3 Outdoors

Cruzr

New Tribe Aero Hunter
Best Places To Shop For Saddle Hunting Gear
Some great places to find saddle hunting gear include:
Eastern Woods Outdoors

Cranford

Out on a Limb

Tethrd

Wild Edge

Bullman Outdoors
Find Me On: