This Benelli SuperNova review is based on 10 years of owning the shotgun, I have been able to put it to the test to find out what it can handle. In my experience, for the price, this shotgun is unmatched in comfort, versatility, and adjustability.
My experience with the SuperNova revolves around waterfowl, turkey, and upland bird hunting. In this Benelli Supernova review, I dive into the reasons I purchased the SuperNova over other manufacturers. I also cover aspects I feel are most important to touch on from my experiences with the SuperNova. Below is a list of the topics and subtopics this post will cover:
This post contains affiliate links, which means I'll receive a commission if you purchase through my link, at no extra cost to you.
Benelli SuperNova Price – How Much Is It?
Buying A New Benelli SuperNova
When purchasing a new shotgun price is the first thing I look at. For this reason, it was important to include the price in this Benelli SuperNova Review. I want to know how much benefit I'm getting back from the money I'm investing. The SuperNova is currently priced at $559 on Benelli's Website.
However, you can find these shotguns new for around $500 at gun shops. You can check the most recent price on Guns.com which has new and used Benelli SuperNovas. They will ship guns to your nearest federally licensed gun shop if you decide to purchase.
Should You Buy

A Used Benelli SuperNova?
Another option would be to buy a used SuperNova. I know, I hear you, you want that brand-new shiny shotgun – but hear me out. The SuperNova is a very reliable shotgun, pump-action shotguns, in general, are quite reliable. There isn't much that can go wrong with them. For this reason, buying a used pump shotgun is not a bad option.
It's A Popular Shotgun
Further, the SuperNova is a quite popular shotgun so if you spend a little time looking around your local gun shops you are apt to find one. Many times, used guns look just as good as brand-new ones. You can find used SuperNovas for only around $400! You're getting a heck of a lot of a shotgun for $400. Depending on what you're using the gun for you could take the 100-150$ you've saved and buy attachments and add-ons.
Where To Buy Used
If your local gun shops don't have any in stock you can go to Guns.com which is one of the best websites for buying guns. Here you will also find used Benelli SuperNovas.
Benelli SuperNova Fit and Feel
Fit and feel is the most important aspect of buying a new gun. For this reason, it was important to include this topic in this Benelli SuperNova Review.
To achieve proper shotgun fit you should be able to close your eyes, bring the stock to your face, then open your eyes and be able to see perfectly down the sights without needing to make any adjustments. If you can't do this with your shotgun then your accuracy will suffer. It does not matter how much a gun costs if you can't shoulder your gun and have it come to your face naturally then you should not be using that gun.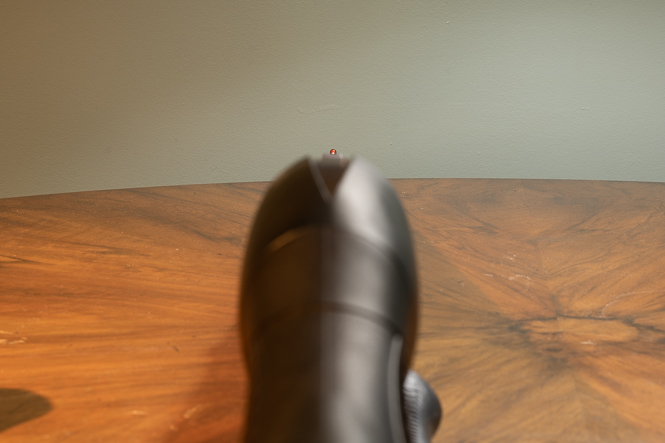 Benelli SuperNova Shim Kit
With the SuperNova gone are the days of spending money on a gunsmith to have them do some quirky adjustment to your new gun so you can see down the barrel properly. A fantastic feature of the SuperNova (and all Benelli guns) is that the stock can be adjusted to fit anyone.
The SuperNova comes with shims that can be placed where the stock and receiver meet. The shims allow you to adjust the angle of the stock up, down, left and right (drop and cast) until it fits your face perfectly.
Having the option to adjust the cast allows left handed shooters to achieve a great fit as well. In my opinion, this is a huge win for Benelli and is something that lacked in other shotguns on the market in the same price range. To learn how to adjust drop and cast take a look at this Explanatory Video for the Super Black Eagle III (the process is the same).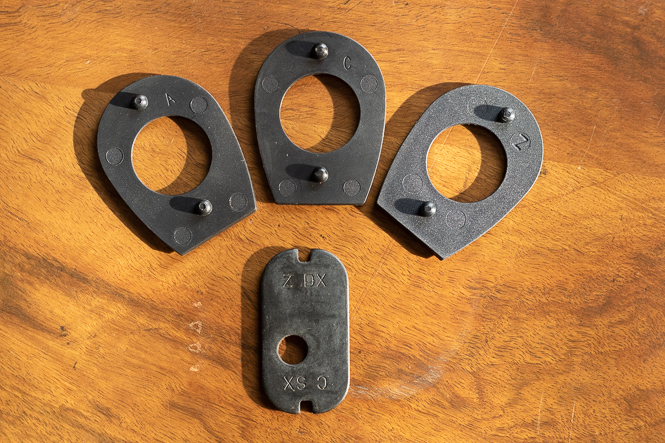 Comb Height
In addition to the shim kit, the comb height can be adjusted on the SuperNova. This could be especially helpful if you decide to put a scope on your gun. Extra comb height will enable you to get a little extra facelift off your stock so your scope comes to your eye naturally.
Fit and feel is the most important factor in deciding whether is shotgun is right for you. I decided to purchase the SuperNova because of its ability to adjust to the individual shooter.
Safety Swapping
The safety on the SuperNova can be switched for left-handed shooters. Having the option to adjust the cast in addition to the safety allows left-handed shooters to feel right at home with this shotgun.
Benelli SuperNova Recoil
ComforTech® System
Have you been trying to decide between the SuperNova and the Nova? Other than a few subtle differences they are almost identical. The main difference is the SuperNova's ComforTech stock. Benelli claims "The ComforTech® system reduces felt recoil by as much as 48% over the competition." For this reason, the Supernova is a little more expensive (about 100$) than the Nova.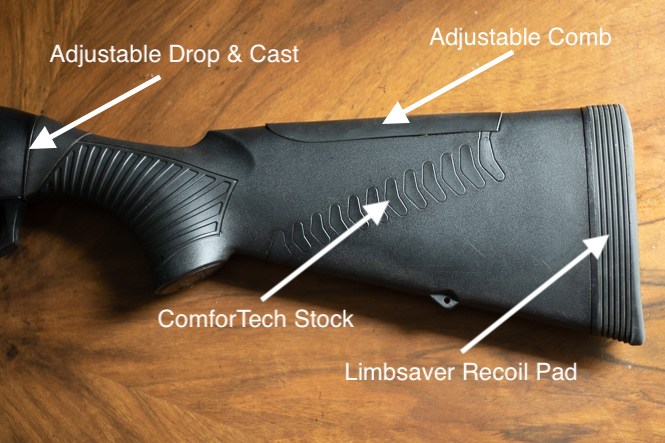 When I first bought the gun, I was a teenager and I didn't want a gun that was going to make me flinch and develop bad habits from having too much recoil. A 48% reduction in recoil over competitors was a big selling point for me. Even now that I'm older I still enjoy the recoil reduction. It saves my shoulder whether I'm shooting many small rounds or big 3.5-inch rounds.
Benelli does a good job of explaining ComforTech and how it can achieve great recoil reduction on their website through computer-aided design. They even compare the Benelli Super Black Eagle (without ComforTech) to the Benelli Super Black Eagle II (with ComforTech) so you can see the difference even in their own models.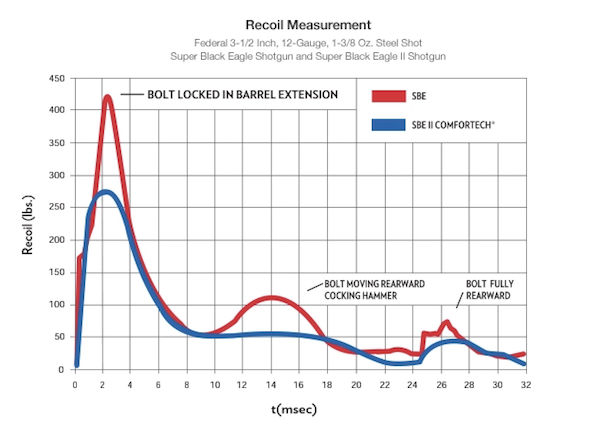 Limbsaver Recoil Pad
The original recoil pad that comes with the SuperNova is pretty nice. However, it did fall out and I lost it during a hunting trip. When researching how to get another recoil pad a stumbled upon a 3rd party manufacturer called Limbsaver. Limbsaver claimed their recoil pad could reduce felt recoil up to 70%.
This caught my eye as an additional way to reduce felt recoil. To me, the LimbSaver Classic Precision-Fit Recoil Pad with the ComforTech stock seemed like a dynamite combination. I've been using this combination for the past 4 years and I am very happy with the results. Also, this recoil pad screws into the stock so it won't be falling out again.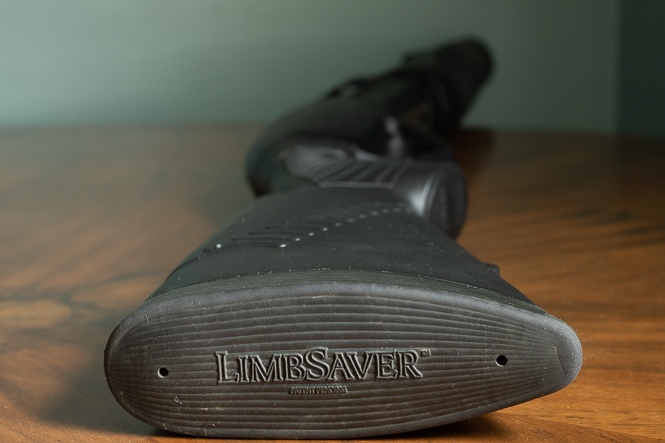 The rubber allows the pad to compress slower into your shoulder reducing felt recoil and vibration. For this reason, I have been able to shoot more rounds with significantly less shoulder soreness.
It has the texture of a rubber band so when shouldering the SuperNova, it can grab loose clothing. However, it's easily avoided by being conscious and for the extra recoil reduction, I am more than happy to make that compromise. If you really dislike any stickiness then the original ComforTech recoil pad works fine, but it's much harder foam.
SuperNova Limbsaver Recoil Pad Installation
Before installing the recoil pad you can tell it is going to work well. Out of the box, you'll immediately notice the nice squish of the rubber pad. Installing the recoil pad did take me a little time to figure out, once I figured it out it fit perfectly even for my synthetic model.
Limbsaver doesn't specifically say that they make a recoil pad for the SuperNova. That being said, they do make one for the Nova. After doing a little digging I seem to remember that the Model that fits the Nova will fit the SuperNova as well. It may be worth a quick phone call to Limbsaver be sure. You can find their contact information here.
Benelli SuperNova Versatility
Even after 10 years, the competition has not taken any great strides to compete with the Benelli SuperNova in my opinion. It seems like the only shotgun manufacturer that sells a shotgun that can digest 2 ¾, 3, and 3 ½ inch shells, has a shimmable stock and adjustable comb, and be reasonably priced is Benelli. I don't know why other manufacturers haven't caught on but, in my mind, this makes Benelli the clear winner if you're looking for a shotgun that is most versatile.
Remington's 870 Express Magnum can take 3.5-inch shells but the stock can't be adjusted unless you purchase a separate stock. Browning's BPS can only handle 3-inch shells unless you buy a turkey model 12 GA or a 10 GA and the stock can't be shimmed… and the list goes on.
Does this mean these shotguns aren't great? Not at all. If these shotguns come up perfectly to your face when you shoulder the gun out of the box then shims aren't necessary. All I am saying is that the SuperNova has more options so it makes the most sense for me.
Benelli SuperNova For Big Game Hunting
A 24-inch rifled slug barrel can be purchased separately for increased accuracy for hunting big game. This barrel can take slugs up to 3 inches. I haven't personally used the SuperNova for big game other than turkey so I can't necessarily speak to the performance. I prefer to use a rifle for larger game for increased performance at further distances. That being said, if I find myself in a shotgun only zone I wouldn't hesitate to use the SuperNova, I'm confident it would perform just as well as it does for smaller game.

Benelli SuperNova For Turkey Hunting
The SuperNova is a fantastic turkey hunting shotgun. I like being able to use 3.5-inch shells for extra knockdown power and the ability to shoot slightly longer distances. The option to use a full choke with 3.5-inch shells makes for a deadly turkey gun.
Benellei SuperNova For Home Defense
There is also an option to buy a SuperNova Tactical Pump shotgun as well. This gun is much shorter with an 18-inch barrel weighing in at 7.6 lbs. Unlike the non-tactical version, this gun comes with a drilled and tapped receiver. This means scopes and attachments can be added.
Benelli SuperNova Ammo and Chambering
When I was choosing a new shotgun, I wanted a gun that could do it all. From skeet shooting and woodcock hunting to turkey and goose hunting and everything in-between. With the ability of the SuperNova to handle 2 ¾, 3, 3 ½ loads I am able to use my gun in these situations.
Choke Tubes For The SuperNova
Not only can the SuperNova handle a wide variety of ammunition but it also comes with three choke tubes: improved cylinder, modified, and full choke. I purchased a skeet choke separately.
The ability to use a wide variety of ammunition combined with exchangeable choke tubes that change the spread of my pattern I am able to fine-tune my SuperNova to any shooting/hunting situation that is presented.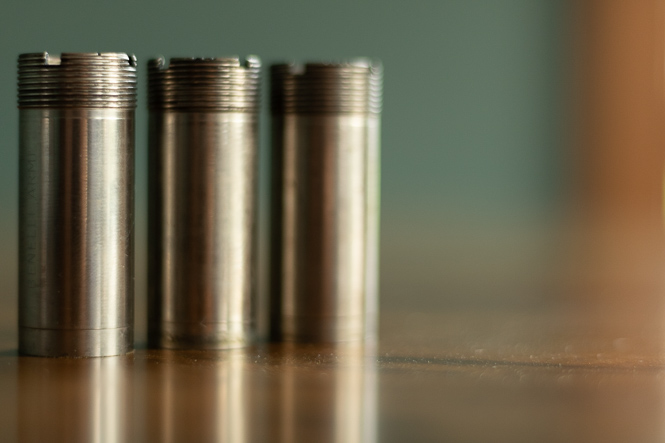 Benelli SuperNova Reliability & Durability
Benelli SuperNova Durability
When deciding which shotgun to buy, I knew that I wanted a shotgun that would withstand a beating. For this reason, it was important to include this section Benelli SuperNova Review.
I didn't want to buy an ultra-expensive shotgun only to worry about scratching it. I wanted a gun that could take a beating and get dirty without feeling bad about it. The steel skeleton framework that's over-molded with polymer really helps the strength and weather resistance of the SuperNova.
I put my SuperNova to the test throughout the years I've owned it, its durability is outstanding. The difference between my previous two shotguns and the SuperNova was quite apparent. My first shotgun I owned rusted easily and the second had parts vibrate off while shooting.
The SuperNova, on the other hand, is still going strong with no issues after 10 years. Sure, there are some scratches and a little rust but I'll admit I'm not the best at keeping up with cleaning my guns either. I've used the gun in brackish tidal marshes, in the rain, in the snow, in sub-zero temps, dropped the gun in the mud, lost my gun in the bottom of a tidal marsh to be recovered hours later when the tide receded and busted through countless miles of thick cover with it. It still works just as well as the day I bought it.
Benelli SuperNova Reliability
Pump-action shotguns, in general, are reliable guns. They are less likely to malfunction from fouling and are better at cycling lighter rounds. That being said, nowadays the newer automatics are very reliable as well, they're just expensive.
I have put thousands of rounds through my SuperNova in the last 10 years and have had no issues that were the fault of the gun. The only other issue I had was when using Black Cloud ammunition the gun would jam periodically. However, this was not the SuperNova's fault. Black Cloud is well known for being a dirty round. After cleaning and switching ammo, the problem disappeared. The SuperNova gets the job done.
Benelli SuperNova Stripping and Cleaning
Tool-Less Breakdown
One of my favorite features and another big advantage of the SuperNova over the competition is its ease and convenience of stripping and cleaning. For this reason, it was important to include in this Benelli SuperNova Review. The SuperNova stripping process is completely tool-less! This is extremely useful because it gives you the option to break down the shotgun in the field if something were to happen.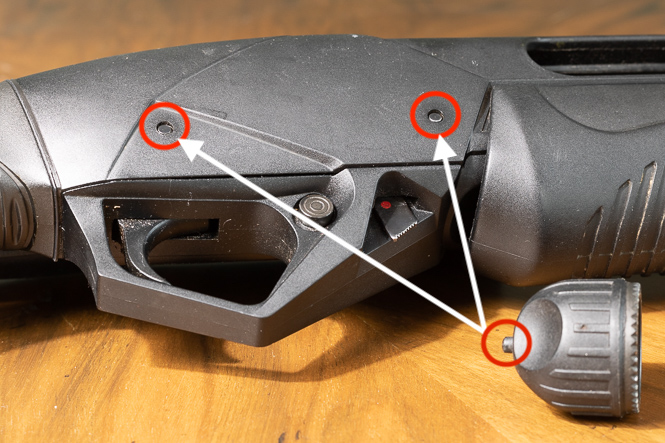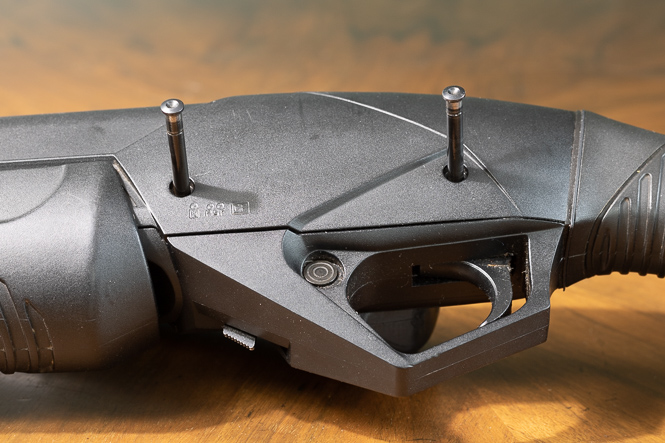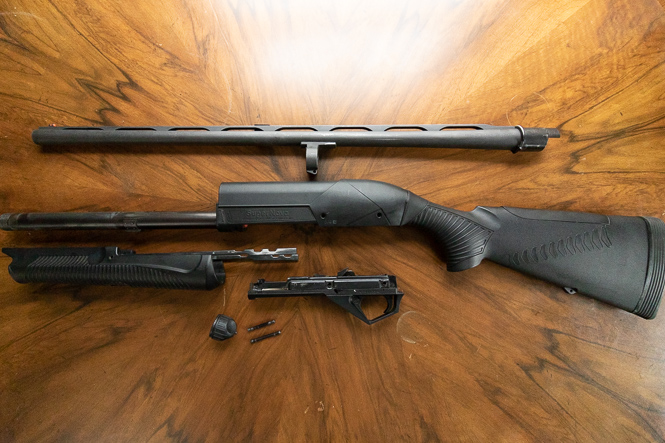 Benelli SuperNova Considerations & Recommendations
Considerations and recommendations are always important when conducting gun reviews. For this reason, I've listed some of the most notable ones in this Benelli SuperNova Review below:
Barrel Length
When I first purchased my SuperNova I did much more waterfowl hunting than upland bird hunting so I purchased a 28" barrel. I like the extra length for waterfowl hunting because I feel I can swing better on birds. Now I do a lot of upland hunting as well. But in dense grouse and woodcock habitat, I think it would be nice to have a 26" barrel.
Having a shorter barrel would allow me to swing around brush a little better and lighten up the gun a smidge for long treks in the woods. Of course, barrel length is a preference thing so you should test out what lengths you like before you make a final decision. Just keep in mind that your interests may change as you grow with the gun.
Black Cloud Ammunition
I have used many different kinds of ammo with the SuperNova, and I do have to say to be careful when using Black Cloud ammunition. Prior to owning the SuperNova, Black Cloud was my favorite shotgun ammo. When shooting Black Cloud in the SuperNova it had trouble ejecting the shells after a while. After cleaning and switching to another type of ammo the problem disappeared.
Weight
The SuperNova is a little heavy weighing between 7.8 and 8.0 lbs depending on the barrel length. For hunters who strictly hunt upland game, you are probably better off getting a lighter gun. That being said, the weight of the gun is only slightly heavier than other pumps. Upland hunters are probably better off getting a gun with less firepower and more lightweight like a 20GA, Over/Under, or Side by Side. Keep in mind though, that a heavier gun means less recoil.
Safety Location
The safety is located on the front of the trigger guard. This could be potentially uncomfortable for those with shorter fingers. I definitely recommend getting one in your hands to try out in order to see if the distance to the safety is comfortable for you. For me, this is a non-issue because I have relatively large hands and can reach it just fine. In fact, I prefer having the safety in the front of the trigger housing because going from the safety to the trigger in quick action scenarios feels faster.
For example, you can complete the movement of going from the safety to the trigger in one fluid motion. Guns with a safety behind the trigger force you to start your movement behind the trigger, then move in front of the trigger, then back to pull the trigger. With the SuperNova all you have to do is move your finger forward to the safety (or already have it in position in anticipation), then come back and pull the trigger.
Benelli Supernova Review Conclusion
Overall over the last 10 years, I've been very happy with the SuperNova. It's been able to handle everything I've thrown at it. If you need a shotgun that can do everything, and do it well, I highly recommend getting a SuperNova in your hands. Remarkably, even after 10 years I still believe that, for the price, the Benelli SuperNova shotgun is unmatched in comfort, versatility, and adjustability.
I hope this Benelli SuperNova review gave you some insight into why this gun is a great option for such a wide variety of people. You can find technical information and specifications on the SuperNova on the Benelli website. Let me know your thoughts and questions in the comments below. What products do you want me to review?
More Firearm Reviews And Resources:
Find more firearm reviews and resources by clicking through one of the links below:
Related Firearm Articles:
Best Places To Shop For Shotguns
Some other great places to find Benelli SuperNova's or other guns near you include:
Find Me On: