Share With Others By Clicking Icons Below!
This 2023 duck hunting gift guide has 51 best gifts for duck hunters, sorted by price, making it easy to find the perfect hunting gift (even for non-hunters). You'll find hunting gift ideas for all types of hunters, at all budgets, and for any skill level.
If you're a non-hunter you might be lost trying to decide what a duck hunter would actually want as a gift. I understand you're trying to make a good gift choice which is why I've written brief summaries of the gifts explaining what they do and how duck hunters can benefit from the gift idea.
This post contains Amazon and other affiliate links, which means I'll receive a commission if you purchase through my link, at no extra cost to you. Of course, you are not obligated to use my links, but it does help fund these posts in hopes of bringing more value to you!
Credibility of This Gift Guide
With over two decades of hunting experience and being a registered hunting guide and professional ecologist, I take pride in offering a carefully curated collection of hunting gifts to reflect the quality and authenticity I expect from myself as a hunter. I've personally used most of the gift ideas in this article or know from experience they would make great gifts.
Every item on our website reflects the same high standards I demand for my own hunting adventures. Many gift ideas are from hands-on gear reviews I've personally tested, ensuring quality.
If you want to learn more about me, you can check out my About Page.
Best Gifts For Duck Hunters Under 25$

1. Duck Hunting Logbook & Journal
Animals tend to do similar things over the years depending on changes in habitat. By keeping records of hunts hunters can refer back to their notes to know what duck hunts were successful and which were not. This helps duck hunters put the pieces of the puzzle together in order to predict where the best place to hunt is during the upcoming hunting season.
2. Duck Hunting Calendar
If you're purchasing a Christmas present, it's the end of the year and new calendars are needed! Why not gift a duck hunting calendar instead of a regular boring calendar?
3. Water Resistant Ammo Box
Every duck hunter needs a place to store ammo. The Plano Ammo Box is a classic and has been around for a long time. The hard plastic is durable and the box makes a good seat if needed. The box is water essentially waterproof, it can handle any weather event. It just can't be submerged underwater. It can also double as a seat when duck hunting with a cushion on top.
I personally own this shell box. It's very durable and reliable and lives up to its 5-star rating.
4. Duck Call Lanyard
A duck call lanyard is a perfect gift for a hunter with a lot of calls. This lanyard is worn around the neck for easy accessibility and allows a hunter to place many different calls on the lanyard. Different species of waterfowl will make different noises and having quick access to the right call at the right time is key. This is another gift idea that lives up to its 5-star rating.
5. Mojo Extra/Replacement Battery
Don't forget to grab an extra battery for your MOJO duck decoy. The battery life will decrease with age (which is expected) so it is always nice to have a back-up battery in order to extend the operation time of the Mojo. It's also a great idea to have a backup battery for many other reasons such as forgetting a battery, breaking one, or losing one in the water. It never hurts to be prepared!
From my experience, extra Mojo batteries are worth every penny. When you're dealing with electronics over water they tend to stop working over time, those extra batteries have saved many hunts over the years. 
6. Heydel Duck Call
This is an inexpensive but fantastic-sounding duck call. I've used these calls for 10+ years and have turned many ducks into the decoys. They don't require much practice to get good. They are excellent calls for both beginners and experienced hunters. The best part is they're so confident you'll like it that they offer a 100% satisfaction guarantee. If you're looking for a great sound for a reasonable price this call is a great option and is one of the best gifts for a duck hunter.
7. The Meateater Fish and Game Cookbook
Level up a duck hunter's cooking skills with a wild game cookbook. This cookbook by the well-known hunter, Steven Rinella, offers cooking instructions and fantastic photography. Getting better at preparing wild-game meals is something every hunter can appreciate, making it one of the best gifts for hunters.
Rinella's Meateater cookbook is one of the most well-known cookbooks on the market today and has excellent ratings. If you know a hunter who wants to improve their wild-game eating experience, this book would make an excellent gift. (Who knows, maybe you'll selfishly benefit as well).
8. Cookbook: Duck, Duck, Goose
This is another cookbook by Hank Shaw that is specifically designed for cooking waterfowl, both wild and farmed. This cookbook is another great option for waterfowl hunters looking to level up their waterfowl cooking skills, making it a great gift.
9. Insulated Neoprene Waterproof Decoy Gloves
Neoprene duck hunting decoy gloves make great gifts because they're waterproof, keeping hands dry when handling decoys. This can be critical when temperatures are cold, otherwise, the remainder of the hunt may be very uncomfortable with wet and freezing hands. Neoprene gloves would be a welcomed gift by any waterfowl hunter, especially in cold climates.
10. Insulated Rubber Hunting Decoy Gloves
These rubber gloves are my personal favorites. They have a nice soft fleece-like insulation in them that keeps my hands warm and cozy on the coldest duck hunting days which is important for an enjoyable hunt. Not only are they warm but they are also waterproof, keeping hands dry when handling decoys or anything wet out on the water. They are also more durable and easily cleaned than neoprene. Hunting rubber decoy gloves make great gifts for duck hunters. Long rubber gloves would be a perfect gift for any waterfowl hunter.
Check Amazon's Price
11. Mallard Dog Training Dummy
Do you know anyone who is training their dog for duck hunting? These realistically shaped and sized training dummies would make a great gift. They are scent injectable and easy to throw. They also float so training to retrieve in water is not an issue with these. There are different dummies to choose from including; ducks, doves, grouse, and pheasant decoys.
12. Cast Iron Skillet For Cooking Wild-Game
A cast-iron pan is one of the best gifts for duck hunters because it's inexpensive, conducts heat evenly, will last a lifetime, and helps favor meat if cared for properly. They're also great for cooking while in the duck hunting blind or at hunting camp. For the price, this gift idea is hard to beat. They make perfect kitchenware gifts for duck hunters and can be used to cook over open flames.

13. GoPro Accessories
If a hunter already has a GoPro you can bet they want more accessories for filming creativity. There are many to choose from, but you can get a large bundle of accessories for very cheap. These accessories will be valuable because the GoPro will be able to be worn in any way imaginable. For duck hunters, I would recommend getting an under-barrel GoPro mount for guns as a gift. Neweer makes a 50-in-1 GoPro accessory package that is only about 25$. This amount of accessories gives anyone great versatility to film how they want. Some of the key products in the package are the chest mount, head mount, and suction cup mount.
Best Gifts for Duck Hunters Under 50$
14. Wood Printed Duck Hunting Photograph Gift
Get one of your favorite duck hunting photos printed on a slab of wood. The combination of a personalized photo on a unique slab of wood picture frame makes for one of the best Christmas gifts for hunters who seem to have everything.
15. HeatMax Hot Hands Handwarmers (40 Pairs)
Hand warmers are a duck hunter's best friend. Keeping your hands warm is so important for an enjoyable hunt. These can be placed in gloves for 10+ hours of warmth. I also put mine in my boots and use them as toe warmers. You can't go wrong with giving a bunch of hand warmers to a duck hunter, or any hunter for that matter. The reviews speak for themselves!
16. Replaceable Blade Knife
A replaceable blade knife is a top gift for duck hunters because it's frustrating when hunters find out their knife has become dull and they didn't think to bring a knife sharpening kit. Re-sharpening a knife is time-consuming and a hassle. A replaceable blade can be easily replaced in seconds saving time and headaches.
17. Quality Polarized Sunglasses
Sunglasses are a staple gear item for duck hunters. Waterfowl is usually flying in the sky, and the sky is usually bright, even on cloudy days. In addition, the sun and sky reflecting off the water are also bright. Having quality sunglasses will keep duck hunters from getting headaches after staring into the sky and water all day, and often days at a time. See a few recommended options below:
HUK Polarized Sunglasses For Duck Hunters
These are great budget duck hunting sunglasses
Costa Del Mar Polarized Sunglasses For Duck Hunters
These are great high-end duck hunting sunglasses. Costa has a great reputation in the hunting and fishing industry.
18. Clay Pigeon Launcher Hunting Gift Idea & Activity
A clay pigeon launcher is an excellent gift for duck hunters to practice their wing-shooting skills. Additionally, it also creates the foundation for a fun activity that many people can get involved in together. In addition to being a fun activity, you'll get some good wing-shooting practice in for the upcoming hunting season.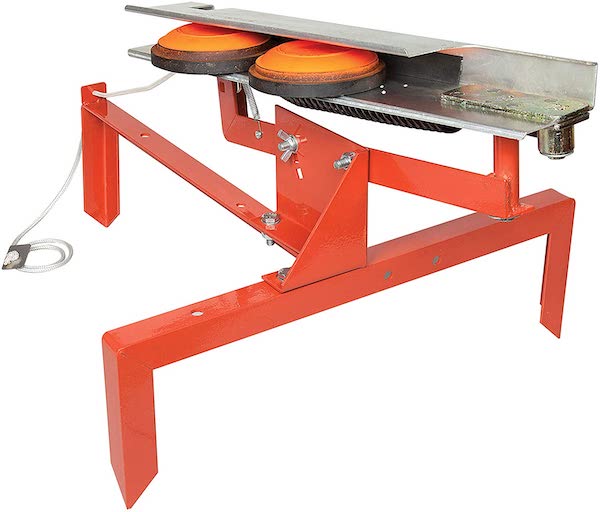 Check Amazon's Price
19. Gorla Waterproof Seat Cover
Getting wet and dirty when duck hunting from being in the elements and then getting in your vehicle will wear out seats over time. Seat covers keep their vehicle in good shape through the hunting seasons.
Gorla makes an affordable seat cover with excellent reviews. This seat cover is advertised for athletes to keep sweat off their car but will work well for hunting applications to keep the elements off your car. Gorla offers a lifetime satisfaction guarantee, so if you don't like it get your money back!
20. Camo Blind Material/Netting
Blind material can be used to camouflage a hunter's duck boat or duck blind, or for creating quick blinds when hunting mobile. It also has many uses and is a very affordable gift. I use mine to drape over the duck boat when duck hunting in order to break up the hard lines of the boat for extra concealment.
21. Vehicle Dog Seat Cover
Dog seat covers make excellent gifts for duck hunters. Waterfowl hunting and training can make a duck dog a wet, muddy, brushy, and stinky mess. Seat covers keep the pup safe and keep the vehicle clean, especially after duck hunting trips.
It's a hammock-style design that covers the entire backseat with sidewalls. It fits most trucks, SUVs, and cars. It's also waterproof so no mud or water will seep through, keeping the vehicle clean.
22. Knife Sharpening Stone (Oil-Free)
If you know a hunter who has knives but is not into the idea of using replaceable blade knives, then the quintessential tool of the hunter needs to be maintained. Nothing is more annoying than trying to do something with a dull knife. A good quality knife sharpener will make it easy to get a sharp blade edge. This oil-free stone is a great option it only requires water to for sharpening.
The stone is double-sided, for coarse and fine sharpening which is key to getting those really dull blades sharp. It can sharpen any blade such as scissors, broadheads, hunting knives, and even axes!  Another benefit is that also comes with an instruction manual for those new to sharpening. If you don't like to read, one quick YouTube video and you'll be ready to go.
23. Boot Dryer By Peet
Boot dryers are truly remarkable, and I can say this with confidence from firsthand experience: they might just be the ultimate gift for duck hunters. There's nothing quite as uncomfortable as slipping into damp or wet boots, whether it's due to sweat, rain, or accidentally going over your boots. These scenarios quickly lead to dreaded cold or frozen toes and feet.
However, with a quality boot dryer, such discomfort becomes a thing of the past. Simply place your boots on this dryer after a long day in the field, and they'll emerge warm and dry, ready for your next hunt. This particular Peet boot dryer can dry all types of boots, including chest waders when folded down.
24. Twelve-Slot Decoy Bags
The ability to carry a dozen decoys at once is a blessing when traveling back and forth from hunting spots. There's nothing more frustrating than having your hands or shoulders maxed out with decoys and not being able to carry anything else. A single large bag allows duck hunters to free their hands up for more equipment. This has helped me get all my equipment where it needs to go in one trip instead of making multiple trips.
These bags are also great because they separate decoys into individual slots so that they don't get scratched up during transport. This keeps decoys in good condition for much longer than the decoys bags where you just stuff all decoys together.
25. Black Diamond Storm Headlamp
A headlamp is a great gift for duck hunters because lights are a must in the dark. A headlamp keeps both hands free so you can carry other equipment and focus on the task at hand. Just don't skimp on a good headlamp because cheap ones will break or stop working.
The Black Diamond Storm headlamp is a great headlamp for hunters because it is waterproof and dustproof, has red, green, and blue light settings, and takes replaceable AAA batteries. I like replaceable batteries because I can buy lithium batteries which are much more reliable in cold weather.
I wrote a post on the 8 Best Headlamps For Hunting if you're looking for more in-depth headlamp information and more types of headlamps for hunters.
26. Howard Leight Sound Amplification Hearing Protection
Hearing protection is one of the best gifts you can get for a duck hunter. Keeping the ears protected during repeated shooting is essential for hearing longevity. If you know someone who needs a good pair of hearing protection they'll appreciate it, and even more so in the long term.
The Howard Leight earmuffs are great because they have an adjustable amplification knob so you can still have conversations. However, as soon as the noise is too loud, the headphones will block it. Now there is no reason to not wear hearing protection. These headphones are time-tested and have a 4.5 rating with almost 25,000 reviews.
27. Marsh Stool For Duck Hunting
Marsh stools also make great gifts for duck hunters. An actual seat is much more comfortable and will be easier on a hunter's back. Additionally, you'll be able to see over the tall marsh grass without being fully exposed to waterfowl.
28. Duck Decoys
Decoys are almost always a necessary tool for duck hunters which is why they make great gifts. However not all decoys are created equal, some look more realistic than others. Realism is important when duck hunting because if decoys don't look very real then ducks will avoid coming into shotgun range.
These decoys by Avian X are very realistic and have great reviews. I would recommend buying a 6 pack of early-season decoys, and a 6 pack of later-season decoys. This way the hunter you are buying for can mix and match to their liking depending on the time of year.
29. Leatherman Multitool
Regardless of the hunting method or preferences, a Leatherman multi-tool proves to be a valuable asset for all hunters. Manufactured in the USA and backed by a generous 25-year warranty, this 14-in-1 tool offers not only convenience but, based on my personal experience, becomes a reliable troubleshooter when things don't go as planned or when gear needs quick fixes.
There have been numerous instances where the Leatherman has come to the rescue during hunting trips, whether for on-the-fly repairs or crafting an improvised walking stick to bridge a stream. Its versatility in less-than-ideal situations truly sets it apart as a practical gift choice for duck hunters. Moreover, it's worth noting that these multi-tools find usefulness well beyond the hunting realm.
30. One-gallon Thermos Gift For Duck Hunters
A thermos is a great gift for any hunter or outdoorsy person, especially duck hunters. Nothing lifts the spirits more than a warm beverage on those blustery cold days or a cold drink on those scorching days.
RTIC is well-known for being one of the best companies for keeping drinks at the desired temperatures.
Best Gifts For Duck Hunters Under 100$
31. Water-Resistant Vehicle Seat Covers For Duck Hunters 
Getting wet and dirty from being in the elements and then repeatedly getting in your vehicle will wear out the seats. Seat covers keep their vehicle in good shape through the hunting seasons. Extra protection to vehicles is always appreciated especially during the duck hunting season when things often get wet, muddy, and dirty.
32. Carlson's Choke Tubes – Long Range & Mid-Range
Carlson's choke tubes are screwed into shotgun barrels in order to give hunters their desired shot-pattern density at distances they plan to be shooting. A full-choke that can handle steel shot is always a great option to have when ducks aren't decoying like you thought.
33. Hunting Seat Cushion
Seat cushions are great gifts for duck hunters for additional comfort because duck hunters often sit for long periods at a time. They're great when placed on top of ammo boxes or in the duck boat. They also work great as backrests. This particular seat is awesome because it is made with 3-layers for both comfort and protection against the elements.
34. Waterproof Duffle Bag
Ducks thrive in wet habitats, and waterproof duffle bags are an ideal choice for such environments. These bags serve multiple purposes, whether it's ensuring your gear remains dry during hunting trips in the bed of your pickup truck, safeguarding equipment on a duck boat, or countless other situations where water is a concern. When you have a waterproof bag, you can confidently leave your worries about the elements behind.
35.

GumLeaf

Long Lasting High-Content Rubber Boot
The GumLeaf Field Wellys are handcrafted boots in Europe and are made of 85% real rubber which prevents cracking from occurring and should last around 10+ years with proper care. Most other rubber boots on the market are mixed with a percentage of high clay and only last 1-3 years before they crack.
I bought the GumLeaf Field Welly boots because I was tired of my other boots cracking after 2-3 years. I've liked these boots so much that I reached out to GumLeaf USA to see if I could get a discount for my viewers. If you enter coupon code "JTOTen" at checkout you'll receive 10% off these boots.
You can check out my full review of these boots here: GumLeaf Field Welly Review After Months of Heavy Use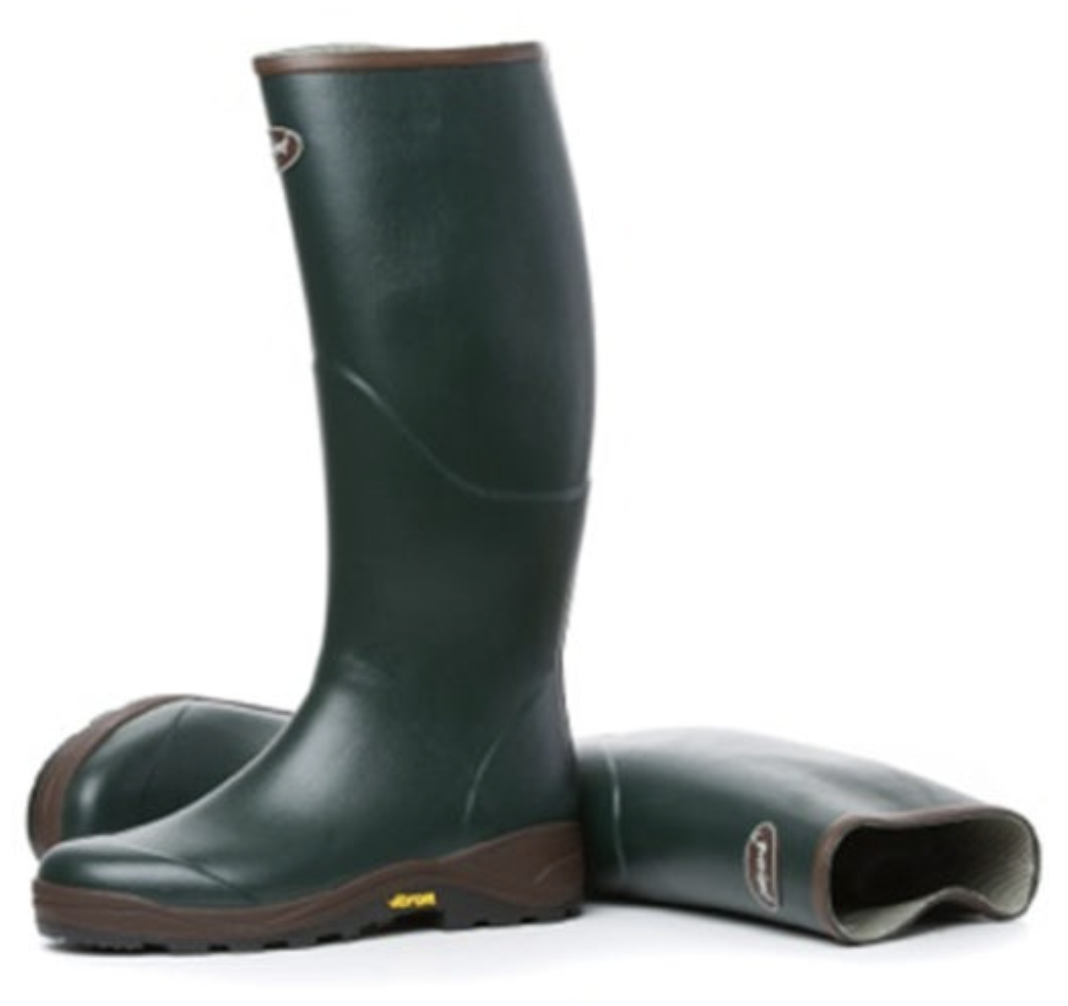 36. Affordable Camo Chest Waders for Hunting
Waders are one of the best gifts for hunters because they have a variety of hunting applications. I use mine for hunting ducks, geese, and deer as well as scouting and fishing. They are great for marshes and swamps that are too deep for hip boots. It is important for waders to be durable. These waders are heat welded, have a durable neoprene cross-hatch finish, and offer generous extra knee/shin padding to reinforce and prevent punctures and leaks. The TideWe MAX5 waders below are quality budget waders, you can read my hands-on review here.
Check Amazon's Price Check TideWe Price
Best Gifts for Duck Hunters Under 300$
37. Duck Hunting Backpack
A high-quality duck hunting backpack offers efficient gear organization, durability, and comfort when carrying gear to your duck hunting spot. Padded straps and a waist belt provide comfort for long treks, essential for pursuing ducks in challenging terrain.
Camouflage patterns help you blend in, and ample storage space accommodates decoy anchors, ammunition, calls, and other duck hunting essentials. This backpack allows hunters to attach their decoys and shotgun to the bag to free up their hands. It also has a waterproof bottom to keep gear dry.

38. Heated Clothing For Cold Weather Duck Hunting
The ability to be warm when hunting with fewer layers means a more enjoyable time while waiting for ducks to decoy. A heated vest or sweatshirt will be appreciated during those cold duck hunting months and especially late-season mornings. I've listed some good options with high ratings below for you to check out:
Vest
Check Amazon's Price  Check TideWe Price
Coat
Check Amazon's Price Check TideWe Price
Sweatshirt
It's heated, but it also charges your phone! This sweatshirt has a 12-hour battery life and helps you stay warm with fewer layers. That means more mobility and extra heat when you need it which is important for cold mornings in the duck blind. This sweatshirt is washer and dryer-safe.
39. Sitka Windstopper Hand Muff Duck Hunting Gift
Hand muffs are basically gold to duck hunters in frigid temperatures. When hands are cold it's hard to enjoy yourself or think about anything else until your hands become warm. Hand muffs are one of the best gifts for duck hunters for this reason. The Sitka hand muff uses Gore-Tex and Windstopper layers with Primaloft insulation to block wind and keep hands warm.
40. Hunting Smartwatches Are Cool Gifts For Hunters
Hunting smartwatches are one of the coolest gifts for hunters because of their customizability and abundance of cool hunting features. For example, smartwatches are helpful tools for hunters because they have GPS, ABC (Altimeter, Barometer, and a Compass), weather, sunrise times, sunset times, moon phases…and much more.
My article 7 Best Smartwatches For Hunting will help you choose the right smartwatch for the duck hunter in your life. The Garmin Instinct Solar is one of the best hunting smartwatches for the money. The screen has an integrated solar panel so the battery lasts longer between charges.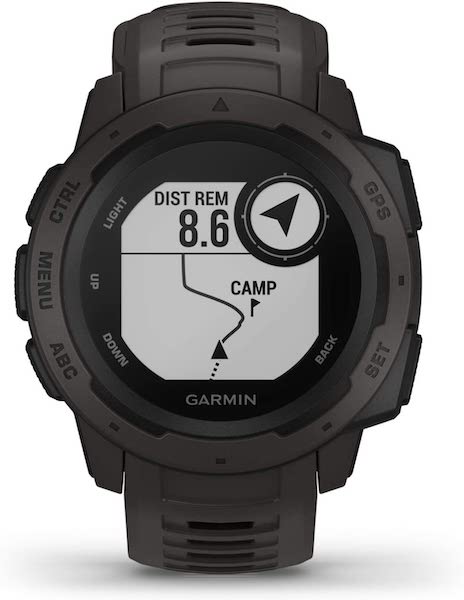 *Price At Time of Post
**Battery Life Depends on Settings
41. Insulated Soft Cooler Gift For Duck Hunters
Soft coolers are perfect for day-long trips to keep lunches and drinks cold and fresh while duck hunting. These coolers are waterproof, mildew, have a tear-resistant exterior, and have the remarkable ability to stay cold as you'd expect from YETI and RTIC. It is important for hunters to have gear that stands up to the elements, and these coolers do just that which is why they are one of the best gifts for duck hunters.
RTIC Insulated Soft Cooler Gift
YETI Insulated Soft Cooler Gift
42. Instant Pot For Tender Duck Stews and Meat
Instant Pots are great gifts for duck hunters because they provide variety, convenience, and efficiency in preparing meals with wild game meat. They're great at tenderizing tougher wild game meat and there are a seemingly infinite number of instant pot recipes online to try. They are thoughtful and practical gifts for tastier wild game consumption.
43. Kayak or Canoe Easy Transportation Trolley Cart For Duck Hunters
These transportation trolly carts are an easy way to lighten the load when launching duck hunting canoes or kayaks. This is especially true when they need to be transported for long distances. Also, heavier canoes with motors are even more difficult to launch, these carts make the launching process a lot easier, making them perfect gifts for duck hunters with canoes or kayaks.
44. Otis Technology Gun Cleaning Kit
Guns are expensive, and cleaning them can be a hassle if proper cleaning gear isn't owned. A gun cleaning kit is one of the best gifts for hunters because it makes cleaning guns hassle-free because there are specific tools for specific jobs. Otis is a well-known gun cleaning company and is not one of those cheap knock-offs. This kit has all of the tools a hunter will ever need for gun cleaning care.
45. Mojo Robo Duck Decoy
A MOJO duck decoy is an excellent gift for a waterfowl hunter. The spinning wings from this motorized decoy can be seen and attract ducks from very far distances. The MOJO gives ducks confidence in a decoy setup, making them commit harder offering more opportunities and better shots. What duck hunter wouldn't want better opportunities?
46. Food Dehydrator – Jerky Maker
Jerky makers are awesome gifts for duck hunters. I personally love wild goose jerky as well. Being able to make your own jerky from wild-game is a great way to change things up as far as wild-game consumption. When making jerky you can flavor it to your liking and because it's so tasty, it's a great way to introduce others to eating wild game. The Cosori dehydrator comes with 50 recipes and 6 trays for dehydrating. It's easy to use and easy to clean making it a great gift.
47. Athlon Midas Binoculars (Best Value Binoculars)
Binoculars are a staple for duck hunters for duck species identification and for scouting ducks. I hands-on reviewed and tested 14 different binoculars from all price ranges to see which binoculars were the best value for the money. Results from the review indicated that the Athlon Midas binoculars were the best value. You can check out my full video review below:
48. Alps Layout Blind
Layout blinds are great gifts for hunters who do a lot of waterfowl hunting, especially for geese. Hunters are able to stay hidden in plain sight by lying down in a field inside one of these. The ALPS OutdoorZ Legend Layout Blind is comfortable, waterproof, and easily transportable. What separates the ALPS from other layout blinds is that it has a specially designed "zero gravity" chair that makes laying on the ground more comfortable than competitors.
49. Tactacam Action Camera
The Tactacam is one of the best gifts for duck hunters trying to get epic film and interesting angles. The Tactacam is an action camera that is weatherproof, image-stabilized, 4K, offers 120 fps slow motion, and has 8x zoom. Zoom is a great feature and is something that is lacking in the GoPro. The Tactacam cameras are versatile and are easily mounted to scopes and bows in order to easily capture hunts. They also make a great backup in addition to a main camera to ensure you get the moment of truth on film.
Best Gifts For Duck Hunters Under 500$
50.

Duck Hunting Jacket –

SITKA Gear Delta Wading Jacket
This jacket is made specifically for duck hunters. It is a waterproof and GoreTex breathable jacket that is uninsulated so that hunters can keep layering clothes under this jacket as the hunting season progresses and gets colder. It is designed to keep waterfowl hunters dry throughout the entire hunting season. SITKA Gear makes high-quality and well-thought-out clothing specifically for hunters. This jacket even has a built-in duck call lanyard.
51. GoPro Hero 12 Black For Filming Duck Hunts
The new GoPro's are fantastic for capturing hunts on film. They are one of the best gifts for hunters looking to get into filming hunts. The new internal computerized gimbal-like stabilization makes the footage look buttery smooth even with excessive movement. Not only do they have great stabilization but they also have 5K+ video, slow motion, and much more.
Questions & Community
Drawing from my decades of duck hunting experience, I hope you found the thoughtfully selected 51 exceptional gifts for fellow duck hunters catering to various budgets, skill levels, and preferences, helpful. Many of these items have been personally hands-on tested and reviewed.
If you have more questions about the gift ideas or questions in general you can ask them on my Forum and Facebook Group. If you have questions for me please put them in these places and I will get back to you. The community can also help answer your questions.
Additional Hunting Gift Idea Resources:
Find Me On:
Share With Others By Clicking Icons Below!