The best headlamps for hunting make a hunter's life easier and more efficient by keeping hands free, enabling you to focus on the task at hand. Not all headlamps are created equal for hunters. Some headlamps will make your life easier, and others won't.
The type of hunting you do will determine the best headlamp features for you. This post covers the best headlamps for a variety of different types of hunting and hunting situations so you can make the most educated purchase for you.
This post contains Amazon and other affiliate links, which means I'll receive a commission if you purchase through my link, at no extra cost to you. Of course, you are not obligated to use my links, but it does help fund these posts in hopes of bringing more value to you!
List of Best Headlamp Features Covered In This Review:
Durability

Waterproofing

Battery type

Battery life

Light color

Brightness

Weight

Bulk

Memory

Direct access to colored lights

Battery lockout

Low-battery indicator
Best Hunting Headlamp Features To Look For
A headlamp is easily one of the most useful tools for hunters. However, if you choose the wrong headlamp you might find yourself more frustrated than not. This post will help ensure you choose the right headlamp with the best features for the types of hunting you do.
Durable
Don't skimp on a cheap headlamp if you rely on headlamps to get you out of the woods. Cheaper headlamps aren't durable and are more likely to malfunction. They also don't have features that make them easy to use for hunters. The best headlamps for hunting will be able to withstand some light to moderate abuse and have features that make them easy to use.
Waterproof
Hunters shouldn't even consider buying a non-waterproof headlamp. A waterproof is a necessity for hunters because the weather can change unexpectedly. Also, it's common to hunt in bad weather and the last thing you want to have to happen is to break your headlamp in a rainstorm and you have to find your way back in the dark.
Battery Type (Rechargeable vs Non-rechargeable)
Non-rechargeable headlamps are generally better than rechargeable headlamps for hunting. This is because a headlamp that uses batteries, like AAA, can be replaced if you carry extra batteries with you. When you use a rechargeable headlamp you're out of luck unless you bring a power bank and a charging cord. This can be dangerous if you're trying to get out of remote areas.
Light Color Toggle (Blue, Red, Green)
Although red and green headlamp colors help to avoid detection, they are not invisible to animals. Animals can see these lights, just not as well as white light. A bright red light is still quite obvious to animals. That said, red lights on headlamps usually have fewer lumens, so they are less bright than white lights, making them great for sneaking into your hunting spots undetected.
The main purpose of green and red lights is to preserve your night vision. This way you can still see in the dark in your peripherals outside of the red beam. A red light will also stop you from ruining the night vision of other hunters you're hunting with and talking to. 
Adjustable Brightness/ Lumens
When you're hunting it's important not to spook game even if it's before or after legal shooting light. A bright light bouncing around on your noggin will let every animal in the vicinity know where you are or at least reduce your odds of a successful hunt. For this reason, an adjustable brightness is important, even for nighttime modes like red and green color.
Weight/Bulk
Bulk and weight are important factors to consider when choosing a headlamp for hunting. You don't want a big and bulky headlamp that will get caught up in branches on your walk into your hunting area. And a heavy headlamp will bob up and down more on your head which can be annoying.
Additionally, hunters generally use headlamps for a small portion of the time when hunting. It's basically for getting to and from hunting spots after legal shooting light. For this reason, a headlamp is an essential piece of gear but it is only used a small portion of the time. When not in use it is nice to have a small compact headlamp that you can put in your pocket or into a backpack easily.
Memory
Memory is a headlamp's ability to remember the last setting it was on when it is turned on again from being off. This is helpful when there are different light colors and you don't want to toggle through all of the colors to find the one you are looking for.
Direct Access to Colored Lights
Direct access to a colored light means that instead of toggling through all of the light colors to get to the color you want, there is a dedicated button that allows you to immediately access the light you want.
For example, having direct access to a red light will make it so you don't shine a bright white light every time you want to use your red light. This helps prevent spooking animals.
Battery Lockout
Battery lockout is a helpful feature because it prevents your headlamp from accidentally turning on in your bag or pocket. This can be an important feature for those who rely heavily on their headlamps for getting out of the woods. 
Low Light Indicator
Having a low light indicator is an important feature for a hunting headlamp because knowing when your headlamp is going to die allows you to plan ahead and get the batteries replaced so your headlamp doesn't die when you need it most.
Best Headlamps For Hunting
Black Diamond Spot 350 Lumen Best Value Hunting Headlamp
Black Diamond makes some of the best headlamps for the money. For under 40$ you get just about everything someone would be looking for in a headlamp. This headlamp has 3 lights, a bright main light, a flood light, and a red light. All of these lights are dimmable. Also, it has memory so it will remember the settings you used last.
The Spot uses 3 AAA batteries. There is a battery lock option so it doesn't accidentally turn on. The easy-to-read battery life indicator is excellent. The battery life is also great and will last 3.75 hours at max brightness and up to 200 hours at low brightness. The touch panel on the side conveniently toggles max brightness for all three lights.
It's waterproof down to 1 meter for up to 30 minutes and weighs 2.93 oz.
Black Diamond Storm 400 Lumen Hunting Headlamp
The Black Diamond Storm headlamp is similar to the Black Diamond Spot headlamp in function, but with a few additional features. It has red, green, and blue light settings, and takes four replaceable AAA batteries. This allows the storm to run longer with high brightness settings. The video below does a great job explaining the features:
Petzl Tactikka 300 Lumen Hunting Headlamp
Petzl is a well-known company that makes excellent headlamps. The Tikka 300 is 2.89 oz and has 3 white light modes, low (6 lumens, 160 hours), medium (100 lumens, 12 hours), and high (300) lumens. One button is used to toggle through these brightness levels. To access the red light you press and hold the button. A cool feature of Petzl is you can use 3 AAA batteries or you can buy a rechargeable battery pack.
Petzl Tactikka + RBG 350 Lumen Hunting Headlamp
The Tactikka + 350 has all of the same features as the Tactikka 300, plus a few more. The differences include 50 extra lumens for added brightness and more light color options. For example, you get red, green, and blue lights. To access these lights you just hold down a single button as the headlamp it toggles through the different colors.
L.L. Bean Trailblazer Sportsman 420 Lumen Headlamp
L.L. Bean has an excellent 100% satisfaction guarantee for up to 1 year which is an excellent indicator of how much they believe in the quality of their products. This headlamp does not have a red light but does have a green light for night vision. The green light comes on first before the white light so you preserve your night vision. This makes it one of the best hunting headlamps with green light.
The Trailblazer's brightness settings are very adjustable. The 420 spotlight setting is dimmable to 25 lumens. The 50-lumen white flood light setting is dimmable to 10 lumens. This is not a rechargeable headlamp, it uses 3 AAA batteries which are included, and will last up to 110 hours. It is waterproof up to 1 meter for 30 minutes.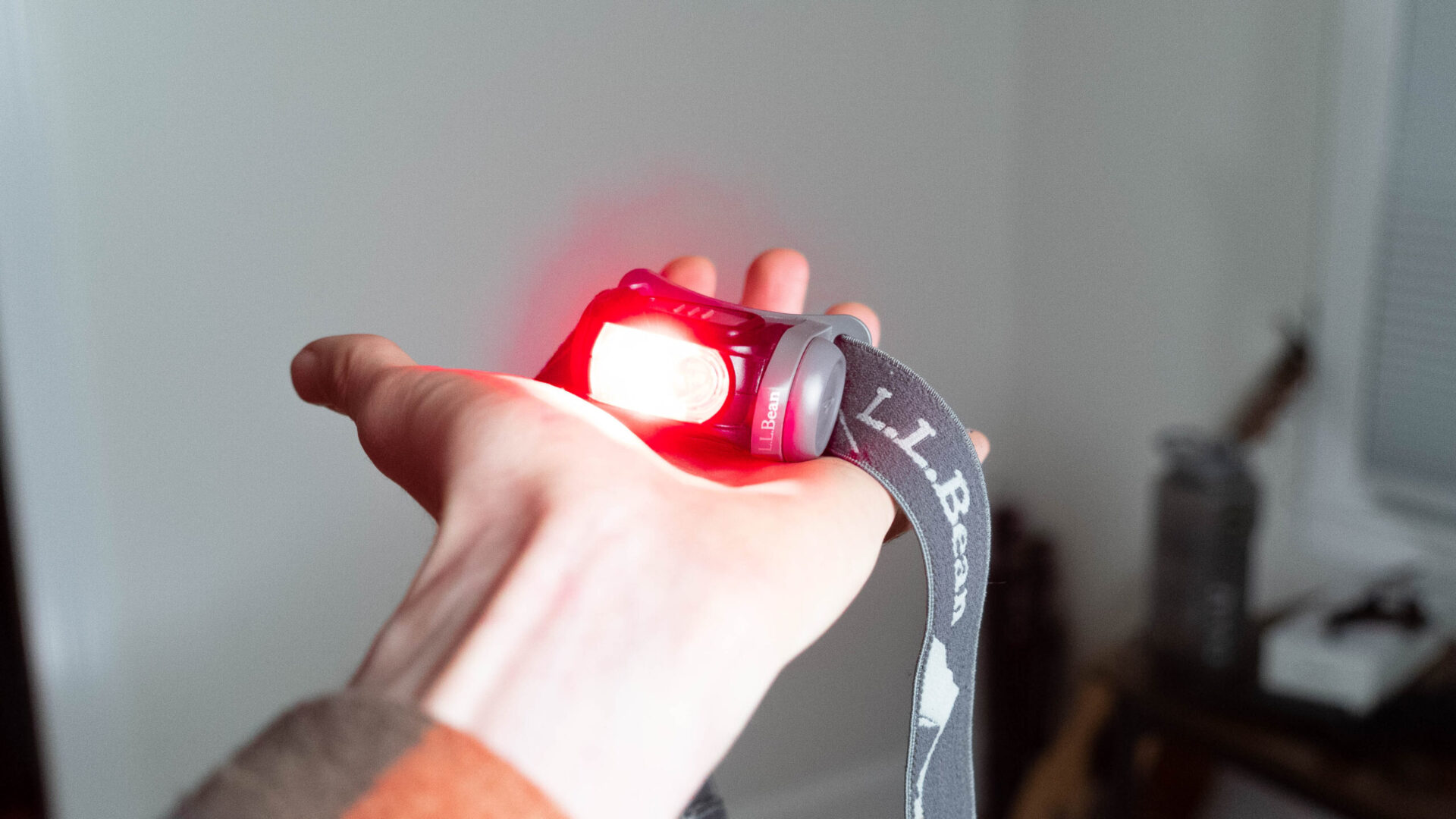 Biolite 200 Lumen Lightest Weight Headlamp
This is a minimal and simple one-button headlamp that just about does it all. It has an articulating light, 12-hour last-setting memory, and dimmable red and white brightness.
The battery is rechargeable only and lasts 3 hours at max brightness but will last 40 hours at low brightness. It has a low battery indicator and the battery has a lock mode so it won't accidentally get turned on when you don't want it to.
This is one of the lightest and most portable headlamps on the market at 1.76 oz, the tradeoff is the IPX4 waterproof rating which means it can only withstand light rain.
Brightest Headlamps For Hunting
Fenix HM50R V.2 700 Lumens
Fenix headlamps are great for hunters because they offer a lot of lumens in a small lightweight 2.75 oz package. With this Fenix HM50R, you get 700 lumens, direct access to the red light, and a battery lockout feature. It's easy to operate with a one-button operation.
The CR123A battery life is quite good, you get 65 hours on 5 lumens red light, 42 hours at 30 lumens, 8 hours on 130 lumens, 3 hours at 400 lumens, and one hour at 700 lumens. The battery is rechargeable only but can fully charge in 1.5 hours. You can check the battery life too so you know when the headlamp is running low.
Fenix HM70R 1600 Lumens
The Fenix HM70R 1600 is one of the brightest headlamps for hunting and has the best battery life. This is one of the best headlamps for hunters who don't care as much about weight and stealthiness and are more interested in brightness. This could be a good option for waterfowl hunters for navigating in a boat at night. You don't have to run this headlamp at max brightness either and it will work great at lower lumens.
It will last 2 hours at the highest setting of 1600 lumens, up to 100 hours at the lowest 30 lumens white light, and all the way to 400 hours at the lowest red light setting of 5 lumens using a 21700 battery.
How Many Lumens Is Best For Hunting Headlamps?
Brighter does not mean better when it comes to hunting headlamps. A 200-lumen headlamp is plenty. To navigate in the dark you don't need many lumens, 50 lumens is comfortable for most people in the woods and will allow you to see +/- 20 yards easily. Most headlamps have adjustable brightness settings so you can use your headlamp at lower lumens but still have the option to crank up the brightness to much higher lumens when needed.
Are Bright Headlamps Good For Hunting?
Brighter headlamps are not necessarily better for hunting. Brighter headlamps will reduce the battery life greatly or you will need a bigger heavier and bulkier headlamp with a bigger battery to sustain higher brightness levels for longer periods. So there are trade-offs with getting a brighter headlamp.
Are Cheap Headlamps Worth The Money?
Don't skimp on a good headlamp because cheap ones will break or not work properly when you need it most. Many hunters rely on headlamps to get them out of the woods after shooting hours. A dependable headlamp is worth the money for your safety.
There are budget headlamps made by reputable manufacturers that would be okay to purchase, some of them are listed in this post. However, I would not buy cheap off-brand headlamps because their quality will be questionable.
More Headlamp Resources:
9 Best Headlamps For Fishing [2023] Color, Lumens, Battery…
Best Brands When Buying Hunting Headlamps
Black Diamond

Petzl

L.L. Bean

Cabela's

Biolite

Fenix
Stores To Shop For Hunting Headlamps
Some great places to find hunting headlamps include:
Amazon – Free Two-Day Shipping For Prime Members
Cabela's – Free Shipping on Orders Over 50$

L.L. Bean

– Free Shipping on Orders Over 50$
Find Me On: