These are the best upland hunting boots for bird hunters on the market. There are a variety of upland boots so that all types of upland hunters from across the country can easily find the perfect boot for your specific type of upland hunting pursuit.
Whether you hunt flatlands for pheasants or mountains/ridges for grouse this post has you covered.
This post contains Amazon and other affiliate links, which means I'll receive a commission if you purchase through my link, at no extra cost to you. Of course, you are not obligated to use my links, but it does help fund these posts in hopes of bringing more value to you!
What To Look For When Buying Upland Hunting Boots
Waterproof/Water-resistant
Since you're hunting upland birds you might not need the most waterproof boots on the market. A water-resistant boot might be all you need.
That being said, at least where I hunt, I'm always glad I'm wearing a waterproof boot when I'm hunting because I inevitably find some water I have to walk through. Also, dew in tall grass can be very wet and will soak through boots that are not waterproof or resistant.
Cover Ankles
Boots that cover your ankles are going to help protect your angles from prickly bushes, thick vegetation, and grasses. It will also keep debris and water from vegetation from getting down your boot as easily.
Lightweight
Upland bird hunting requires a lot of walking. A lightweight boot will help keep your legs from getting tired so you can hunt more comfortably for long hours.
Durability
Upland bird hunters beat the crap out of their boots because of the thick vegetation and the miles they put on their boots when hunting. A durable boot is essential for getting the most for your money.
Insulation
Upland bird hunters are generally on the move at a medium-paced walk all day. With this amount of movement, upland bird hunters really don't need any insulation in their boots. If it's above 40º there is no need for insulation. Once temps drop into the 30ºs  you might want a 400g insulated boot if you don't move much. Once temps are in the 20ºs a 400g boot is a good option. Depending on your activity an 800g boot might be better, especially if there's snow.
Best Rubber Boots For Upland Bird Hunting
GumLeaf Field Welly Boot (High Rubber Content)
These boots are 2-3x more expensive than most rubber boots on the market that have more plastic/clay filler. However, because of the longer life of these boots, the idea is that they end up being cheaper in the long run.
I bought the GumLeaf Field Welly boots because I was tired of my other boots cracking after 2-3 years. I've liked these boots so much that I reached out to GumLeaf USA to see if I could get a discount for my viewers. If you enter coupon code "JTOTen" at checkout you'll receive 10% off these boots.
You can check out my full review of these boots here: GumLeaf Field Welly Review After Months of Heavy Use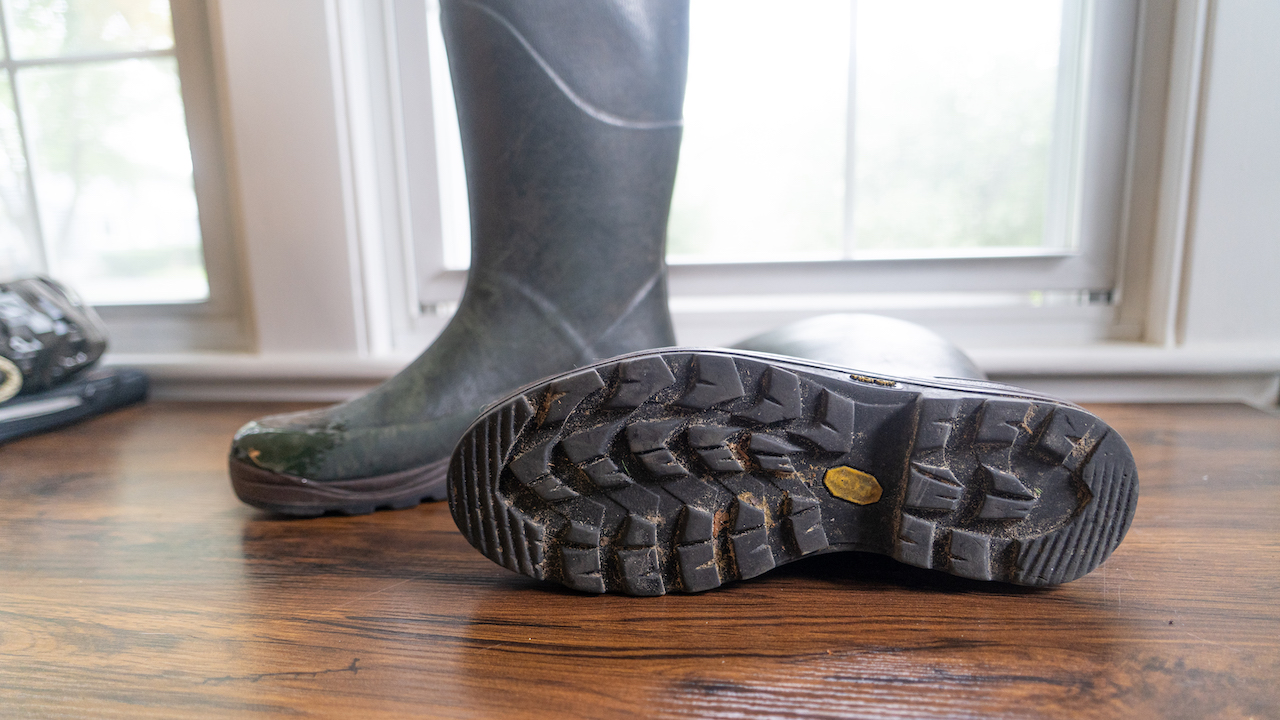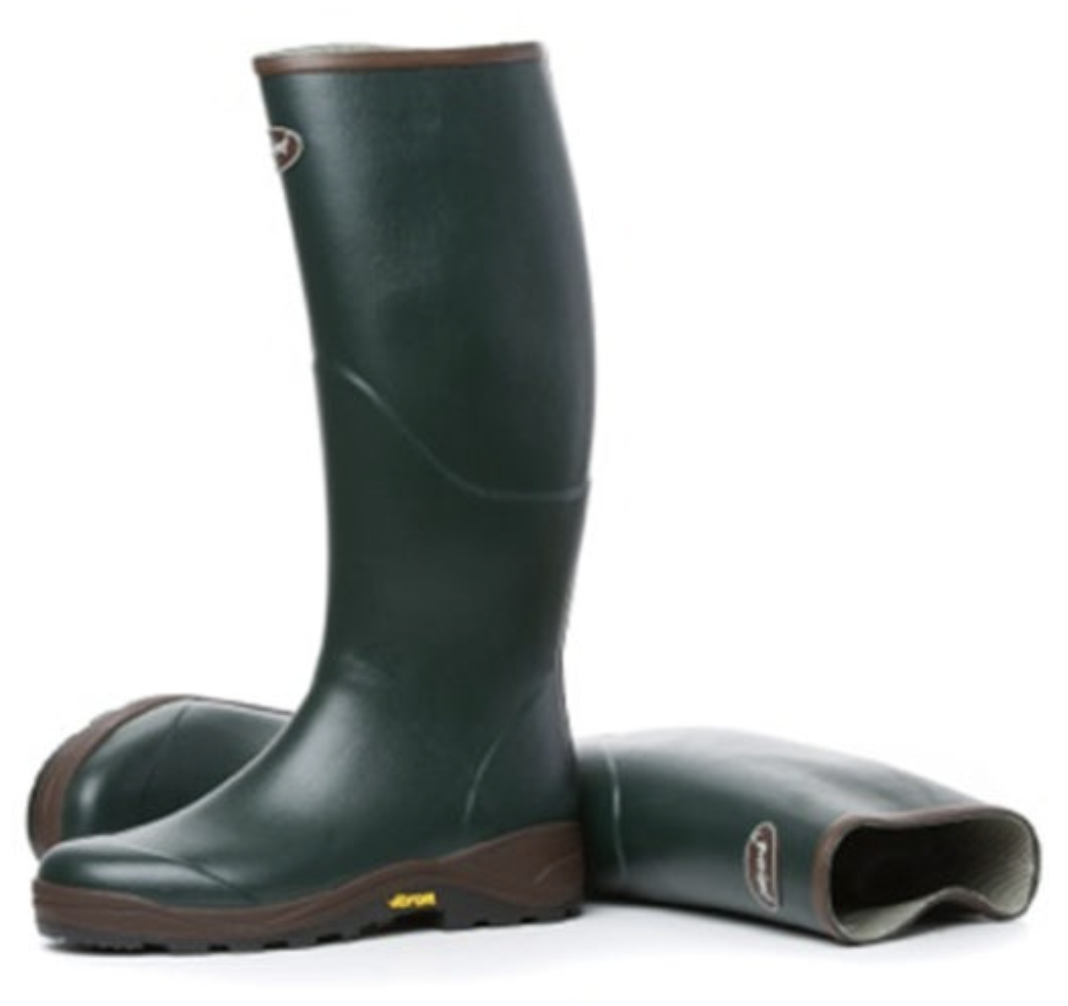 Lacrosse Grange Lightweight Rubber Hunting Boot
It's tough to beat the Lacrosse Grange boots for a rubber boot. No other companies have been able to develop an 18-inch tall boot this thin, durable, and low-profile. They're so lightweight that you barely even notice them coming in at 4.5 lbs per pair.
Another huge benefit of this boot is that they have an ankle-tight fit so that your heel does not slip up and down in the heel pocket (which causes blisters in other boots).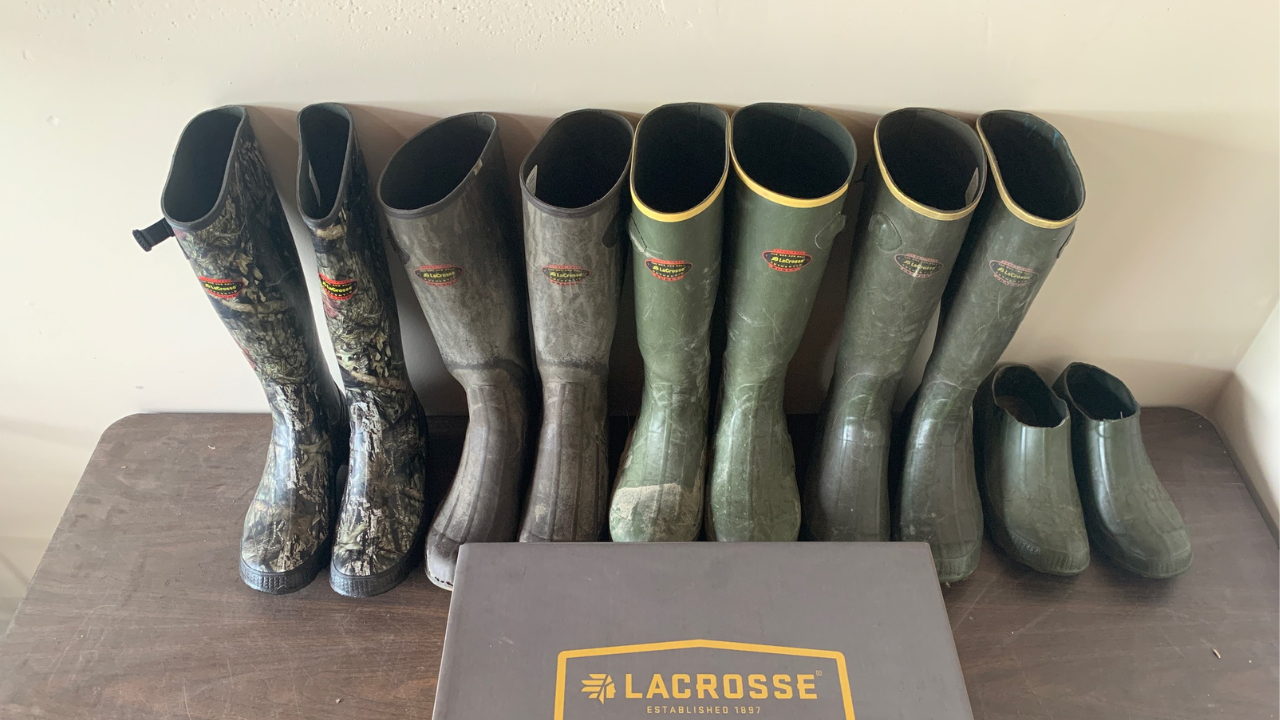 Additionally, they are very low profile so it's much harder to roll your ankle in these rubber boots than most other rubber boots that have taller traction. For these reasons, the Grange boot is by far the best rubber boot if you're going to be putting a lot of miles on your feet.
Bogs Arcata – Most Comfortable Rubber Hunting Boots
Bogs Arcata rubber boots are the most comfortable rubber boots I have ever worn. They are extremely lightweight and have excellent traction for such a low-profile rubber boot. Because they are low-profile you don't feel like you're going to roll your ankle. This makes them great for walking all-day when hunting.
Additionally, they are medium-height boots (15 inches tall). This makes them great for when you're hunting upland game that does not require a full 18-inch boot because it cuts down on the weight. If you're going to be walking through a lot of thick brush and thorns I suggest the Lacrosse grange boot because it won't tear like neoprene.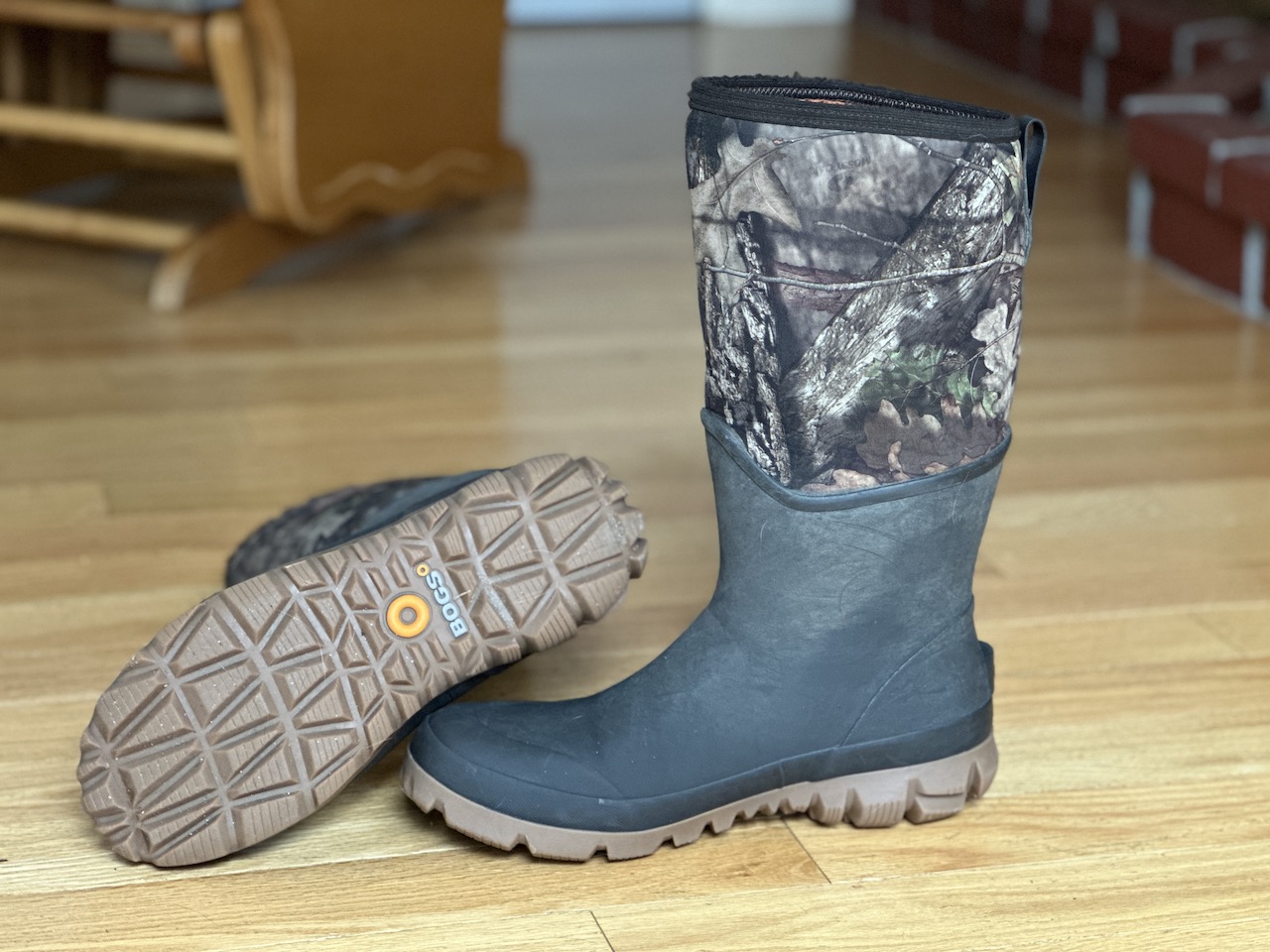 Lacrosse Alphaburly Pro 800g Insulation For Cold-Weather
The Alphaburly Pros are Lacrosse's top-tier rubber hunting boots. These boots have some of the best reviews of any rubber boot. They offer great traction, and comfort, and have 3 levels of insulation so you can stay warm no matter the weather or temperature. The heel of these boots is also snug keeping them on your feet and preventing blisters. The 800g insulation version is the perfect step up from the Grange boots when temperatures get colder. 800g of insulation is plenty if you're going to be walking.
Best Leather Upland Bird Hunting Boots
Kenetrek Hardscrabble Hiker
These Kenetrek boots might be geared toward mountain hunting but they are also one of the best upland hunting boots because of how lightweight, supportive, and durable they are. These boots can take some serious abuse due to being reinforced in high-wear areas. They weigh 3.5 lbs per pair.
Meindel Vakuum Hunter
The Vakuum Hunter boots are one of the most comfortable leather boots for upland bird hunting you can buy. These boots are perfect for long days on foot because of their premium support. The difference between these boots and cheaper budget boots is night and day. They have stiffer soles on them which makes them perfect for rockier terrain and long-distance walking. They weigh 3.87 lbs per pair.
Crispi Idaho II GTX Hunter
These Crispi boots are also one of the best upland hunting boots because of how supportive, and durable they are. This boot makes your feet spring forward, almost like they are assisting the forward motion of your legs, which helps to reduce fatigue. They weigh 4.1 lbs per pair.
Danner Sharptail
Danner is a well-known boot company because they've been making quality boots since 1912. One of their best upland hunting boots is the Sharptail model. This boot is made from leather and sturdy nylon to handle rough country and is 100% waterproof with a Gore-Tex liner. Its athletic design is great for long-distance walking and only weighs 3.19 lbs which is one of the lightest boots in this review.
Irish Setter Wingshooter
The Wingshooter model has been around since the 1950s and is one of the all-time favorites for upland bird hunters. Technology has come a long way and yet these boots still remain in the top ranks as one the best upland hunting boots. Their UltraDry technology in addition to being fully leather helps them stay waterproof. These boots weigh in at 3.56 lbs.
Lowa Renegade GTX Mid Boots
The Lowa renegade boots are one of the best upland hunting boots for the money. They are one of the most durable and waterproof boots in their price range. They are 2.44 lbs per pair, making them by far the lightest boot in this review (except for the Oboz below), which is perfect for upland bird hunting that requires a lot of walking. These boots are a top choice for many upland bird hunters.
Lowa Tibet GTX Trekking Boots
The Lowas Tibet is a bigger, taller, and more sturdy boot than the Lowa Renegade. This boot is made for more rugged terrain like side-hilling. If you bird hunt a rougher terrain and need a boot to get the job done this is a great option. If you're hunting in a mild terrain the Renegade is your best bet.  Because the Tibet is a more rugged boot it weighs 3.97 lbs per pair.
Oboz Bridger Mid B-Dry Boots
The Oboz Bridger boots are not specifically designed for hunting, they're actually one of the best hiking boots. The main benefit of these boots for upland bird hunting is their weight, or lack thereof, coming in at 2.39 lbs per pair. This makes them the lightest boots in this review. They are also waterproof, very comfortable, and supportive making them a great option for upland bird hunting. They are only slightly shorter than the other boots in this comparison.
Tips For Upland Hunting Boot
Wear Gaiters
Gaiters are a lightweight way to keep sticks, snow, and other debris out of your boot. They also add another layer of waterproofing and enable you to put your feet in water over the cuff of the boot for a few seconds, this is great when crossing brooks.
Leather Conditioner
Leather boots will lose their ability to be waterproof over time if not properly maintained. It is suggested to keep leather boots treated often with leather conditioner. This keeps leather hydrated so that the leather does not start to crack, keeping them waterproof for longer.
Leather boots will start to crack fairly quickly if not treated. Treating your leather boots will save you a lot of money in the long run, especially if you're buying expensive hunting boots.
More Hunting Boot Resources:
11 Warmest Insulated Hunting Boots For Cold Winter Weather
11 Best Rubber Hunting Boots [2023] Field-Tested
Best Brands When Buying Upland Hunting Boots
Cabela's

Lacrosse

Baffin

Thorogood

Muck Boots

Bogs

XtraTuf

Oboz

Lowa

Irish Setter

Danner

Kennetrek
Stores To Shop For Upland Hunting Boots
Some great places to find hunting boots include:
Amazon – Free Two-Day Shipping For Prime Members
Cabela's – Free Shipping on Orders Over 50$

L.L. Bean

– Free Shipping on Orders Over 50$
Find Me On: