This Tethrd ESS saddle review is 1 of 5 saddles I bought to determine which saddle is the best for hunting. The criteria I used to rank this saddle (and the others) were comfort, noise, portability, mobility, adjustability, and scent control.
The other 4 saddles I reviewed included:
How I Tested The Tethrd ESS
I bought the Tethrd ESS with my own money to test out.
I had about one month to get to test the saddle in my backyard. In this time I found both pros and cons of the Tethrd ESS. The review criteria are listed below.
Tethrd ESS Review Criteria
The biggest factors I was looking for in the test included:
How Long I Felt Comfortable For

Hip-Pinch

Back Strain

Knee Fatigue

Comfortable Enough to Take a Nap

Noise

Portability (to and from the stand)

Mobility (in the stand)

Adjustability

Scent Control

Build Quality
Tethrd ESS Saddle Review
How Long I Felt Comfortable For
After testing all 5 saddles, it was clear that the Tethrd ESS was not a very comfortable saddle. Out of the 5 saddles, I ranked it #4 in comfort.
I was comfortable for maybe 45 minutes before the soreness and pinching started to become noticeable.
After researching different ways to use this saddle and trying them all I couldn't get the saddle to be comfortable. I figured the two-panel system would allow for better comfort but after testing it wasn't as good as I expected.
Hip-pinch, back strain, and knee fatigue were experienced in this saddle and it was not comfortable enough to take a nap in, even with back support.
Double-Panels
Moving the double panels helped slightly to increase comfort because when I got sore spots I could adjust their locations. However, I had to do it often so I was moving around a lot.
Although the straps are large and are weight-bearing I found that they did not work as well as the mesh on the Cruzer XC for distributing weight. The ESS straps were cutting off blood flow in my legs and hips. I opened the bridge up a lot to reduce the hip pinch and it helped a little.
When I tried moving one set of panels to support my lower back, it was much too tight and was choking my kidneys so that was basically a non-option.
I think comfort channels on the bridge would help people at least rotate their pelvis in a way that would increase comfort and reduce stress to a degree.
For these reasons, there was a lot of fiddle factor when trying to get comfortable and stay comfortable.
Leaning vs Sitting
Leaning in this saddle was probably the most comfortable. When it came to sitting, which I like the most, I had too much pressure on my legs and hips. There was no way to position the panels to make them comfortable for long-term sitting.
After wearing the ESS for a while I decided to put the XC back on to see if I was just getting fatigued or if the XC was actually more comfortable. It was clear that I was able to feel immediate relief once I put the Cruzr XC on.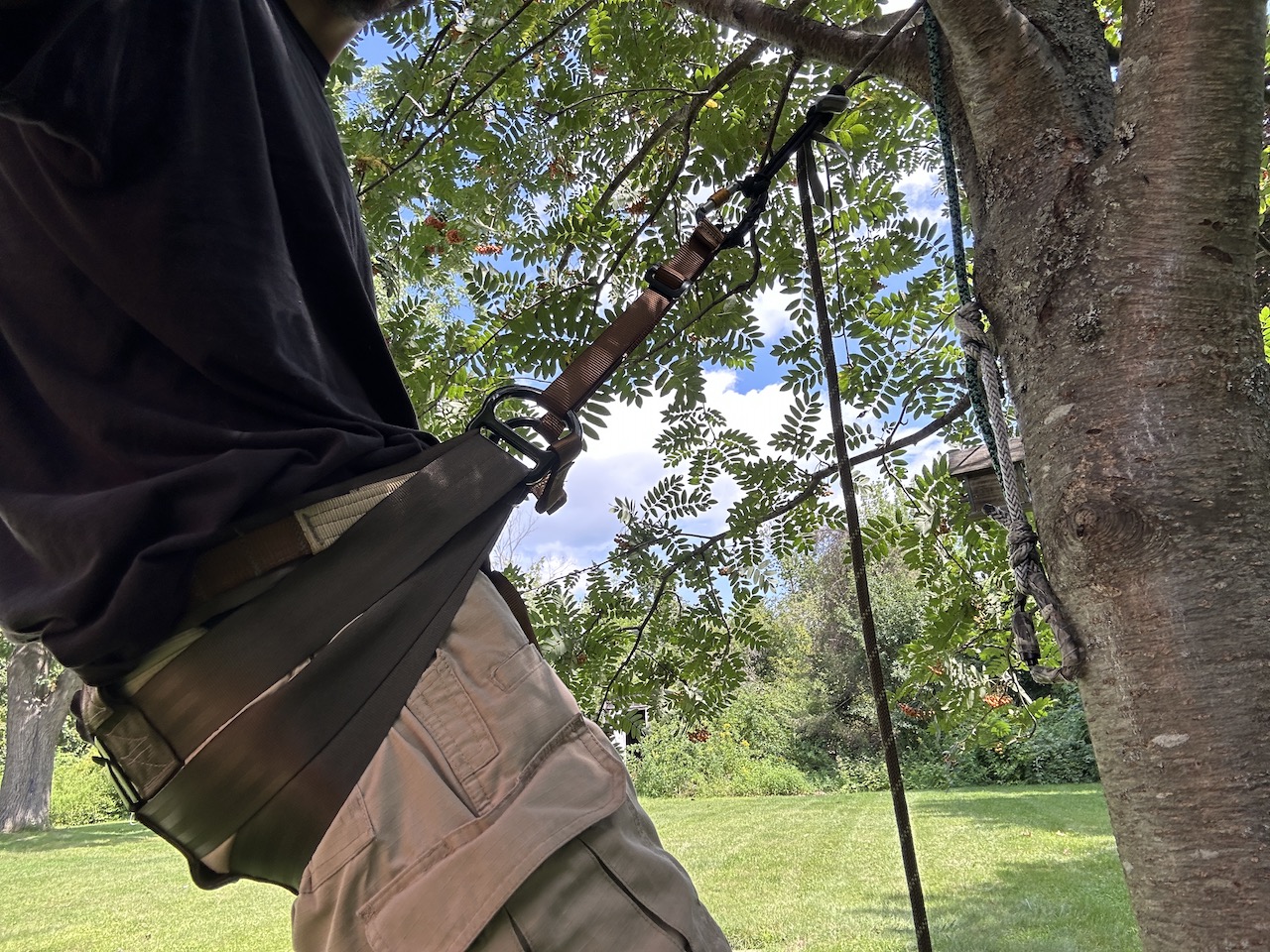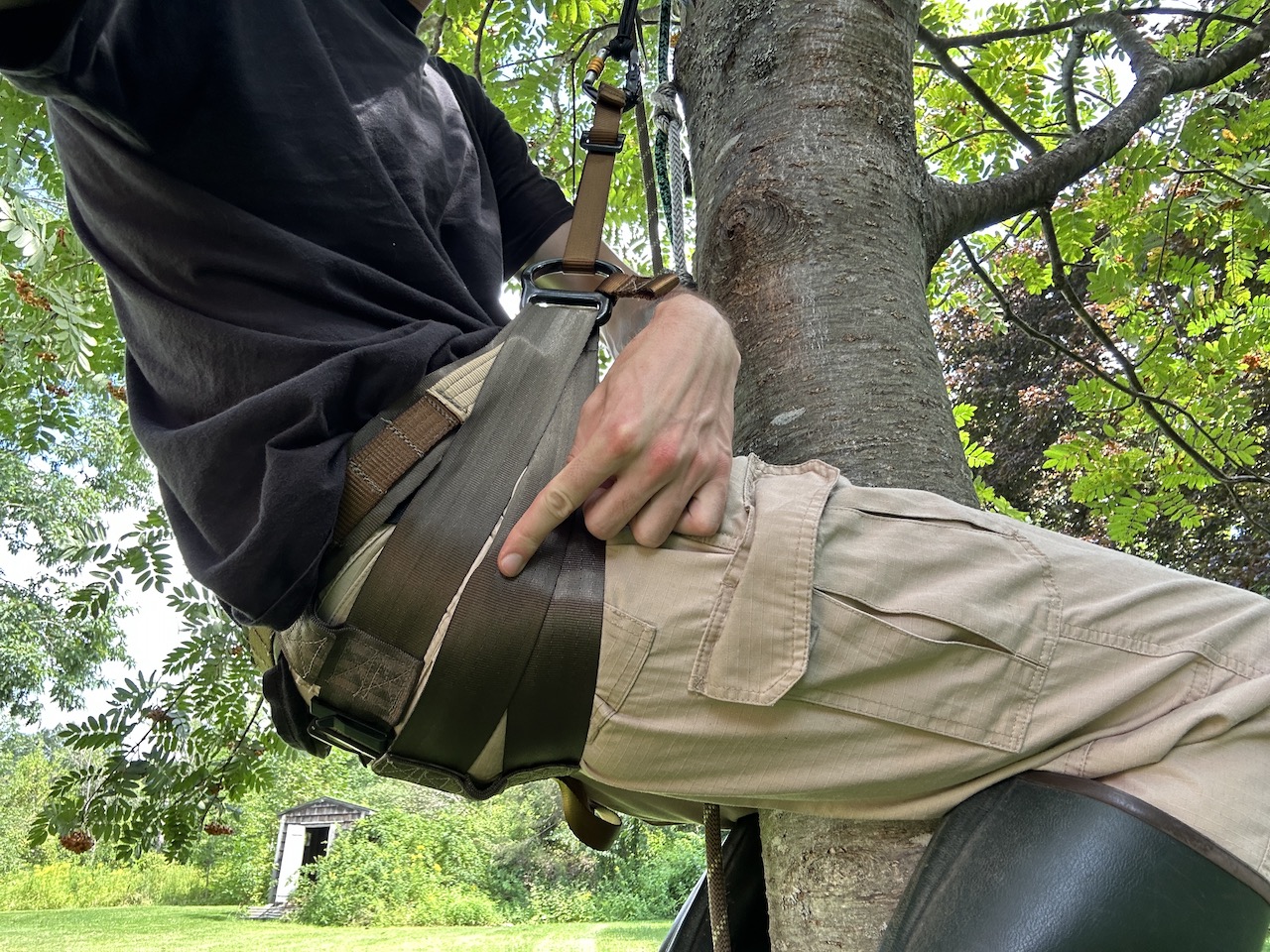 Noise
The bridge loops are two big metal d-rings that help bring your hips to an equilibrium/level when shooting at angles. However, they are located in front of you so they bump into things like climbing sticks and buckles when moving and they are noisy.
Although the metal d-rings are an interesting concept, I think they should be replaced with a fabric bridge that has comfort channels. It may help both comfort and noise to a degree.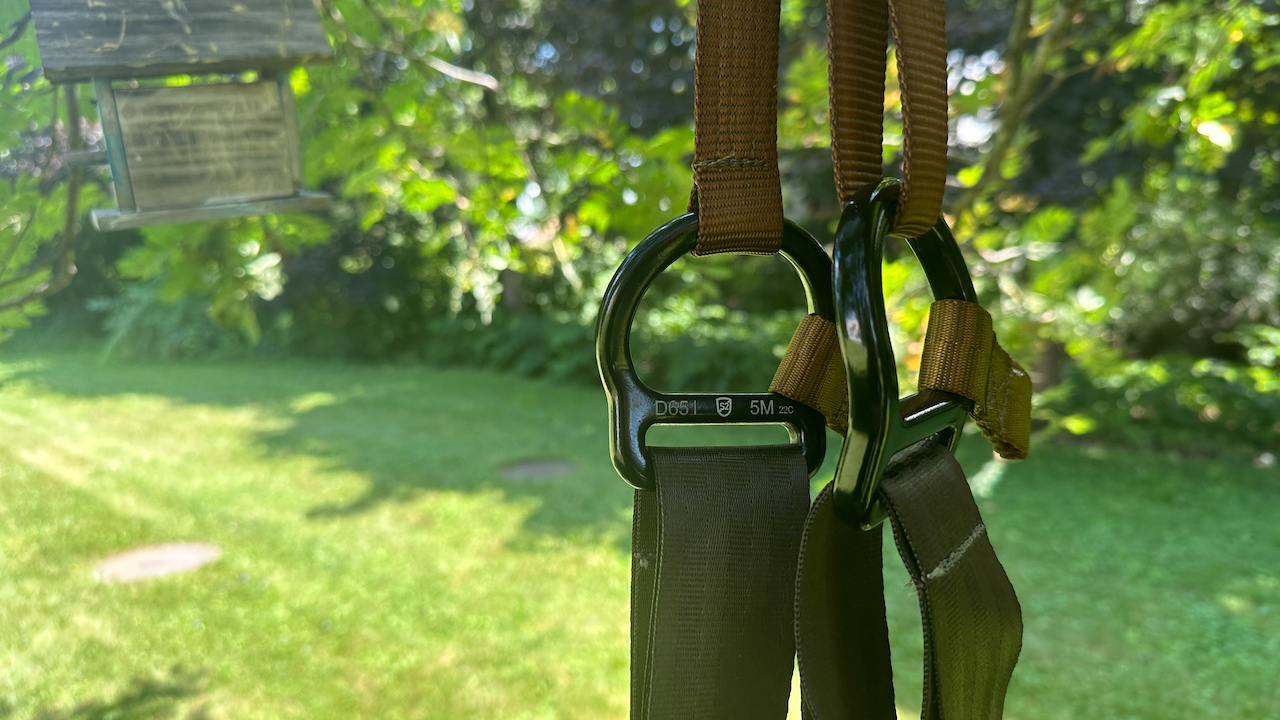 Portability, Mobility, Adjustability
One of the best qualities of this saddle is that it is made using just a few seatbelt-sized straps. The minimalistic design makes it low-profile and a great option for portability and mobility because it can pack up small.
There is adjustability with the bridge length and the double-panel system, but as I mentioned comfort was not ideal even with these adjustments.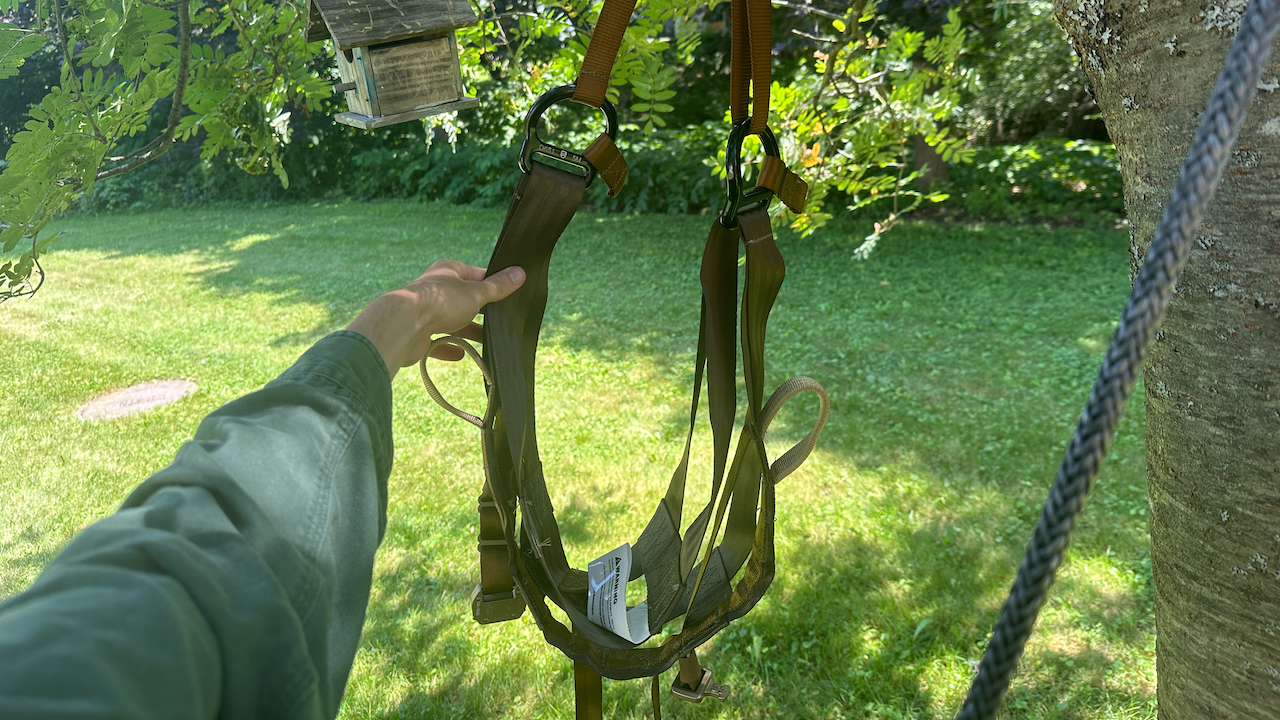 Scent Control
Since this saddle is minimalistic it doesn't hold a lot of scent compared to other saddles that have more fabric surface area.
The design also makes it easy to clean in a tub of scent-free detergent and won't take long to dry.
Build Quality
I was impressed with the overall build quality of the Tethrd ESS. The straps are strong and secure and the stitching is excellent. Granted, I only used the ESS for about 30 days so I haven't used it through a whole season but I get the feeling that this saddle would last a long time.
Final Thoughts
Although the Tethrd ESS is not the most comfortable saddle, the minimalistic design is something to consider if you're looking for something very easy to pack in and out if you're willing to sacrifice comfort.
Though, if I'm being honest, in my opinion, there are other saddles I have reviewed (linked below) that are just about as minimalistic and are more comfortable.
Hopefully, you found this Tethrd ESS saddle review helpful. If you're interested in reviews of the other saddles, you can find them here: