Proper gear is essential when you're tracking big woods bucks on snow in the vast remote forests of Maine and New England to be effective, comfortable, and safe. If you're hesitant to start tracking these big bucks because you aren't sure how to prepare or what gear you'll need, I hear you, I was in the same boat when I first started.
I've got you covered in this post. We'll dive into the essential gear you'll need to get started tracking big woods bucks in snow. I list all of the gear that I take with me in the woods to make sure I am prepared to handle all scenarios. I've tested and relied on almost all of this gear.
For your convenience, I have linked all the gear I personally use or similar gear in the appropriate sections below so you can see exactly what I'm talking about.
This post contains Amazon and other affiliate links, which means I'll receive a commission if you purchase through my link, at no extra cost to you. Of course, you are not obligated to use my links, but it does help fund these posts in hopes of bringing more value to you!
The Best Vehicle for Tracking Bucks In The Snow
You might think, as I did, that you need a giant lifted truck filled with hunting and survival gear in order to start tracking. However, this isn't true. You can even find places to park with a sedan, although I do recommend an AWD car. If you are using a sedan I suggest studded tires to keep you from slipping off the road when traveling to and from your hunting areas.
Personally, I use a Subaru Forester and it works great. You just have to choose your hunting areas depending on the vehicle you have to work with. Do I wish I had a little more clearance sometimes? Sure, but it gets me 70% of where I want to go and I make up the other 30% with a little extra footwork. Much of the time I find a track before I get where I've planned to go anyway.
There are perfectly good opportunities to find big bucks near roads as well so you can just park on the main road and walk-in. These overlooked areas can be hot. Just keep in mind there is something to be said for getting away from other hunters. For example, there will be less of a chance that someone will pick up your track in front of you, so you can relax into your track instead of stressing that someone will cut you off.
Essential Gear For The Vehicle
The most important gear you'll want is equipment that will get you back home every night.
Come-Along / Power Puller / Winch
A come-along is essential to pull yourself out if you go off-road, also for someone else to pull you out using your winch by attaching it to their vehicle. Every year I seem to need the winch once or twice. So make sure you bring one with you, even if you have a truck. I've included a few different options below:
Portable Gas-Powered Winch – 2,200-Lb. Pulling Capacity (Honda GHX-50 Engine)
This winch is an excellent overall winch. The benefit of this winch is that it is mobile, so no matter how you get stuck you can pull yourself out by positioning it in a way that makes the most sense. You can anchor it to a tree and pull your truck out of a ditch with no issues. Additionally, it is great for pulling fallen trees out of the road, pulling moose out of the woods…etc. This winch does it all and with minimal effort on your part. It's expensive but worth the money for your safety IMO.
12V Synthetic Rope Winch-13000 lb. Load Capacity
Winches for the front of your vehicle are also a pretty good choice for self-recovery. However, it can be tricky if you bury your front-end. For this reason, the winch above is a better option. These types of winches are great if you hunt with others so you can pull yourselves out of ditches.
 4-Ton Dual Gear Power Puller
This winch is the most basic winch for getting yourself unstuck. This winch can also be anchored anywhere to pull yourself out of a ditch but has some limitations. For example, manual operation and cable length but it can help in a pinch. It wouldn't be a bad idea to have one of these as a backup as well if you plan on getting a power-winch. You never know if a power-winch may fail, it's better to be over-prepared.

Shovel
A shovel is a key piece of gear because sometimes you need to dig yourself out of the snow if you get stuck. A shovel has saved me a few times. Sometimes I am able to dig myself out of a ditch enough so that I don't need to get my winch out, saving me a lot of time.
Saw or Chainsaw
During blizzards or just windy days, trees can blow down in the middle of the road. If it's early morning you'll be able to remove the tree and clear your path, allowing you to get further back in the woods. Additionally, if it's the end of the day you'll be able to clear trees blocking your path back to the main road.
A chainsaw makes life easy when you come across a blocked road by a blow-down.
At the very least it is a good idea to have a saw in the vehicle if you can't afford a chainsaw. Although it may take you a lot of time to cut the blow-down at least you'll be able to get home at the end of the day.

The Best Rifle For Tracking In Snow Conditions
Bolt-Action Rifles
Not many rifles are up to the challenge of tracking bucks in the thick woods of the northeast in snowy conditions. I know this from experience. The first year I started tracking I missed my first buck because I had the completely wrong rifle setup. I was using a bolt-action with a 3-9×40. When I jumped the buck out of his bed at 20 yards I would have had a good running shot had I not been busy scraping the snow out of the scope when he got up.
Since I struggled to find the deer in my fogged/blurred, much too powerful 3x magnification scope, I managed only got a poor shot off and missed completely. I never got a follow-up shot because all of the snow that accumulated on top of my bolt fell into the ejection port when I tried jacking a new cartridge in…preventing me from being able to close the breach. I knew this gun wasn't ideal but didn't have the money at the time to buy a new gun so I had to make due. 
Semi-Auto Rifles
The following year, year two, I bought a Benelli R1 (see gun review here) semi-auto figuring the new semi-auto would be able to handle the elements. I put William's peep sights on this gun and it looked like it was going to work well. I was wrong. The ejection port kept getting filled with snow, melting from my hand warmth, and freezing. This would have caused the gun to malfunction had I shot with it. However, I didn't pull the trigger until the muzzleloader season that year. But I wasn't able to unload my gun until the ejection port thawed in the car.
Lever-Action Rifles
I grew up hunting with my Dad's 35 Remington Marlin lever-action with Williams peep sights in southern Maine (not for tracking). I didn't particularly care for the gun because of the hammer. It was hard to pull back when fingers got cold and was slower than a button or switch safety system. That being said, lever actions have come a long way and I do recommend them.
They are just as reliable as a pump, and they now have safety mechanisms so that you can keep the hammer pulled back the entire time you're hunting. Personally, I think follow-up shots are more fluid with a pump and a hair quicker. However, you'll become good at what you practice with. Lever-actions are also a choice.
Pump-Action Rifles
The Remington 7600 and 7600 carbine and its predecessors are the trackers go-to gun in the thick woods of the northeast. It's quick, short, agile and reliable. The majority of people who track use this gun. Not wanting to conform to the masses I resisted at first. But after dealing with the bolt-action and semi-auto I caved in and bought the Remington 7600 carbine in 30-06 the day after the season ended. To be honest, though I had purchased the Remington 7600 in the past, but returned it because it left a lot to be desired.
Out of the box it does not fit well and will need to be taken to a gunsmith for most people. It is also extremely difficult to disassemble and reassemble. When assembling and reassembling I've bent some metal pieces and scratched some wood. I was able to bend the metal back in place but man…there could be some improvements to this gun. It's no Benelli that's for sure. That being said, with all the research I've done, there's no doubt in my mind this is currently one of the best guns for tracking deer in snow.
Sights and Scopes For Tracking Bucks In Snow
William's Peep Sights
I grew up hunting with my Dad's 35 Remington with peep sights and grew accustomed using to them. They just seem natural to use, more so than open sights. Open sights, at least to me, seem to offer more room for error and don't offer as much peripheral vision (just my opinion). However, with enough practice, anyone can get good with anything. I now use these sights on my Remington 7600.
I prefer to use peeps over scopes because as I mentioned above I missed a buck due to my scope being filled with snow and fogged up. That being said I was using a 3-9×40. I could see myself eventually trying a 1x zoom scope for tracking. The Trijicon 1-4×24 has been a favorite for some trackers.

Trijicon TR24 AccuPoint 1-4×24 (SFP)
The Trijicon TR24 has been around for a long time and is a popular LPVO scope. It's been out for over 10 years and is still going strong. One of the most unique features of this rifle scope is that it uses AccuPoint fiber optics to illuminate the reticle, this means it does not need batteries to function. During the daytime, it's illuminated by fiber optics, during low-light conditions tritium illuminates the reticle. The triangle post-reticle has been a favorite among trackers.
Vortex Viper PST Gen II 1-6X24 (SFP)
The Vortex Viper PST Gen II 1-6×24 is arguably the best of the best LPVO scope on the market for the money. The Viper has excellent illumination with true daylight brightness allowing the red dot to be easily visible in bright daylight conditions (such as tracking in bright snow). This scope is so good it is often said to undermine Vortex's Razor Series 1-6×24 LPVO scope (which are +/- 2000$). The Vortex Viper is much better than the Vortex Strike Eagle, so if you can save your money or buy this scope used it is definitely worth it. Check Amazon's Price Check Optics Planet Price
The Best Clothing For Tracking Bucks In Snow
Wool clothes are the go-to clothing for trackers. In my opinion, wool is a super-clothing for snow conditions. Wool has many properties that make it ideal for tracking bucks in snow. There are different types of wool that I use; virgin wool, merino wool, ragg wool.
If temperatures are from 20-40º I wear one set of merino wool base-layers with my virgin wool outer-layers (below). It's important to keep the wool against your skin because wool is warm when wet, so you want your sweat to go into the wool, not polyester.
Once it gets in the 10-20º range I will throw on another fleece-lined polyester long-sleeve shirt. From -10 to 10º I put another base-layer of polyester or two on. I like polyester on top of my merino wool because it's lighter than wool.
If I start getting hot I've taken layers off, however, it's annoying trying to find a place to put the clothing you've removed so I do my best to figure out what clothing I'll need at certain temperatures to operate at optimal performance.
Each person is different in the amount of clothing they'll need. The last thing that you want to do is get hot because it drains your energy quickly.
The cold is energizing, err on the side of being a little chilly. You'll warm up to a comfortable temperature once you start tracking.
Merino Wool Base-layers
I always wear merino wool base-layers (top and bottom). Merino wool against your skin will still keep you warm even if it gets wet with sweat. This is important when you have to slow down when you know you're getting close to the buck.
Polyester Fleece Base-layers
I like polyester fleece-lined base-layers because they are lightweight, breathable, and dry fast. They also add just enough warmth in colder conditions, and they can keep being layered on top of each other to get the perfect amount of warmth depending on the temperature.
Polyester Fleece Mid-layers
I like polyester fleece material, especially fleeces like these that have some 'fuzz' to them. For example, the berber fleece that Sika Gear makes is an excellent material but is too thick. This sherpa fleece is less expensive and still offers a similar material, while not being overly hot. The 'fuzz' helps to keep snow off from your body so it does not melt as easily, thus keeping you dry longer. You just brush the snow off. Eventually, you will get wet but it stays dry longer.
I will often just tie my fleece around my waist, and only put it on when I know I getting close to the buck I'm tracking so I can stay comfortable and warm when I need to slow my pace down to a stalking speed. When wearing my wool jacket it drapes over my fleece (that's around my waist) and does a good job keeping my fleece dry until I need to put it on.
Virgin Wool Outer-Layers
This is one of mother nature's greatest natural materials for clothing in my opinion.
Virgin Wool Properties:
Water-resistant

Great moisture-wicking abilities (dries fast)

Odor resistant

Temperature Regulation (warm when wet, breathable and cool when hot)

Silent in the woods

Very Breathable

Wonderful Insulator

Strong
Wool Jacket
This is the exact jacket I swear for tracking, and I absolutely love it. Water has a very tough time saturating this jacket because the water beads up and can be brushed off, keeping the jacket very dry throughout the day compared to any other material.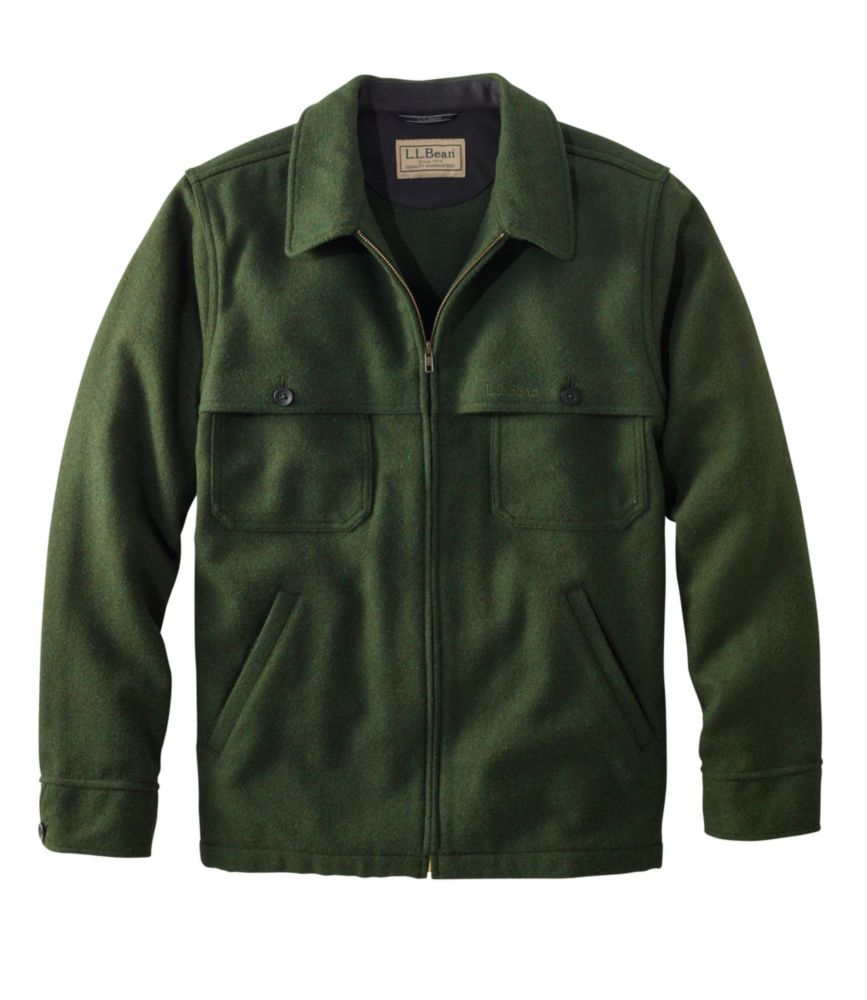 Wool Pants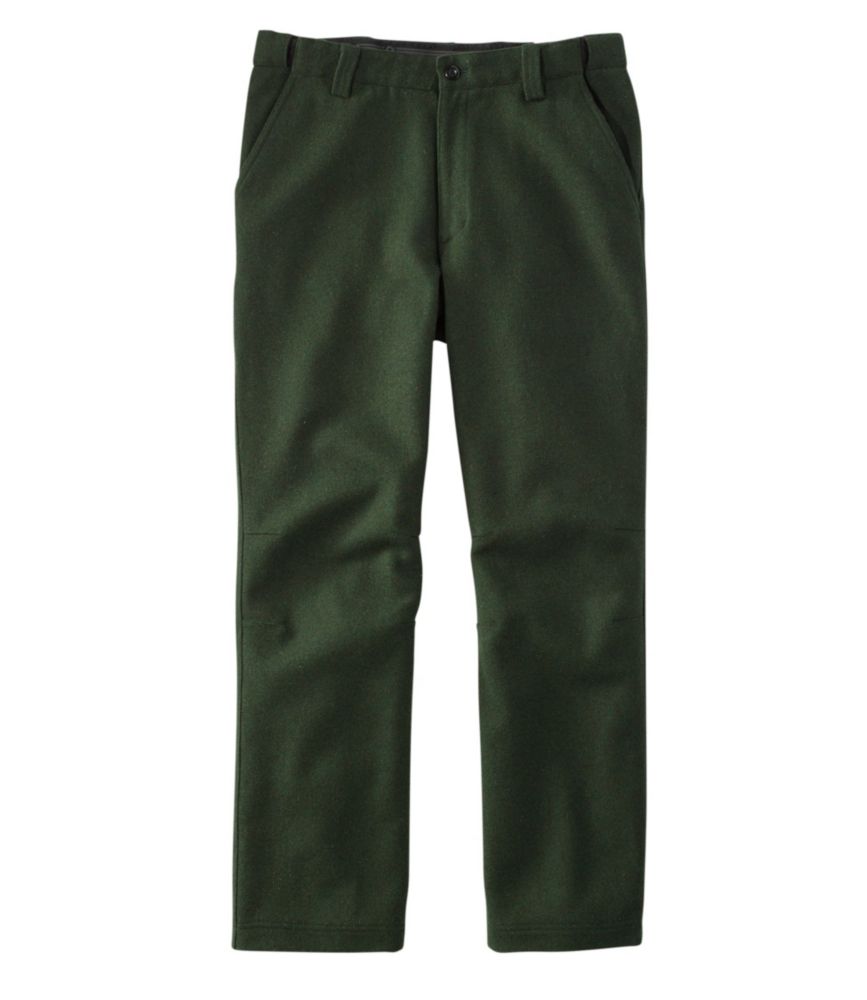 Suspenders
Another piece of gear that I resisted to use at first was suspenders. Now I use them religiously, I won't leave home without them. They are super helpful especially when wearing a fanny pack because the pack tends to push your pants down. Always pulling your pants up, no matter what is causing the issue is incredibly annoying when you're trying to focus on the track and shooting a buck.
Ball Cap
For a hat, I wear a basic orange ball cap. I like to be able to hear, and I feel hats that cover ears are a great disadvantage when a split second is at stake. Some trackers like the bucket hat style in order to keep snow from running down the back of their necks.
Wool Convertable Mittens
I like insulated ragg wool convertible mittens for hand-wear over ragg wool gloves. These work well for me because when my hands get hot, I can fold them down into gloves or take them off. When my hands get cold I can completely cover the non-trigger hand, and have all fingers except my trigger finger covered on the other hand. I've found that mittens keep my hands slightly warmer when I need them to be warm. For example, when I am close and need to go slow for long periods of time. Because the rest of my hand is warm, I've found my trigger finger stays warmer even though it is exposed. I also prefer having the trigger finger exposed when shooting.
Wool Gloves
If you prefer gloves, I have used Fox River Ragg Wool Gloves and they work pretty well too but offer slightly less versatility than the convertible mittens.
Check Amazon's Price

Best Footwear For Tracking In Snow
Below I've listed a few of my favorite boots for tracking. If you're looking for a few more great options check out my other post: 5 Best Boots For Deer Trackers | Boots For Tracking on Snow
Lacrosse Grange Boots
Lacrosse Grange rubber boots are one of my favorite boots for tracking because they are very lightweight, and don't tire me out nearly as much as other heavier boots. Additionally, they're 18-inches tall and completely waterproof, which allows me to cross almost any stream a buck will cross and stay dry all day through the snow. They leave a few things to be desired. First, they aren't great for going uphill in the snow because they have no traction. Second, they are extremely slippery on rocks, sticks/logs, and even leaves that are frozen or wet.
GumLeaf

Long Lasting High-Content Rubber Boot
The GumLeaf Field Wellys are handcrafted boots in Europe. They are made of 85% real rubber which prevents cracking and should last around 10+ years with proper care. Most other rubber boots on the market are mixed with a higher percentage of clay and only last 1-2 years before they crack. I bought the GumLeaf Field Welly boots because I was tired of my Lacrosse boots cracking after 1-2 years.
Additionally, the Lacrosse Grange boots (which I love) do not have good traction (really no traction at all). The GumLeaf Field Wellys have soft, flexible, Vibram sole which provides much better traction and keeps your feet from getting tired as easily. The sole is soft and pliable enough to still feel the environment underfoot like the Lacrosse Grange boots.
Also, these boots are almost exactly the same height as the 18″ Lacrosse boots, so you're not really sacrificing any height.
I've liked these boots so much that I reached out to GumLeaf USA to see if I could get a discount for my viewers. If you enter coupon code "JTOTen" at checkout you'll receive 10% off these boots.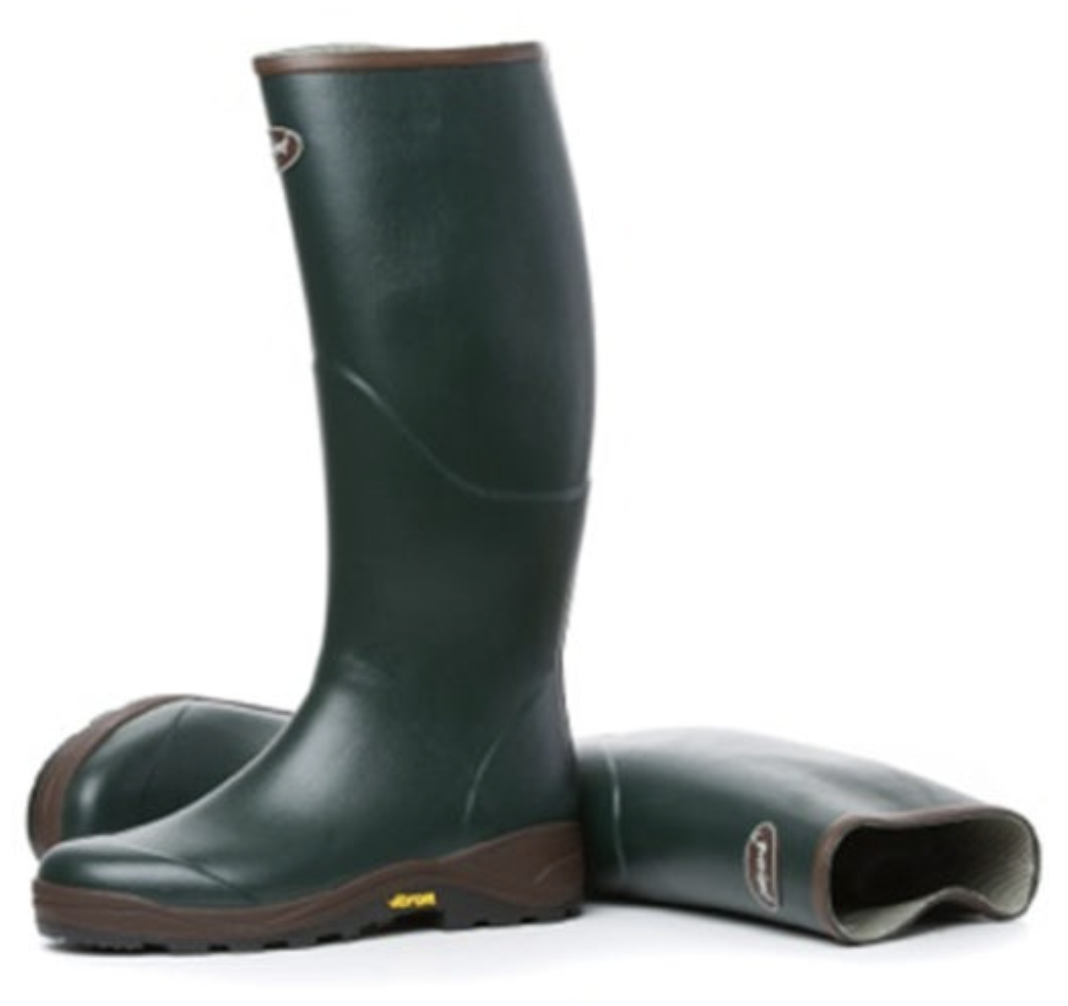 Lacrosse Burly Air Grip Boot
Another favorite among trackers is the Lacrosse Burly Air Grip boot. It is similar to the Grange in that it is an 18" tall rubber boot. The difference is that this boot has some insulation in it and much better snow traction, the trade-off being heavier and bulkier. I personally own this boot as well and really like it. However, I notice the extra weight does take a toll after days of tracking in a row when compared to the Grange for me. People with bigger and stronger legs than me will probably prefer the Burly. These boots are just as, if not more slippery on wet logs and rocks.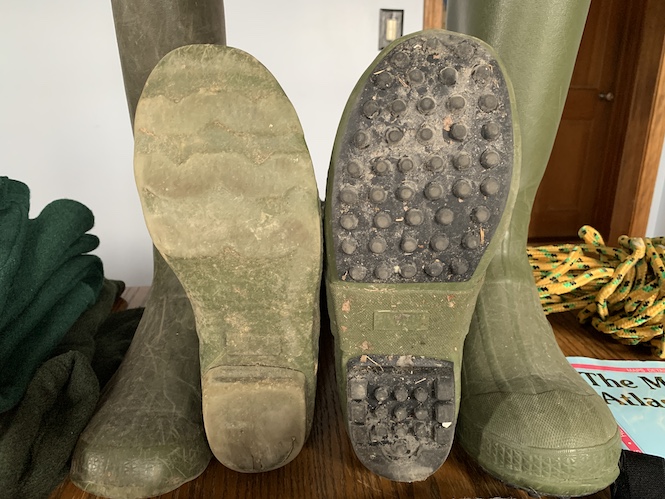 Socks and Boot Liners
Within all of my boots, I have wool felt insoles that make a huge difference, I highly recommend them. They add a lot of comfort and warmth to the cold rubber.
Check Amazon's Price
I also wear merino wool socks. Doubling up with wool socks and insoles keeps your feet warm when they get sweaty or wet, and at points along the track where you have to slow down.
Essential Gear For Tracking Bucks In Snow
I use a fanny pack in order to hold most of my gear, and the gear I don't use as often. The gear I use most is in my vest. The fanny pack that I use is an old Fieldline fleece pack. I love it because it is quiet and somewhat water-resistant because of the thin plastic membrane inside of the pack. 
This pack isn't sold anymore, you might be able to find one on eBay. Your best bet for finding a good fanny pack for tracking deer on snow is probably searching for a fleece fanny pack on eBay.
Below is a list of gear I carry in my fanny pack with me every time I go tracking:
Two Compasses
Having two compasses ensures you that the direction they are pointing is correct if you are in disbelief. Personally, I carry one navigation compass and one ball compass. I rarely use my directional compass because I use my GPS to set the path I want to travel, then use my ball compass to keep me roughly on track. However, a directional compass is required for more precise navigating.
Extra Bullets
I always carry 5 rounds in my gun, and 10 in my pack, and 5 more in my pocket. In the future, I will buy another magazine and keep that loaded in my pocket instead. You never know when those extra bullets may come in handy for locating a lost person or for finding your way out of the woods.
Space Blanket
I always carry a space blanket if by chance I need to spend the night out in the woods. Space blankets are handy in survival situations to block the elements and reflect heat back toward your body.
InstaFire Fire Starter
I also carry pre-made tinder that I bought in a store that is in a waterproof plastic bag for emergencies. Usually, for lunch, I can find birch bark if the weather is fairly dry. If wet, I'll eat my lunch cold.
Check Amazon's Price
Paper Towels
I always carry paper towels for a variety of reasons. First and foremost is for when nature calls. However, spare paper towels can be used as a fire starter, minor wounds, remove scope dampness, and whatever else you can think of.
Stormproof Matches
I carry military matches in a waterproof container. These matches are incredible. They are pretty much everything proof (wind, rain, sand..etc) and burn great. I only use these if I'm in a pinch (although I've tested out a couple for fun).
Check Amazon's Price
BIC Lighter
I always carry a BIC lighter and is what I use to start my lunch fires. These can be unreliable so it's always good to have matches for backup.
Electric Arc Lighter
Electric lighters are also a good option to have. This electric lighter is waterproof, windproof, and flameless making it a great option in tracking situations. I wouldn't solely rely on this lighter, I would also have a backup. My recommendations would be to bring stormproof matches and this electric lighter. This lighter is battery operated, so it can fail so I would bring a backup just to be safe. Since they don't take up much room and they are inexpensive, I wouldn't hesitate to bring all three lighters mentioned above. I always carry at least two ways to start a fire when tracking deer in the big woods.

Food & Water
I carry my lunch (usually a sandwich in a hard plastic container) and a non-crinkle (silent) water bottle (Smartwater for example) in the side pockets of my vest. You could also bring canned food, and heat it up on a fire at lunch. Warm foods taste 10x better on cold days. Energy bars are great to keep in your pack for emergencies. If you end up having to spend the night in the woods you'll be thankful you had them. When I'm back to safety at the end of the day I'll usually eat them and replenish for the following day.
Check Amazon's Price
Garmin InReach GPS
You should always know how to get out of the woods if your GPS fails. However, for me a GPS is an essential piece of gear. I have the Garmin InReach GPS which I absolutely love, mostly for peace of mind. I have the ability to send an SOS signal if I get hurt, and can send a text to other people's cell phones even without service, and it comes with pre-downloaded basic topo maps that can be used offline, and it links directly to the app on my phone. Usually, I just turn it on before every hunt and mark my vehicle location, then shut if off for the rest of the hunt because I just use the app on my iPhone to run it and take waypoints.
Phone GPS
My phone is also an essential piece of gear for me. My phone allows me to text, call, use GPS, and link to my Garmin InReach app. I use the OnX Hunt Application on my phone. This app allows me to download offline imagery so that I can keep my phone in airplane mode all day long, so that very little battery is used throughout the day.
This way if I need to call someone I still have plenty of battery to do so. OnX also allows me to see aerial, hybrid and topo very easily by using it's quick toggle button. I also enjoy tracking my hunts so I can see where I walked and how many miles I went while also placing waypoints in key areas. You can check out my review of this app in my post: 6 Best GPS Hunting Apps if you want to learn more.
Dragging Rope
This is pretty self-explanatory. You'll wish you had this if you get a big one. 1/4-inch nylon will do the trick.
Hunting Binoculars
My 10×50 binoculars were much too big and bulking for tracking deer. I recently did a review on 14 binoculars, in my review I determined that the Athlon Midas binoculars were the best value for the money. I got them in 8×42 which is the size I would recommend for tracking. 10×42's will also work just as well. You can check out my review of the binoculars below:
UPDATE: I did a blog review of 14 Binoculars To Find The Best Value Binoculars For Hunting.
As well as a YouTube Review:
These were my favorites:

When I do carry them, I use a lightweight bino-harness which works pretty slick.
Check Amazon's Price
Knife (Leatherman)
Personally, I just carry a sharpened jack-knife. I keep it in my pack and I rarely use it unless I shoot a deer. However, I also carry a small Leatherman in my pack as well. Ideally, I would carry a slightly larger Leatherman and carry it on my belt in order to create more room in my pack. A Leatherman has many uses in the field for gutting, breaking walking sticks for spanning streams, emergencies, opening canned food, repairs…etc.
Deer Calls
I carry a grunt call but rarely use it. Mostly because I don't like the way it sounds and because you can't blow it quietly. I usually just use my mouth for vocalizations (bleats and grunts). If I'm feeling like I need a louder call that is when I bring out the grunt tube which isn't often.
Flashlights & Lithium Batteries
I always carry two flashlights with me. A regular small handheld flashlight, and a headlamp. I prefer the headlamp because it's hands-free. Make sure you use lithium batteries, they're much more effective and reliable in the cold. This headlamp also offers different colors of light. I really like a red light for hunting because it doesn't ruin your night vision. I almost always use red light when I'm using headlamps.

Surveyor Flagging
Survey flagging is a great piece of gear because you can use it for many different things. First and foremost, flagging up where you shot your buck if you have to leave him in the woods overnight. Another use would be for creating a shelter in a survival scenario. Flagging is stretchy and could tie sticks together. The uses are endless with this stuff.
Handwarmers
I don't use them very much, but I have a few times when I know I'm getting close to a buck and am creeping along slow. When going slow, you can get cold. I've broken out a couple of these in times like that and they're worth their weight in gold in those scenarios. Otherwise, you'll be trying to shoot with a numb hand.
Maps
Since I plan before I head out in the woods, and have two GPS's with me I don't carry a map with me. I always know what direction to travel with my compasses if everything goes wrong.  However, this is something I am going to change going forward, especially in a new area.
Having a map could save you if your phone and GPS quit and you have no idea where you are. It's never a bad idea to have too many backups. It also does not take up that much space. You can rip out a Maine gazetteer page and put it in a plastic bag. Just remember to get a new one every year and have a backup! You can also purchase USGS Maps online. 
Electrical Tape
I use electrical tape to tape the end of my gun barrel so that no snow or mud gets lodged into it. I've had a couple of spells where I dropped my gun and the barrel got filled with mud and snow. I had to dump stream water down the barrel to flush it out. In order to prevent situations like this from ever happening again, I just tape the end of my barrel. Taping the end of the barrel is not dangerous nor affects accuracy. The compressed air in the barrel when the bullet is fired blows a hole in the tape before the bullet reaches the end of the barrel.
Vest
For me, a high-quality vest is essential for a smooth and enjoyable hunt. There are so many vests on the market that are, in my opinion, junk. They don't have zippered pockets so things fall out, they don't have inside pockets, they use buttons or snaps to fasten the vest instead of a zipper so sticks and twigs open the vest as you walk through the woods, the material isn't quiet, the design is bulky and loose. Perhaps these designs are adequate for sitting in a treestand, but they don't work well walking through the woods. I use the Cabela's Blaze Pro Guide II Vest.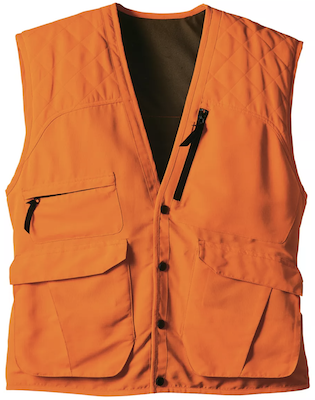 Having a vest with many well-thought-out pockets, that is quiet, and well-fitted makes for a more enjoyable hunt. In addition, I can store a lot of gear in my vest. For example, I store a water bottle, my lunch, calls, and compasses and they are easy to access rather than dipping into my fanny pack all of the time.
Having this vest storage would otherwise make my fanny pack very heavy and bulky. Being able to distribute the weight makes for a much more enjoyable hunt because you won't have to deal with your fanny pack falling off your waist or the waist-band chafing. That being said, there is a lot to be desired with the vest I currently use.
Optional But Useful Gear For Hunting In Snow
Tire Chains
I have a set of tire chains for my Subaru and I love them. In my opinion, they are worth the money. I've been stuck a couple of times where I would not have been able to get out had it not been for having tire chains. Often roads get a lot of traffic by loggers or other hunters and it only takes a matter of hours for the vehicle tracks on the back roads to turn from snow to ice from compaction. Tire chains help stay on the trail. Before I had chains I was constantly driving super slow and slipping around and was a nervous wreck. Now I drive with confidence.
Jet Sled
I love using a jet sled because I throw all my gear in it and it keeps my car dryer and cleaner. Additionally, although I have not done this personally yet, I believe it would provide an excellent way to get a big buck into the back of my SUV, and keep it from getting bloody. Those with trucks may have a more difficult time getting the buck in the back of your truck but at least you don't have to worry about making a mess. The winch can always be used.
Spare Wool Clothes
It can be a good idea to keep extra clothes in your vehicle. If your vehicle does not start for whatever reason when you get back at the end of the day, if you're wet some dry clothes will help you stay warm as you wait for help.
Conclusion
There you have it, that's all of the gear that I bring with me when I'm tracking big woods bucks on snow. I hope you've found this post on tracking gear helpful. Now that you know what gear is needed, you're ready to learn Where to Find Big Buck Tracks – Tracking in Snow.
Looking For More Tracking Information? Find Me On: