There are a few criteria that make some boots the best boots for deer trackers. I basically live in rubber boots as a professional wetland scientist, waterfowl hunter, and deer hunter located in the wet/snowy landscapes of Maine. Maine is also home to the best deer tracking in the U.S. For these reasons, I have a lot of experience choosing the right boots for tracking deer on snow.
Collectively, between the rubber boots I've tried for work and hunting (Lacrosse Footwear, Le Chameau, GumLeaf, Muck Boots, Bogs) and observing coworkers' boot performance (Cabela's, Dryshod, XtraTuf), I've been able to determine the best boots suited for tracking big woods bucks on snow.
Not all rubber boots are created equal. In this post, I share my best tips and suggestions when buying boots for tracking on snow so you get the most value out of your boots.
This post contains Amazon and other affiliate links, which means I'll receive a commission if you purchase through my link, at no extra cost to you. Of course, you are not obligated to use my links, but it does help fund these posts in hopes of bringing more value to you!
Lacrosse Grange Boot (Affordable & Effective)
It's tough to beat the Lacrosse Grange boots because no other companies have been able to develop an 18-inch tall boot this thin while allowing the boot to still be very durable. They're so lightweight that you barely even notice them.
Another huge benefit of this boot is that they have an ankle-tight fit. This is important so that your heel does not slip up and down in the heel pocket (which causes blisters in other boot brands).
Additionally, they are very low profile and have a low center of gravity. This makes it hard to roll your ankle compared to other rubber boots that have taller traction. Because the traction is slim (almost non-existent) you can really feel the ground underneath your foot when hunting.
This allows you to walk much quieter in the woods because you can feel the sticks underneath your foot. For these reasons, the LaCrosse Grange boot is one of the best boots for deer trackers.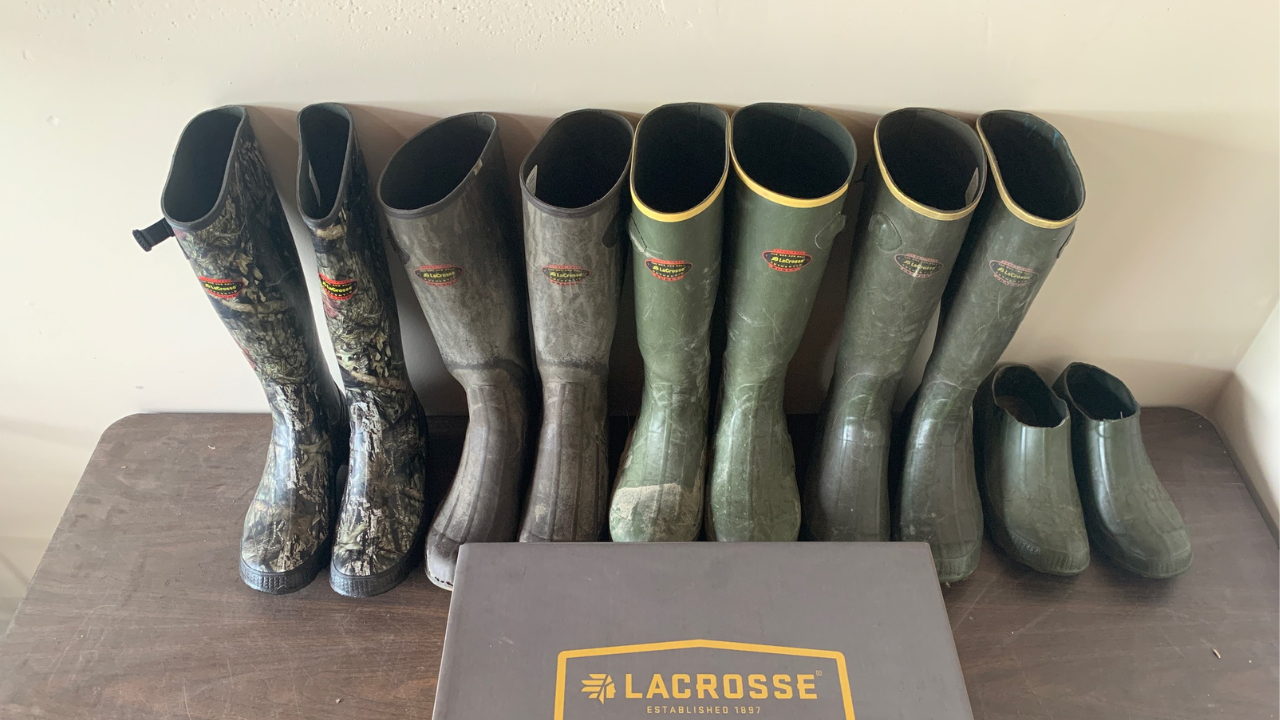 GumLeaf

Long Lasting High-Content Rubber Boot
The GumLeaf Field Wellys are handcrafted boots in Europe. They are made of 85% real rubber which prevents cracking and should last around 10+ years with proper care. Most other rubber boots on the market are mixed with a higher percentage of clay and only last 1-2 years before they crack. I bought the GumLeaf Field Welly boots because I was tired of my Lacrosse boots cracking after 1-2 years.
Additionally, the Lacrosse Grange boots (which I love) do not have good traction (really no traction at all). The GumLeaf Field Wellys have soft, flexible, Vibram sole which provides much better traction and keeps your feet from getting tired as easily. The sole is soft and pliable enough to still feel the environment underfoot like the Lacrosse Grange boots.
Also, these boots are almost exactly the same height as the 18″ Lacrosse boots, so you're not really sacrificing any height.
I've liked these boots so much that I reached out to GumLeaf USA to see if I could get a discount for my viewers. If you enter coupon code "JTOTen" at checkout you'll receive 10% off these boots.
You can read my full review of these boots here: GumLeaf Field Welly Review After Months of Heavy Use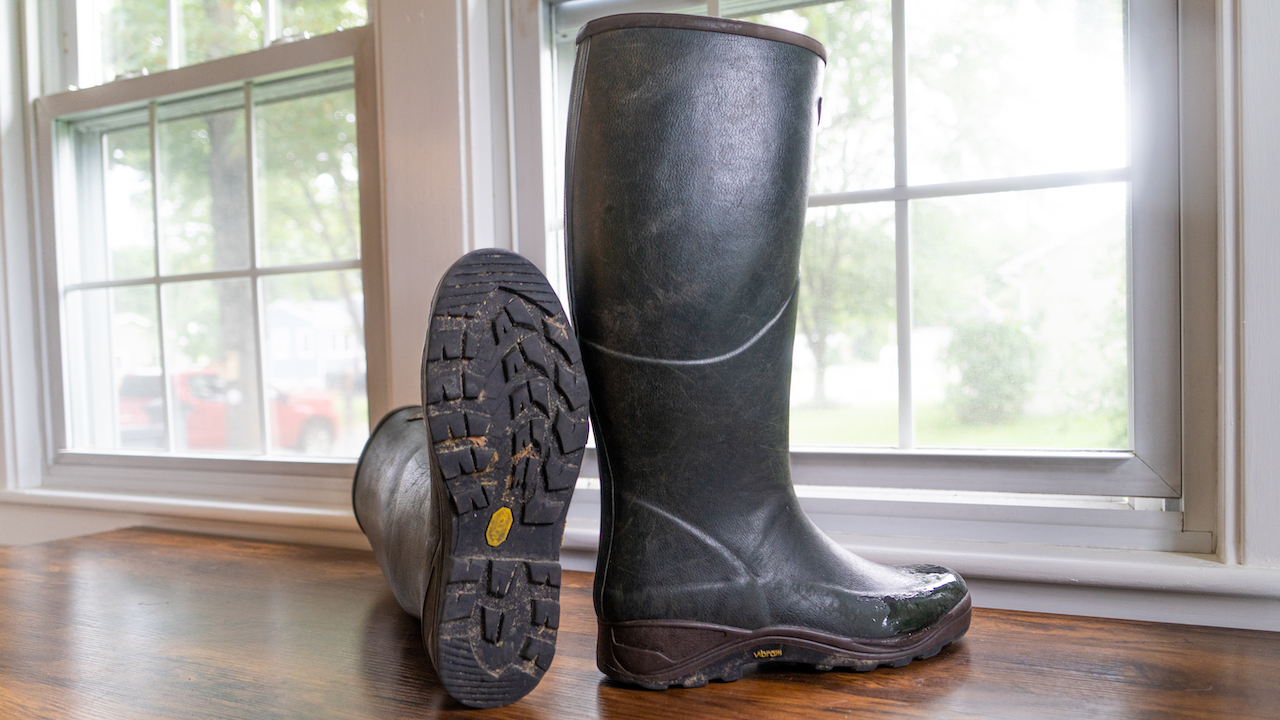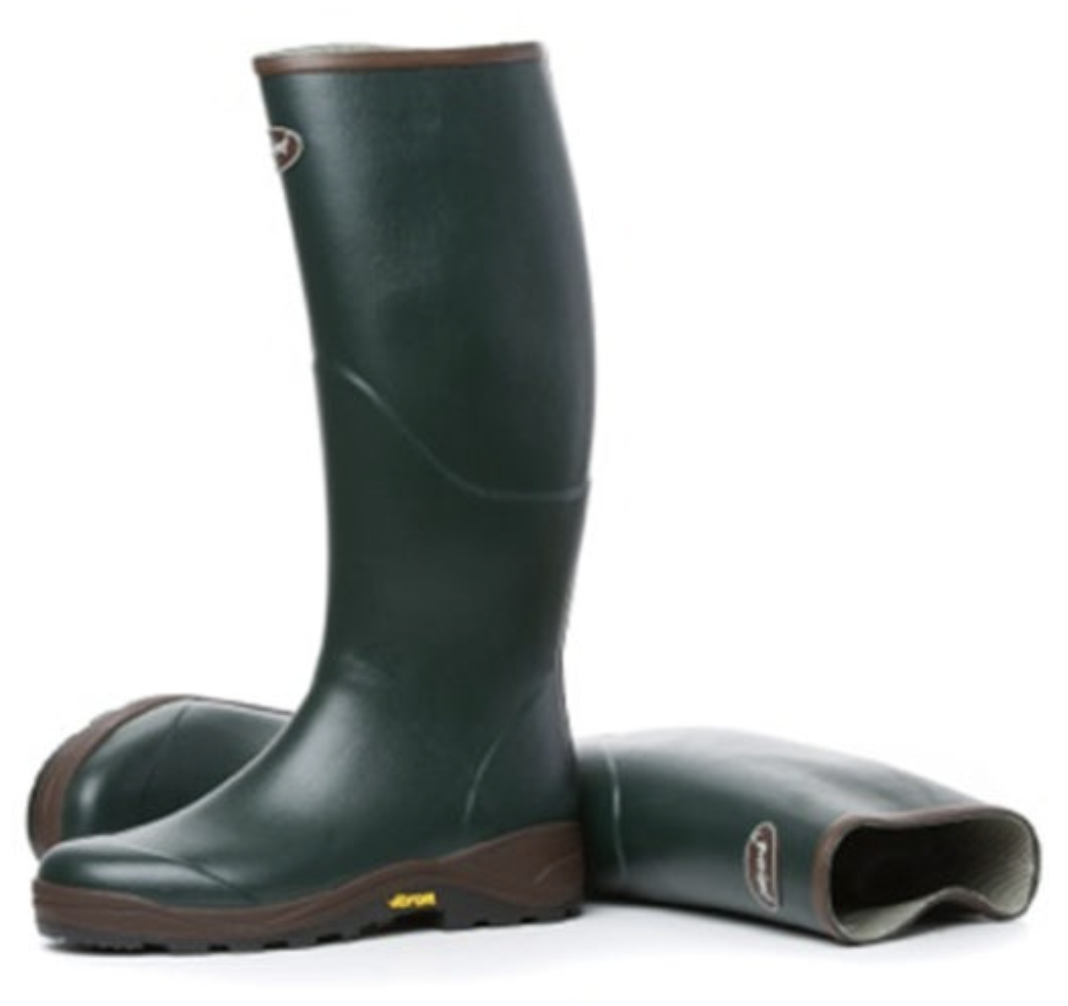 10% Off with Coupon Code "JTOTen"
Lacrosse Burly Air Grip Foam Insulated Boot
Another excellent rubber hunting boot for tracking big woods bucks on snow is the Lacrosse Burly boot with Air Grips. These boots are foam insulated and provide a little more warmth and traction than the Grange boots.
These boots are a little heavier than the Grange boots because of the added insulation and traction. However, they are great boots for hunting in slightly colder conditions and if you're tracking deer in mountainous terrain. The Air Grip traction on the bottom of these boots will stop you from slipping as easily going uphill compared to the Grange boots.
These boots have many similar characteristics to the Grange boots. For example, great durability, a tight ankle fit, is 18 inches tall, and low profile, and you can still feel the environment underfoot quite well with the air grips.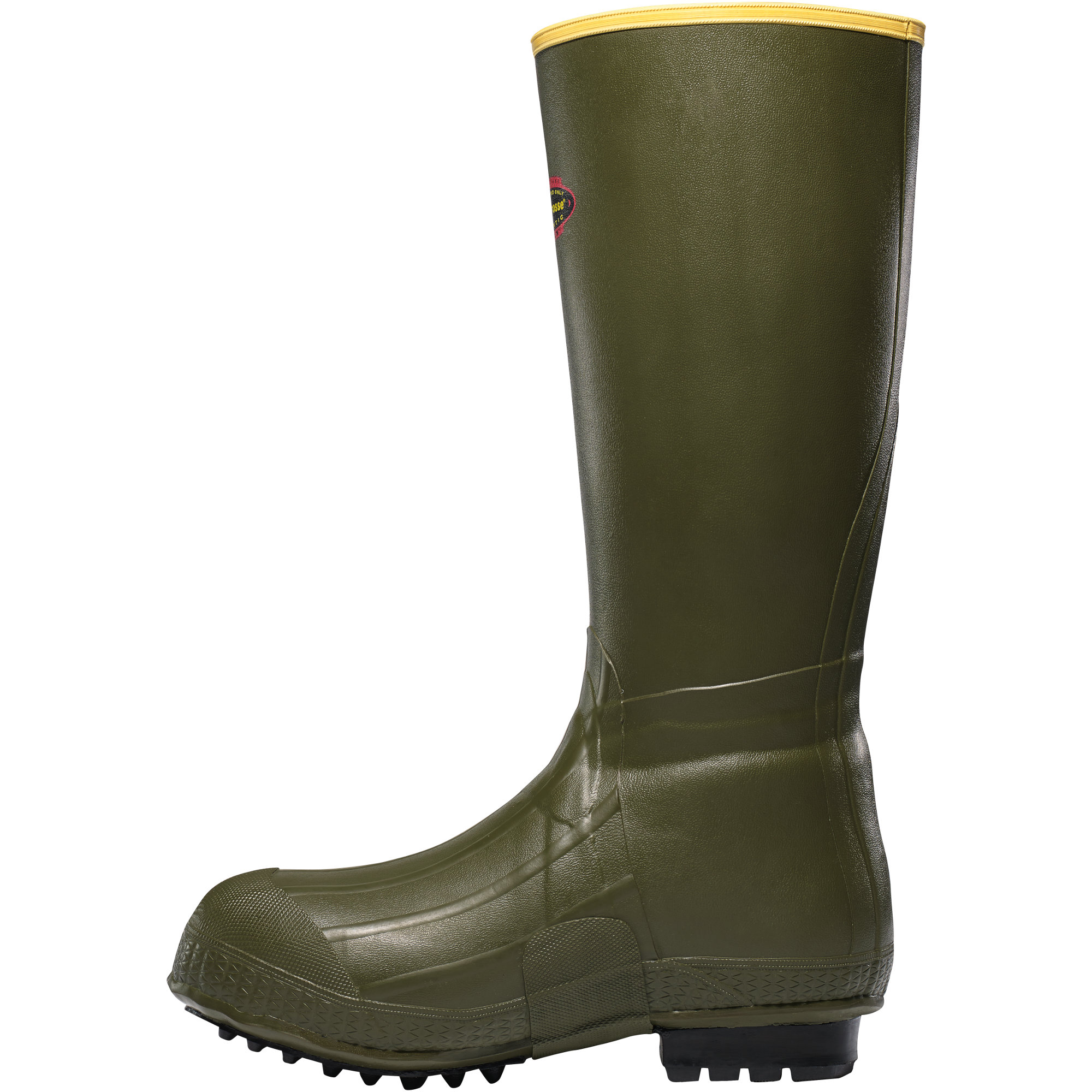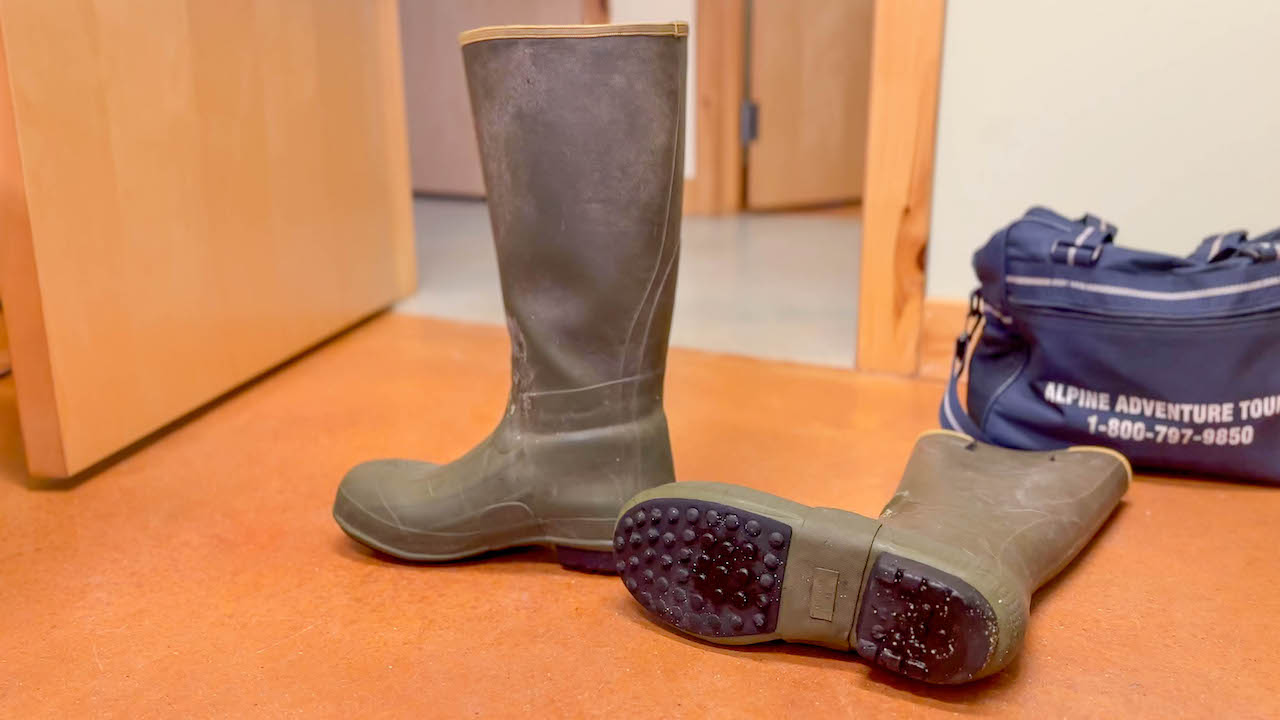 Lacrosse Alphaburly Pro – A Favorite Among Deer Trackers
The Alphaburly Pros are Lacrosse's top-tier rubber hunting boots. These boots have some of the best reviews of any rubber boot. They offer great traction, and comfort, and have 3 levels of insulation. So, depending on which model you buy so you can stay warm no matter the weather or temperature. The heel of these boots is also snug keeping them on your feet and preventing blisters.
They are a little heavier of a boot and would compare more closely to the Burley Air Grip boots, I would use them in similar scenarios as those boots.
Bogs Arcata Boots For Tracking Deer In Snow
Bogs Arcata rubber boots are the most comfortable rubber boots I have ever worn. They are extremely lightweight and have excellent traction for such a low-profile/low-center-of-gravity rubber boot. I was surprised about the low center of gravity because by looking at the photos you'd think the traction is tall. However, when you wear them your foot feels very close to the ground. Because they are a low center of gravity boot you won't roll your ankle like other rubber boots with tall traction.
The traction is excellent for walking in the snow because there are a lot of deep ridges and grooves that create a lot of surface area when stepping on snow. This creates more traction, reducing slipping.
The one thing to consider is they are around 15 inches tall (which keeps them so lightweight). In my experience, if you can cross a stream in an 18″ boot you can find a place to cross in a 15″ boot.
These are by far the lightest boots in this buying guide. For this reason, they are great for tracking deer all day while reducing foot/leg fatigue. The combination of being lightweight, comfortable, and having great traction, makes it one of the best boots for deer trackers.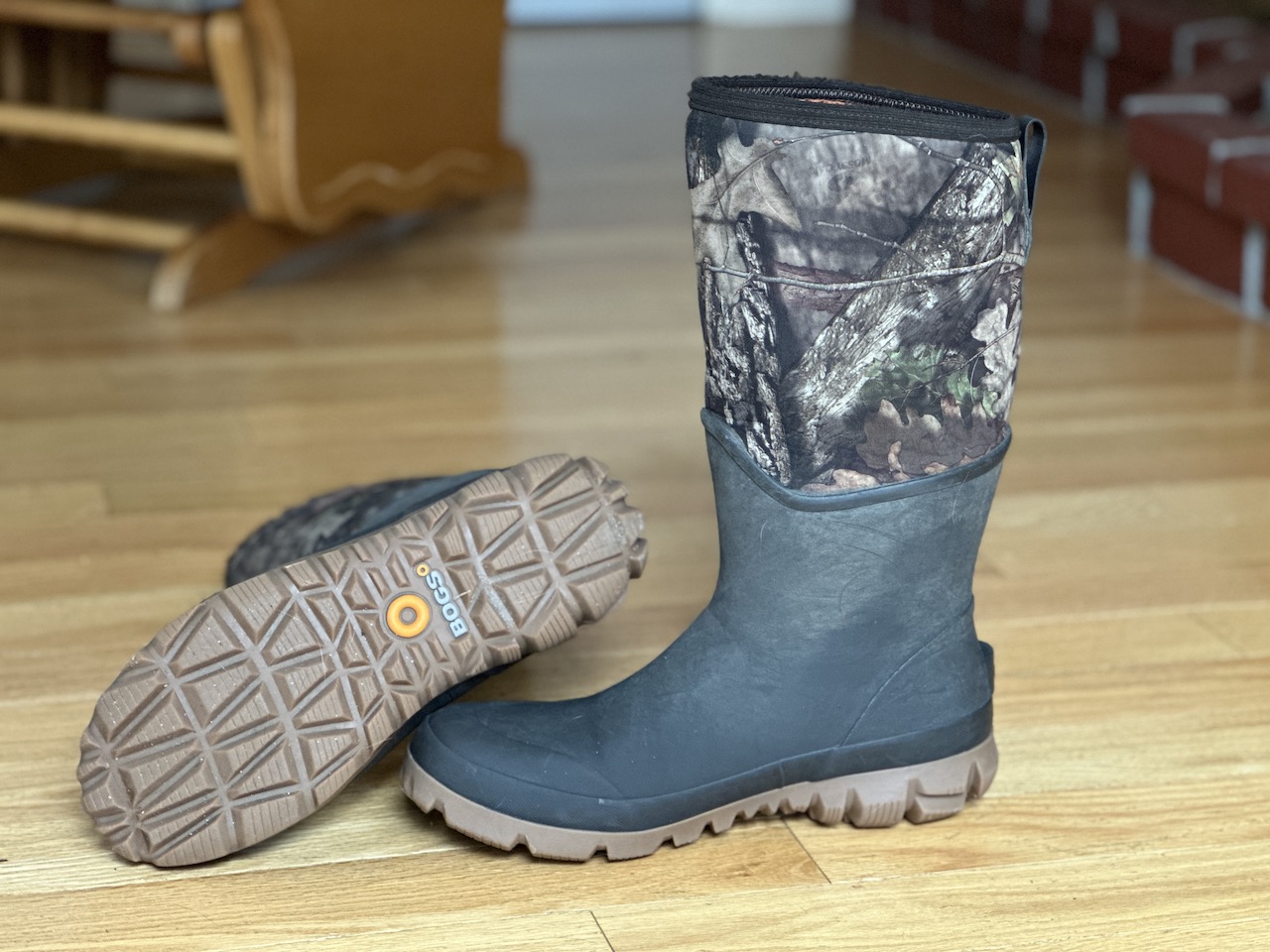 More Hunting Boot Resources:
11 Warmest Insulated Hunting Boots For Cold Winter Weather
10 Best Upland Hunting Boots For Bird Hunters [2023]
11 Best Rubber Hunting Boots Field-Tested [2023]
Tracking Big Woods Bucks on Snow Articles:
Hopefully, you found this article on the best boots for deer trackers helpful. If you want to read more articles about tracking big woods bucks on snow, you can find them here. I cover everything from how-to's, gear, tips & tricks…etc. A favorite is Gear for Tracking Bucks in Snow | Essentials For Big Woods Deer Hunting.
Find Me On: