This GumLeaf Field Welly review is based on the heavy abuse these boots took in the last few months while I used them for my profession as a wetland surveyor. Comfort, fit, sole quality, durability, longevity… and more topics were reviewed. I bought these boots with my own money for this review.
Because I am often swimming through thick brush and thorns my job was an excellent way to see what these boots are made of.
The Field Welly Boots are not the only type of boot Gumleaf makes. They have more options to choose from on their website.
I chose to buy the Field Wellys because they are the lightest and simplest boots in the GumLeaf lineup. Here are my thoughts on these boots after using them daily for the last few months.
This post contains Amazon and other affiliate links, which means I'll receive a commission if you purchase through my link, at no extra cost to you. Of course, you are not obligated to use my links, but it does help fund these posts in hopes of bringing more value to you!
Why Are GumLeaf Boots Special?
The Gumleaf boots claim to fame is that they're handcrafted boots made out of 85% real rubber, which is a high amount of rubber compared to other rubber boots on the market.
The benefit of having more rubber content in the boots is that they last longer.
Almost all boots on the market use clay and plastic filler in their rubber which makes them crack faster than a high rubber content boot.
Gumleaf states that these boots if cared for properly, should last 10+ years. The sole will often wear out before the rubber cracks, which is impressive.
However, I've only owned these boots for a few months so in my experience that remains to be seen. Although I am hopeful this is true. If this is true, then these boots, although expensive, will pay for themselves and cost less in the long run.
You'll make your money back because you're not buying cheap rubber boots with low rubber content every year or two.
GumLeaf Field Welly Review
Field Welly Price
These boots are 2-3x more expensive than most rubber boots on the market that have more plastic/clay filler. However, because of the longer life of these boots, the idea is that they end up being cheaper in the long run.
I bought the GumLeaf Field Welly boots because I was tired of my other boots cracking after 2-3 years. I've liked these boots so much that I reached out to GumLeaf USA to see if I could get a discount for my viewers. If you enter coupon code "JTOTen" at checkout you'll receive 10% off these boots.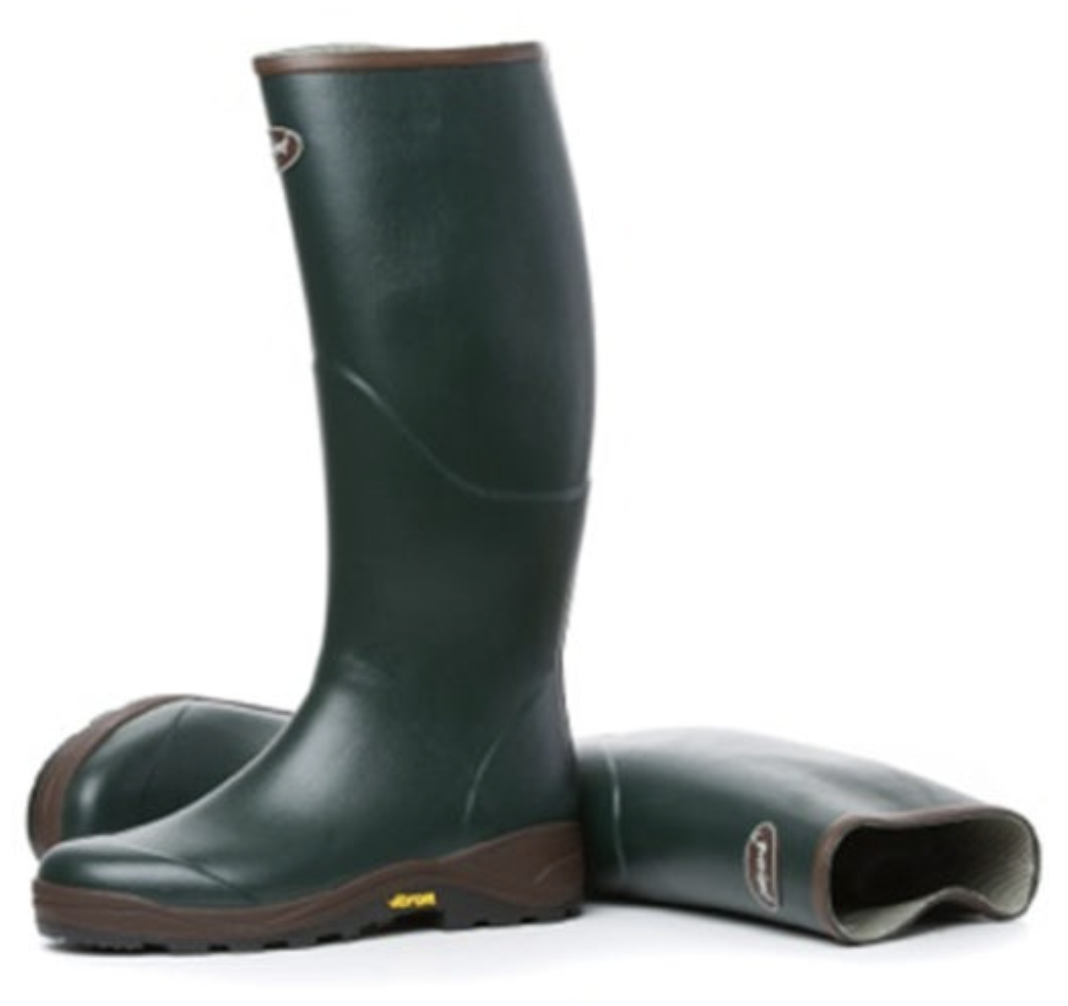 10% Off with Coupon Code "JTOTen"
Field Welly Height
I bought the size EU43, which is approximately a size 11 US. These boots are 17.5 inches tall. I believe there is a slight variation depending on your boot size.
Field Wellys Weight
As I mentioned above, I own the EU43 size, which is approximately a size 11 US. At 17.5 inches tall they weigh 2 lbs 6.7 oz per boot. This is competitively lightweight for a tall boot.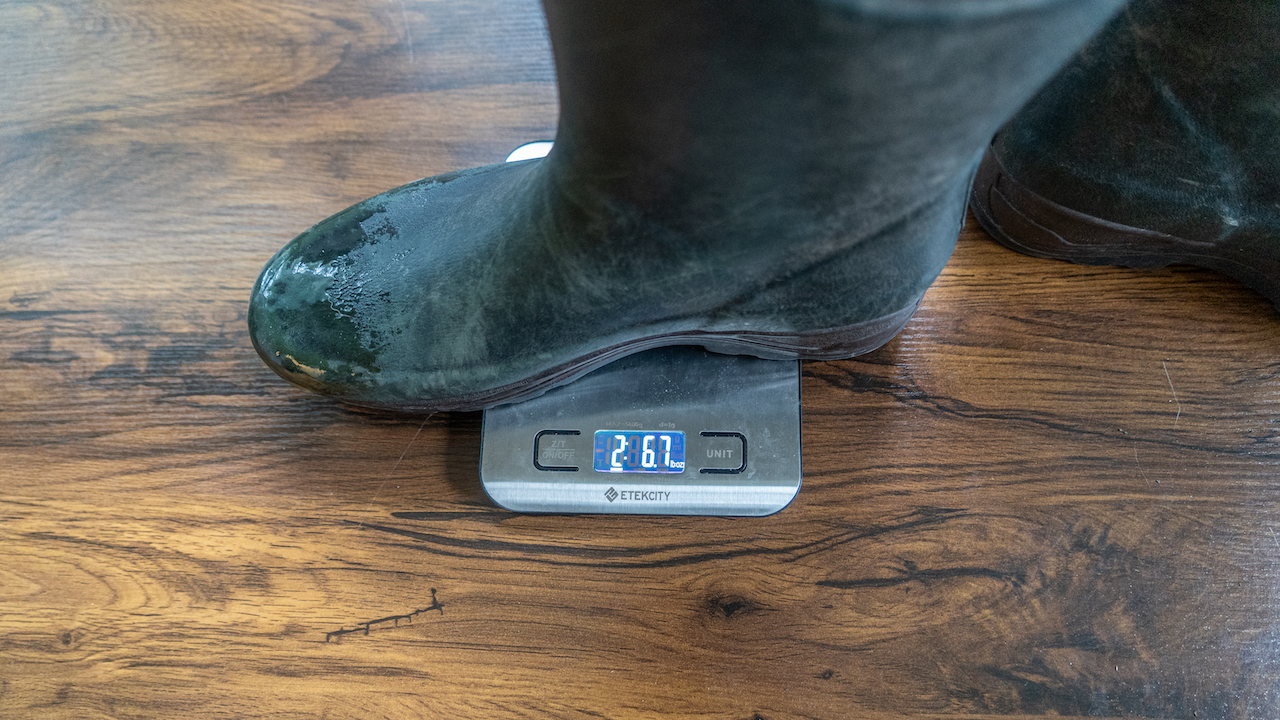 Comfort
I've tested many rubber boots and I can confidently say that the Field Wellys are one of the most comfortable if not the most comfortable rubber boots I've ever worn that are full rubber and tall.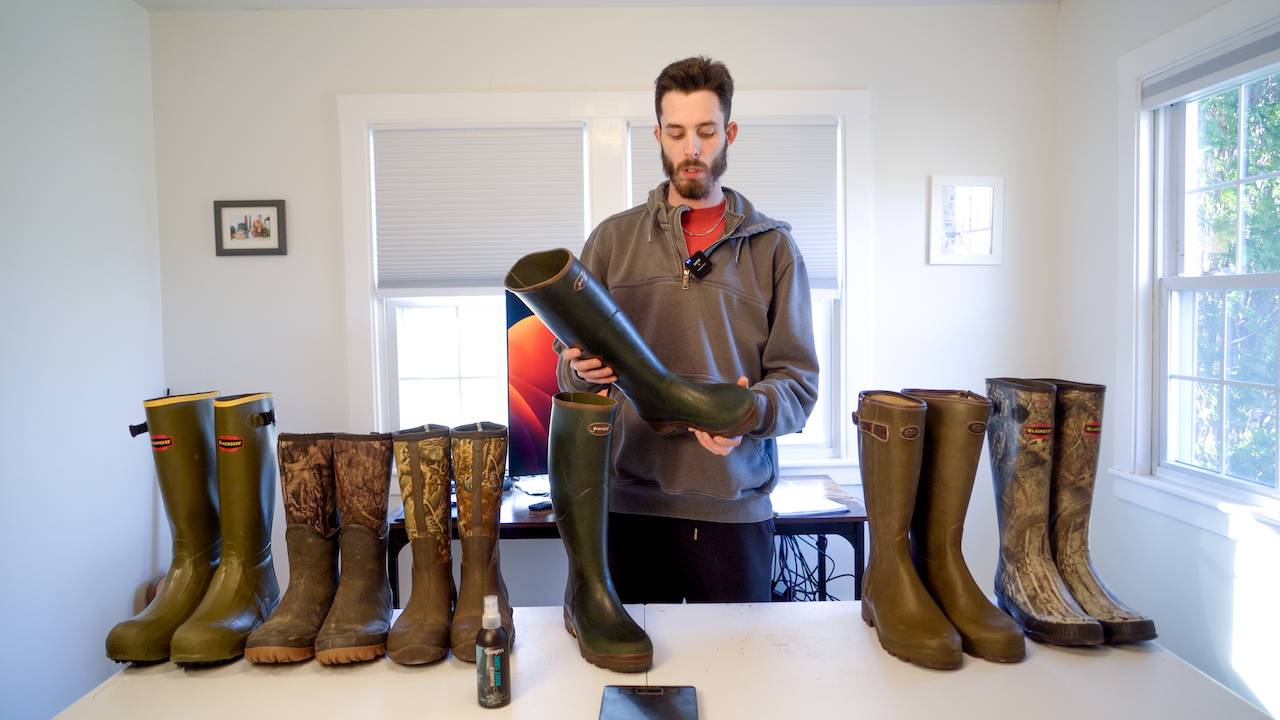 Fit
When ordering your boot size it will be in EU instead of US measurements because these boots are made in the EU. The conversion from EU to US is close but isn't perfect so be sure to get boots that fit perfectly.
The first pair I bought almost fit but I ended up returning them to get a smaller pair to see if they would be better or worse. They ended up being perfect. It is important to get a perfect fit with these boots so the heel isn't loose in the heel pocket which would cause blistering.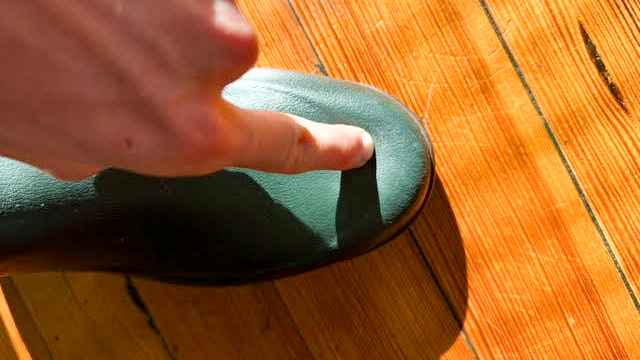 Sole Quality
One of my favorite aspects of these boots is that they are fitted with a very flexible Vibram sole. This gives these boots great traction compared to other boots on the market. Additionally, the flexible sole still allows you to feel the environment underfoot. As a hunter, I am able to be more stealthy.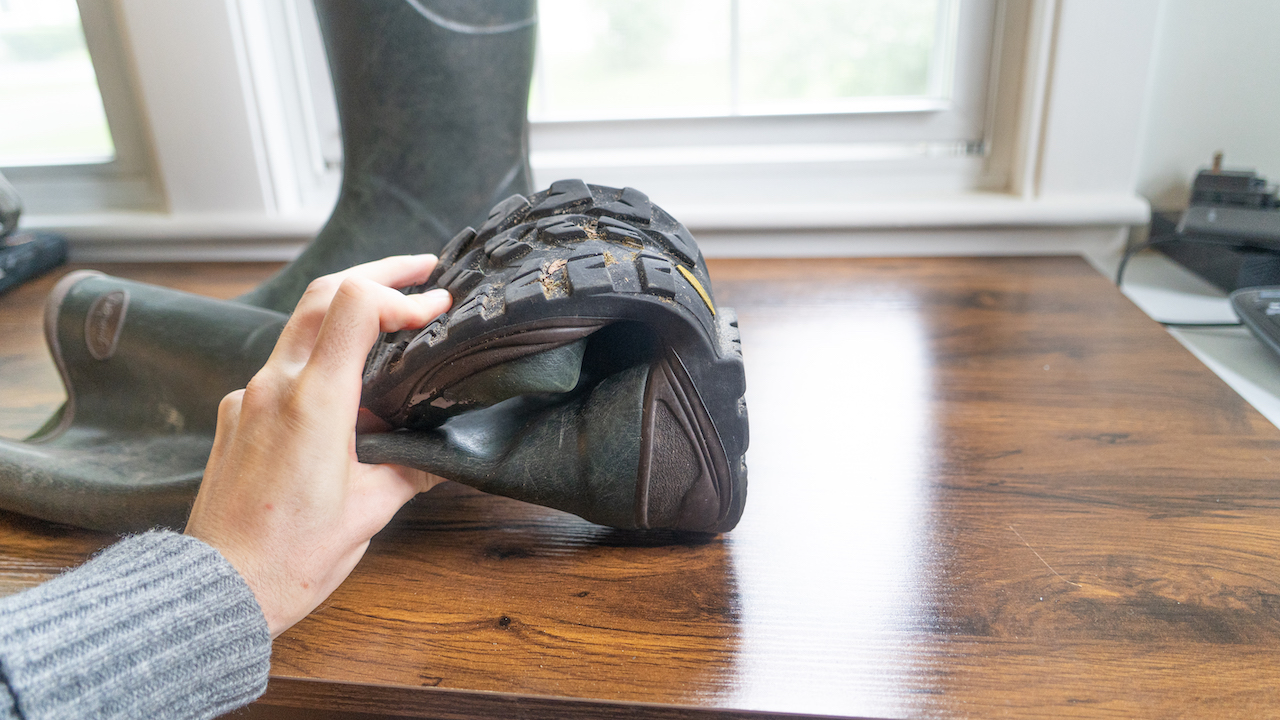 At first, I was worried that the sole of this boot was going to be too tall causing a high center of gravity, which would lead to ankle rolling. I was happy to find out that I liked these soles much more than I thought. My foot sits far enough down where my foot's center of gravity is not a problem and I do not get the feeling that I will roll my ankle when side-hilling.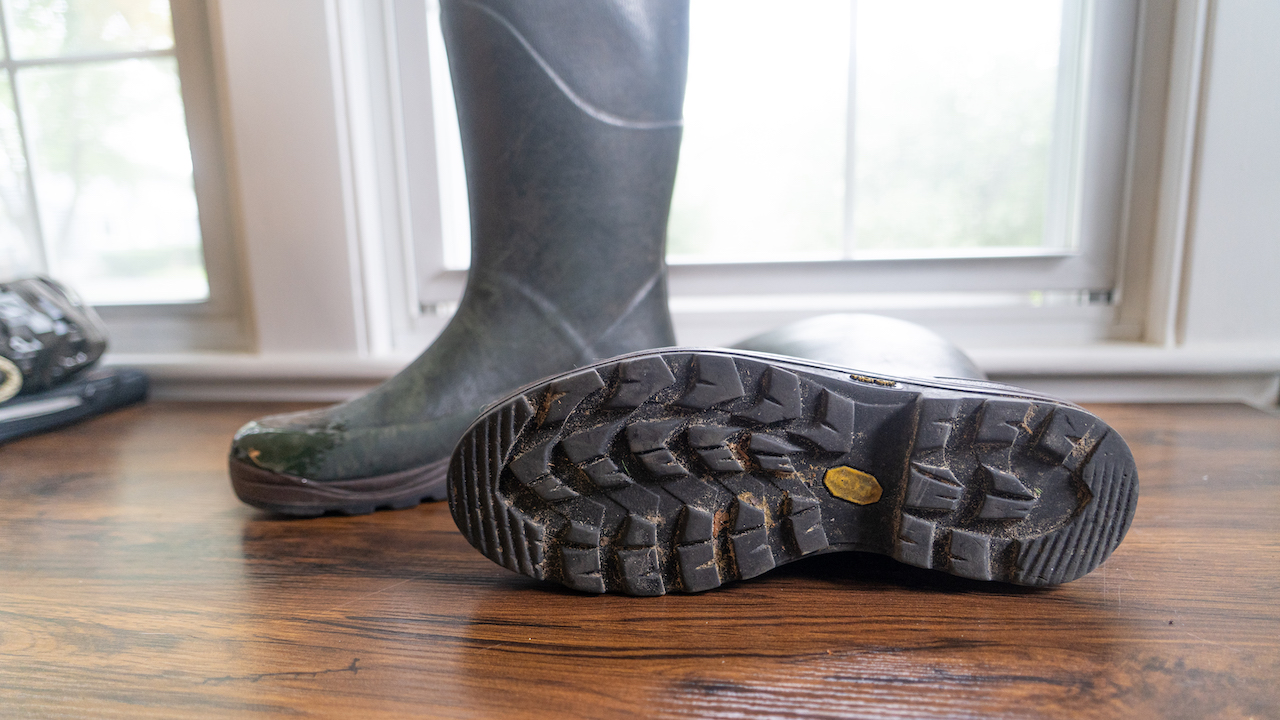 Durability
When you put your hands on these boots for the first time you can tell right away they are made out of a higher content of rubber. The rubber is more supple and soft compared to cheaper boots with higher plastic/clay content.
After putting these boots to the test through the dense pricky bushes conducting wetlands work for my job, I was able to determine how durable these boots are.
I found that these boots overall did well, but not perfect. In two places, large thorns did make their way into the rubber and even would drag through the rubber a tiny bit, creating non-leaking cuts.
There are some scuff marks from branches and bushes around the toe and ankle of the boot but I would expect this and is not concerning at this point.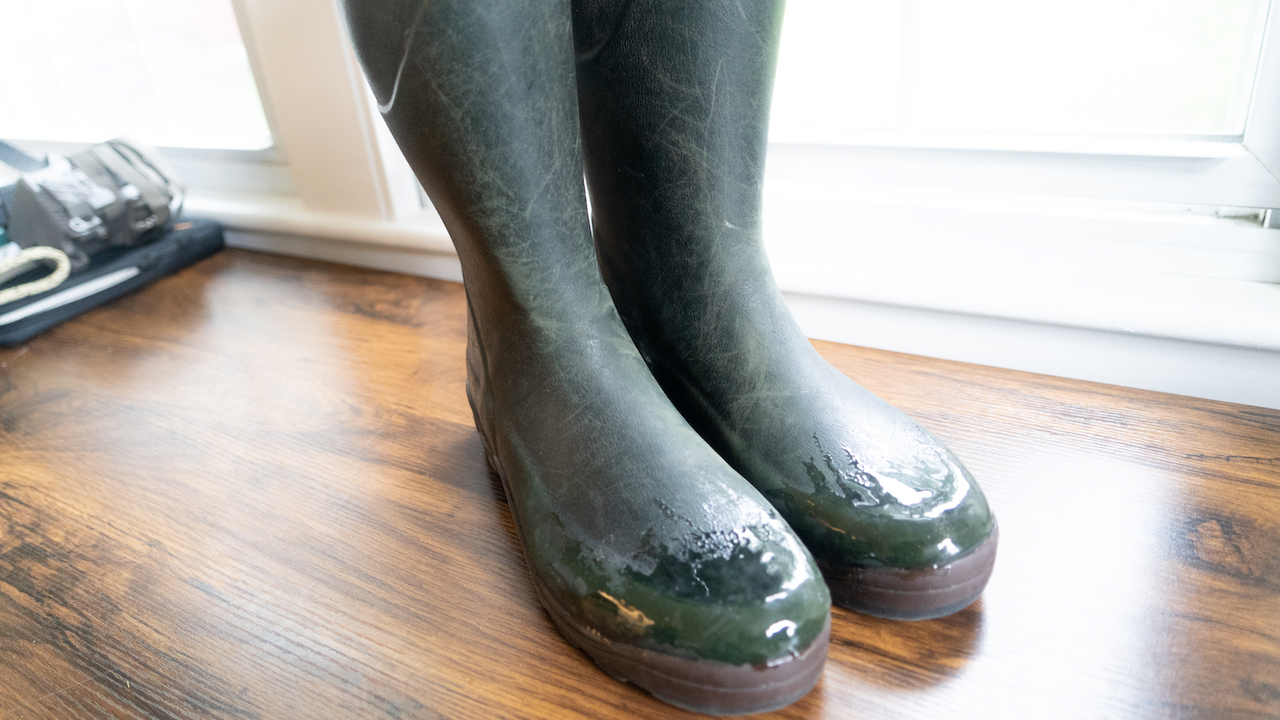 Overall, these boots are quite durable, and am impressed. I would have been more impressed if the thorns had not cut as deeply in those two places. But for the number of thorns I've walked through, it's still pretty impressive they only had two cuts.
In my experience, low-content rubber boots are more slippery and harder to puncture because they are more plastic and thus more durable. Thorns also don't drag through the plastic rubber as easily, they'll just break off instead.
Longevity
Besides the two small cuts, the rubber is still holding up really well, and expect it to last a lot longer. I'm planning to update this post after one year of using the boots for a better longevity review.
Keep in mind that I am using these boots every day for work and I am walking 5-10 miles per day through some of the toughest bushes and thorns.
Most people will not be abusing their boots to the same degree. If I get 5 years out of them I would expect someone who uses them just on weekends and who will generally be avoiding nasty thorn bushes will last them much longer.
Care & Suggestions
After getting the cuts on my boots I wanted to take measures to prevent the cuts from getting worse and leaking so I reached out to the owner at GunLeaf for suggestions. He recommended using AqualSeal FD so I bought some. Instead of just covering the cuts, I covered the entire toe of the boot.
For me, the toe area takes the most abuse so I figured I'd give it extra protection. After the application, I was impressed with how it came out.
I would even recommend putting some on a brand-new pair for protection. I may even put some around the ankle where wear tends to also occur.
At the time of this post, I have not yet put the AquaSeal to the test in the woods but will update this post when I do.
Granger's Rubber Boot Care
It is also suggested by GumLeaf to treat the high-content rubber boots with Granger's Rubber Boot care a few times per year to maintain the health of the rubber. This prevents the rubber from drying out and cracking in the long run.
Review Conclusion
As of right now, the Gumleaf Field Wellys are my favorite rubber boots. For me, a tall lightweight rubber boot with good traction and comfort is what I look for. The Field Welly checks all of these boxes.
I've tried a lot of rubber boots as you'll see in my blog post 11 Best Rubber Hunting Boots. Nothing quite checks all of the boxes like the Field Wellys do.
My hope is that with my addition of the AqualSeal FD, these boots will last me a minimum of 5 years. My reason for this is that my second favorite pair of rubber boots are the Lacrosse Grange boots. They last me 2 years on average for 120$. So, after 5 years the Field Wellys will have paid for themselves.
That said, even if they don't last me as long and I end up paying a bit more I'm not going to be too disappointed. I'm willing to pay to replace these boots just to have the comfort and traction of the Vibram sole. 
10% Off Coupon Code
I bought the GumLeaf Field Welly boots because I was tired of my other boots cracking after 2-3 years. I've liked these boots so much that I reached out to GumLeaf USA to see if I could get a discount for my viewers. If you enter coupon code "JTOTen" at checkout you'll receive 10% off these boots.
Thanks for reading, hopefully, you found this GumLeaf Field Welly Review helpful.
More Boot Articles:
Find Me On: