I've been on the search for the best rubber hunting boots for over 6 years. I basically live in rubber boots as a professional wetland scientist, waterfowl hunter, and deer hunter located in the wet landscapes of Maine.
Collectively, between the rubber boots I've tried for work and hunting (Lacrosse Footwear, Le Chameau, GumLeaf, Muck Boots, Bogs) and observing coworkers' boot performance (Cabela's, Dryshod, XtraTuf), I've been able to identify the rubber boots perform the best over time.
Not all rubber boots are created equal. In this post, I share my biggest tips, and suggestions when buying rubber boots for hunting so you can find the best rubber hunting boots for you and get the most value out of the rubber boots you choose.
This post contains Amazon and other affiliate links, which means I'll receive a commission if you purchase through my link, at no extra cost to you. Of course, you are not obligated to use my links, but it does help fund these posts in hopes of bringing more value to you!
Rubber vs Neoprene Boots Which Are Better?
From my experience, rubber boots are superior to neoprene boots when it comes to most hunting applications.
Rubber Benefits
Less Bulky

Weight to Durability Ratio 

Better Durability vs Thorns & Dense Shrubs

Less Patching Required
Neoprene Benefits
Warmer (Better Calf Insulation)

Comfort (sometimes)

Lightweight
Best High Rubber Content Rubber Boots
Most rubber boots on the market today are made out of a mixture of rubber and clay filler. The clay filler that is added to these boots is what makes all of these boots crack over time. Some boots crack faster than others depending on the % of rubber it has.
A higher rubber content means that boots do not crack as easily and will last much longer than the average rubber boot. These high rubber content boots are mostly made in Europe and are shipped to the U.S. These are some of the best rubber boots you can buy.
High rubber content rubber boots are likely the best way to save the most money on rubber boots in the long run because should last at least 2x-3x longer because shouldn't crack.
GumLeaf

Long Lasting High-Content Rubber Boot
The GumLeaf Field Wellys are handcrafted boots in Europe and are made of 85% real rubber which prevents cracking from occurring and should last around 10+ years with proper care. Most other rubber boots on the market are mixed with a percentage of high clay and only last 1-3 years before they crack.
I bought the GumLeaf Field Welly boots because I was tired of my other boots cracking after 2-3 years. I've liked these boots so much that I reached out to GumLeaf USA to see if I could get a discount for my viewers. If you enter coupon code "JTOTen" at checkout you'll receive 10% off these boots.
You can check out my full review of these boots here: GumLeaf Field Welly Review After Months of Heavy Use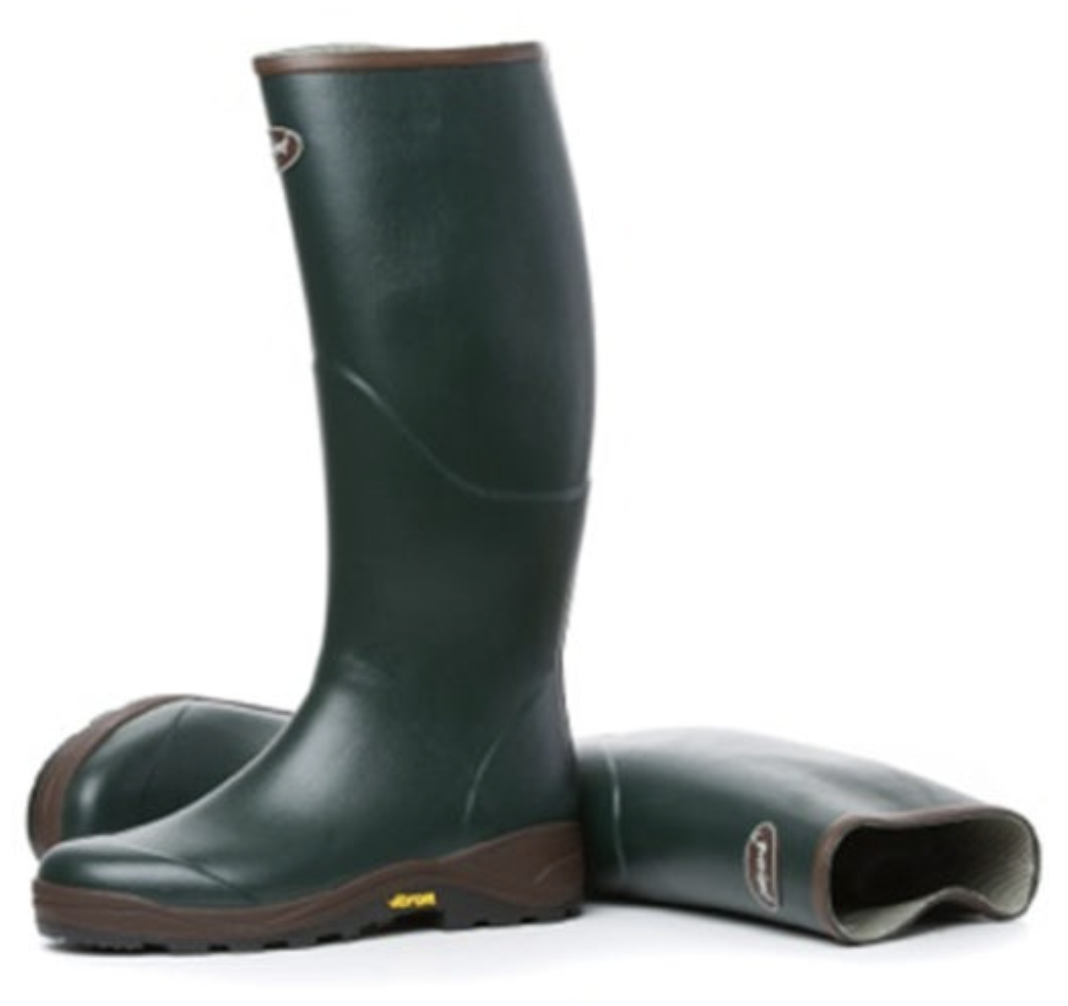 Le Chameau Long Lasting Rubber Boots
These rubber boots are another high rubber content boot that is handcrafted in Europe. It takes 9 months of training before a professional boot maker can craft these boots. Only the best rubber and materials are used in these boots so that they will last. For me, the biggest downside was the weight. It was hard to justify the weight and price even though they were higher-quality materials. That said, a lot of people like them.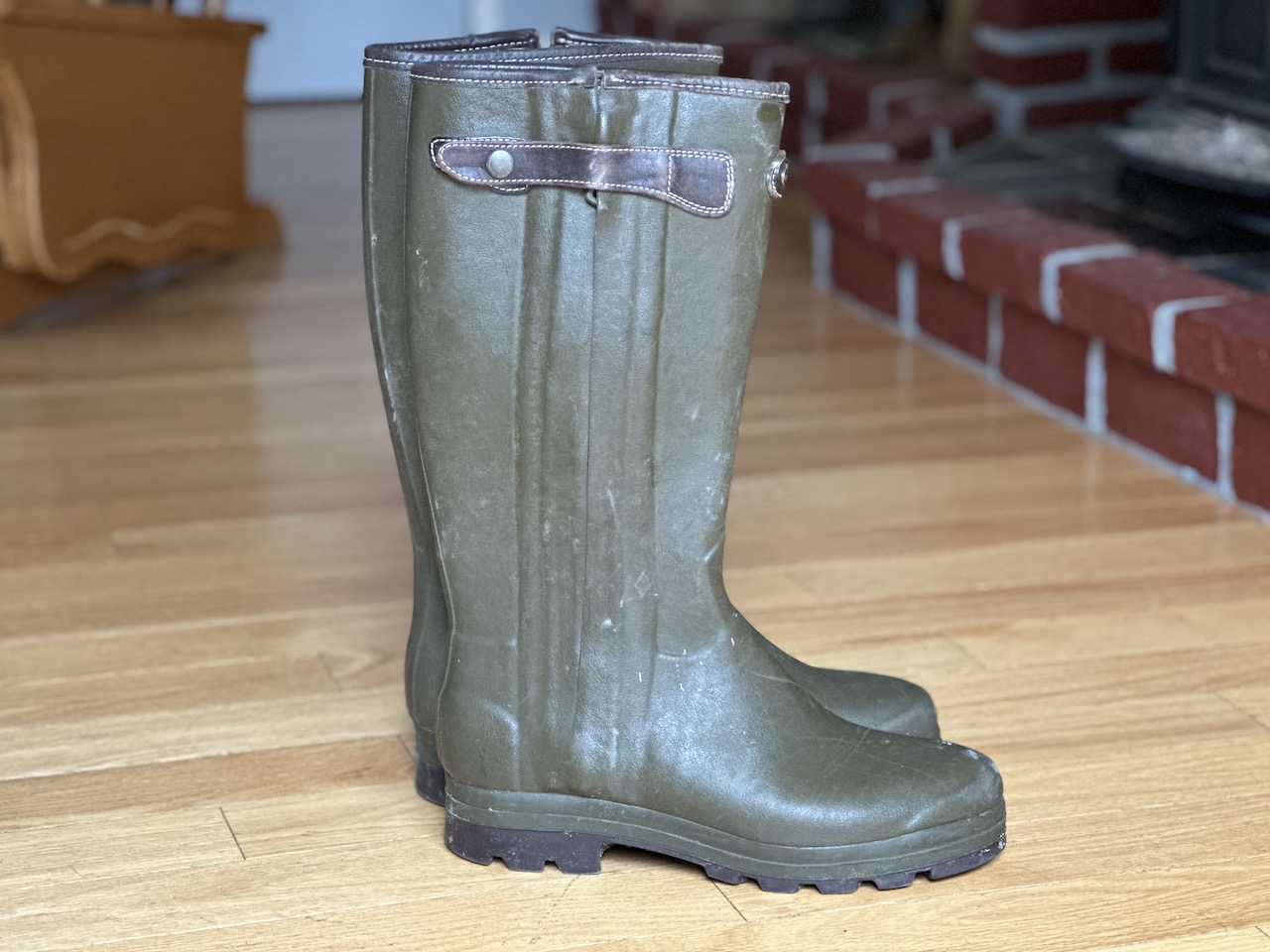 The Best Rubber Hunting Boots (All Rubber)
The boots below have none or very little neoprene in them for those who like boots that are almost entirely made of rubber.
Lacrosse Grange Best Rubber Hunting Boot For Lots of Walking
It's tough to beat the Lacrosse Grange boots because no other companies have been able to develop an 18-inch tall boot this thin while allowing the boot to still be very durable. They're so lightweight that you barely even notice them. Another huge benefit of this boot is that they have an ankle-tight fit so that your heel does not slip up and down in the heel pocket (which causes blisters in other boots).
Additionally, they are very low profile so it's much harder to roll your ankle in these rubber boots than in other rubber boots that have taller traction. Because the traction is slim you can really feel the ground underneath your foot when hunting. This allows you to walk much quieter in the woods because you can feel the sticks underneath your foot.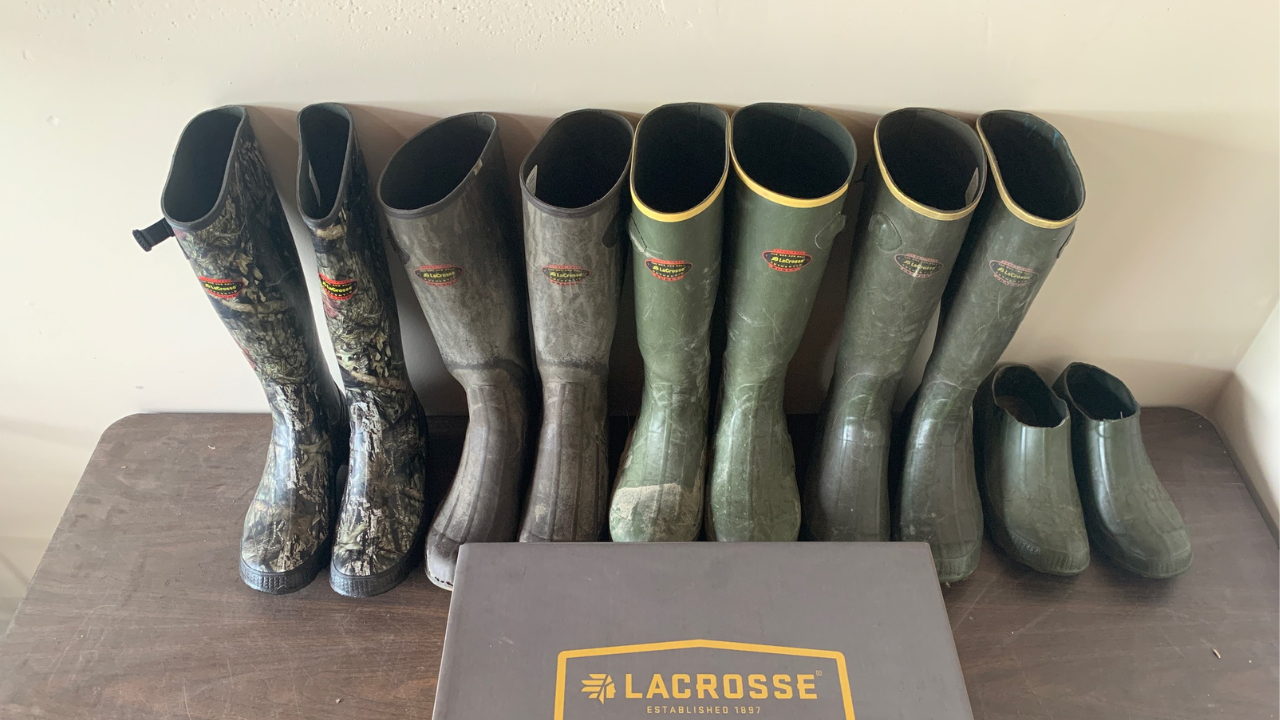 Lacrosse Alphaburly Pro
The Alphaburly Pros are Lacrosse's top-tier rubber hunting boots. These boots have some of the best reviews of any rubber boot. They offer great traction, and comfort, and have 3 levels of insulation so you can stay warm no matter the weather or temperature. The heel of these boots is also snug keeping them on your feet and preventing blisters.
Xtratuf Altitude Legacy Boot 
Xtratuf is known for its boat shoes and boots. Recently, they've jumped into boots that are designed for land terrain. Their Altitude Legacy is their first boot model with this purpose in mind. They are a lot like the Grange boots but have better traction and are better suited for hunters with larger legs/calves. Just be aware that these boots are only 15 inches tall and are slightly heavier than the Grange.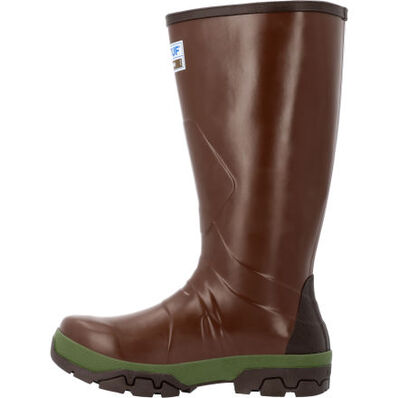 Lacrosse Burly Air Grip Foam Insulated
Another excellent rubber hunting boot is the Lacrosse Burly boot with Air Grips. These boots are foam insulated and provide a little more warmth than the Grange boots. These boots are a little heavier than the Grange boots because of the added insulation however, they are great boots for someone hunting in slightly colder conditions.
They also make great winter hunting boots because the air grips are excellent traction for the snow. These boots have many similar characteristics to the Grange boots such as durability, tight ankle fit, 18 inches tall, low profile, and you can still feel the environment underfoot with the air grips.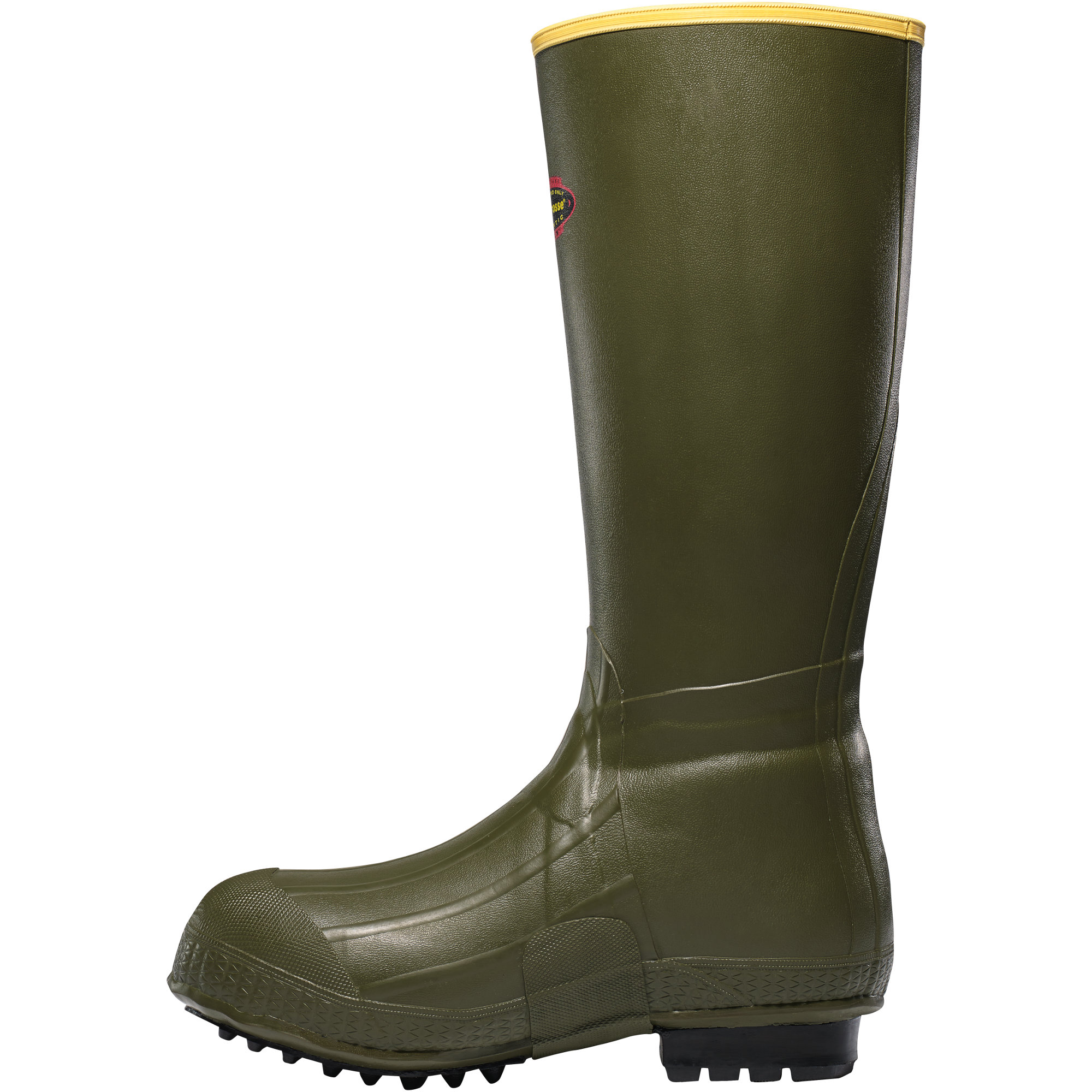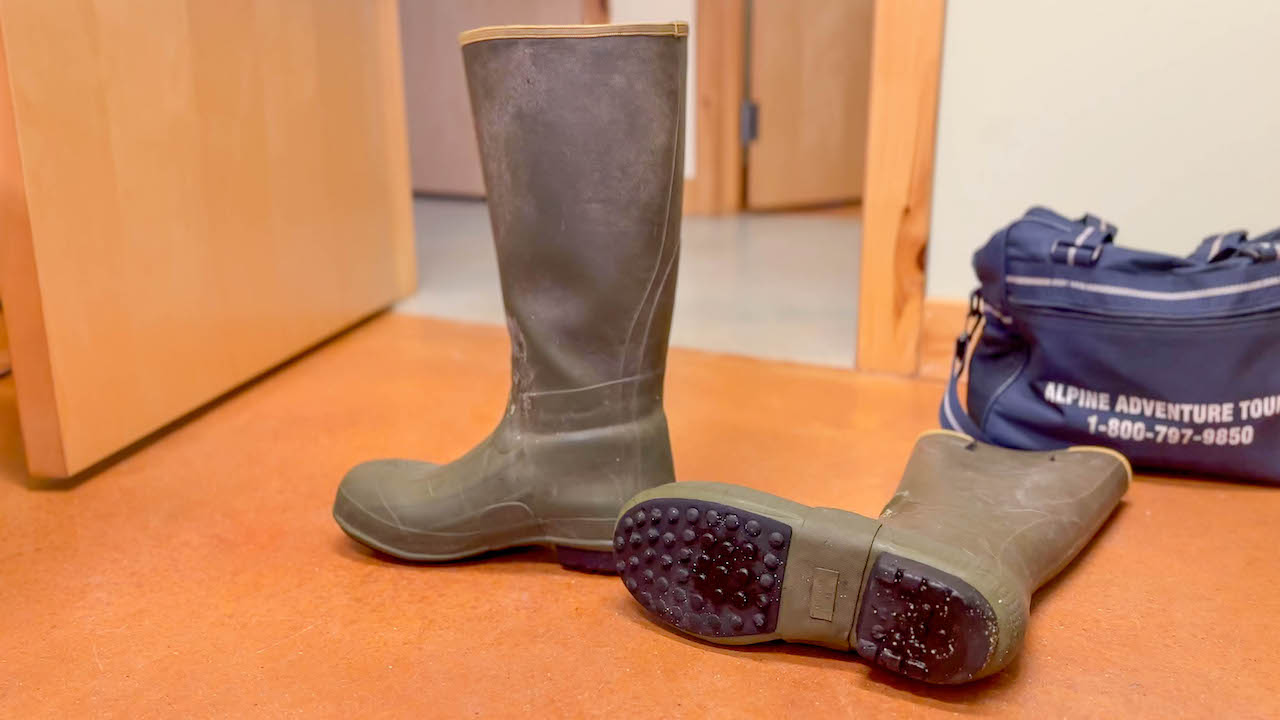 Baffin Titan Rubber Pac Boots For Winter and Cold Weather Hunting
These Baffin Titan rubber boots are comfort-rated to -148ºF (-100ºC). They are perfect for hardcore hunters who hunt stationary for long periods of time (like in a treestand) in the cold winter weather months. Also, they are waterproof, breathable, scent-free, and have removable liners for extra insulation and warmth. Since they're waterproof you can be sure your feet stay dry, which is essential for hunting in cold weather.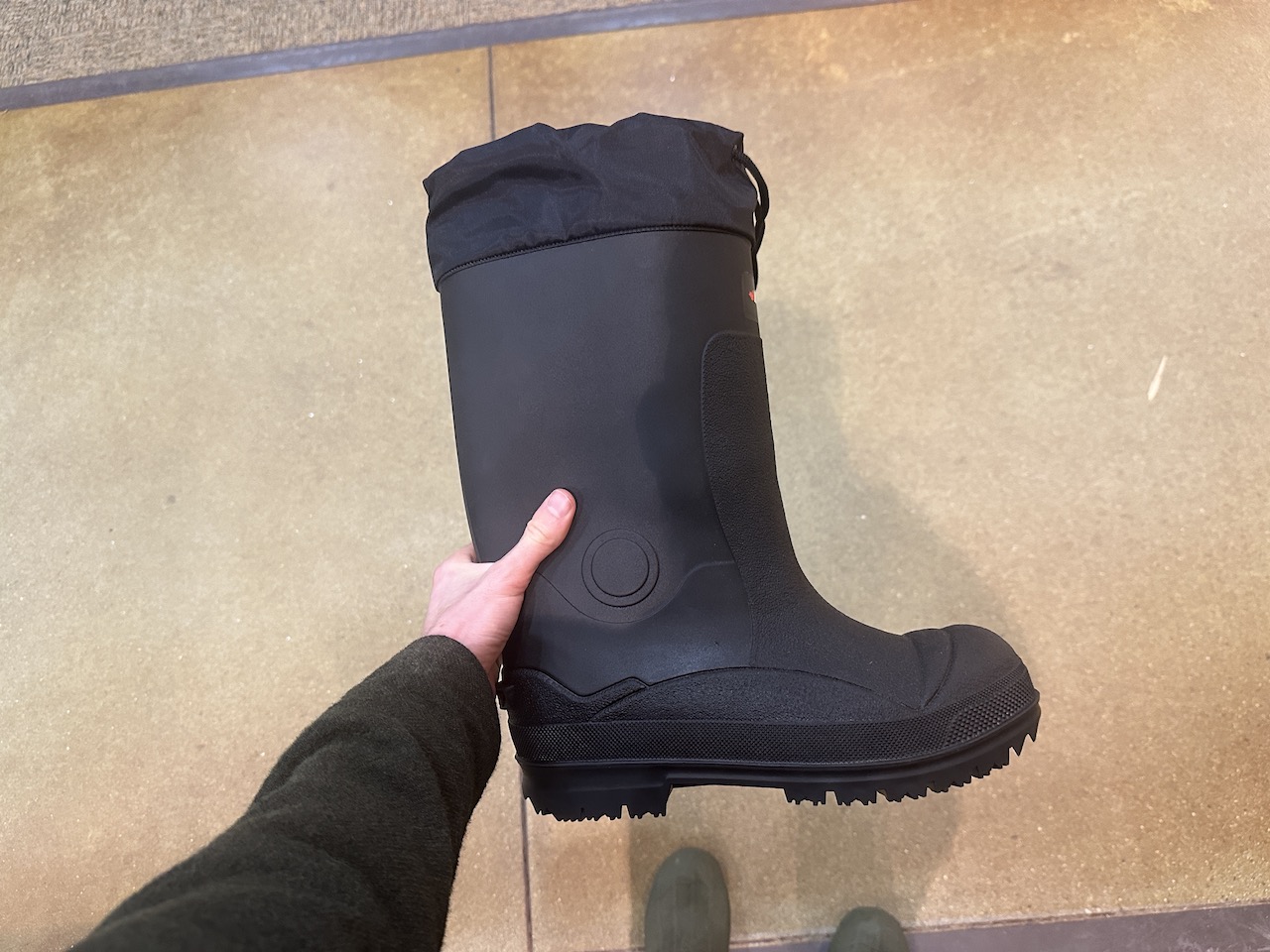 Thorogood Infinity FD 1600g Insulated Boots With Solarcore
Another one of the warmest hunting rubber boots is the Thorogood Infinity with 1600g of insulation. These boots are similar to the Lacrosse Alpha Burleys with 1600g of insulation but these use Solarcore insulation (which NASA uses) to keep boots as insulated as possible and to retain heat.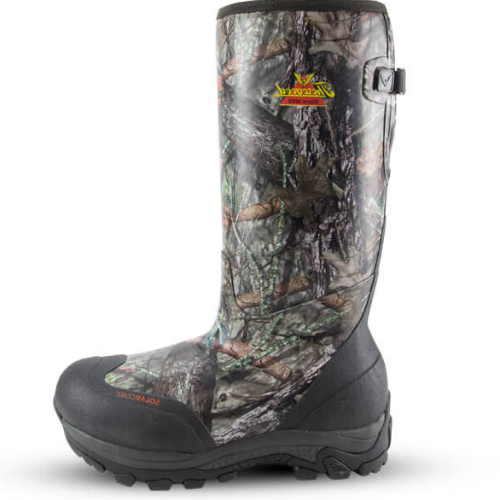 The Best Neoprene Rubber Hunting Boots
Neoprene just does not last as long as a full rubber boot if you walk in thick brushy country and prickly bushes. Neoprene rubber boots are great if you can avoid these areas. They are often lightweight and comfortable if you buy a well-made pair. Here are a few of the best neoprene rubber boots:
Bogs Arcata Boots
Bogs Arcata rubber boots are the most comfortable rubber boots I have ever worn. They are extremely lightweight and have excellent traction for such a low-profile rubber boot. Because they are low-profile you don't feel like you're going to roll your ankle. The one thing to consider is they are around 15 inches tall (which keeps them so lightweight). These boots are great for all-day walking.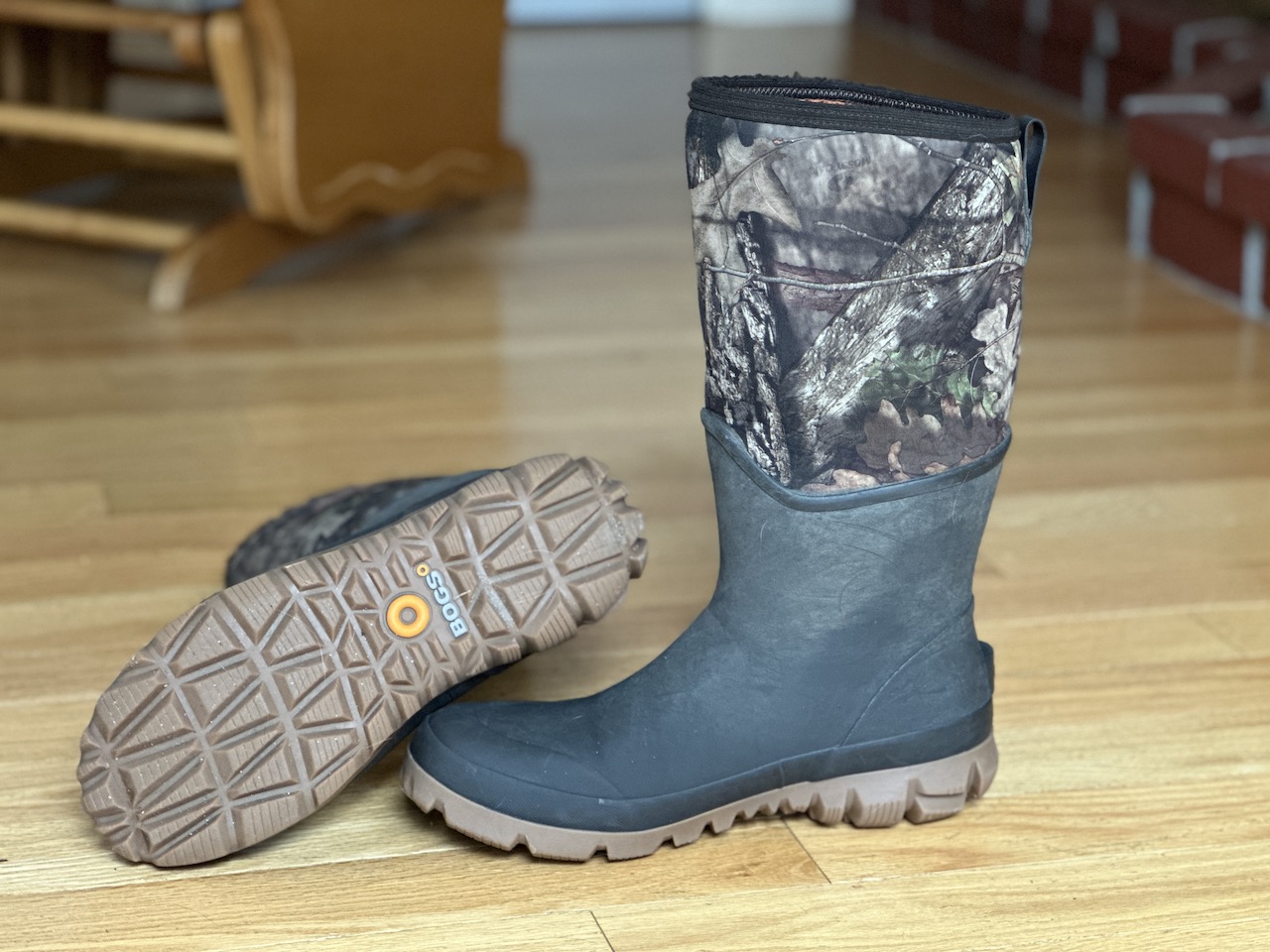 Muck Boots Fieldblazer
Muck Boots make great rubber boots. If you're someone who prefers neoprene, these Fieldblazers are a nop-notch neoprene rubber boot. I like the soles on the Fieldblazers because you can feel the ground underneath your foot better which is beneficial for walking quietly when hunting.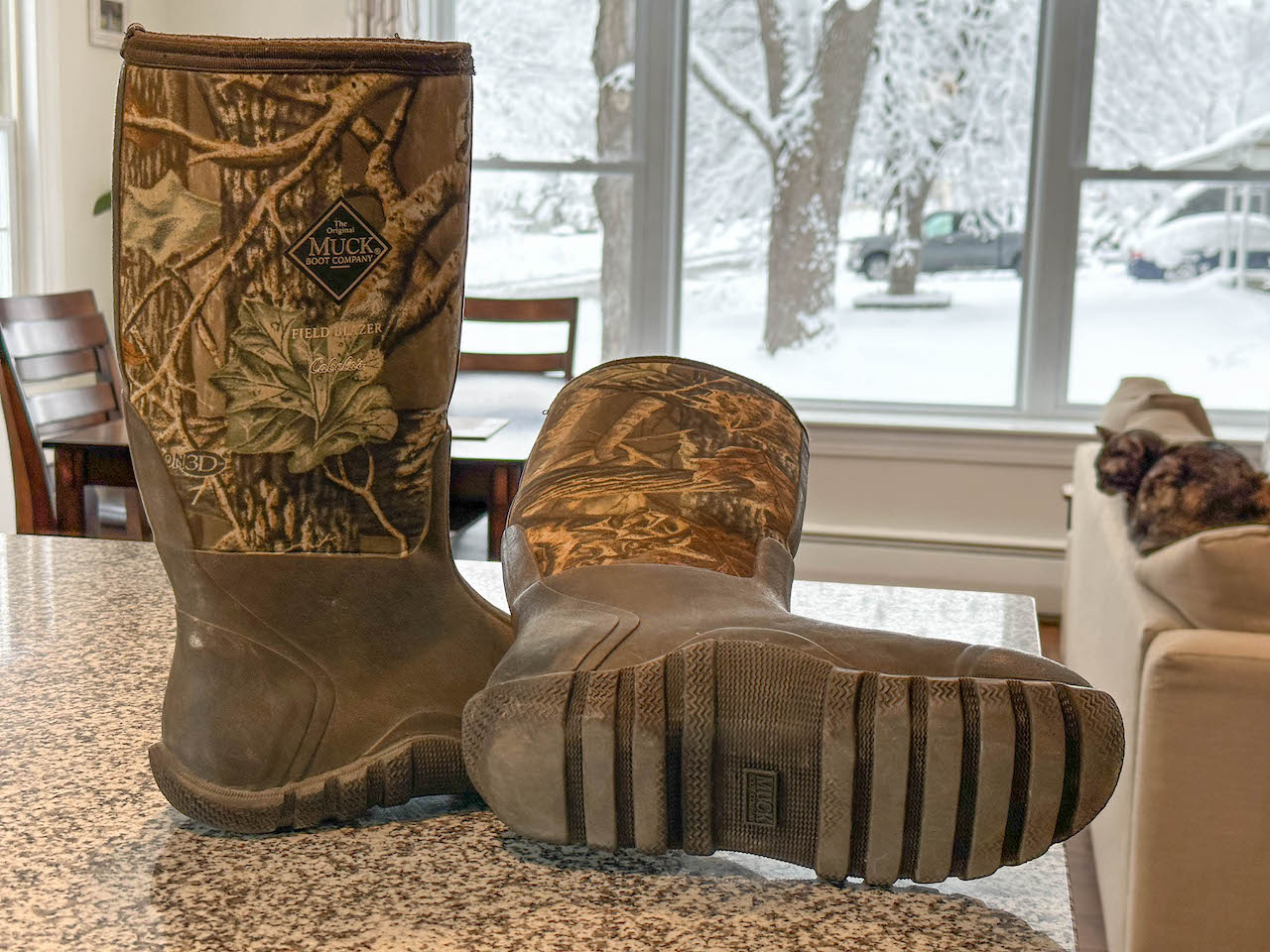 Bogs Classic High Boots
Bogs are another well-known and reputable rubber boot brand. They also have a sole that is great for hunting because it has a moccasin-like sole on it so you can feel the ground underneath your foot. Like the Feildblazers, you can walk quietly because you can avoid breaking sticks. They are lightweight boots with neoprene coming almost down to the ankles.
Tips For Buying Rubber Hunting Boots
Are Cheap Rubber Boots Worth The Money?
I have never seen a pair of rubber boots under 100$ last long. They are usually quick to crack because to keep costs low the rubber is mixed with higher clay content. Since they are made with a higher clay content they are also less flexible, making them less comfortable, and making you more prone to blistering.
If you're going to buy a cheap pair of rubber boots I would only expect them to last 1 year, and they won't be as comfortable as the more expensive brands. 
Tread Height and Rolling Ankles
It's like comparing a Lamborghini vs a lifted truck. Which do you think is more susceptible to rolling? The Lamborghini is less likely to roll because it has a lower center of gravity. The same can be said for rubber boots, the lower your footbed is, the more stable your ankles will be.
If you buy rubber boots with tall treads/base you're going to roll your ankles a lot more. A lower-profile rubber boot is a great way to go, especially for walking. This is why the Lacrosse Granges are excellent boots for walking.
If you're not going to be walking as much a larger tread, although it may cause ankle rolling, likely will provide more insulation and warmth.
What Does Boot Comfort Rating Mean?
A comfort rating for boots will tell you the effective temperature that a pair of boots are designed to keep you comfortable with light usage.
This is important to know because there is a big difference between being stationary in a treestand and light usage.
For this reason, you will want a pair of hunting boots that are comfort rated much warmer than the temperatures you plan to hunt to ensure your feet stay warm in cold weather.
Repurpose Old Rubber Boots To Make Waterproof Rubber Slippers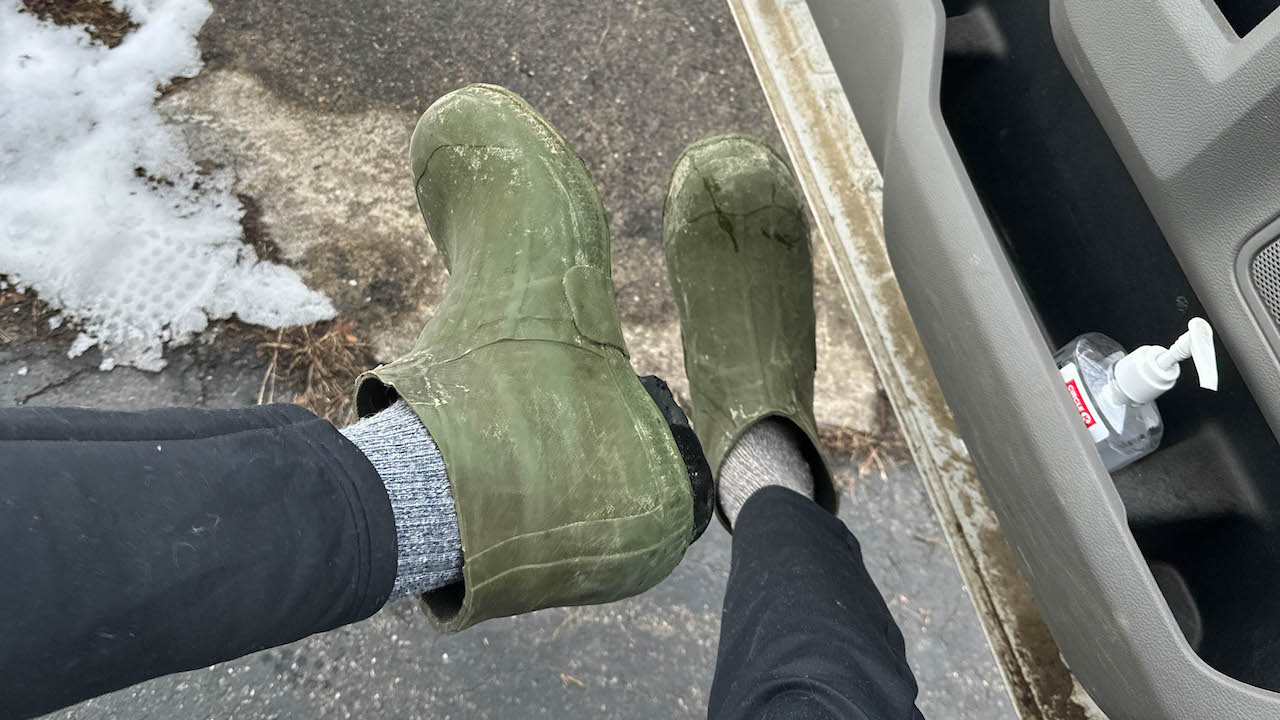 More Hunting Boot Resources:
11 Warmest Insulated Hunting Boots For Cold Winter Weather
10 Best Upland Hunting Boots For Bird Hunters [2023]
Best Brands When Buying Rubber Hunting Boots
Cabela's

Lacrosse

Baffin

Thorogood

Muck Boots

Bogs

XtraTuf
Other Places To Shop For Rubber Hunting Boots
Some great places to find hunting boots include:
Find Me On: