This JX3 Hybrid saddle review covers 13 categories; comfortability, mobility, maneuverability, safety, durability, versatility, cost-effectiveness, stealthiness, concealment, imperfect trees, tree-size, theft-prevention, and ability to hunt multiple stand locations. I believe these are the most important aspects to focus on when deciding on a tree saddle for hunting. This review will compare these categories to conventional tree saddles on the market.
My Experience Tree Saddle Hunting
Highly Mobile and Effective Pieces Of Equipment
Conventional tree saddles (tree saddles made entirely of fabric and rope) have worked great for me since 2016. This was when I made the switch from conventional tree stands (ladder, hang-on, and climbing). They've allowed me to hunt places most hunters would never dream to hunt because it's too difficult to put up a conventional treestand.
Saddle hunting has increased my success dramatically. Conventional saddles have enabled me to get away from the hunting pressure and find more productive spots to hunt while still have the advantage of being in a tree.
Conventional Saddles (

Fabric & Rope)

Are Uncomfortable
However, there was one aspect that was lacking for me, long-lasting comfort. After spending some quality time in conventional saddles, I became disappointed with my comfort when on-stand for long periods of time. At the time it was worth being uncomfortable in order to get far back into my hunting spots and be able to climb a tree. But in recent years I was getting tired of being so uncomfortable and fidgety in the tree, so I started looking at other saddles on the market.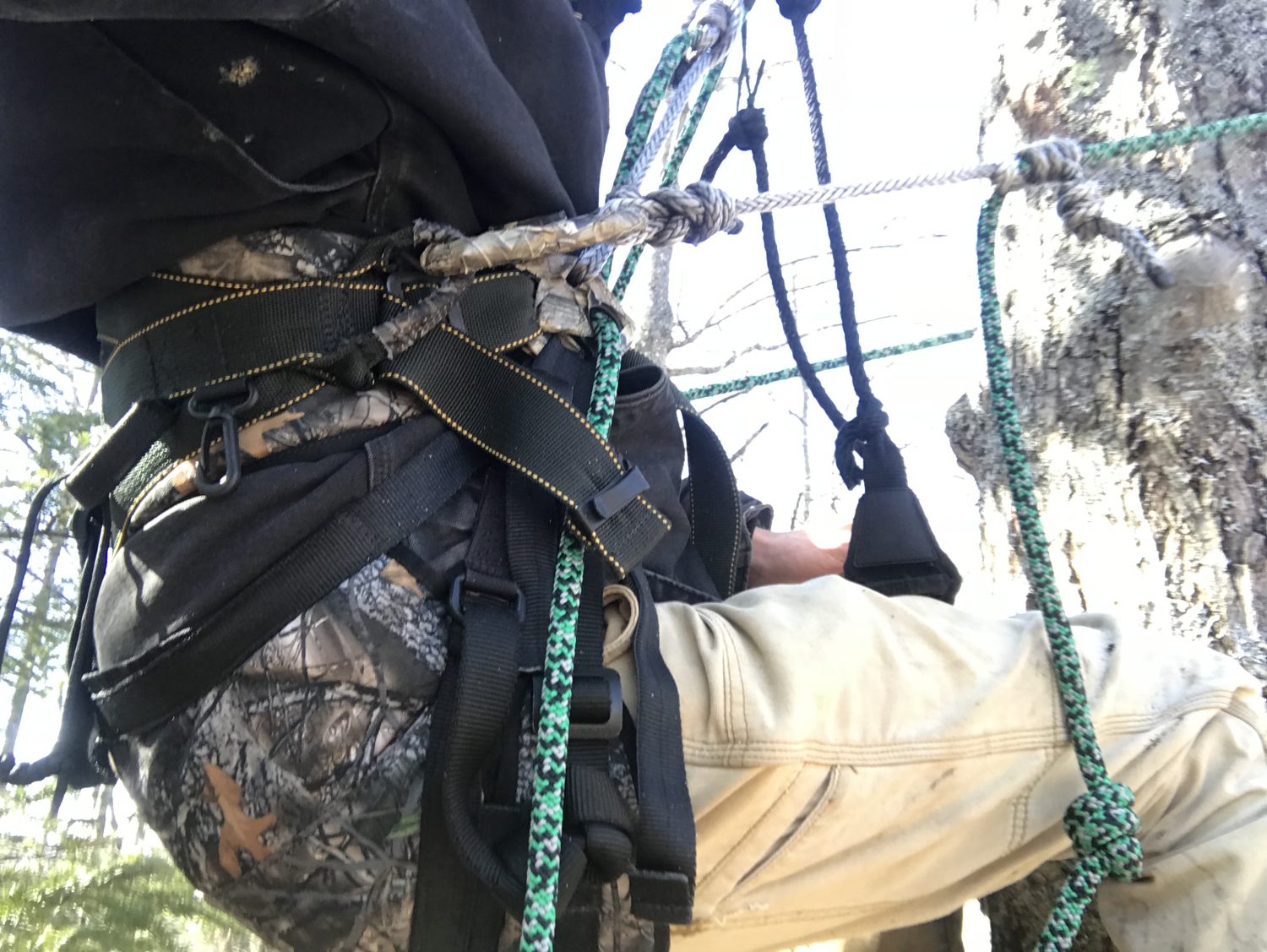 After a few hours my body just couldn't take the pinching at the hips, the cutting off of blood flow, and just couldn't be fully relaxed in the saddles, thus I would fidget…a lot. I wasn't about to have a missed opportunity at a big buck because I was fidgeting all the time. I knew I had to find another alternative.
Comfortable Tree Saddle Research
I've really enjoyed hunting in tree saddles over the years and loved every other feature of them so I didn't want to stop using them. So I did some research to see if there were any new saddles on the market that would be more comfortable.
New Saddles On The Market
Luckily, there are many more saddle-hunting options on the market than back in 2016 when I first made my switch to tree saddles, and technology had improved.
These new tree saddles consist of Tethrd Tree Saddles, newer versions of New Tribe Aero Hunter Saddles, Trophy Line Tree Saddle, and a few newer companies that offer similar features. However, after looking at reviews online they all had the same issues of causing discomfort over time. The fabric style designs aimed at keeping them as mobile as possible were the culprit for the discomfort.
I wanted a saddle that would be comfortable for the entire duration that I wanted to hunt. So I kept looking.
UPDATE: I tested 4 other saddles that are known for their comfort, you can find those reviews here to see how they compare to the JX3 Hybrid: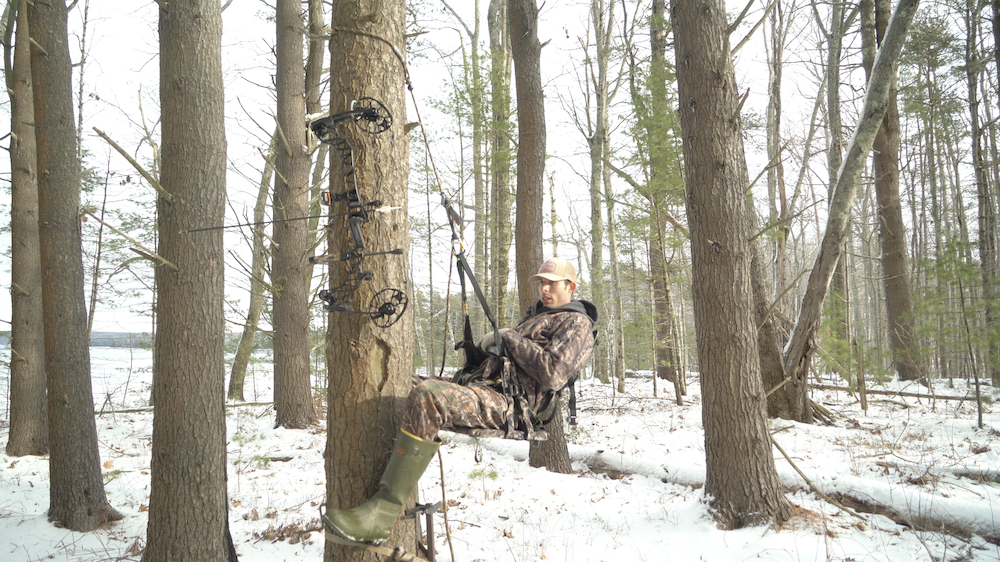 I had no issues sitting in the JX3 Hybrid tree saddle for 10 hours straight. It's like a recliner in a tree.
JX3 Hybrid Tree Saddle Evolved From Guido's Web Tree Saddle
Back in 2016, before buying a conventional saddle I was also eyeballing the Guido's Web saddle which was a bigger but comfier looking saddle. At the time I decided it was too big because I wanted to hunt as mobile as possible. Now that I was looking for a tree saddle that could keep me mobile while keeping me comfortable, I was willing to give it another look.
A quick Google search for the Guido's Web saddle revealed it had been bought out by JX3 Outdoors. JX3 updated and remodeled the Guido's Web to what is now known as the JX3 Hybrid Saddle.
This saddle was said to be lighter, more versatile, and easier to use than the Guido's Web. What are the odds? I couldn't believe my luck. I had to give it a try.
JX3 Hybrid First Impressions
Customer Service
I contacted John, the owner of JX3 Outdoors, to see if he would like a review of his JX3 in exchange for a JX3 to experiment with…and here we are. John is a really nice guy, is quick to respond, and ships his products quickly.
Ease of Use & Set-up Instructions
Out of the box, the JX3 is all put together and ready to go and comes with an instructions manual. If you're like me and prefer video instructions there is some good information on YouTube.
Field Testing The JX3 Hybrid Saddle
Works For Bowhunters and Firearm Hunters
I got my hands on the JX3 Hybrid Saddle at the beginning of November, just after the start of deer rifle season started here in Maine. I was able to put this saddle to the test in real hunting situations throughout the remainder of the hunting season. The saddle also works well for bowhunters. I practiced with my bow in the JX3 and it is just as easy to shoot out of as conventional saddles.
Putting The JX3 Hybrid To The Test
I'm normally hunting areas that most other hunters do not, in order to find mature bucks that aren't pressured as hard. For this reason, I am often trying to be as sneaky as possible as I wade a mile or so into thick swamps in the dark. This is why I am drawn to saddle hunting in the first place.
So I was curious just how mobile this saddle was, how much of a beating it could endure, how quiet it was, and how it competes with other saddles.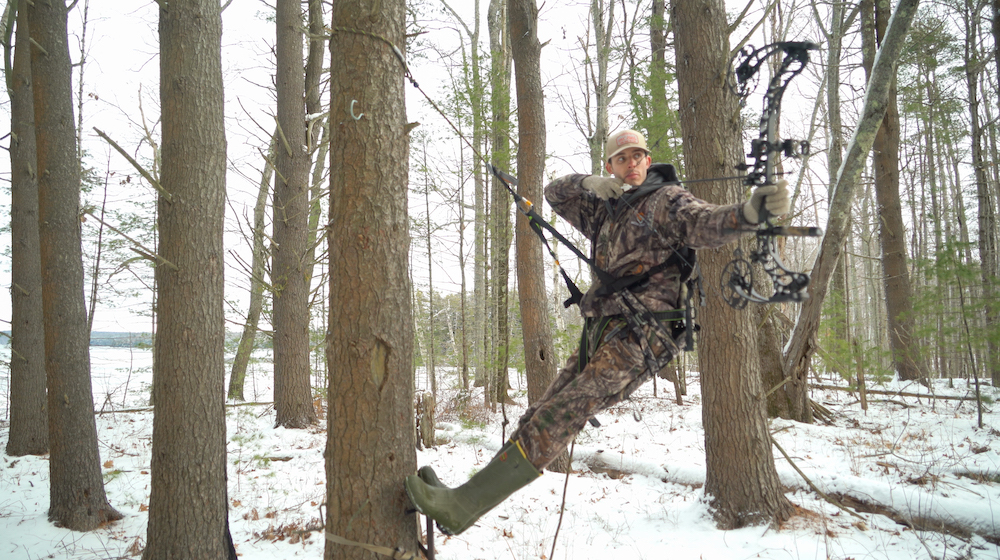 JX3 Hybrid Tree Saddle Review
I am excited to bring you this JX3 Hybrid saddle review because it doesn't disappoint and was actually more than what I was expecting.
JX3 Hybrid Tree Saddle vs Conventional Treestands (Ladder, Climber, Hang-on Stands)
In my opinion, tree saddles have a lot more to offer than conventional treestands. I have written about this in-depth in my post: Tree Saddle Hunting – Complete Guide | Should You Make The Switch?
Since I have already covered these topics in-depth, this post will not compare conventional stands to the JX3 Hybrid. Instead, this post will focus specifically on the JX3 Hybrid Saddle and how it compares to other saddles.
JX3 Hybrid Tree Saddle vs. Conventional Tree Saddles
In this review, I discuss the 13 most important categories to consider when purchasing a tree saddle for hunting. These 13 categories are listed below. The differences between the JX3 Hybrid saddle and competitor saddles are subtle in most cases. There is one big exception; comfort. The chart below depicts the ranking I gave for each of these categories. My reasoning for the scores of each of these categories is described in the proceeding paragraphs.
The JX3 Hybrid is built differently than other saddles so there are some benefits and drawbacks to take into consideration to determine if the JX3 Hybrid is right for you.
Categories of Review & Comparison
Comfortability

Mobility

Maneuverability

Safety

Durability

Versatility

Cost-Effectiveness

Stealthiness

Concealment

Imperfect Trees

Tree-Size

Theft-Prevention

Multiple Stand Locations
Is the JX3 Hybrid Comfortable?
Say goodbye to hip-pinching and numb legs & feet! Because of the metal frame, there is ZERO pinching at the hips or anywhere else like other saddles. Comfort is where the JX3 Hybrid really outshines conventional saddles. 
Metal Frame
The JX3 Hybrid has a metal frame. This is unlike conventional saddles which are made entirely of fabric and rope. There are some major comfort benefits of the metal frame. One benefit of the metal frame is that even when you're in awkward leaning trees the JX3 remains comfortable because the metal frame blocks the negative effects of gravity. In conventional tree saddles, gravity places more stress on your knees which makes them uncomfortable faster.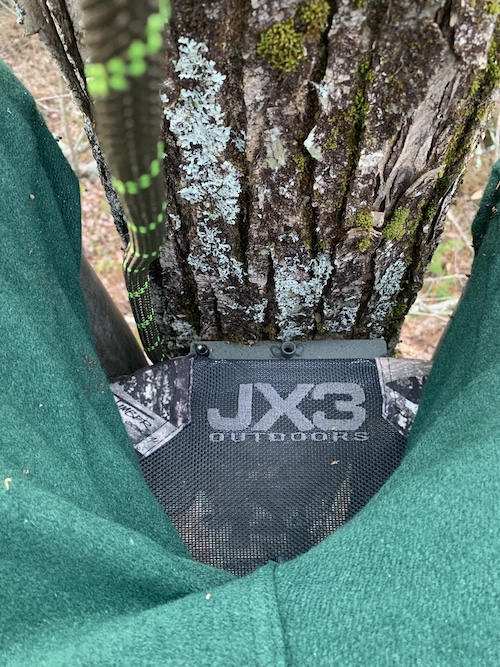 Metal Fork
Another benefit that the metal frame supports is the optional adjustable metal fork that can be attached to the frame which rests against the tree. With this fork, you separate yourself from the tree even further and gain more grip when maneuvering around the tree.
I don't have much experience with the metal fork because I preferred to keep a closer profile to the tree for concealment, so I didn't attach it often. Just using the metal lip worked better for me. When I did use the fork I did not find it all that much more helpful than the metal lip. It also seemed a little hazardous because it is fairly sharp and can scrape the back of your legs when maneuvering. The metal fork is adjustable. When I did experiment with it I found myself putting it as close to the seat as possible anyway. This helped keep it from scraping the back of my legs. I also found the screw to secure the fork would be somewhat in the way. With practice, this probably wouldn't be an issue but it's worth mentioning.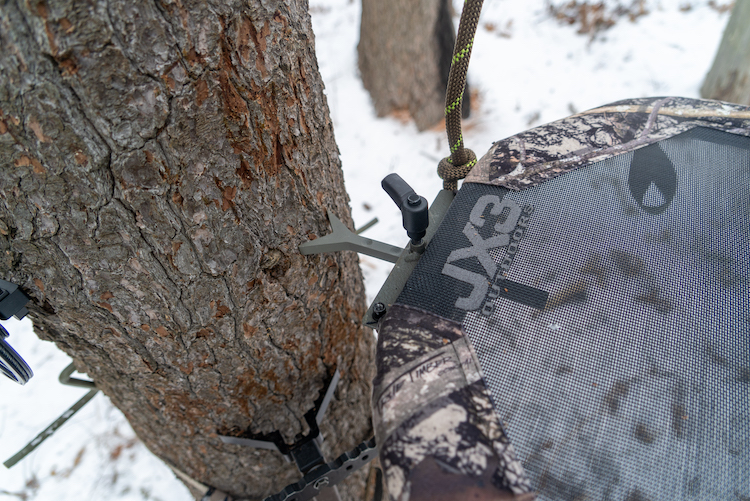 Adjustable Backrest
The backrest is also adjustable, allowing for adjustments to be made easily in the field while being used. If you start getting tired of sitting in a certain way, you can make the adjustments so you recline comfortably again.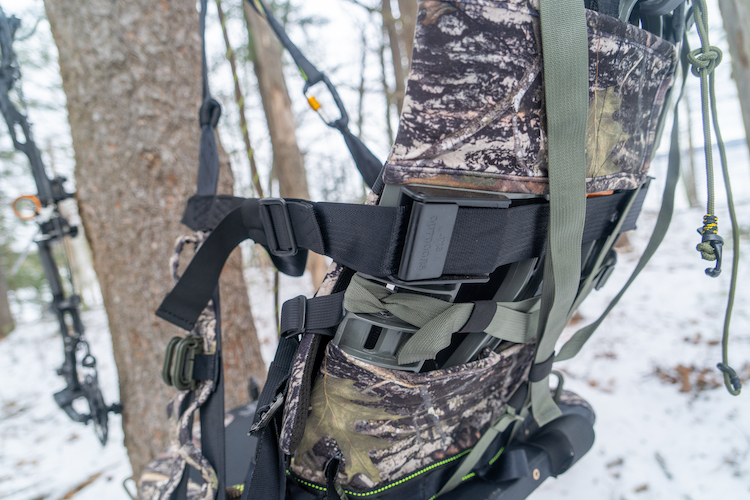 Your body can fully relax in this saddle. If you want to take a nap for a while, it is easy to do so. You can't nap well in other saddles because you can't lean back in them for long periods of time. Additionally, when you lean forward your head and neck get kinked on the bridge strap. This is not the case with the JX3 Hybrid. Instead, it's like being in a recliner in a tree. It's truly incredibly comfortable and I can't say enough good things about its comfort.
Tree Saddle Platform Comfort
In conventional saddles, I am always alternating my foot and knee placement a lot in order to maintain foot comfort (aka lots of fidgeting). Conventional saddles have a 45º-ish hammock-like angle that causes more resistance against gravity. This eventually causes foot and knee soreness.
The JX3 Hybrid takes a lot of pressure off your feet because of the 90º angle of the seat. This means the seat resists a lot of gravity. In the JX3 I only need to use my entire platform when I feel like it, instead of being forced to by discomfort. I really only need the top of my climbing sticks in order to rest my feet comfortably all day, the other steps of my platform are just for maneuvering.
Conventional Tree Saddles
Don't get me wrong, conventional tree saddles can be fairly comfortable. Adjustable straps located on the back and leg portions of these saddles allow for some customized pressure point relief. You can also attach back-bands to recline into. I've done all of that, however, I've found that they are short-term solutions that end up not working well the longer you sit on-stand.
I've personally found that the unnatural body position and soreness from conventional saddles causes physical and mental fatigue. This is quite draining on consecutive hunts where you don't have time to recover from the pinching of the conventional saddles. If you never plan to sit longer than 3-ish hours, you might be fine with a conventional saddle. After 3-hours you will probably only experience a little discomfort. In my opinion, they are at least better than non-mobile conventional treestands.
However, during the right time of year sitting all day is key to success for mature bucks. The ability to sit on-stand comfortably has made saddle hunting and stand hunting in general so much more enjoyable. For these reasons, I gave the JX3 Hybrid a 10 and conventional saddles a 6 out of 10.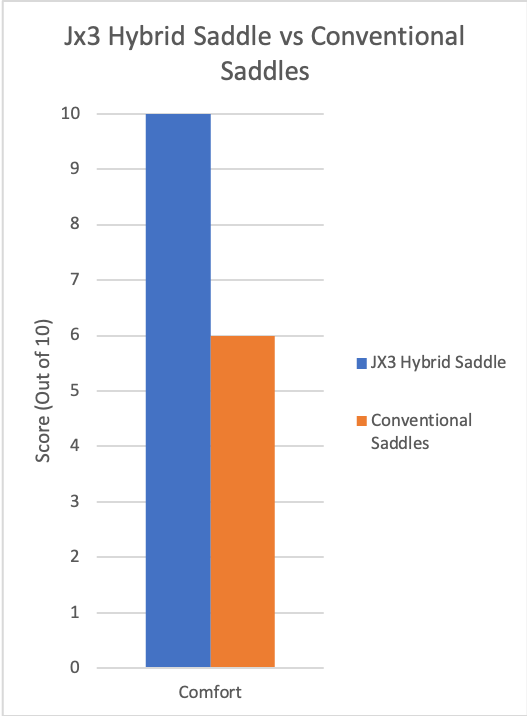 How Mobile Is The JX3 Hybrid Saddle?
How Much Does The JX3 Hybrid Saddle Weigh?
The JX3 Hybrid Saddle weighs about 13.8 lbs which is heavier than conventional saddles on the market. However, the JX3 Hybrid has backpack straps, the ability to store gear, and climbing sticks that can be attached to the frame. This made its mobility surprisingly good. It did not feel much heavier or cumbersome than conventional saddles.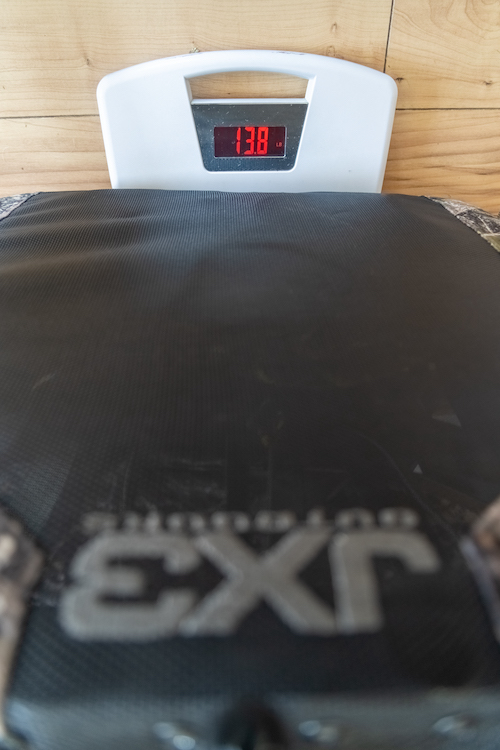 How Much Do Conventional Tree Saddles Weigh?
Conventional saddles weigh anywhere from 1-7 lbs and can be worn like a piece of clothing. They are inarguably more light-weight which aids in their mobility. Additionally, it is fabric so it can easily be rolled up into a small bag and placed into a backpack. It can also be worn to the treestand which is what I prefer when hunting in conventional saddles. I drape the ropes over my shoulders when walking to my stand making transportation simple and noise-free.
JX3 Hybrid Backpack Straps and Ropes
I found the JX3 Hybrid almost as easy to carry as other tree saddles because of how it is carried. The JX3 Hybrid is designed to be carried like a backpack and comes with backpack straps. With the JX3 I was able to tuck all the ropes into the compartment saddle itself so I did not have to worry about the tree strap and linesman's belt getting tangled. Another benefit of the JX3 Hybrid is it does not have a bridge rope. Instead, it has a built-in fabric bridge which was great because it was one less rope I had to deal with and get tangled up with.
Because of the backpack straps, the JX3 does not feel nearly as heavy as you would think. To be honest I can't really tell the difference in weight because it packs so nice and close to the body. It also did not make much noise when walking through thick brush because it is tight to your body. My main concern was that the JX3 Hybrid wouldn't be as mobile as I needed it to be, but I was pleasantly surprised when I found it to be a very mobile stand.
JX3 Hybrid Saddle & Climbing Sticks
One of my absolute favorite aspects of this saddle is that you can attach your climbing sticks to the back of the saddle frame.
That being said, you will have to figure out a way to attach them. The straps provided with the saddle aren't great for strapping climbing vertically (which is key) to the frame. This is key because you don't want your climbing sticks to get caught up in the brush. When you strap them vertically, walking through the brush is so much easier and quieter. 
This is an important feature for me because when using a conventional saddle I would have to carry my sticks in one hand or over one shoulder (which would sometimes slip off) and my bow in the other which feels cumbersome. With the JX3 Hybrid, I didn't have to worry about this because the sticks were on my back. This was worth the extra weight more often than not.
I gave the JX3 Hybrid a 9 out of 10 and conventional saddles a score of 10 out of 10 for mobility. They both work very well in their own ways, both have benefits and drawbacks.
Can You Maneuver Effortlessly In The JX3 Hybrid Saddle?
A good tree saddle will let you shoot a full 360º around trees as well as directly underneath. A good saddle will also allow you to push off the tree to change your vertical height slightly to shoot just above or below a branch while still being able to shoot comfortably. By fully extending my legs from my platform it raises my elevation a few inches. Scrunching up close to the tree lowers my elevation. Both the JX3 Hybrid and conventional saddles do a great job with this. The JX3 backrest does not get in the way when extending your legs as it forms to the body.
JX3 Metal Lip Alleviates Strain When Maneuvering
You might be surprised that I gave the JX3 a better maneuverability score than conventional saddles given the JX3 Hybrid's size. However, the JX3 Hybrid is a very maneuverable saddle, even more so than competitor saddles in my opinion. Because the JX3 has a metal lip on the front part of the seat frame, your knees are not needed as much for maneuvering. By rocking your body weight you can easily turn the saddle in the direction you want to go with very little effort. Since your knees are freer, you can use your legs for fine-tuning your movements and making your movements stealthier. This is one feature I appreciated when using this tree saddle.
JX3 Metal Fork Provides Grip When Maneuvering
The meal fork can be helpful for maneuverability because it digs into the tree allowing you to twist with minimal movement and no slippage because it digs into the tree. Personally, I did not use the fork much because it chews up the tree. I found the metal lip on the front works pretty much the same just with slightly less grip to prevent slippage when maneuvering.
Maneuvering With JX3 Hybrid On Platforms 
There are many types of saddle hunting platforms on the market. Based on my experience they should all work just as well with the JX3. You won't have to buy a new platform if you're already a saddle hunter. I still use the same platform method as I always have. I have been able to maneuver with equal success in both the JX3 and conventional saddles.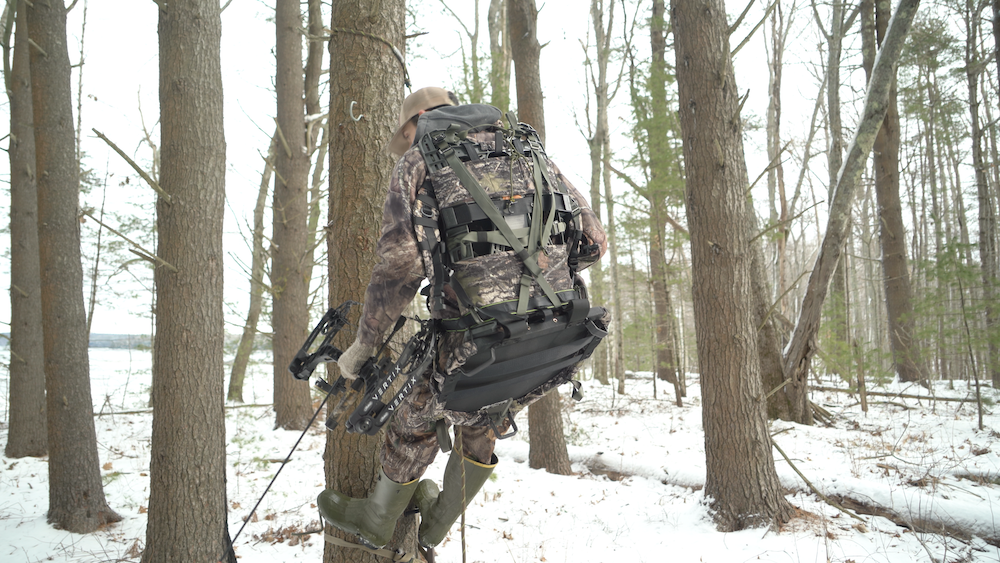 I found the JX3 slightly better for maneuvering in the tree. I liked that the metal lip could rock against the tree so that I could twist easier and with less strain. Because the JX3 reduces the amount of strain when maneuvering I gave it a score of 10 out of 10 and conventional saddles a 9 out of 10.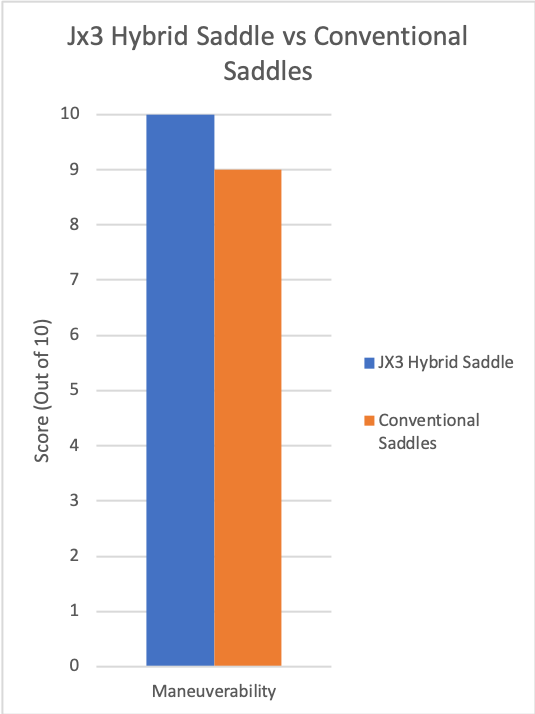 Is the JX3 Hybrid Saddle Safe?
In my opinion tree saddles, in general, are just as safe if not safer than treestands, the JX3 is no exception.
When used properly you are harnessed to the tree throughout the entire climb. When ascending the tree you are harnessed in with the lineman's belt. Once you get to the height at which you will be hunting you'll need to also use the lineman's belt to place the tree rope. The lineman's belt allows for a quick, painless, and safe installation of the tree rope. Once the tree rope is secured to the tree you can attach yourself to it via carabiner. Once attached, the lineman's belt can be removed. To descend the tree reverse the process.
If you encounter tree limbs that your lineman's belt cannot get around you can use the tree strap as a second linesman's belt. You can do this by re-attaching a second belt above the limb and removing the first belt from below the limb. Then you continue your way up the tree, thus being attached to the tree 100% of the time.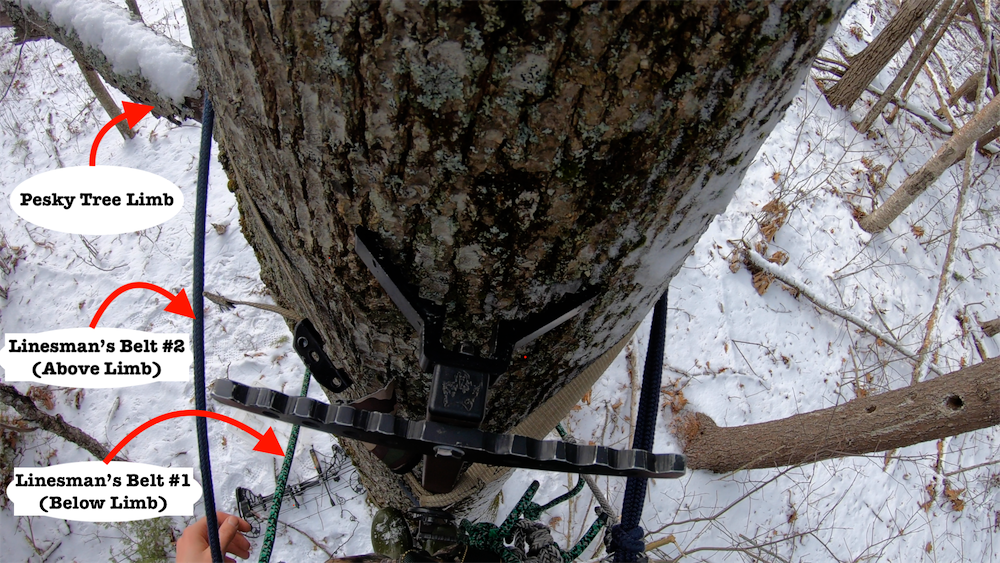 Because both the JX3 Hybrid and other saddle companies both allow you to be strapped in 100% of the time, they both scored a 10 out of 10 in the safety category.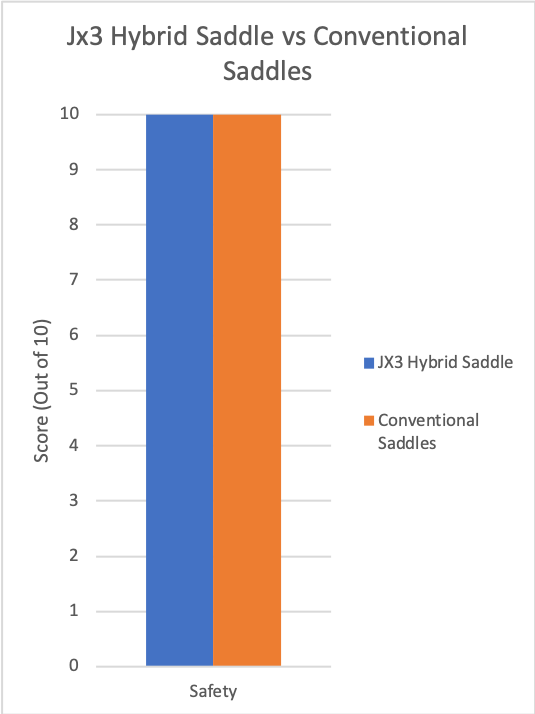 Is The JX3 Hybrid Saddle Durable?
I have not had enough time with the JX3 Hybrid to make this judgment. The seat fabric at first glance seems like it could stretch, wear out, or torn over time because it is thin. However, I contacted JX3 Outdoors to see if they have had any issues with the seat fabric. The response was that they had never had a return because of the fabric and provided the fabric specs:
"The fabric that is used is woven vinyl-coated polymer mesh which does not tear or split under pressure and offers exceptional abrasion resistance. In addition, it repels water and air-dries quickly and the PVC coating that covers the polyester core keeps water from soaking the yarn preventing any damage due to freeze and thaw."
In addition, I was provided a video that demonstrates the durability of the fabric which had made me feel much more confident in the seat durability over time.
If it can handle a screwdriver, it can handle sticks. Even after the fabric was eventually punctured, it did not compromise the integrity of the fabric much because other bands of the mesh appeared to be recruited to offset the punctured parts.
I gave both the JX3 Hybrid and conventional saddles a 10 out of 10 in the durability compartment because both are made of high-strength durable fabrics that will last a long time.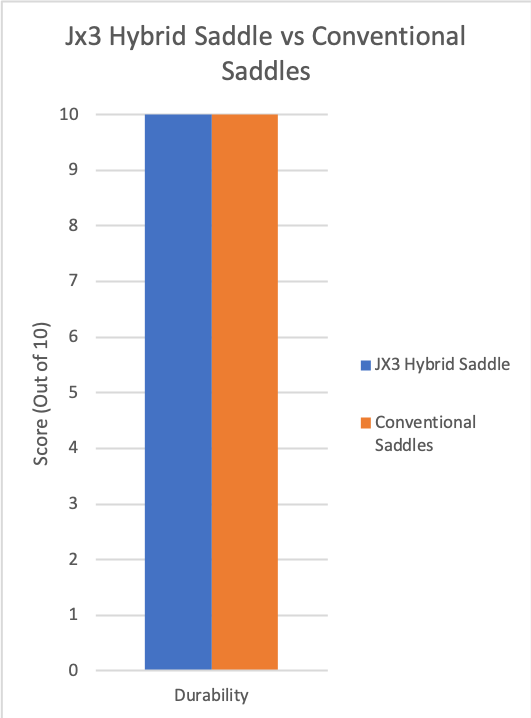 How Versatile Is The JX3 Hybrid Saddle?
Build-in Ground Chair
The Jx3 Hybrid is unique in that it doubles as a ground-chair. If a better setup presents itself from the ground, it can be used in that way. Additionally, this makes this saddle open to more types of hunting, like when mobile hunting for turkeys where a low profile seat is needed.
Built-in Bow Hanger
The JX3 also comes with built-in hooks on the sides of the saddle so that you can hang your bow from the saddle via the bowstring. I didn't find myself using this feature because when a bow is in the hanger its is pointed down towards the ground. This means it takes extra movement to get it shot-ready.
It might just be a habit, but I prefer my bow to be upright so all I have to do is take it off a hook and it's ready to shoot, resulting in minimal movement.
Packable Frame
Because of the strength of the high strength plastic and metal frame, the JX3 can be used to pack game out. There are a lot of straps for tightening making it a good option for packing game out. That being said, packing game out is not common where I live or practical where I hunt most of the time. It is also a Maine tradition to weigh the field-dressed deer, so quartering and packing out is not something I do much if any of. I do use the frame to pack my equipment to and from the treestand which I have found to be very helpful and comfortable. This is definitely a feature I miss when hunting out of conventional saddles.
Are the JX3 Hybrid Extras Worth It?
I don't use all of the versatile features that the JX3 offers. That is not to say that these features don't work, they are just impractical for me and my style of hunting most of the time. It is also important to note that I haven't used this saddle for anything other than deer hunting. That said, there is no downside to having these features so, why not? 
Because the JX3 Hybrid had more unique options it is clearly a more versatile saddle. For this reason, I gave the JX3 a 10 out of 10. Conventional saddles don't have this much versatility, but they do the important things well. For example, being mobile with the ability to set up in trees in all shapes and sizes. I gave conventional saddles a score of 8 out of 10 in the versatility category when compared to the JX3.
Is The JX3 Hybrid Saddle Cost-Effective?
Like all tree saddles, once you buy one you will not have to buy another treestand making it very cost-effective. It replaces the reason for buying multiple permanent ladder or hang-on stands, which adds up quickly. For example, one JX3 Hybrid = infinite treestands. Five hang-on or ladder stands = five treestands. Since all tree saddles have this ability, both were given a score of 10 out of 10.
How Much Does The JX3 Hybrid Cost?
The JX3 Hybrid costs about $395.00, you can check the price here. but as I mentioned it replaces the need for purchasing multiple conventional hang-on and ladder stands which adds up quickly. With the JX3 Hybrid, you can hunt anywhere at any time. Platform prices range because there are so many of them out there. The Ameristep Tree Steps that I use are around 2$-3$ apiece, and I rarely use more than 5. So for 15$, you can have an ideal platform.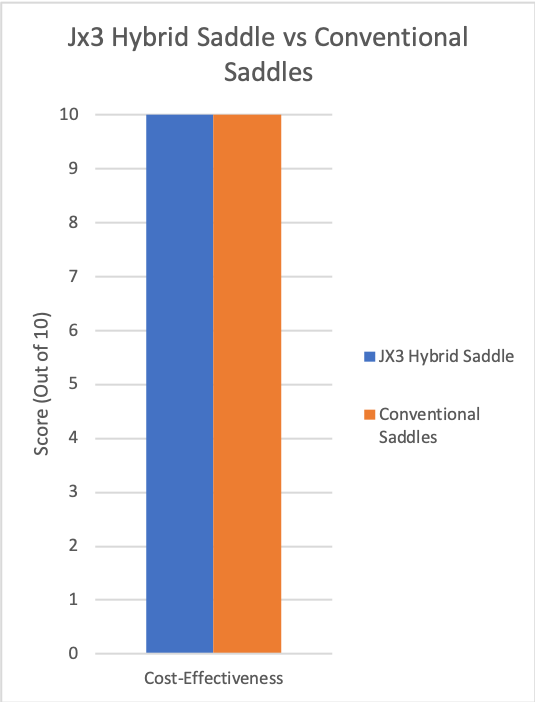 How Stealthy is the JX3 Hybrid Saddle?
The JX3 is less stealthy than competitor saddles. It's a bit bulkier and has less fabric and more plastic and metal. That being said, for its size and materials, it is surprisingly quiet.  Much of the metal and plastic is covered with fabric. I don't have any problems with metal noise other than the carabiners, which I taped to prevent clanging (I do this on all other saddles too). Also, it's carried tightly against your back so branches and whips have a hard time slapping the JX3 Hybrid when being carried.
Because the JX3 is a little larger and made with slightly noisier material I gave it an 8 out of 10 when compared to competitor saddles which received a 10 out of 10.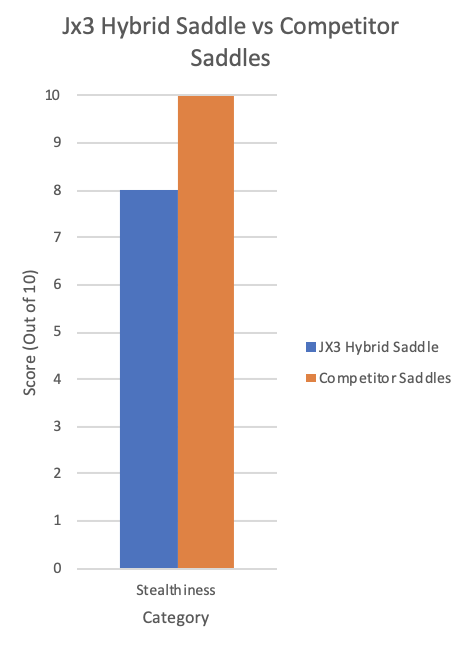 JX3 Hybrid Concealment
Like conventional saddles, another great benefit of the JX3 Hybrid is that it enables me to use the tree to my advantage. For example, if an animal is coming from a certain direction, you can move so that the tree is between you and the animal to stay concealed. Another perk is that since you do not have to cut limbs down to get up a tree as touched on in the 'Imperfect Trees' section above. This allows you to leave natural cover to blend in better and stay more concealed.
The JX3 is a bit larger than conventional saddles and because of the frame of the seat, you can't hunker down as close to the tree trunk as you can with other saddles. I don't see this having any negative effects because it's only a foot or so difference. For this reason, I have the JX3 a 9 out of 10 and conventional saddles a 10 out of 10.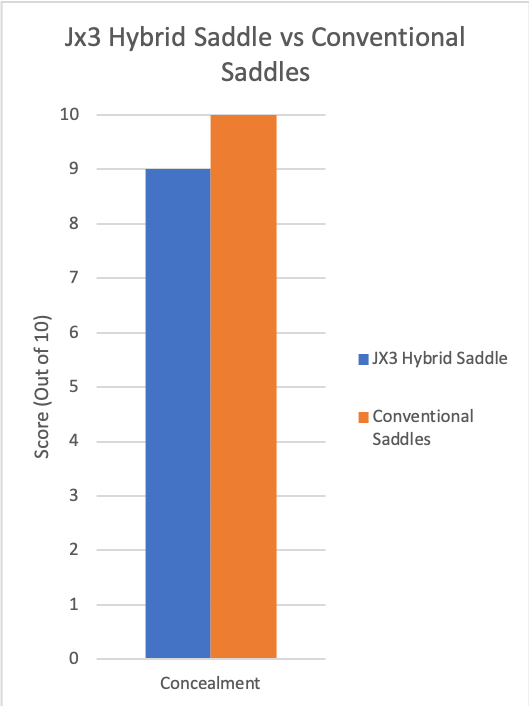 Can The JX3 Hybrid Saddle Be Set-up In Imperfect Trees?
Both the Jx3 Hybrid and competitor saddles are able to climb ugly trees that are full of branches without cutting the limbs and never detaching yourself from the tree. The benefit of this is; during run and gun setups you can put yourself in the best spot possible, even if the tree isn't perfect. You can also hunt trees that are leaning. With a higher selection of trees available I have been able to put myself in better positions making my hunts more successful.
I gave the JX3 an 8 out of 10 because the JX3 is a bit bulkier and it is only slightly more difficult to climb up limby trees, especially in the brush because parts of the saddle tends to get caught by twigs so set up takes slightly longer. Conventional saddles scored a 10 out of 10 for their ability to set up in imperfect trees quieter and easier.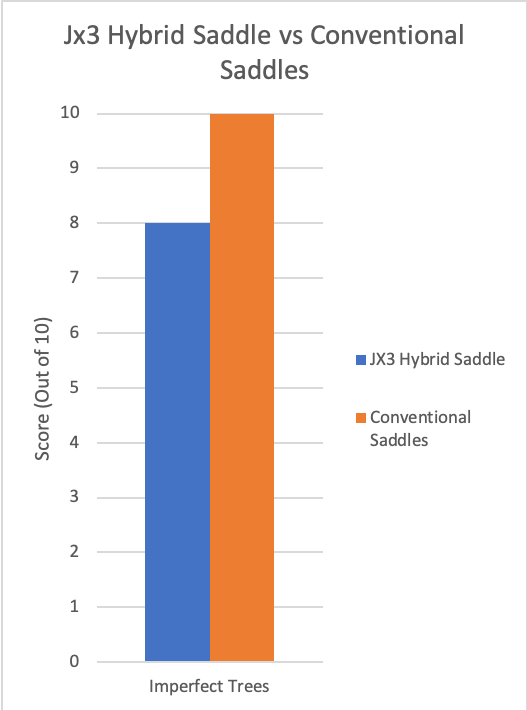 Can The JX3 Hybrid Saddle Set-up In Different Sizes Of Trees?
I gave both the JX3 Hybrid and competitor saddles a 10 out of 10 for their ability to climb trees of any size that will support your weight. The size of the JX3 Hybrid does not affect its ability to climb both small and large trees. I have found this to be important in swamps where vegetation is stunted.
The ability to hunt smaller trees gives me the ability to hunt where other hunters cannot. You can also hunt trees as large as the linesman and tree rope will reach which will allow you to climb trees over 30 inches in diameter. If you need to hunt larger trees you can purchase or create your own linesman's ropes to meet your needs.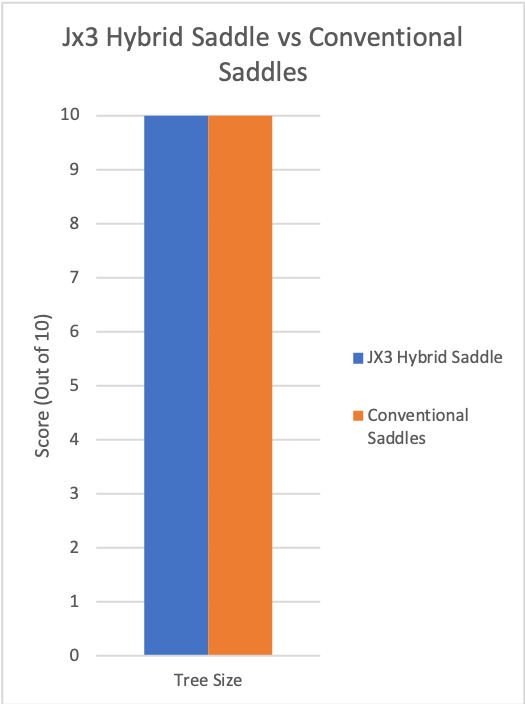 Theft Prevention
Theft can be a problem on public lands, and even on private land! The peace of mind of being able to take tree saddles home at the end of the day is huge for me. There's nothing worse than getting excited about going hunting only to find your stand missing or damaged. Additionally, not having a bulky ladder or hang-on stand permanently placed on a tree prevents treestand locations from being discovered by other hunters.
Since the JX3 Hybrid and conventional saddles are meant to bring in and out of the woods after every hunt, theft is not a problem. Thus, both were given a score of 10 out of 10 in this category.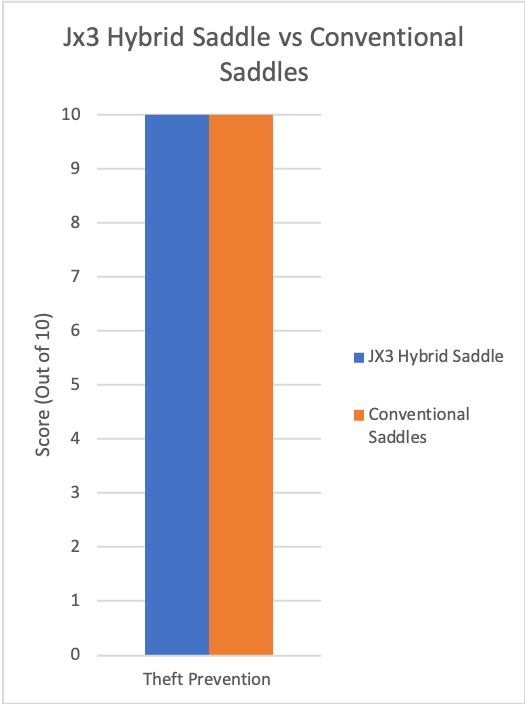 Can You Hunt In Multiple Stands With The JX3 Hybrid Saddle?
Hunting in the same treestand repeatedly will quickly burn out your spots. The first couple sits are the most effective. This makes permanent ladder and hang-on stands easy to over-hunt and for big bucks to pattern your movements. To increase my success I like to spread out my hunting pressure within multiple high-odd locations and hunt them when conditions are right. This keeps my stands fresh.
Tree saddles are great for this because you are able to hunt anywhere you want on any given day because tree saddles come home with you after every hunt. Both the JX3 and competitor saddles are simple and easy to set-up so I can avoid hunting the same trees over and over. This keeps hunting spots fresh, making each hunt essentially the "first sit". For this reason, both were given a score 10 out of 10.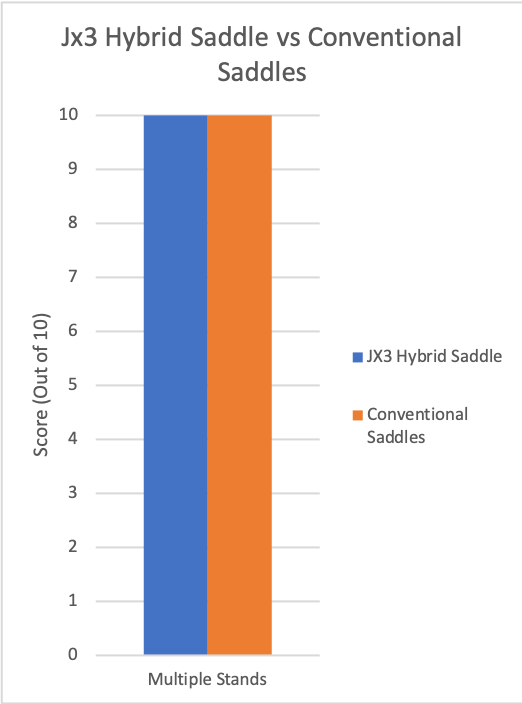 JX3 Hybrid Considerations & Suggested Improvements
Mount For Climbing Sticks
A place to solidly strap in climbing sticks vertically. Or an attachment that can be placed on the frame in order to do this. This would improve mobility and ease-of-use.
Backrest Slipping
One issue I had was that the backrest kept slipping off the metal-framed seat on one side. This only happens a few times over the course of a day. It was a little startling because it would happen suddenly, but did not affect overall comfort much.
Metal Fork
When maneuvering the optional metal fork that comes with the saddle can scrape the back of your legs or worse if not careful. I've found the metal lip is a better alternative anyway and does not damage trees as bad.
Longevity
After reading the instruction manual that came with the saddle I noticed that it is only recommended to use the saddle for 5 years before replacing the saddle. If the saddle is taken care of it will likely last longer, but for safety, the manual recommends replacing it every 5 years, which is not a very long period of time.
Strap Tightening
I would like to have straps that tighten easier. Due to the fastening buckle used the straps on the back of the saddle are difficult to tighten especially with cold hands. It would be great to have a buckle that could tighten and loosen very easily.
Is The JX3 Hybrid Saddle The Best Tree Saddle On The Market?
Like all tree saddles, they are a tool. One scenario may be better suited for a conventional saddle, another may be better suited for the JX3 Hybrid, and another for a conventional hang-on stand. It all depends on the specific hunt and your experience on how you will be best able to accomplish your goals for that specific hunt.
That being said, in my opinion, there are many more instances to use the JX3 than to not. What's the point of carrying in a lightweight saddle if you're not going to enjoy yourself and can't focus on the hunt? The JX3 Hybrid can do whatever conventional saddles can do. Sure it might just take slightly longer or be slightly more cumbersome, but not enough to make a big enough difference to sacrifice comfort. What's the point of using a conventional saddle that will get you in a tree 10% faster and quieter only to get up in the tree for a fraction of the comfort?
Is The JX3 Hybrid Saddle Right For You?
Comfort
The JX3 Hybrid and conventional saddles are neck and neck in most cases. The key takeaway is that the JX3 Hybrid offers much better comfort. And in my opinion, comfort should be a high-value determining factor when purchasing a tree saddle. Comfort is what allows you to sit on-stand longer, which increases hunting success, and results in hunting enjoyment.
All-Day Hunts
Based on my experience with the JX3 Hybrid it is the best mobile option currently on the market for all-day sits and is what I choose to use in those scenarios.
When It's Not Necessary to Use The JX3 Hybrid
Quick Hunts
If you're only sitting for a few hours and need the most stealthy and mobile piece of equipment possible, a small fabric saddle is often the way to go. I killed a really nice buck waiting for the conditions to be just right to sit one time. The conditions ended up being perfect 30 minutes before sunset which meant I had 1 hour of huntable light. I also had to walk a half-mile or so and get into a swamp. An hour is barely enough time to get uncomfortable in a conventional saddle. I wanted the lightest and quickest method to get in and out. A conventional fabric saddle was the way to go. I ended up killing that buck 5 minutes before legal shooting light was over.
JX3 Hybrid Final Thoughts
I made the switch from lightweight conventional fabric saddles to the JX3 Hybrid Saddle made by JX3 Outdoors I haven't looked back. What's the point of using a lightweight conventional saddle if you're so uncomfortable you can't enjoy yourself and can't focus on the hunt? 
UPDATE: I tested 4 other saddles that are known for their comfort, you can find those reviews here to see how they compare to the JX3 Hybrid:
In my opinion, the JX3 Hybrid tree saddle is one of the best saddles currently on the market right now. I'm excited to put this saddle to the test even further in upcoming hunting seasons.
If you're interested in the JX3 Hybrid, you can find it by heading over to the JX3 Outdoors Website.
JX3 Hybrid Return Policy
JX3 Outdoors offers a 30-day money-back guarantee. The customer is only responsible for return shipping. I think it is fantastic that you can test this saddle and make sure that it is exactly what you are looking for, and if it is not you can return it.
Conclusion
I hope you've found this JX3 Hybrid review helpful. If you have questions or comments you can leave them in the comments section below.
Don't forget to check out my other Saddle Hunting Posts if you haven't already:
Tree Saddle Hunting – Complete Guide | Should You Make The Switch?
Aero Hunter Tree Saddle Review: A New Tribe Tree Saddle For Hunting
Follow me on: