This hands-on Maven RF.1 review dives into Maven's best rangefinder to determine if it is worth the money. Build quality, price, glass quality, display, illumination, weight, battery life, ease of use, button layout, range… and more were examined.
This post contains Amazon and other affiliate links, which means I'll receive a commission if you purchase through my link, at no extra cost to you. Of course, you are not obligated to use my links, but it does help fund these posts in hopes of bringing more value to you!
Maven RF.1 Review – What I Liked
Direct-to Consumer Pricing
Maven sells their products direct to the consumer, which allows them to bypass the retail model of selling products which makes products more expensive.
Since Maven sells directly to the consumer there is no price mark-up, allowing them to sell you better optics at lower prices.
Durability and Rubberized Grip
The Maven RF.1 feels great in the hand. It's lightweight (10 oz) yet feels very durable due to the rubberized coatings on top of the magnesium/aluminum frame material that makes it feel like it can handle the shock if accidentally dropped. The rubber coatings also provide an excellent grip.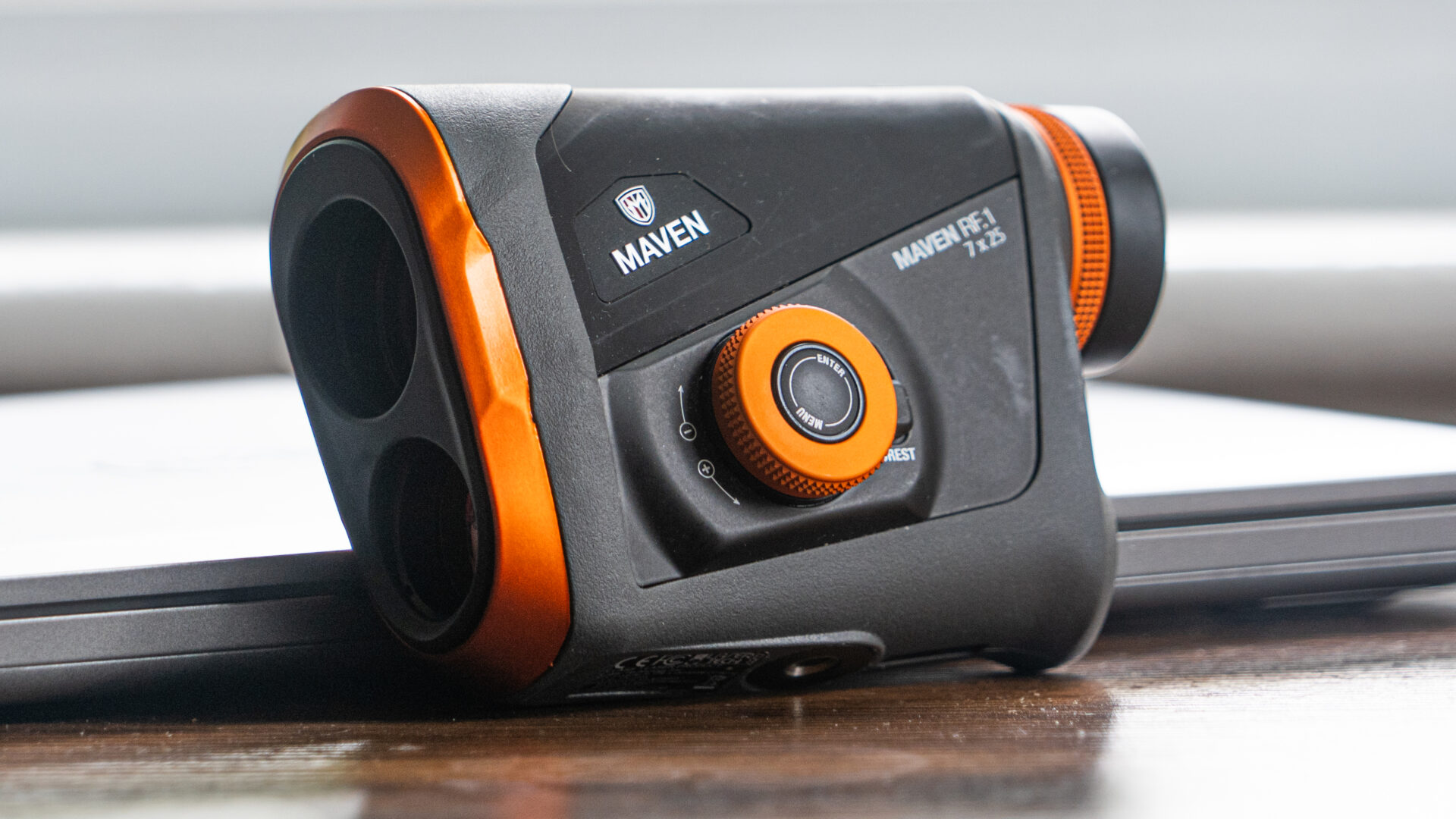 Toggling Menu Options and Settings
The dial on the side of the Maven RF.1 makes toggling menu options and settings a breeze and is something I really like about this rangefinder. However, there are some cons to this dial which we will cover below.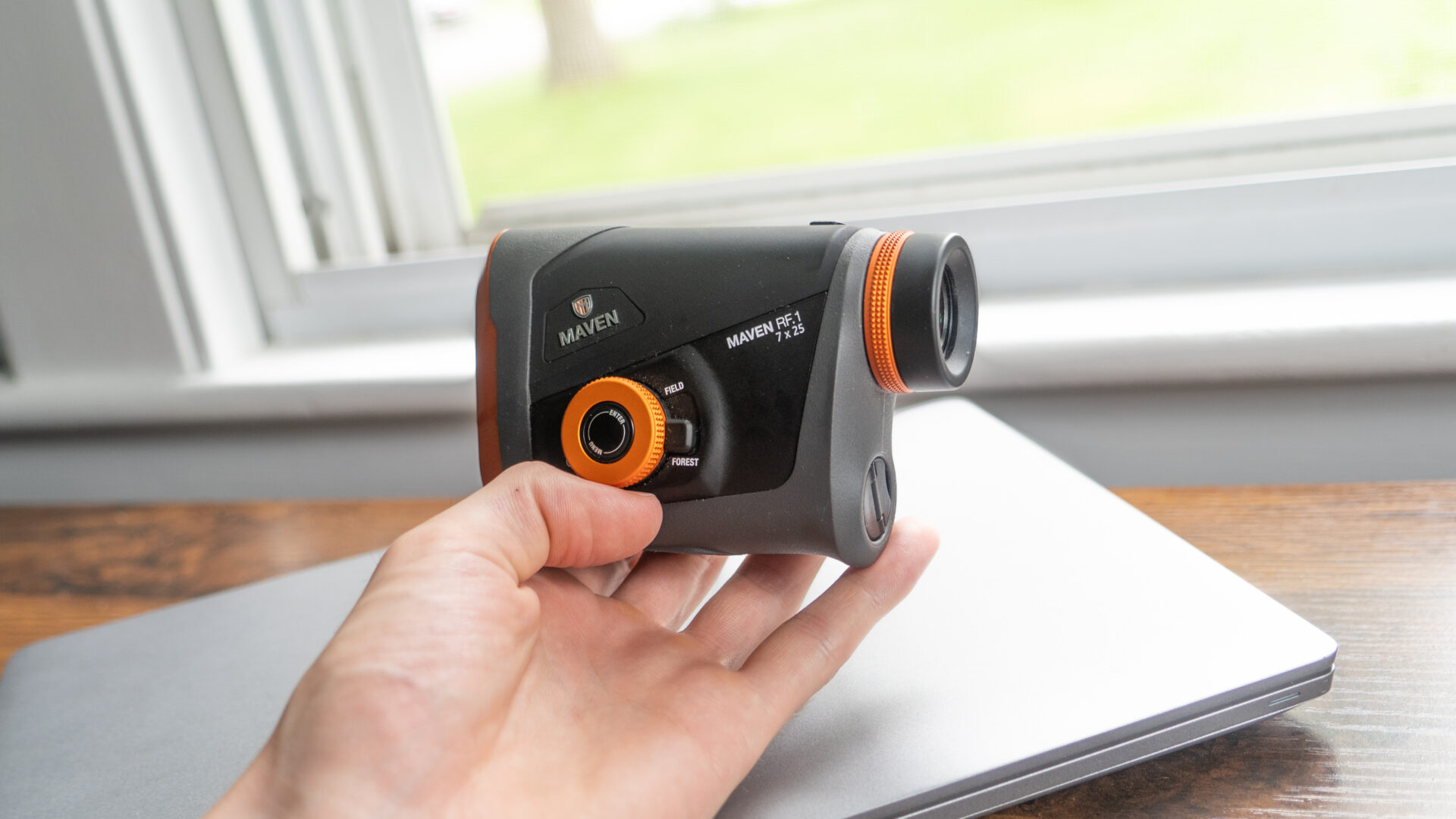 Eye Focus Ring / Diopter Adjustments / Glass Quality
There is an adjustable focus ring so that you can dial this rangefinder to your eye perfectly so you can see clearly.
For even better viewing there's an adjustable diopter. This helps keep the rangefinder at the perfect distance from your eye. Hunters with glasses will especially like this feature.
These features with the excellent glass quality make the RF.1 very crisp and clear. Compared to my old, cheap, rangefinder, there is a big difference in optic quality, making it easier to find your target.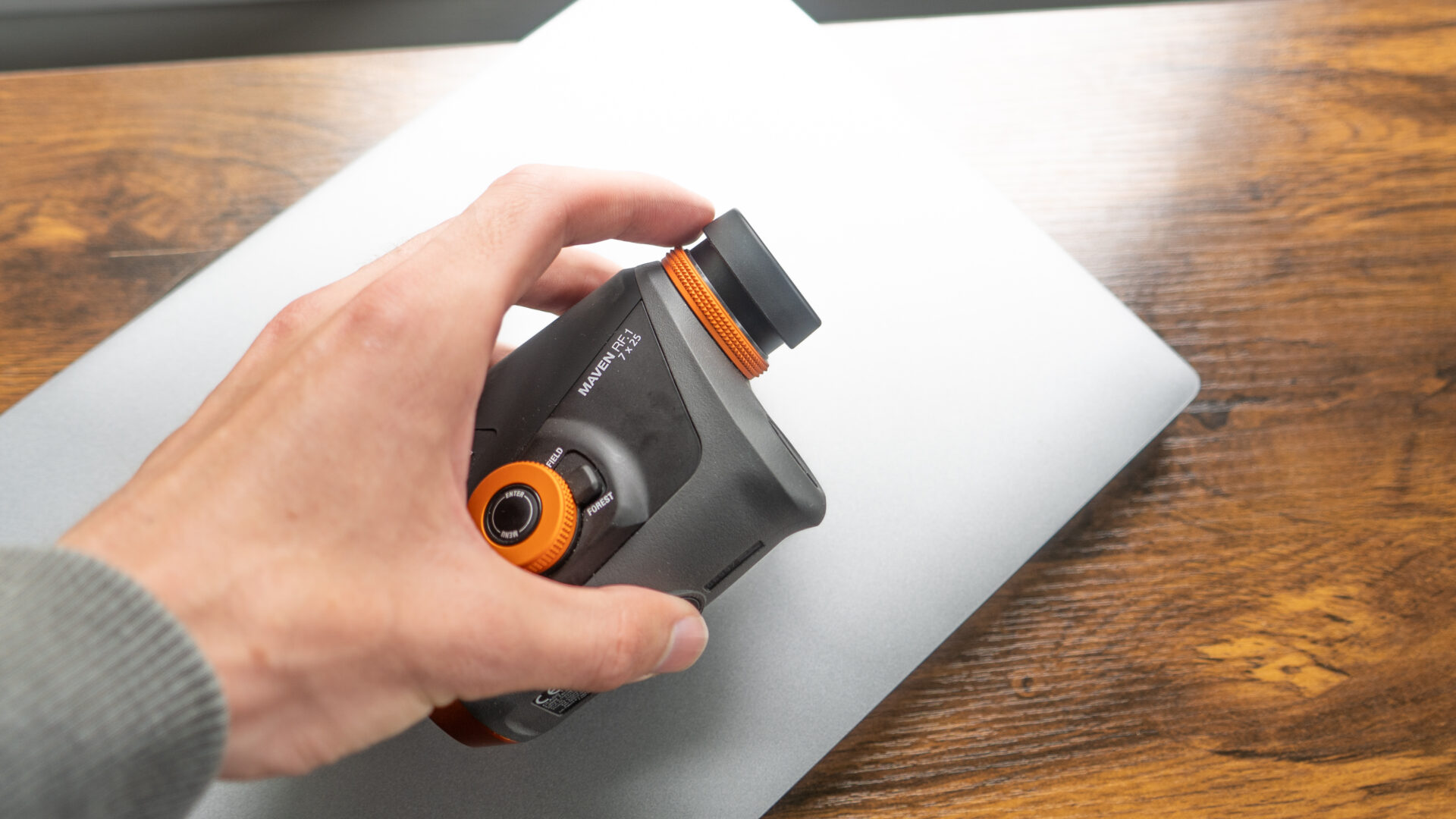 Battery and Battery Life
The battery is also easily accessible and is a tool-less design so it's easily replaced. This rangefinder's battery will last >3500 range cycles, which is what you would expect in a quality rangefinder.
Tripod Mounting Threads
Tripod threads are very handy for long-distance shooters because having a stable platform to ensure you're ranging accurately at those long distances is key. The threads are found on the bottom of the rangefinder for easy mounting.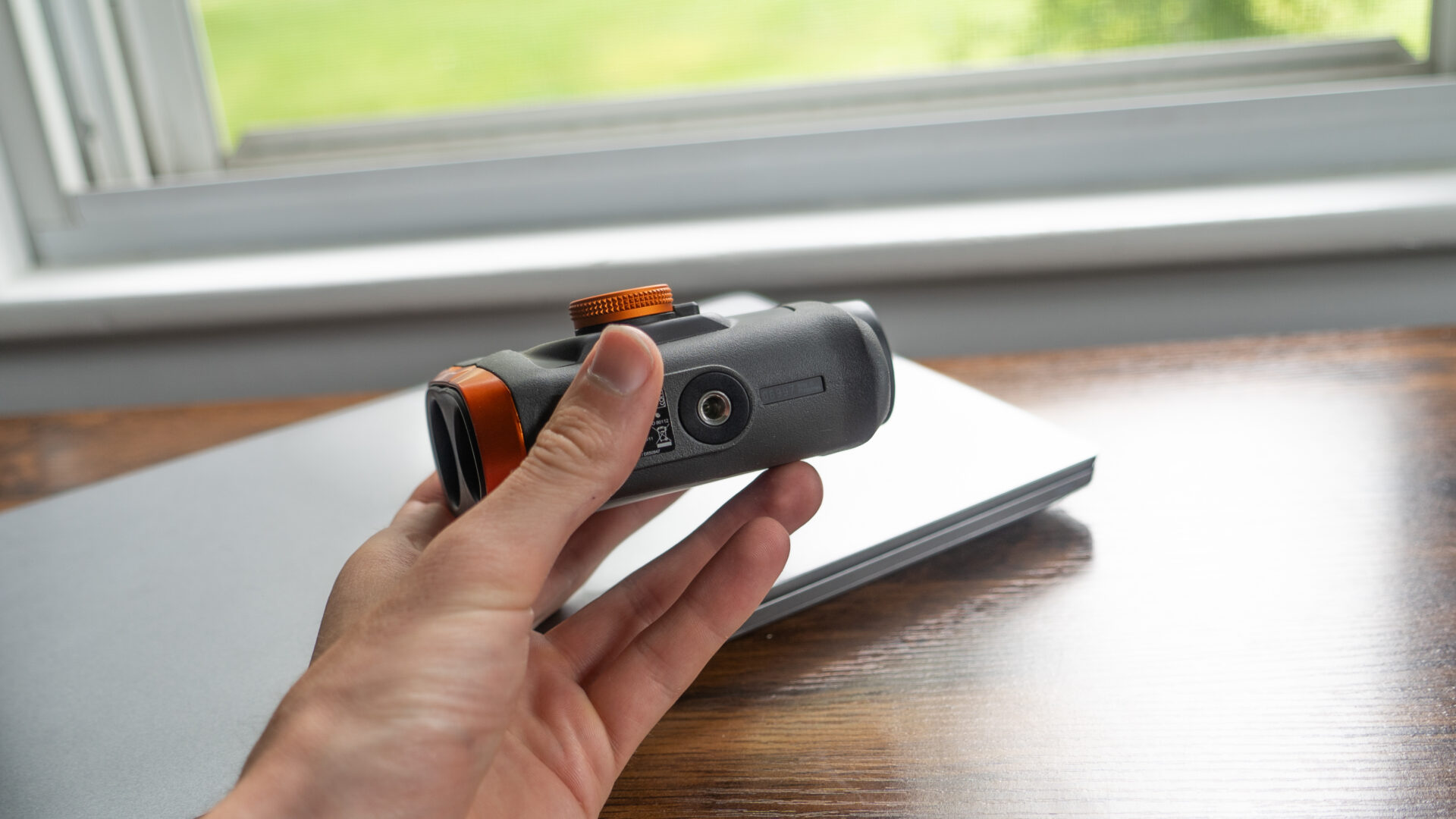 Reticle Brightness Dial
There is a brightness dial to adjust brightness depending on your situation. This is essential for both low-light and bright hunting situations to ensure you can get an accurate read on your target no matter the conditions.
Forest (FOR) Mode vs Field Mode (FLD)
This rangefinder has two modes Forest (FOR) Mode and Field Mode (FLD). To increase ranging accuracy this rangefinder will change the way it measures distances depending on which setting you choose.
FLD
When set to FLD mode it will range the closest object. You would want this in a field so you don't end up ranging something further in the background behind the target.
FOR
When set to FOR mode it will range the furthest target when holding down the button. You'd want this feature if there were obstacles in the way of your target, like the brush in a forest setting. This way you can be sure you're ranging the target and not the brush in front of the target.
Angle Compensation
The Maven RF.1 does have angle compensation which is important for having the most accuracy when bowhunting and rifle hunting at closer ranges (within ~400 yards).
Line of Sight (LOS)
The RF.1 also has a line of sight mode which is great for longer shots ~400 yards+ where a more precise/manual calculation is needed for the most accurate shots with a firearm.
Change Reticle
Another cool feature of this rangefinder is that you can change the reticle. This is helpful for ranging at different distances. For example, you can choose a more precise reticle for longer ranging applications and vice versa.
Yards and Meters Toggle
The ability to toggle between yards and meters is a great feature because people use different metrics for shooting. The ability to toggle between both makes is a more usable rangefinder to a wider variety of hunters and shooters.
Max Ranges of the Maven RF.1
The RF.1 max reflective range is 4500 yards.

The RF.1 can range trees out to 3000 yards.

The RF.1 can range deer out to 2700 yards.
This rangefinder is by far the best at ranging at long distances when compared to other top rangefinders on the market, especially for the price.
For example, in the Top Rangefinders of 2023, you will see that the next runner-up for distance is the Sig Sauer KILO5K which can range deer at 2000 yards, and it costs almost 200$ more than the Maven RF.1.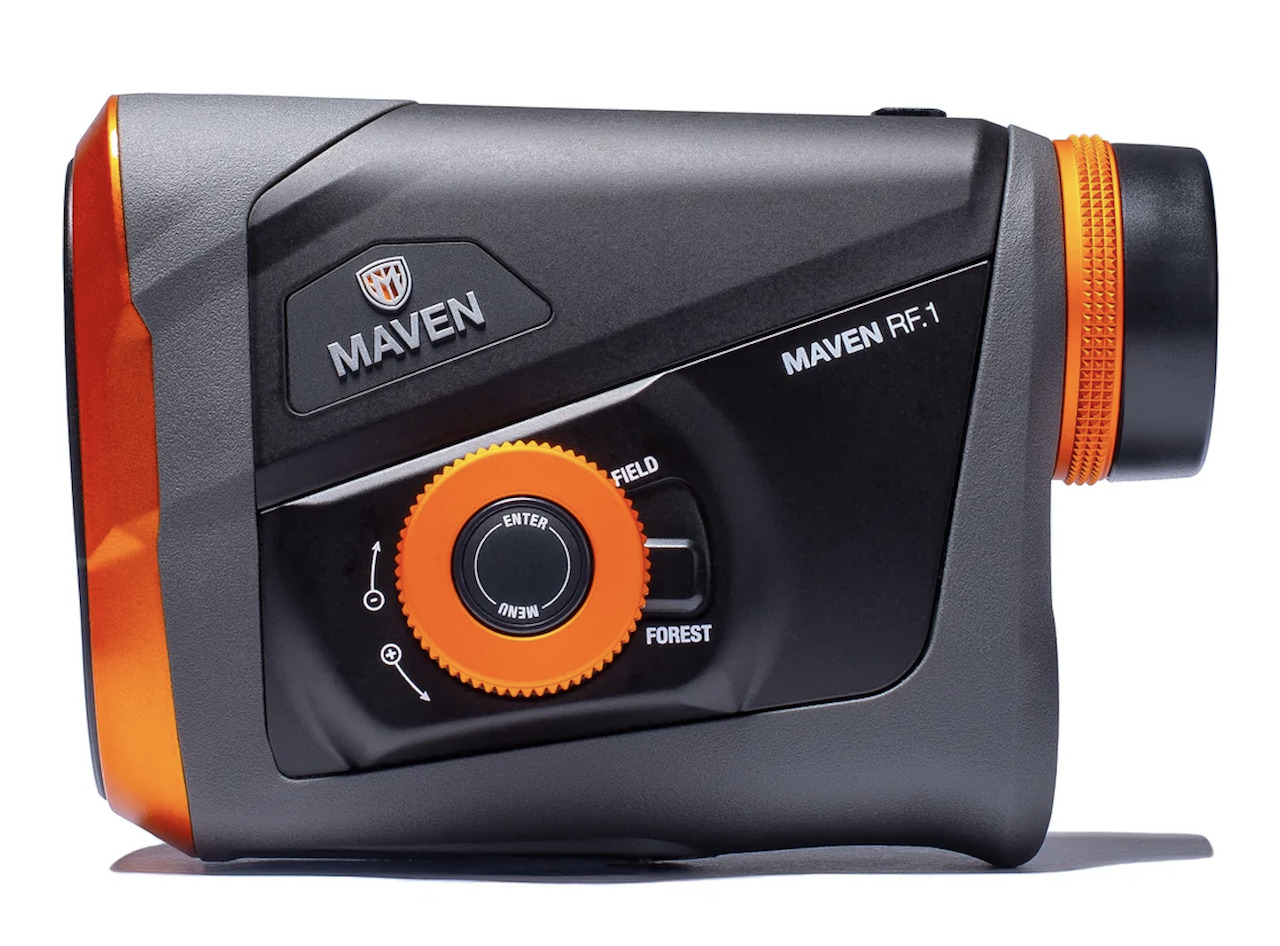 Maven RF.1 – Things to Consider
Usability
Overall, the usability of this rangefinder is great but I had a few considerations to note. First, the one-handed operation of the brightness and ranging buttons at the same time is tricky.
I felt like I needed to use both hands when I wanted to change the brightness of the reticle. This is not an issue unless you forgot that your brightness is maxed out and then try to range an animal at the first minutes of legal shooting time…it will blind you.
I found myself needing to use both hands to turn the brightness down because my thumb is not able to move the brightness knob very well with one-handed operation.
Left Handed vs Right Handed Use
Additionally, to my knowledge, there is no left-handed version of this rangefinder which means it will definitely be a two-handed operation if you're trying to make any brightness changes when trying to range.
Knob Bulk
Additionally, keep in mind that the small knob on the rangefinder does stick out a bit and it can get caught on things. However, the knob is pretty slick for making brightness changes and toggling the menu system, so there is a trade-off there.
Maven RF.1 Final Thoughts
For the price, the Maven RF.1 is hard to beat. It has impressive specs compared to other top rangefinders on the market that have much higher price points, making it a great value.
If you're in the market for a new rangefinder you can't go wrong with the Maven RF.1.
Maven RF.1 Owners Manual
Hopefully, you found this Maven RF.1 review helpful. If you're looking for more information on the Maven RF.1 rangefinder you can download the manual here. You can also find more information about this rangefinder on Maven's website.
More Hunting Optic Posts:
Find Me On: