These are the warmest hunting boots on the market for winter and cold weather hunting. The boots in this post are designed with tree stand hunters or relatively stationary hunters in mind.
As a Maine hunter, I know how important it is to keep your feet warm in the cold for enjoyable hunts. You'll find the best hunting boots for cold weather and winter hunting below:
This post contains Amazon and other affiliate links, which means I'll receive a commission if you purchase through my link, at no extra cost to you. Of course, you are not obligated to use my links, but it does help fund these posts in hopes of bringing more value to you!
The 4 Top Picks
Warmest Rubber Boots For Hunting
Baffin Titan Rubber Pac Boots
These Baffin Titan rubber boots are comfort-rated to -148ºF (-100ºC). They are perfect for hardcore hunters who hunt stationary for long periods of time (like in a treestand) in the cold winter weather months. Also, they are waterproof, scent-free, and have removable liners for extra insulation and warmth. Since they're waterproof, you can be sure your feet stay dry, which is essential for hunting in cold weather. For how warm they are, they are not that heavy.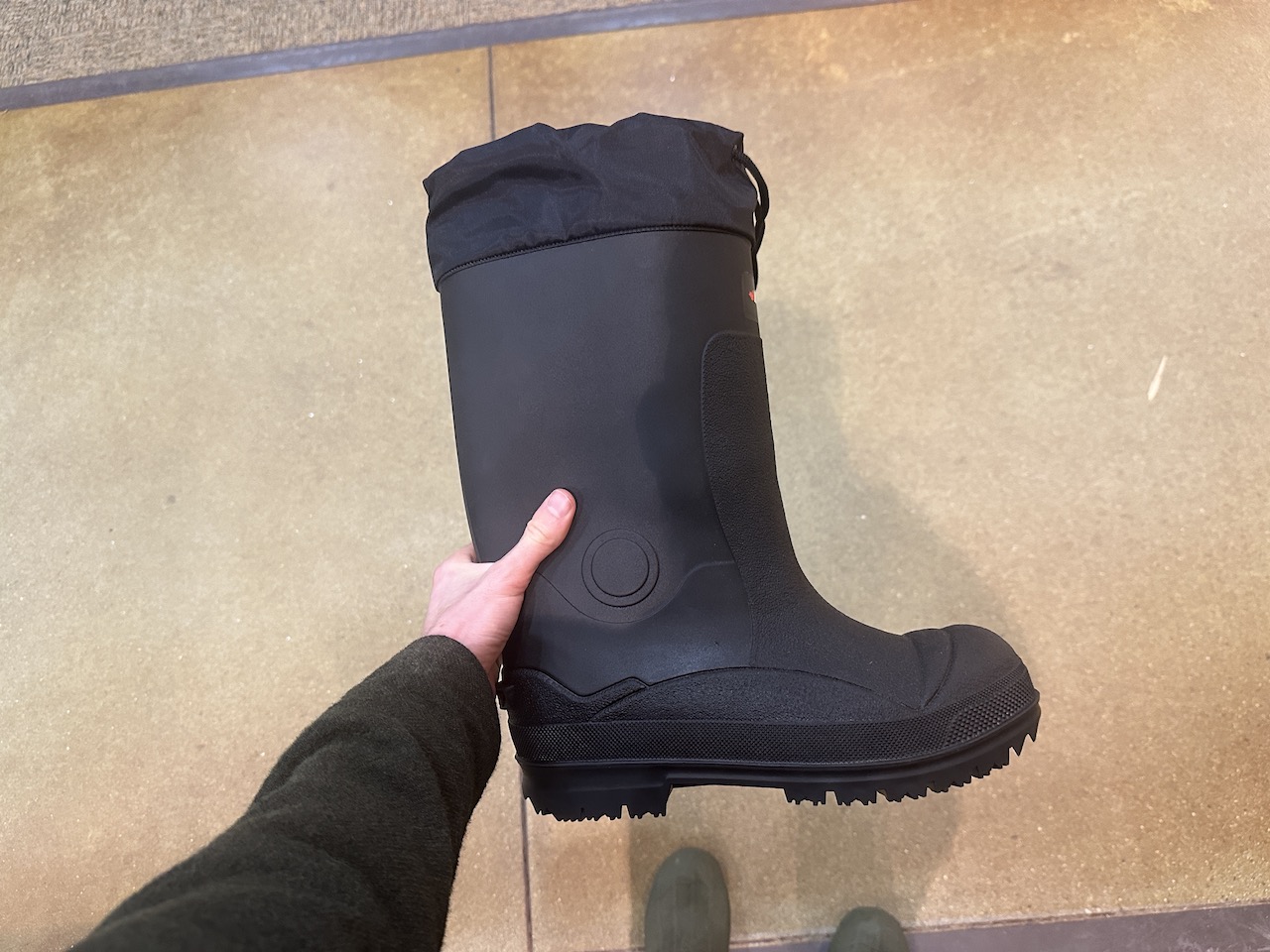 Cabela's Zoned Comfort Trac 2000g Insulated Boots
These rubber boots made by Cabela's are one of the warmest rubber hunting boots on the market. They have 2000g of insulation in the toe area, 1600g in the arches, and 1200g in the heel. This design is for maximum warmth in the areas that need it but also to keep them mobile enough for walking. Also, you can find these boots for a very affordable price compared to the other warm rubber boots on this list, making them a great budget option. These boots will fall apart if used for a lot of walking. They are best for hunters who don't move around a lot.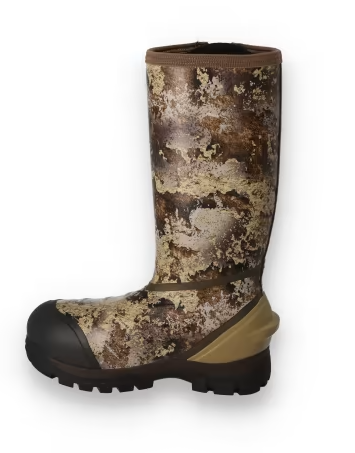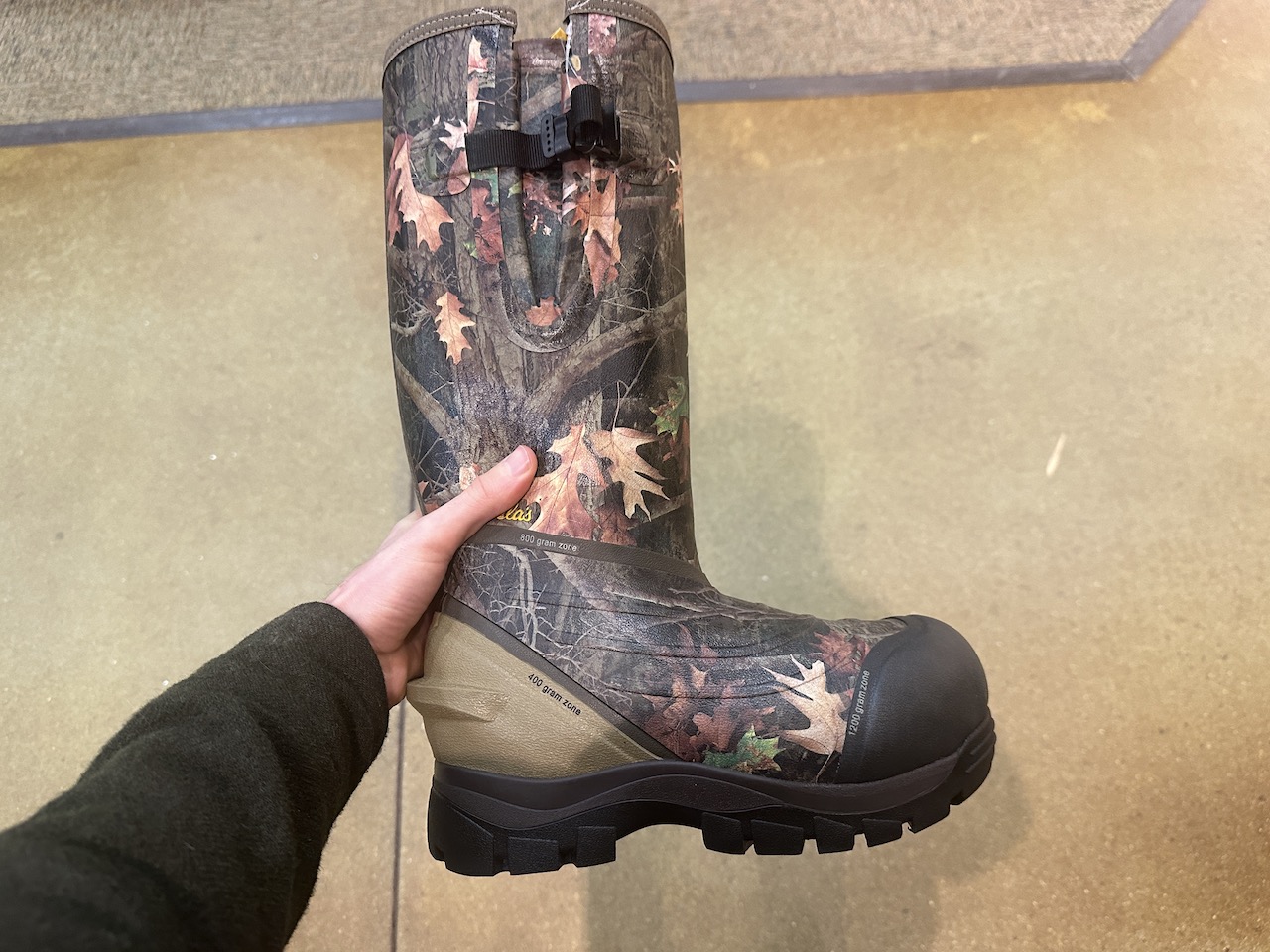 Lacrosse Alpha Burley 1600g Insulated Boots
The Lacrosse Alpha Burleys are one of the warmest full-sized (18″) rubber boots on the market with 1600g of insulation to keep your feet warm in the coldest weather during hunting season. Also, another benefit is that they are waterproof so your feet don't get wet which will further keep them warm if you hunt in wet environments.
Thorogood Infinity FD 1600g Insulated Boots With Solarcore
Another one of the warmest hunting rubber boots is the Thorogood Infinity with 1600g of insulation. These boots are similar to the Lacrosse Alpha Burleys but they use Solarcore insulation (which NASA uses) to keep boots as insulated as possible and retain heat better than normal boots.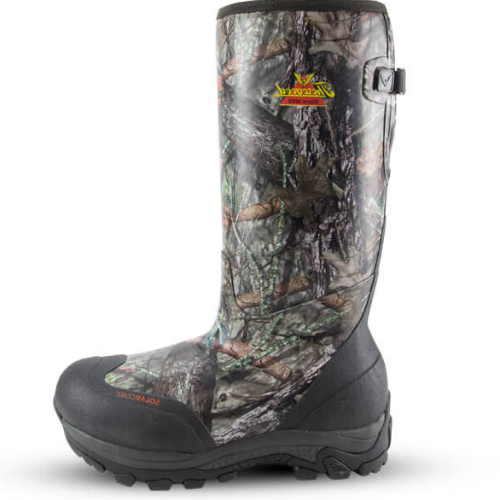 Warmest Winter Boots For Cold-Weather Hunting
Cabela's Saskatchewan Cold Weather Hunting Boot
Cabela's Saskatchewan boots are the warmest boots for hunting from a treestand because it has 3 inches of insulation between your foot and the ground surface. This means it will be very difficult for a cold metal treestand platform to make your feet cold. They're also great for hunting from the ground on cold, icy, and snowy days for this reason. They have a removable liner which gives them even more insulation.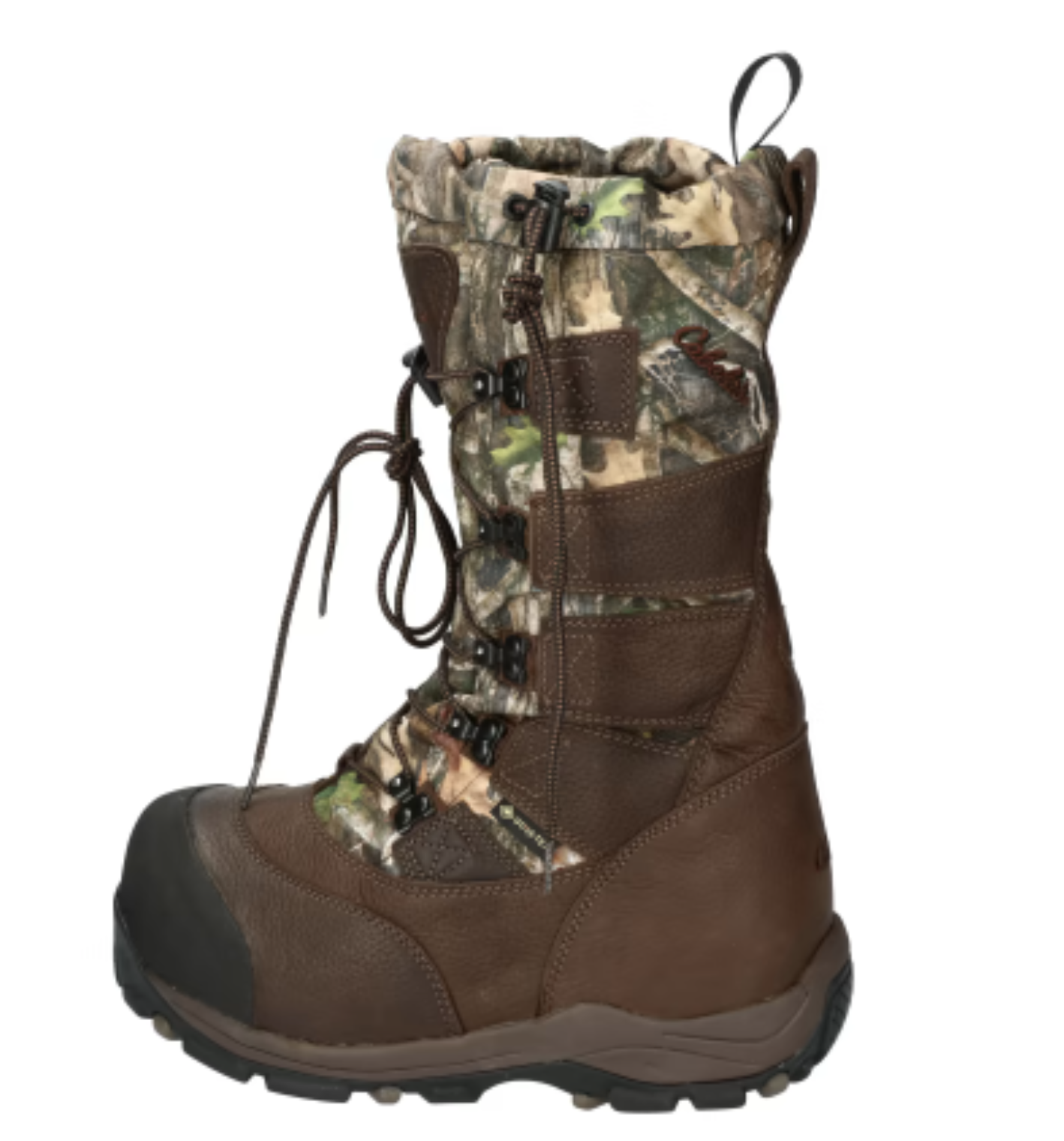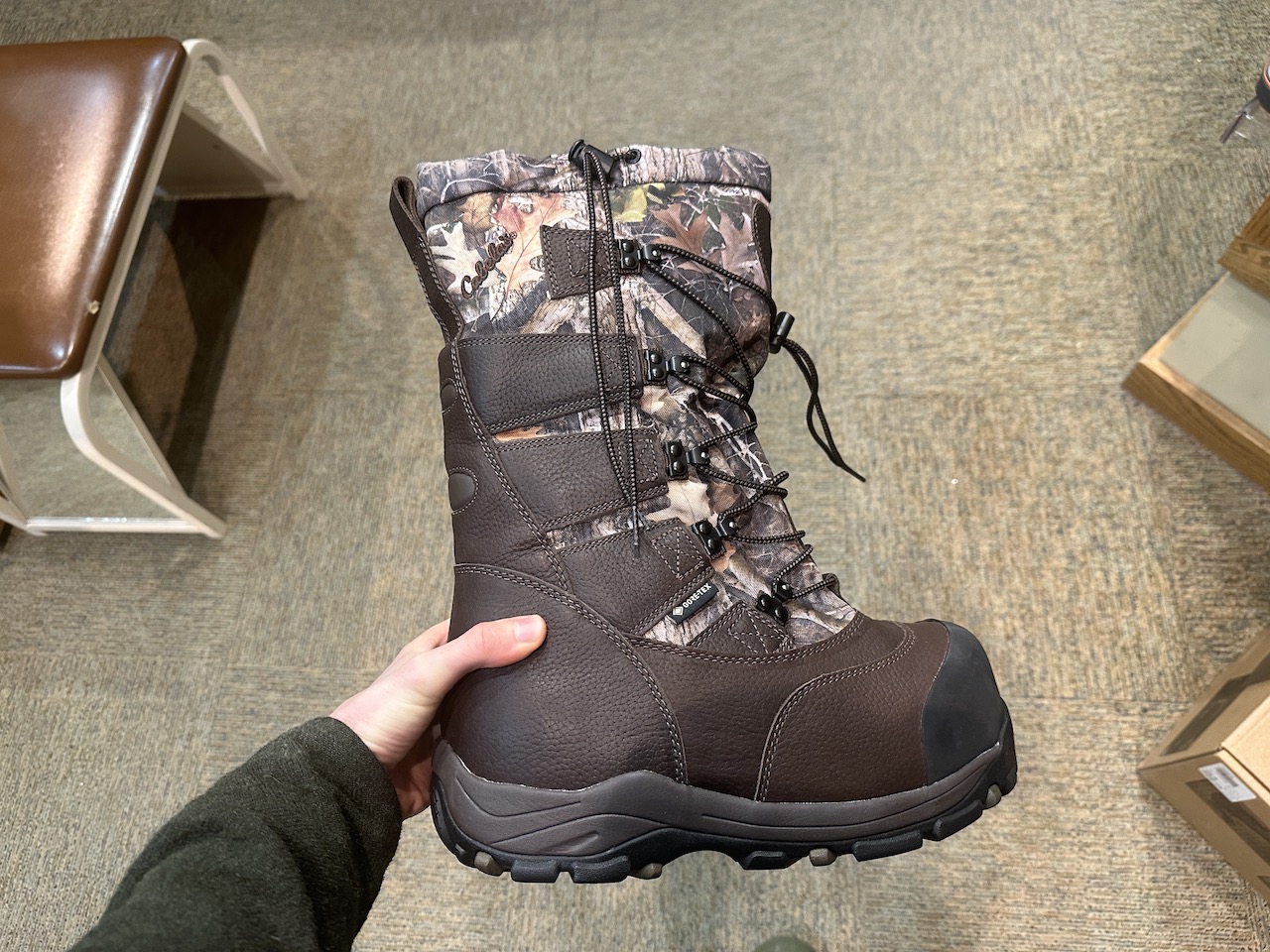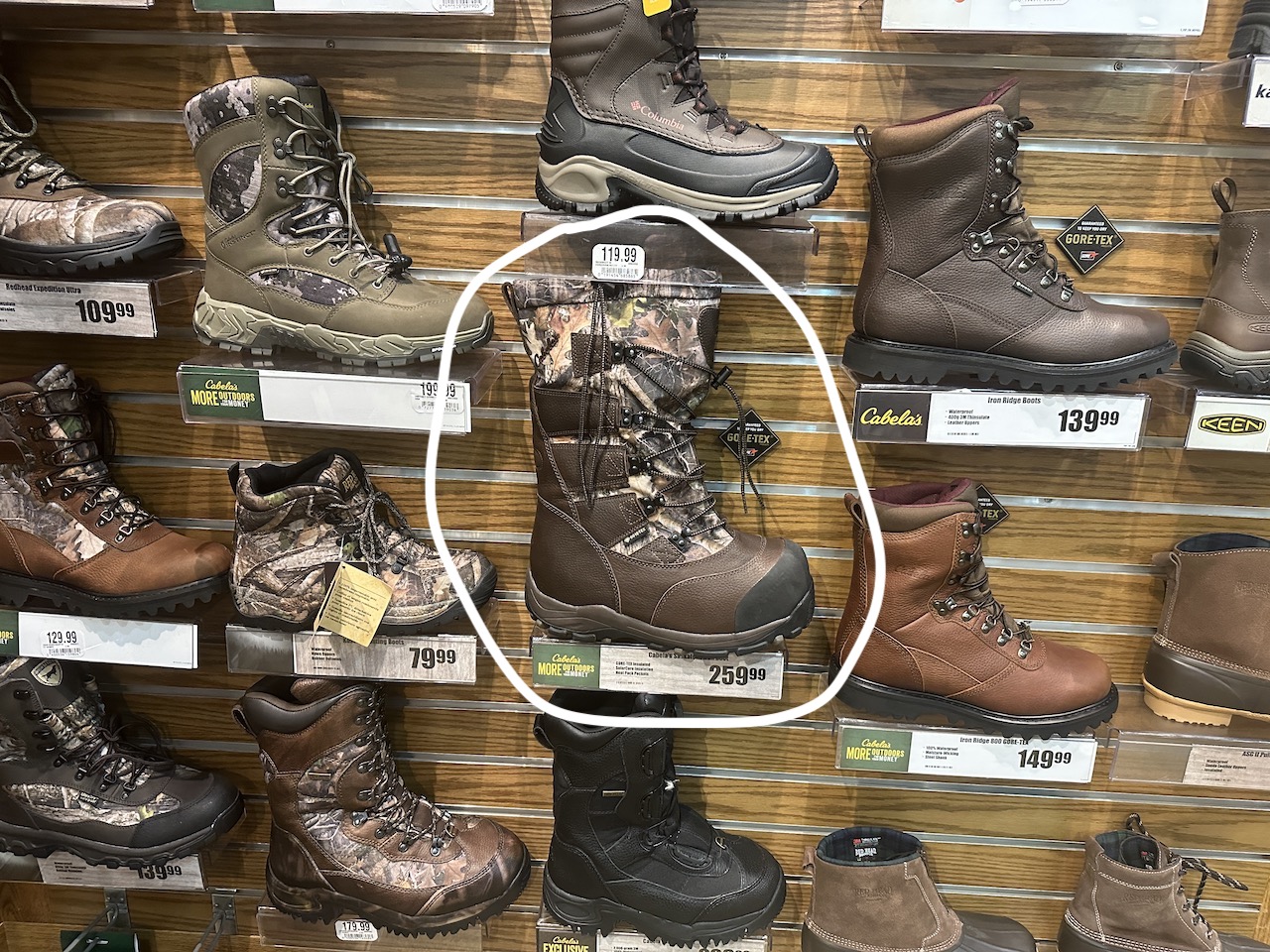 Lacrosse Cold Snap 2000g Insulated Boots
Lacrosse is known for their rubber boots, but they also make excellent leather hunting boots. The Lacrosse Cold Snap hunting boots are designed for cold weather hunting with 2000g of insulation. They're also not very tall boots so they have increased mobility.
Lacrosse Hunt Pac Extreme 2000g Insulated Boots
Lacrosse makes another winter boot called the Hunt Pac Extreme. These boots are what you want if you're looking for the warmest boots for hunting that Lacrosse makes. They are bigger and bulkier winter boots with 2000g of insulation. These boots can keep your feet warm during the coldest temperatures of the year.
Cabela's Inferno 2000g Insulated Boots
Another one of the warmest hunting boots on the market is the Cabela's Inferno 2000g insulated boot. These boots are big and bulky but they will keep your feet warm in just about any weather condition you throw at them. They're waterproof which is essential for keeping your feet warm in nasty winter weather.
Guide Gear 1400g Insulated Boots
These guide gear boots are a bit more of a hybrid boot. They are very warm because they offer 1400g of insulation and have a comfort rating of -58°F. They are still agile enough to be worn and walked in for longer periods of time than some of the 2000g insulated models in this review. These boots are tall and waterproof which is important for keeping water and snow from getting down these boots.
Baffin Snow Monster
The Baffin Snow Monsters are comfort rated to -94°F and are another top winter boot for hunting. Additionally, they are waterproof and have a removable felt liner. The big and bulky winter boot offers a lot of insulation to separate your feet from the cold and retain foot heat. Baffin is a Canadian company they are well-known for their quality warm winter boots.
Kamik Nationplus Budget Warm Winter Boot
If you're looking for some of the warmest hunting boots for the money, these budget winter boots are great for winter and cold-weather hunting. Also, they are comfort-rated down to -40°F.
Tips For Buying Cold-Weather & Winter Boots For Hunting
What Does Boot Comfort Rating Mean?
A comfort rating for boots will tell you the effective temperature that a pair of boots are designed to keep you comfortable with light usage.
This is important to know because there is a big difference between being stationary in a treestand and light usage.
For this reason, you will want a pair of hunting boots that are comfort rated much warmer than the temperatures you plan to hunt to ensure your feet stay warm in cold weather.
More Hunting Boot Resources:
11 Best Rubber Hunting Boots [2023] Field-Tested
10 Best Upland Hunting Boots For Bird Hunters [2023]
Best Brands When Buying Warm Hunting Boots
Cabela's

Lacrosse

Baffin

Thorogood

Guide Gear
Other Places To Shop For Hunting Boots
Some great places to find hunting boots include:
Find Me On: