This post covers the best gloves for duck hunting which include heated gloves, warm gloves, waterproof decoy gloves, and waterproof gloves. Sitka, Cabela's, and Hot Hands are some of the best brands to look for when choosing duck hunting gloves.
There are different types of gloves duck hunters use for different scenarios. You'll find the best gloves for all duck hunting scenarios.
This post contains Amazon and other affiliate links, which means I'll receive a commission if you purchase through my link, at no extra cost to you. Of course, you are not obligated to use my links, but it does help fund these posts in hopes of bringing more value to you!
Best Heated Gloves For Duck Hunting
When you're duck hunting in cold conditions it's easy for your hands and fingers to get cold. Heated gloves are a great choice to fight back against the elements. These heated gloves are great because they are fast charging but also can be charged via a power bank for all-day warmth.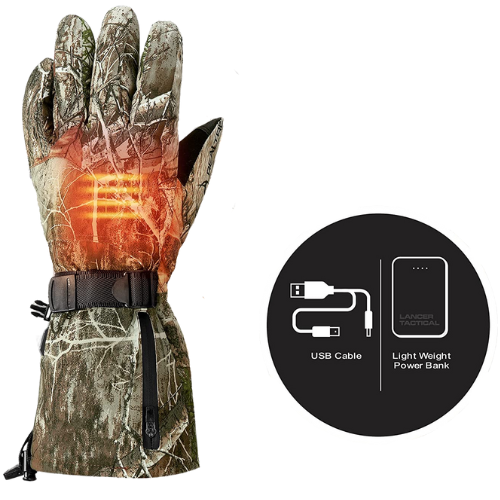 Best Waterproof Decoy Gloves For Duck Hunting
Waterproof decoy gloves are great options for keeping hands warm while duck hunting. They're not to be used for the entire hunt, they're only for setting and retrieving decoys. This keeps your regular gloves dryer and thus your hands warmer for the rest of the hunt.
Rubber Thinsulate Insulated Gloves (Elbow Length Long Gloves)
These duck hunting gloves have nice soft fleece-like insulation in them that keeps hands warm and cozy on the coldest duck hunting days, which is important for an enjoyable hunt. Additionally, they're waterproof, keeping hands dry when handling decoys or anything wet out on the water. Rubber is also more durable than neoprene and cleans easily.
Neoprene DecoyPro Decoy Gloves (Elbow Length Long Gloves)
Neoprene duck hunting decoy gloves keep hands dry when handling decoys. The neoprene in these gloves is relatively thick, which provides insulation for cold duck hunting days. This also takes longer for the cold water to make your hands cold which is a plus.
Warmest Duck Hunting Gloves
Cabela's Gore-Tex Infinium Windstopper Glomitts
These gloves are windproof, water-resistant, warm, and provide dexterity for shooting. They are thick and warm windproof gloves that provide water resistance by utilizing Windstopper fabric. These gloves are also convertible mittens for ultimate warmth while providing shooting finger dexterity.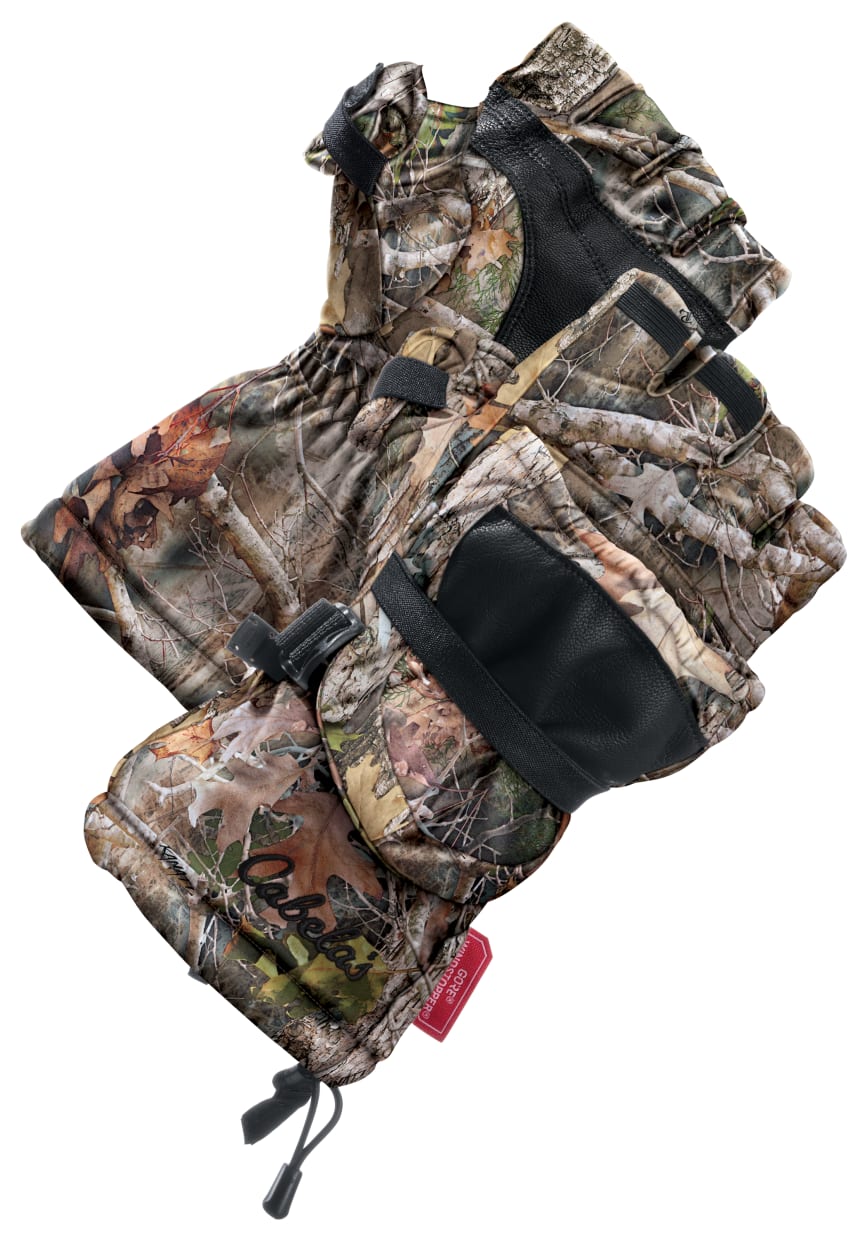 Best Budget Gloves For Cold Weather Duck Hunting
These are the Hot Shot insulated waterproof gloves. They are one of the best budget gloves you can get for duck hunting in cold weather. 40 grams of 3M Thinsulate insulation keeps your hands warm, a waterproof lining keeps your hands dry, and they're comfortable with pre-curved fingers and non-slip grips. They probably won't last as long as the other gloves on this list, but for the price, you can afford to buy new ones if they wear out.
Sitka Gear Delta Deek Waterproof Windproof GTX Glove
The Delta Deek Gore-Tex gloves by Sitka are another excellent versatile pair of duck hunting gloves. They have waterproof and windproof removable outer shells which keep hands protected against the elements. On warmer days you can just take the outer liner off. The inner liner is berber fleece which adds insulation and warmth.
Sitka Gear Incinerator Flip Mitt
This is Sitka's version of a convertible mitten and glove. It uses Gore-tex and Windstopper for protection against the elements. These gloves are insulated with Primaloft, which is one of the top insulators on the market making them very warm.
Sitka Callers Glove
This is a unique duck hunting glove and is sold as a single glove (for your non-shooting hand). Built into this glove is a Berber fleece-lined hand muff for your shooting hand. This allows you to keep your shooting hand warm while keeping it glove-free for ultimate shooting and calling dexterity. You can buy right and left-handed options.
Best Midweight Glove For Duck Hunting
SITKA Gear Pantanal GTX Waterproof Non-Slip Hunting Glove
These gloves are great because they are waterproof and windproof with a breathable gore-tex membrane. These gloves are perfect for just about any scenario from boating, picking up decoys, picking up shotgun shells in the water, and handling wet ducks.
The leather on these gloves also adds grip. They are a perfect size, not too big but big enough to provide good insulation. These gloves are great for hunting in temps around +/- 30ºF.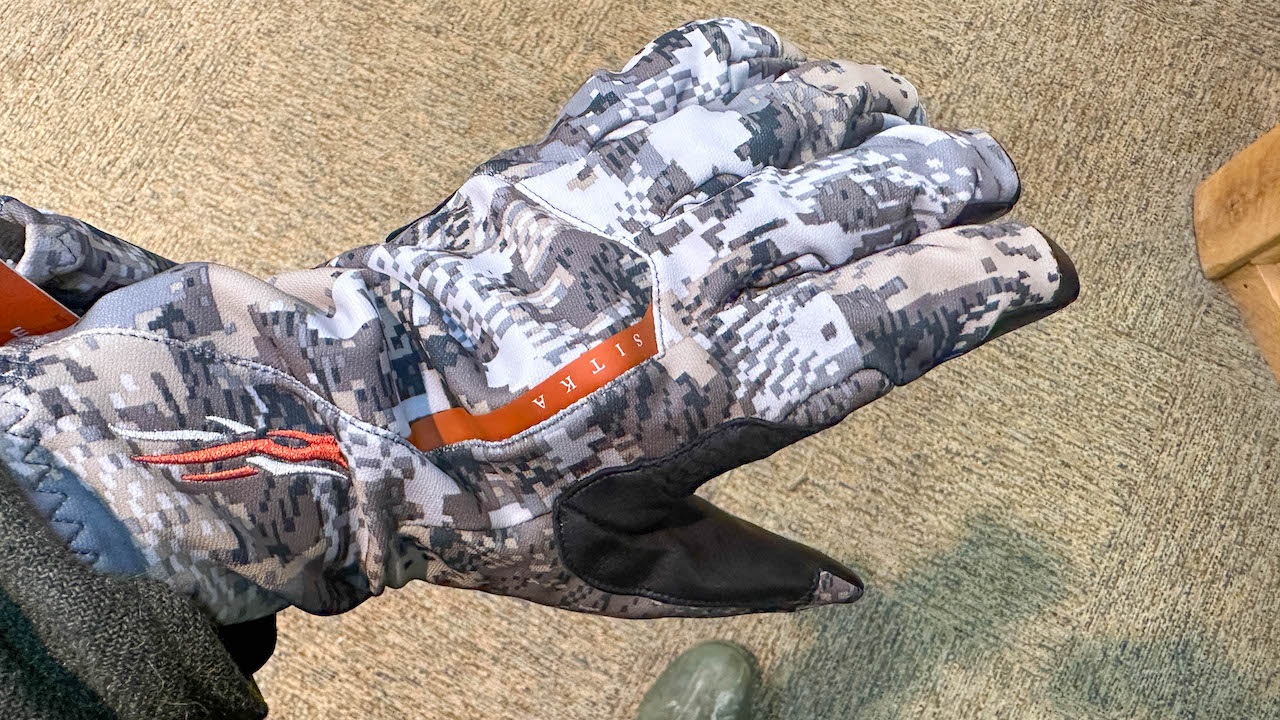 Best Lightweight Gloves For Duck Hunting
Your hands are one of the most noticeable parts of your body to ducks. It is beneficial to cover them with gloves for camouflage even if it's not cold out. Also, in warm weather, you'll want a lightweight glove with good dexterity. These gloves don't need to be fancy, they just need to hide your hands.
These Mossy Oak gloves below are one of the best budget duck hunting gloves for the early season. They are lightweight and tight to the hand. They also allow you to use your phone with them on.
Best Glove Liners For Duck Hunting
Wool is one of mother nature's greatest natural materials. Wool is water-resistant, moisture-wicking, odor resistant, stays warm when wet, breathable and cool when hot, silent, has excellent insulating properties, and is durable. For these reasons, it's an excellent addition to regular hunting gloves to improve their warmth. 
Best Hand Muff For Duck Hunting
Hand muffs are basically gold to duck hunters in frigid temperatures. When hands are cold it's hard to enjoy yourself or think about anything else until your hands become warm. Hand muffs are one of the best gifts for duck hunters for this reason. The Sitka hand muff uses Gore-Tex and Windstopper layers with Primaloft insulation to block wind and keep hands warm.
Check Amazon's Price
Related Duck Hunting Clothing Resources:
Best Stores To Shop For Duck Hunting Gloves
Some great places to find warm footwear gear include:
Find Me On: