Here are 101+ best fishing gifts for men in 2023 so you can easy to find the perfect fishing gift (even if you don't fish yourself). You're guaranteed to find great fishing gift ideas for all types of fishermen, at all budgets, and at any skill level.
Without further ado, here are over 101 best gift ideas for fishermen:
This post contains Amazon and other affiliate links, which means I'll receive a commission if you purchase through my link, at no extra cost to you. Of course, you are not obligated to use my links, but it does help fund these posts in hopes of bringing more value to you!
Personalized and Unique Fishing Gifts For Men
Custom Engraved Fly Box
A custom engraved fly box is a perfect personalized fishing gift for men if he likes to fly fish. Every fly fisherman needs a fly box to store and protect their flies so why not get them a personalized one that is more unique than a traditional fly box. The added personalization makes it one of the best fly fishing gifts for men.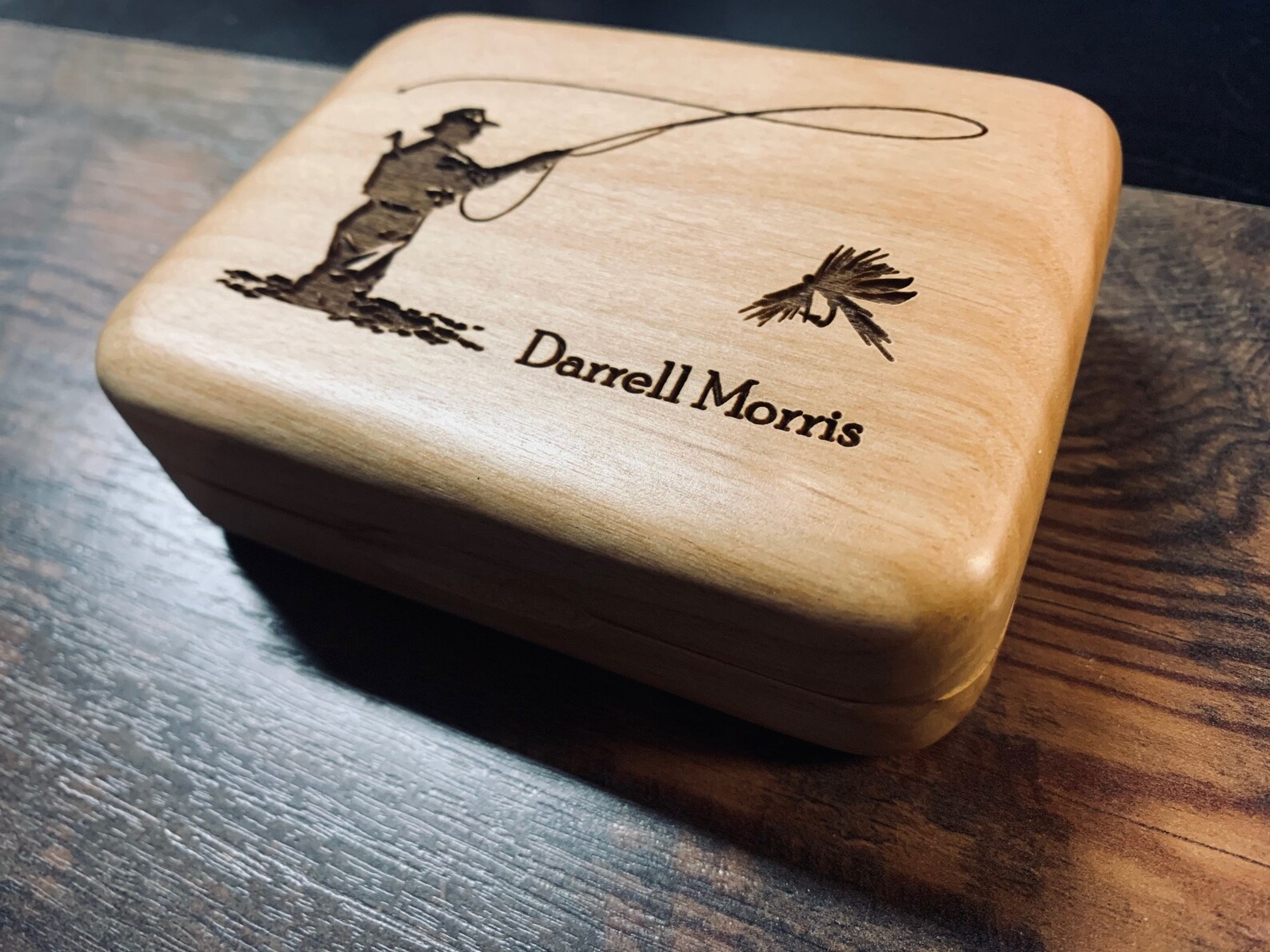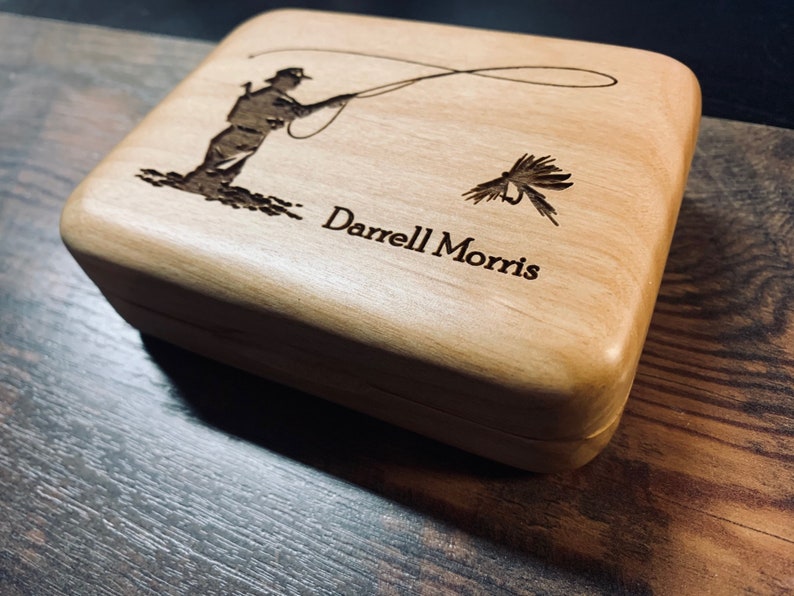 Custom Engraved Fishing Fillet Knife
A custom engraved fillet knife is a perfect personalized fishing gift for him if he fillets fish. A fillet knife is used by most fishermen for processing fish. Why not get them a personalized one that is more unique than a regular fillet knife. The added personalization makes it one of the best fishing gifts for men.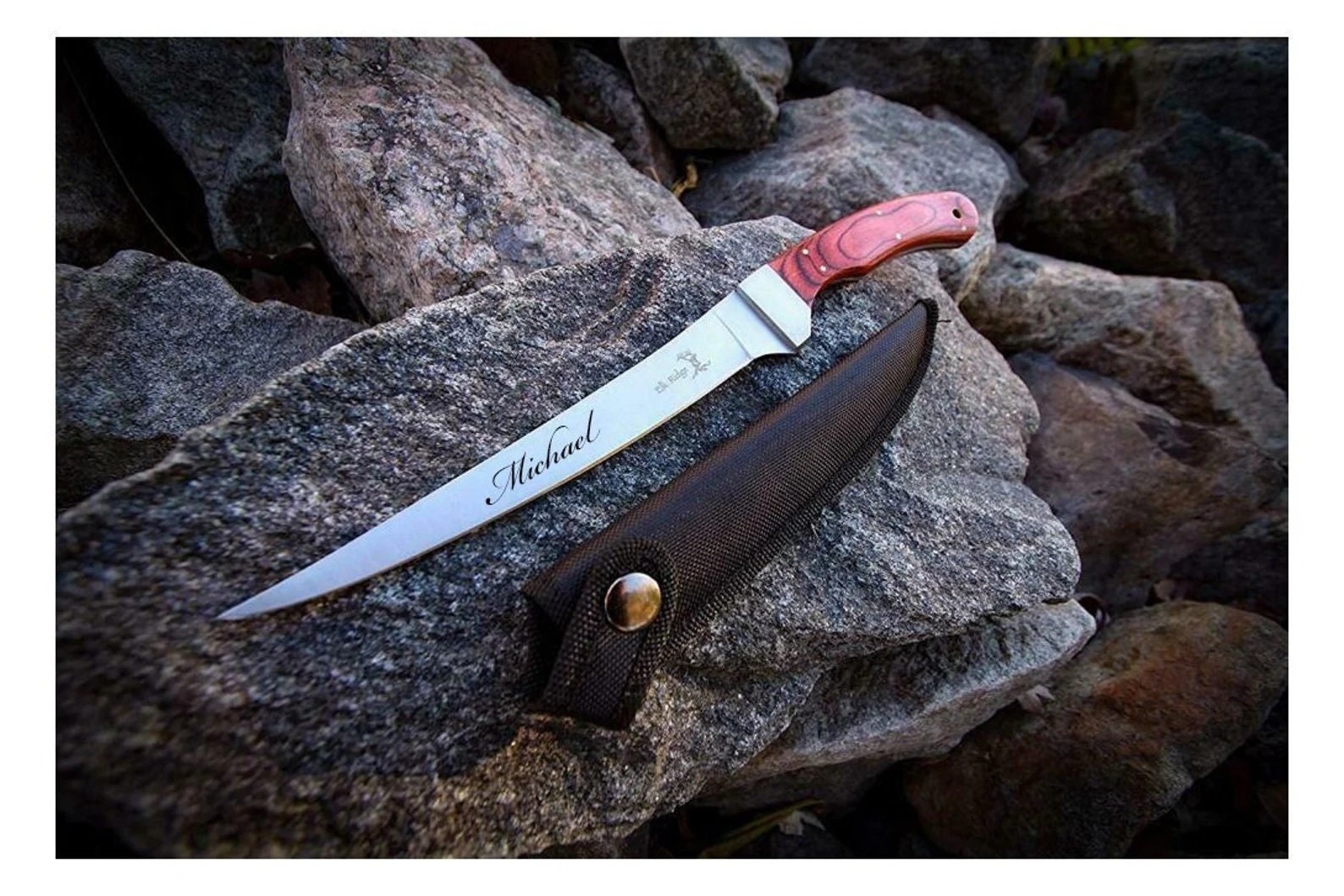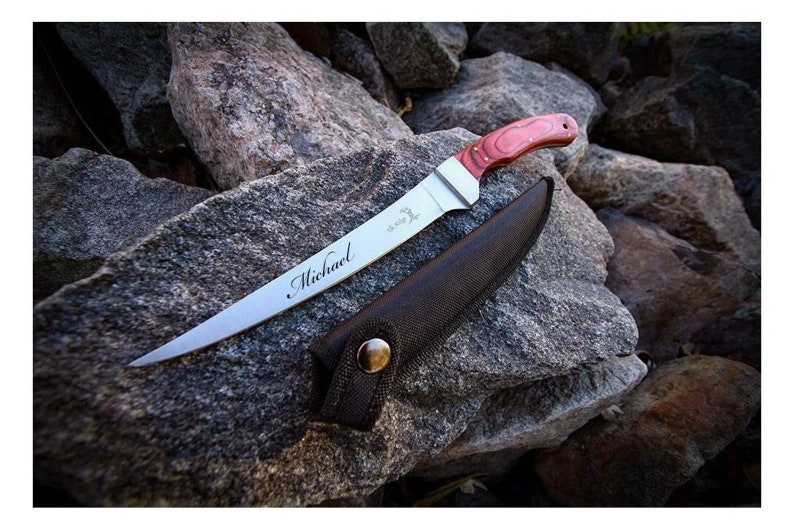 Personalized Custom Fishing Sign
These signs are great additions to a fishing camp because they can be customized with the name of the owners of the camp. The added personalization makes it a unique fishing gift for men. Because it's a custom sign, it is a great gift for fishermen seem to have everything.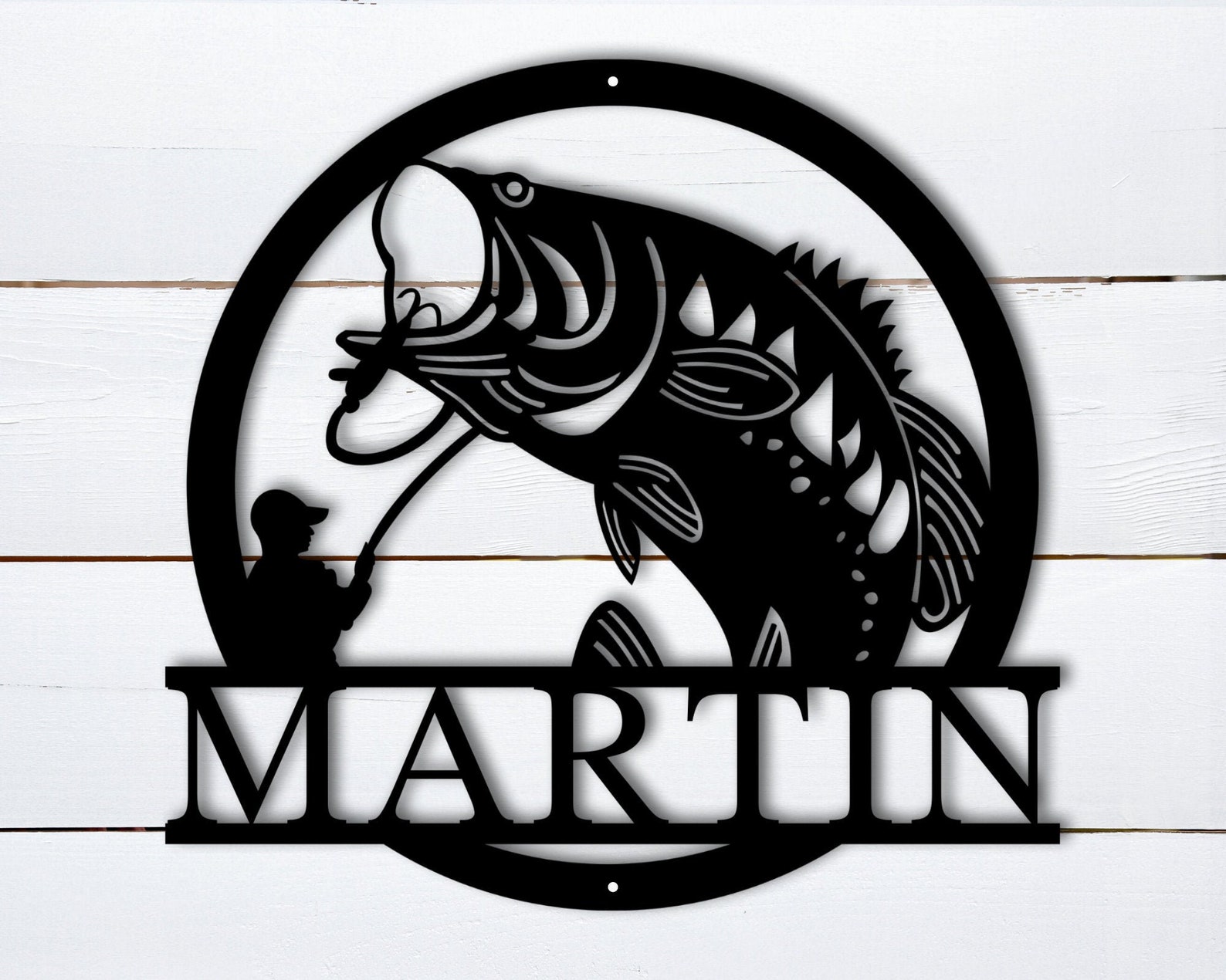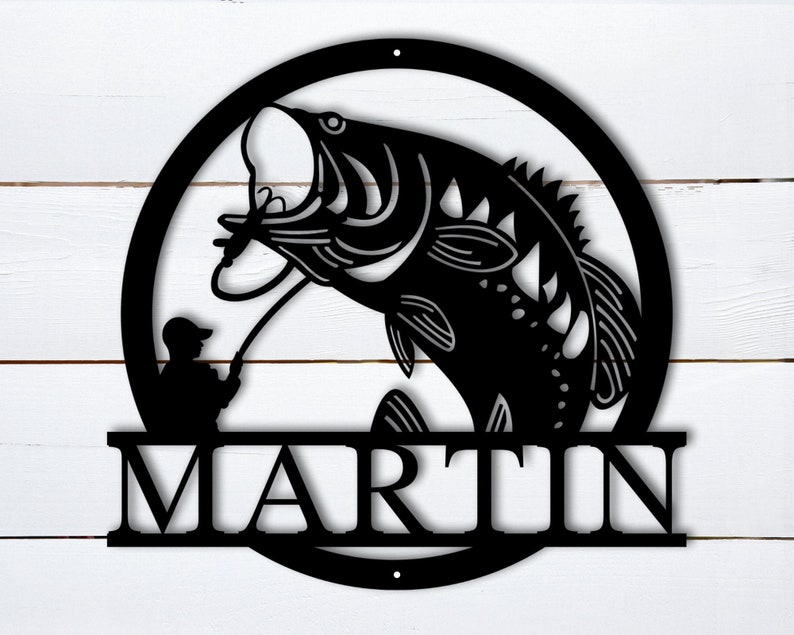 DIY Fishing Gift Basket Idea For Men Under 250$
A DIY gift basket is a perfect personalized and unique fishing gift idea for men because you can add whatever you want to it. I've created a fishing gift basket outline below for under 250$. Add or remove items based on what you believe the gift recipient would like and to adjust the price. Scroll right ➡➡ to see more items ➡➡.
*Price At Time of Post
Fishing Book Gifts For Men
The Meateater Fish and Game Cookbook
Level up a fishermen's cooking skills with a wild game cookbook. This cookbook by the well-known hunter and fishermen, Steven Rinella, offers cooking instructions and fantastic photography. Getting better at preparing wild-game meals is something every hunter can appreciate, making it one of the best gifts for hunters (Who knows, maybe you'll selfishly benefit as well).
Field & Stream Fishing Manual For Catching Giant Fish
Every fisherman is trying to improve their fishing skills. This book by Joe Cermele and the editors of Field and Stream offers 318 essential skills for catching giant fish making it one of the best fishing gifts for men.
Pocket Guide To Fishing Knots
Another great gift for fishermen is a book on fishing knots. Using the right fishing knots for the right situation is important for increasing fishing success. This book gives step-by-step instructions for fresh and saltwater knots making it a great book for every type of fishermen.
The Orvis Fly-Fishing Guide
The Orvis Fly-Fishing Guide is a great book for beginner fly fishermen. This is one of the best-selling guides for fly-fishing because it has everything he needs to know to go from a beginner to an intermediate fly fisherman.
Best Bug Protection Gifts For Fishermen
Bug Head Nets For Insect Protection
Head nets are a great gift idea for fishermen under 25$. Fishermen, especially fly-fishermen encounter a lot of bugs because it is the time of year when bugs are hatching and emerging from the water. For this reason, he'll appreciate having bug head nets on hand for protection.
Thermacell Portable Mosquito Repeller
There's nothing worse than being outdoors while there are a ton of bugs eating you alive. A Thermacell is a great gift for fishermen because it makes fishing so much more enjoyable with protection from bugs. The Thermacell uses highly effective mosquito repellent that is non-spray, non-DEET, no open flame; scent-free, and includes 12 hours of long-lasting refills.
Rynoskin Insect Protection Clothing Chemical Free
Rynoskin is a chemical-free baselayer that helps prevent bugs from penetrating the tight mesh. Bugs can sometimes be a big annoyance when fishing, especially when fishing in the spring/summer when bugs are hatching. Bug protection clothing is helpful for reducing the number of bug bites when fishing. Check out my full review here: Rynoskin Review: Insect and Tick Proof Clothing | Does it Work?
Sawyer Products Premium Permethrin
Permethrin is a strong insect repellent that works excellent against ticks and mosquitos. There are different methods of applying permethrin such as washing your clothes with it or spraying it on clothes. Either way, it is one of the most effective ways to keep bugs off him. Ticks will literally fall off his treated clothes because they can't stand it making it one of the best fishing gifts for men.
Best Cooler Gifts For Fishermen
Yeti Hopper Flip 18 Cooler Gift For Fishermen
This Yeti Cooler is perfect for day-long fishing trips to keep lunches and drinks cold and fresh. This cooler offers a waterproof, mildew, and tear-resistant exterior and the remarkable ability to stay cold as you'd expect from Yeti. It is important for fishermen to have gear that stands up to the elements, and this cooler does just that.
Best Budget Fishing Cooler Gift For Men (52 Quart)
Igloo coolers are great coolers for the price, they make some of the most affordable coolers that still work well. Although they won't work as well at RTIC and Yeti coolers for keeping items cold for days at a time, they work very well for day-long fishing trips.
Check Amazon's Price
Best Mid-Range Fishing Cooler Gift For Men (65 Quart)
RTIC makes a really good cooler for a middle-ground price, they're one of the best coolers for the money. They are built tough and keep things cold. They're not as expensive as Yeti's but are more expensive than Igloo coolers.
Yeti Tundra Haul Cooler (55 Quart)
Another Yeti product that offers more space and that would make a great fishing gift for men is the Tundra Haul, a wheeled cooler. These coolers are fantastic for keeping things cool for long periods of time. They make great coolers for fishermen going on long trips where keeping food and drinks cool for long periods of time is essential. Yeti coolers are heavy in general, and the wheels and handle make a big difference when transporting the cooler.
Yeti Tundra 125 Cooler
The Yeti 125 cooler is one of the best gifts for fishermen that need a lot of storage for long trips, to keep food cold, or keep bait fresh. This cooler has thick 3-inch insulation in order to keep things cool for a long time as you'd expect from Yeti. In addition, this cooler is 'certified bear-resistant' meaning that it is extremely durable and can stand up to the toughest of fishing trips.
Best Fishing Kitchenware Gifts For Men
Cast Iron Skillet For Cooking At Fishing Camp
A cast-iron pan is one of the best gifts for fishermen because it's inexpensive, conducts heat evenly, will last a lifetime, and helps favor food if cared for properly. For the price, this gift idea is hard to beat. They make perfect kitchenware gifts for fishermen and can be used to cook over open flames.
Fish-Shaped Cast Iron Pan Gift For Men
Cast Iron pans are excellent fishing gifts for men if he likes to cook the fish he catches. Even if he doesn't cook a lot he will appreciate this gift because of the unique properties of cast iron. The hardiness of cast iron also makes it ideal for transporting on fishing trips and can be used over open flames over a campfire. Cast iron is:
Basically indestructible

Will last a lifetime

Develop their own non-stick coating

The flavor gets better with use

Cooks evenly

Can be used over open flames 
Yeti Rambler Colster For Fishermen
The Yeti Rambler Colster is a drink insulator that is stainless steel for longevity and durability and is vacuum insulated in order to keep drinks cold for a much longer time. You will be shocked at how much longer your drink will remain cold. Everyone appreciates a cold and crisp drink, making it one of the best fishing gifts for men.
Check Amazon's Price
Yeti Rambler Coffee Cup
Yeti Rambler Coffee cups are popular gifts for fishermen because of how well they work. This stainless steel, vacuum insulated coffee mug will keep your drink at temperature (hot or cold) for a very long time. This is nice to have during fishing trips that require a lot of driving time. Below is a 30 oz model, which holds a lot of liquid for those long trips and still fits in vehicle cup holders because of the tapered body.
Check Amazon's Price
Yeti Thermos Gift For Fishermen
A thermos is a great gift for any fisherman or outdoorsy person. Nothing lifts the spirits more than a warm beverage on those blustery cold days or a cold drink on those scorching days.
Yeti is well-known for being one of the best companies for keeping drinks at the desired temperatures. The fishermen in your life will appreciate this gift.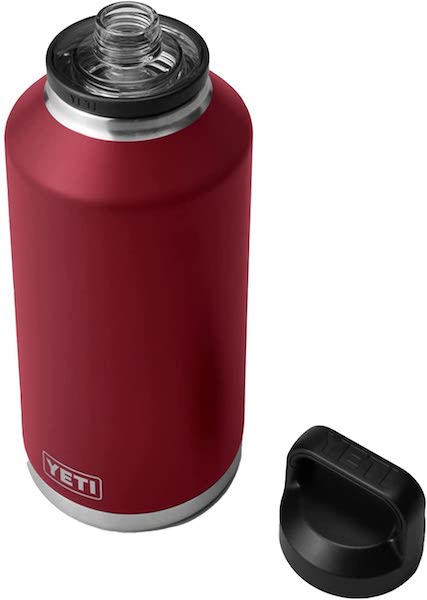 Gifts For The Ice Fisherman
Ice Fishing Shelter
Ice fishing shelters are one of the best luxury fishing gifts because they keep fishermen warm and comfortable when the outside weather is cold and uncomfortable. This allows ice fishermen to fish for longer periods of time even in bad weather conditions which makes their fishing experience more enjoyable. 
Ice Fishing Heater
Mr. Buddy Heaters are a great tool for ice fishermen because they're perfect for warming up small areas, like ice fishing shelters. They also have built-in safety features like automatic shut-off if it tips over or if it senses too much CO2. These heaters are another luxury ice fishing gift for men that want to be comfortable when fishing.
Ice Power Auger 
If you know an ice fisherman who does not have an ice auger, they are missing out. What would take hours to chisel out a hole in the ice takes only a minute with an ice auger. Ice augers are so useful that they're basically a necessity. If you know someone who does not have an ice auger they will be ecstatic to get this as a gift.
Best Drills For Augering Ice Fishing Holes
Drills have come a long way in the last number of years. They are now powerful enough to drill holes in ice with an auger drill bit. This is especially helpful for ice fishermen because a drill is might lighter and more transportable than a full-sized ice power auger (above). Below I've listed the two best ice fishing drills for auguring ice holes.
Ice Auger Drill Bit
If you're going the drill route, an ice auger drill bit is needed for augering holes in the ice. Below is the drill bit that can be paired with the drills above to create a lightweight and portable ice auger.
Cool Fishing Gadget Gifts For Men
Smartwatches Are Cool Gadget Gifts For Fishermen
Smartwatches are one of the coolest fishing gifts for men because of their customizability and abundance of cool fishing features. For example, smartwatches are helpful tools for fishermen because they have GPS, ABC (Altimeter, Barometer, and a Compass), weather, sunrise times, sunset times, moon phases…and much more.
My article 7 Best Smartwatches For Hunting In 2023 Reviewed and Compared is also applicable to fishermen and will help you choose the right smartwatch for the fishermen in your life. The Garmin Instinct Solar is one of the best smartwatches for the money on the market. The screen has an integrated solar panel so the battery lasts longer between charges.
| | | | | | | |
| --- | --- | --- | --- | --- | --- | --- |
| Smartwatch Model | Garmin Instinct Solar (Standard) | Apple Watch Ultra | SUUNTO Traverse Alpha | Coros Vertix 2 | Garmin Fenix 7 Sapphire Solar | Garmin Tactix Delta Solar w/ Applied Ballistics |
| Award | Best Value | Best Apple Watch | Designed For Hunters | Best Battery | Best Overall | Best Long-Range Shooting |
| GPS | Yes | Yes | Yes | Yes | Yes | Yes |
| ABC | Yes | Yes | Yes | Yes | Yes | Yes |
| Battery Life (Days)** | 24 | 1.5 | 14 | 60 | 18 | 24 |
| Solar Panel | Yes | No | No | No | Yes | Yes |
| Watch Face Material | Power Glass | Sapphire | Sapphire | Sapphire | Sapphire | Sapphire |
| Sunrise & Sunset | Yes | Yes | Yes | Yes | Yes | Yes |
| Moon Phases | Yes | Yes | Yes | No | Yes | Yes |
| Applied Ballistics | No | No | No | No | No | Yes |
| Display Res. (px) | 128x128 | 410×502 | 128x128 | 280x280 | 260x260 | 280x280 |
| Durability | MIL-STD-810G | MIL-STD-810G | MIL-STD-810G | Robust Titanium Case | MIL-STD-810G | MIL-STD-810G |
| Waterproof | Yes | Yes | Yes | Yes | Yes | Yes |
| Touchscreen | No | Yes | No | Partially | Yes | No |
| Price* | 339 | 799 | 700 | 700 | 900 | 1400 |
| Availability | View on Amazon | Check Amazon's Price | View on Amazon | View on Amazon | View on Amazon | View on Amazon |
*Price At Time of Post
**Battery Life Depends on Settings
Wireless Digital Forecast Station
The weather has a big influence on fishing activity, so knowing as much as possible about the weather is important for fishing success. A forecast station is a cool fishing gadget gift for men because it has all of the weather information fishermen would need to determine a good fishing day.
Tide and Moon Phase Clock
These Tide and Moon clocks are cool gadgets gifts for fishermen. They make really good conversation pieces and make great decorations for a fisherman's man room or fishing camp.
Garmin Fish Finder & Depth Finder (Sonar)
A fishfinder/sonar is one of the most important fishing gadget gifts for men because it shows where fish are located in the water column. This makes it easier to drop fishing lines to the correct depth to catch more fish. Additionally, it's incredibly helpful to know the water depth to avoid damaging the boat in shallow water. Further, it helps to know when to reel in lines if water is getting too shallow so he doesn't catch the bottom.
Deeper Smart Pro Plus 2 Portable Fish Finder & Sonar
The Deeper Smart fish finder is one of the coolest gadgets for fishermen because the integrated GPS allows you to create your own topographic maps of a body of water. For example, as you move the Deeper Smart through the water it maps and saves the elevation of the bottom so you can always refer back to the real-time data that is collected.
The difference between the Deeper Smart fishfinder and the Garmin (above) is that it connects to your phone via BlueTooth. It can also be attached to a line and casted as a bobber or attached to the side of a boat/kayak.
iBobber Portable Fish Finder & Sonar
The iBobber and Deeper Smart are very similar portable fishfinder/sonar units. They each have their perks, the biggest perk of the iBobber is its price tag when compared to the Deep Smart. The Deeper Smart does have better reviews overall, but the iBobber is a good budget option.
Legendary Fishing Video Game
One of the best fishing gifts for men is fishing video games, especially if he suffers from fishing withdrawal during the off-season. Legendary fishing is one of the best video games for fishermen because it's similar to an action-packed arcade game.
Fishing Sim World Pro Tour Video Game
Fishing Sim World Pro Tour is another great video game for fishermen. This game is more of a simulation game and is less like an arcade game, making it more realistic. Fishing video games are great pass-times for fishermen waiting for fishing season.
OnX Hunt GPS Mobile App Subscription
Getting permission to fish on new properties is one of the most challenging aspects of fishing, especially for new fishermen. The OnX Hunt App helps to solve this time-consuming process. OnX does this by showing property boundary lines as well as the owners of the property.
This makes seeking and asking for permission to get new fishing spots so much easier, This makes it one of the best fishing gifts for men. This phone application works across all platforms (apple, android…etc.).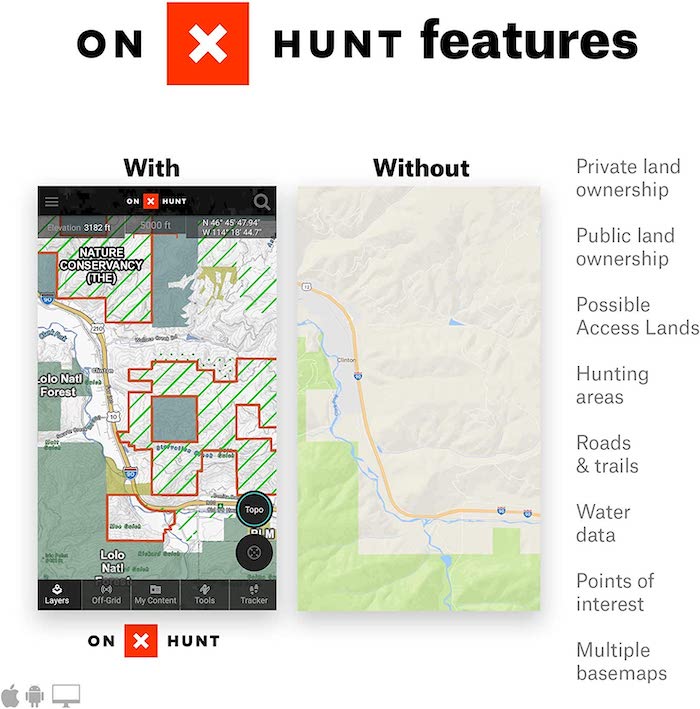 Anker Portable Battery Charger
This power bank has a very large charging capacity and can charge electronics many times over. You never know when a GPS or phone could die for an unexpected reason when fishing so it's nice to know you have a backup if batteries die. This particular powerbank has a huge storage capacity and can charge an iPhone 8 up to nine times on a single charge! The Anker powerbank is one of the best gadget gifts for fishermen because it's an extra layer of security and convenience.
Best GoPro Gift For Fishermen
The new GoPro's are fantastic for capturing and documenting fishing excursions. They are one of the best fishing gadget gifts for fishermen that are looking to get into filming. The new internal computerized gimbal-like stabilization makes the footage look buttery smooth even with crazy excessive movement.
Not only do they have great stabilization but they also have 5K+ video, slow motion, and much more. The GoPro Hero 10 black has 5.2k video, 20 MP photos, and a FAST brand new processor.
Black Diamond Storm Fishing Headlamp Gift
Headlamps are one of the best fishing gifts for men because lights are a must at night when there's no electricity. A headlamp also keeps both hands free so you can focus on the task at hand. Don't skimp on a good headlamp because cheap ones will break or stop working.
The Black Diamond Storm headlamp is a great headlamp because it's waterproof and dustproof, has red, green, and blue light settings, and takes replaceable AAA batteries. Replaceable batteries are nice because he can put lithium batteries in, which are much more reliable in all weather conditions, especially cold weather.
JBL Waterproof Bluetooth Portable Speaker
JBL speakers are great for fishing because they are durable, waterproof, portable, and BlueTooth. This speaker is fairly small but powerful and is a great gadget gift for fishermen that are music lovers. For the price, they are hard to beat.
Emergency Vehicle Battery Backup With Jumper Cables
A battery backup is a great fishing gift for men that fish in remote places because this eliminates the issue of a dead battery. One of the worst feelings is when you are in the middle of nowhere and your car won't start. A battery backup can turn a bad situation into an easy solution. The fishermen you are shopping for will be very grateful to have this gift in a situation like this.
Check Amazon's Price
Best Fishing Clothes And Apparel Gifts For Men
Fishing Sun Hat Gift For Men
Sun hats are important for fishermen that don't have a way to shelter themselves from the sun for long periods of time. Even with sunscreen, the sun can sap the energy out of fishermen, especially on open water. A sun hat works great for protecting the head and eyes from direct sunlight, allowing for a more enjoyable fishing experience.
Polarized Costa Del Mar Sunglasses
Costa Del Mar or "Costas" is a very well-known sunglass company in the outdoor industry, especially among those who spend a lot of time on the water where the ultimate eye protection is necessary. They use technology to eliminate reflection and filter out the harshest colors so that your eyes are protected under the harshest of sun. They also offer a variety of lens colors so you can customize glasses to a specific outdoor use, like fishing. The polarized lenses are perfect for fishermen because it allows them to see into the water better than non-polarized sunglasses.
Face Buff (UPF 50)
Face buffs are another way fishermen protect their faces from the direct sun. They are lightweight and breathable neck and face coverings to prevent sunburns. They're rated to be UPF 50 sunproof. A face buff is a great gift combination to go with the sun hat.
HUK Long-Sleeve Sun Hoodie (UPF 50)
On hot sunny days clothes that are lightweight, breathable, and provide sun protection are the ideal fishing clothes for men. This UPF 50 sunproof hoodie shirt is perfect for these conditions. A hoodie is really nice on these shirts for sun protection of the neck and ears. A face buff is a good gift combination to go with this hoodie.
Koofin is a great all-in-one sun protection hoodie because it comes with a hoodie and a face mask for ultimate sun protection. These hoodies are great for those hot sunny days when fishermen are looking for something lightweight, breathable, and offer sun protection.
Frogg Toggs Quality Budget Fishing Rain Gear
Sometimes the best fishing happens in the rain so it's important to have quality rain gear that will allow him to stay out and fish even in rainy weather. Frogg Toggs are high-quality rain gear for their price which makes them one of the best fishing gifts for men.
Leather Bass Wallet
A bass wallet is a cool accessory fishing gift for men, especially if he's in need of a new wallet. It's also one of the best fishing gifts for kids that are ready for their first wallet.
Fishing Waist Pack
A waist pack is a great piece of gear for fishermen traveling long distances on foot but don't want to carry an entire backpack. A waist pack allows the fishermen to duck under trees and blow downs easier than a backpack.
This waist pack offers loads of storage for day trips into the field. It has a lot of room for gear but is not so bulky you'll be weighed down on long walks. This pack comes with a shoulder strap that helps prevent the pack from bouncing when walking.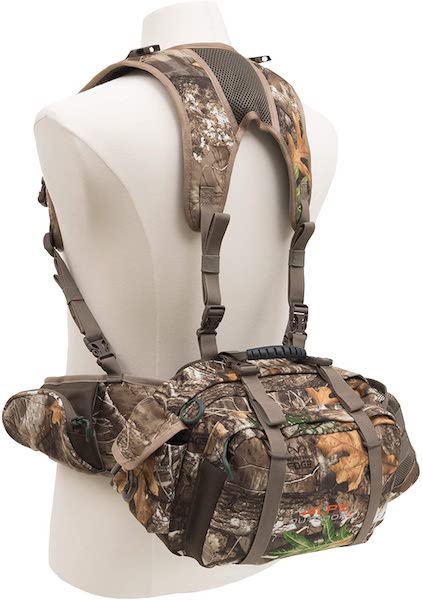 Fishing Sling Pack
Another lightweight alternative to a backpack is the sling pack. Sling packs are ideal for fishermen because it takes the weight off of the casting arm so it doesn't get as tired throughout the day. Additionally, the sling strap comes across the body where you can easily access the shoulder strap organizer pocket for important items.
Waterproof Duffle Bag Gift For Fishermen
Waterproof duffle bags are very handy for many reasons and are one of the top gifts for fishermen. They can be used on long fishing trips, or to keep gear dry when on boats, and in many other scenarios where water is a factor when fishing. With a waterproof bag, there is no need to worry about the elements.
Waterproof Dry Bag Backpack
Dry bags are great for bringing on the canoe, boat, or just to keep gear dry when adventuring in the rain to new fishing holes. Dry bags with backpack straps are nice for easy transport. It's also nice to be able to throw your bag in the bed of the truck without worrying about the rain when going on long trips.
Check Amazon's Price Check L.L. Bean's Price
Automatically Inflating Life Jacket
Life jackets are important safety items but can be bulky when worn or just take up a lot of room on the boat. These automatically inflating life jackets are great gifts for fishermen because they are low-profile, easy to wear, and easily stored. Once they come in contact with water a CO2 canister will automatically inflate them.
Best Fishing Footwear Gifts For Men
Huk Waterproof Fishing Boat Shoes
Some of the best boots for fishermen are these HUKs because they are made of strong flexible rubber and neoprene which is completely waterproof. Because of their flexibility and they are also very comfortable boat shoes. They're great for wet boat decks, fishing in the rain, boat launching…etc.
Reef Bottle Opener Sandles
These sandals are unique fishing gifts for men because not only are they quality sandals, but they also have a bottle opener on the bottoms. The bottle opener is a fun and interesting way to open bottles and is a great conversation starter.
Crocs Slip-On Shoe For Fishing
Crocs are a very well-known and time-tested clog for outdoorsmen. They're one of the best shoes for fishing and camping because of how lightweight they are, ease of slipping on and off, and breathable while also being protective. They also are made of foam so they float and work well as water shoes.
Best Fishing Boots For Men
One step up from the HUK rubber shoes are these full-sized latex-neoprene fishing boots. These boots are 100% waterproof, durable, and more comfortable than regular rubber boots because of the extra mobility the latex-neoprene offers. They are excellent for colder and wetter conditions.
Affordable Chest Waders
Chest waders are an essential piece of fishing gear, TideWe makes a very affordable pair of waders. They are one of the best fishing gifts for men because it allows them to wade deeper into streams, rivers, lakes…etc. Chest waders will allow him to get further out into the water which makes it easier to cast. Also, it's helpful to get to fishing holes that otherwise may not be reached without waders.
Best Fishing Tool Gifts For Men
Stainless Steel Plier with Corrosion-Resistant Coating
Not all pliers are created equal for fishing. The pliers below are designed specifically for fishing and have different-sized notches on the beak of the pliers for different fishing purposes. Also, these pliers are great for freshwater and saltwater fishing because of the corrosion-resistant coatings. High-quality pliers will last a lifetime and make one of the best fishing gifts for men because of their versatility and handiness in a variety of situations.
Leatherman Multitool
All fishermen can make use of a Leatherman multi-tool. Made in the USA and with a 25-year warranty, this 14-in-1 tool is not only convenient but in my experience, it manages to reduce a lot of frustration when things go awry or fall apart.
There have been many times when the leatherman has saved the day when doing repairs while fishing. Their hardiness in unideal situations makes them one of the best fishing gifts for men. They also have a lot of useful applications outside of fishing, like camping and hunting.
Best Replaceable Blade Fishing Knife Gift For Men
The Havalon knife is one of the best fishing gifts for men because it offers surgically sharp replaceable blades. Additionally, you can get different blades which make it effective for a variety of uses. There are different blades that can be used such as fillet blades, gut hooks, and saw blades for versatility.
Interchangeable Blade Fillet Knife
This fillet knife set is unique because it comes with one handle that has replaceable blades. The handle is specifically designed for safety and ergonomics when filleting fish. This makes these knives one of the best fillets knives for fishermen.
Electric

Interchangeable Blade Fillet Knife
Kick the fillet knife experience up another notch with an electric fillet knife with interchangeable blades. It comes with flexible blades and stiff blades so it can be used to fillet many different types of fish. It is an easy, durable, and convenient way to fillet fish compared to a standard fillet knife, making it a unique fishing gift for men. They make good gifts for commercial fishermen who process a lot of fish.
Best Fishing Boot Dryer Gift For Men
A boot dryer is definitely one of the top gifts for fishermen because everyone wants dry boots. There is nothing more uncomfortable than damp or wet boots the next day. Damp or wet boots also speed up getting cold toes or blisters.
Instead, just place boots on this dryer after a day of fishing and they'll be toasty and dry for the next day. Boot dryers also kill odors and bacteria for even more scent control. This Peet boot dryer can dry every type of boot, even chest waders when folded down making them one of the best fishing gifts for men.
Best Affordable Fishing Weighing Scale For Men
This fish weighing scale does it all. Not only does this scale weigh fish up to 110 lbs but it also has a 36-inch measuring tape built in for an all-in-one system for fishermen. For the price, this is one of the best fishing gifts for men.
Flexible Measuring Tape To Measure Fish Girth
Did you know you can determine a fish's weight without a scale? By measuring the length and the girth you can very accurately predict the weight of a fish using a formula for a particular fish species. This way you don't risk accidentally killing a fish when weighing it if you plan to release it. A flexible measuring tape like this will allow you to get the best girth measurements.
Expandable Fish Measuring Board For Boat
This expandable measuring board is one of the best fishing gifts for men that use canoes or kayaks so that they have easy access to measuring fish when they're caught. The sturdy plastic allows for accurate measurements because the fish is on a flat surface. This is much easier than measuring with a flexible measuring tape when in cramped or tight spaces.
Rubber Coated Foldable and Portable Fishing Net
Rubber-coated fishing nets are great gifts for fishermen who don't have them because rubber is so much gentler on fish than rope netting. Another big benefit of a rubber net is that hooks don't get stuck in the netting nearly as bad. Also, this net is versatile because it can be folded up and carried by fishermen or it can be used in a boat.
One-Handed Kayak Fishing Net
Another net that is useful for fishermen is the one-handed kayak fishing net. This gives fishermen extra leverage out of one arm and can help with netting fish when in a small boat like a canoe or kayak. This net is rubber-coated to help protect fish.
Best Fish Gripper Gift For Fishermen
 A fish gripper is one of the best fishing gifts for men because it helps fishermen pick up fish, especially those with teeth or sharp gills. This gripper works by clamping down on the fish's mouth but does not harm them.
Rub-A-Way Stainless Steel Fish Smell Remover
The Rub-A-Way stainless steel fish smell remover is a must for those who handle fish with any regularity. You just rub this stainless steel bar on your hands and the smell from the fish is removed. This works by the sulfur (fish smell) on your hand binds to the steel and thus is removed from your hands.
Minnow Trap Gift For Catching Live Bait
Live bait traps are awesome fishing gifts for men because they can catch baitfish that are naturally occurring in a particular body of water. Catching naturally occurring baitfish is helpful for making bait seem as realistic as possible when catching bigger and wearier fish. The minnow trap pays for itself because there's no need to buy bait.
Aerated Live Bait Cooler Gift
Live bait coolers are important for keeping live bait healthy and lively when fishing which is important to make the bait appear as realistic as possible. This bait station will keep minnows cool, oxygenated, and healthy for days so he won't need to constantly be buying or catching baitfish every day.
Downrigger Gift For Deeper Water Fishing
Downriggers are the perfect tool for deeper water fishing. Basically, you connect your fishing line to a weight located on the downrigger, then you drop the weight down to whatever depth you want your line to be fishing at. They are simple but effective tools for fishermen, especially trollers making them one of the best fishing gifts for men.
Waterproof First Aid Kit For Fishermen
A waterproof first aid kit is always a good idea to have in a boat. Outboard motors, hooks, knives…etc are all common items used when fishing on a boat. It is common for fishermen to accidentally cut themselves once in a while. They'll be glad to have a first aid kit when it's needed.
Best Fishing Storage & Organization Gifts For Men
Fishing Tackle Box
A tackle box is a quintessential tool for fishermen. Organized storage when fishing is important for finding the right gear quickly and easily. If you know beginner fishermen that needs one or experienced fishermen that could use an upgrade, a tackle box is one of the best fishing gifts for men.
Mountable Fishing Rod Holders
These fishing rod holders are versatile and can be used in a variety of settings. They're often mounted in boats so that rods and nets are easily accessible and not underfoot. This prevents rods from being stepped on and broken and makes them easy to find. You can also find creative ways to mount these to coolers or in the garage for extra rod storage.
Fishing Rod Holders and Storage
Having dedicated storage space for fishing gear makes things neat, organized, and easy to find. This solves a lot of frustration when trying to pull together gear for fishing trips. For this reason, an all-in-one rod holder and storage area is one of the best fishing gifts for men.
Car-Top Fly Fishing Rod Holders
Disassembling and reassembling fly rods is a huge pain for men when fishing, especially if they're jumping from fishing spot to fishing spot. If he owns a car or SUV he probably doesn't have a choice but to break the rods down to get them to fit in his vehicle for transportation. Car-top fishing rod holders are great because the rods stay assembled for quick and easy access.
River Quiver Fly Rod Roof Rack (4-Rod Holder)
A more premium option for a car-top rod holder is the River Quiver roof rack rod holder. These rod holders are in a sturdy case that will prevent them from getting damaged. They also attach to roof racks, making it easy for most vehicles to carry full-length fly rods without disassembling them after use.
Cooler Rod Holder Attachment (YETI & RTIC)
There are many applications for a cooler rod holder. They're great for fishing at the beach or for transporting multiple rods in a canoe or kayak where making the most out of the space you have is key. This particular cooler rod holder works with most YETI and RTIC coolers.
Canvas Fishing Rod Organizer Travel Bag
Canvas is a very strong and protective material which makes it a great travel bag. This travel bag has room for multiple rods and gear on the inside. It also makes a good storage bag just to keep everything organized and together. 
L.L. Bean Truck Seat Fishing Organizer
One of the best fishing gifts for men that have a lot of gear is a truck seat organizer. You just drape it over the back seats and he will have easy access to rods, reels, flies, first aid kits, maps…etc. This will keep the truck from getting messy which makes it hard to find fishing gear when it is needed.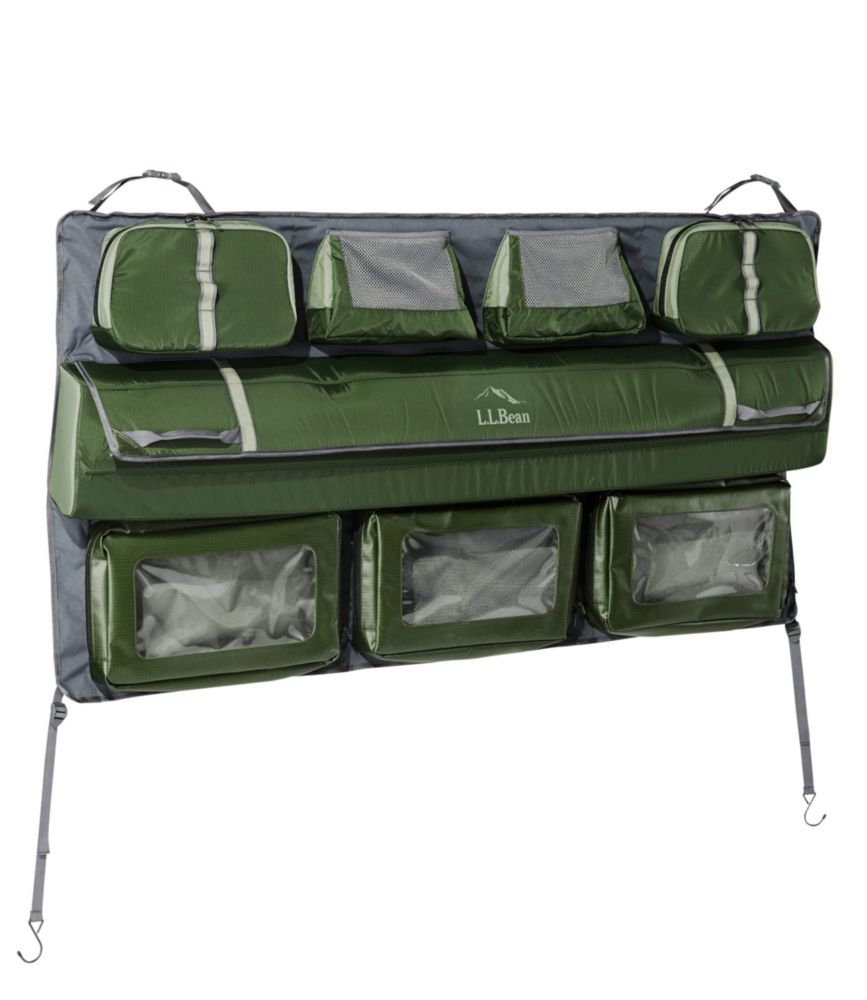 Fishing Tackle Backpack
Another useful piece of gear that would make a great fishing gift for men is a backpack that is designed for fishermen. This backpack has a lot of pockets for storage and organization making it easy to find the right items when needed. These backpacks are great for fishermen who hike into remote fishing spots.
Best Luxury Fishing Gifts For Men
Comfortable High-Back Mountable Boat Seats
These high-back seats are the best luxury fishing gifts for men that have aluminum boats that only have hard uncomfortable aluminum seats. You can mount these comfortable marine seats easily on these boats using one of the mounting options mentioned below. These seats swivel and make fishing so much more enjoyable when on the boat for extended periods of time. His back will feel so much better at the end of the day.
Aluminum Jon Boat Swivel Seat Mount
This mounting option for the comfortable chairs (above) is very simple. After you attach this bracket to the chair, you just tighten the brackets on the mount so they clamp to the aluminum seats and you're done! No screws or anything involved. The seats can be removed easily by untightening the clamps.
Swivel Seat Mount Platform For Comfortable Boat Seats
This is a more permanent mounting option for the comfortable chairs (above). Basically, he can bolt the base of the mount wherever he'd like his new seat to go and then attach the seat to the top of the mount. It really makes fishermen feel like they're fishing in luxury when they have these comfortable swivel seats when compared to a metal bench.
Clamp-On Boat Fishing Rod Holders
Rod holders are one of the best luxury fishing gifts for men because nobody likes to hold their fishing rod all day long, it gets annoying and tiring. These rod holders were designed to clamp to the side of boats so he can keep his hands free and fish at the same time. These rod holders are most often used by trollers.
Luxury Fishing Beach Chair
This beach chair is perfect for sitting back and relaxing while also fishing. It has a built-in rod holder so his rod is always at the ready. Also, it has backpack straps so that it can easily be carried and frees up hands to carry more fishing gear.
Luxury Surf Fishing Rod Holder For Sand
This rod holder is used for fishing from the beach. You drive the bottom portion (25 in) into the sand and then place a fishing rod in the top hollow portion. Then all he has to do is relax and wait for a fish to bite!
Old Town 12′ Solo Fishing Canoe
The Old Town Sportsman Discovery 119 canoe is one of the best fishing gifts for men because it's a small yet stable canoe that fits one person very comfortably. It can even be used with kayak paddles. This canoe is the perfect size for one person to effectively carry from the vehicle to the body of water with minimal effort. These canoes will also last a lifetime making this canoe one of the best fishing boats on a budget.
Check L.L. Bean's Price Check Amazon's Price
Perception Pescador Pilot 12.5′ Pedal Kayak
Another great luxury fishing gift for men is the Perception Pescador Pilot kayak. This is a very cool kayak for fishermen because it comes with a pedal motor that allows him to quietly and quickly maneuver the kayak to different fishing spots with his hands free. It also is built for fishermen because it has accessory rails built in for rod holders, fish finders, and other accessories.
Kayak or Canoe Easy Transportation Trolley Cart
These transportation trolly carts are an easy way to lighten the load when launching canoes or kayaks. This is especially true when carrying them for long distances. Also, many anglers use larger canoes with a motor. Since larger canoes are heavy and require a lot of effort to carry even short distances, these carts make the perfect fishing gift for men.
Electric Motor Fishing Gift
Electric motors work great and are an excellent luxury gift for fishermen. They're quiet, fast, and are an affordable option compared to an outboard motor. These motors work great with canoes or kayaks and make getting to and from fishing spots faster and with less effort.
Fly Fishing Gifts For Men
Fly Box For Fly Fishing Flies
Any fly fisherman will tell you it is helpful to have multiple fly boxes for different types of flies. Having flies organized by type is a fast and effective way to find the right fly quickly. Often the fishing action doesn't last long and being able to tie a new fly on at those critical times is priceless which is why these fly boxes are great fly fishing gifts for men.
L.L. Bean Fly Rod and Reel Combo
These fly fishing rod and reel combos are one of the best beginner fly fishing gifts for men because it works well and is affordable. It disassembles into 4 smaller pieces for easy storage and has great reviews. Additionally, with L.L. Bean's 100% satisfaction guarantee, you have peace of mind that if anything breaks on the rod it can be returned no questions asked.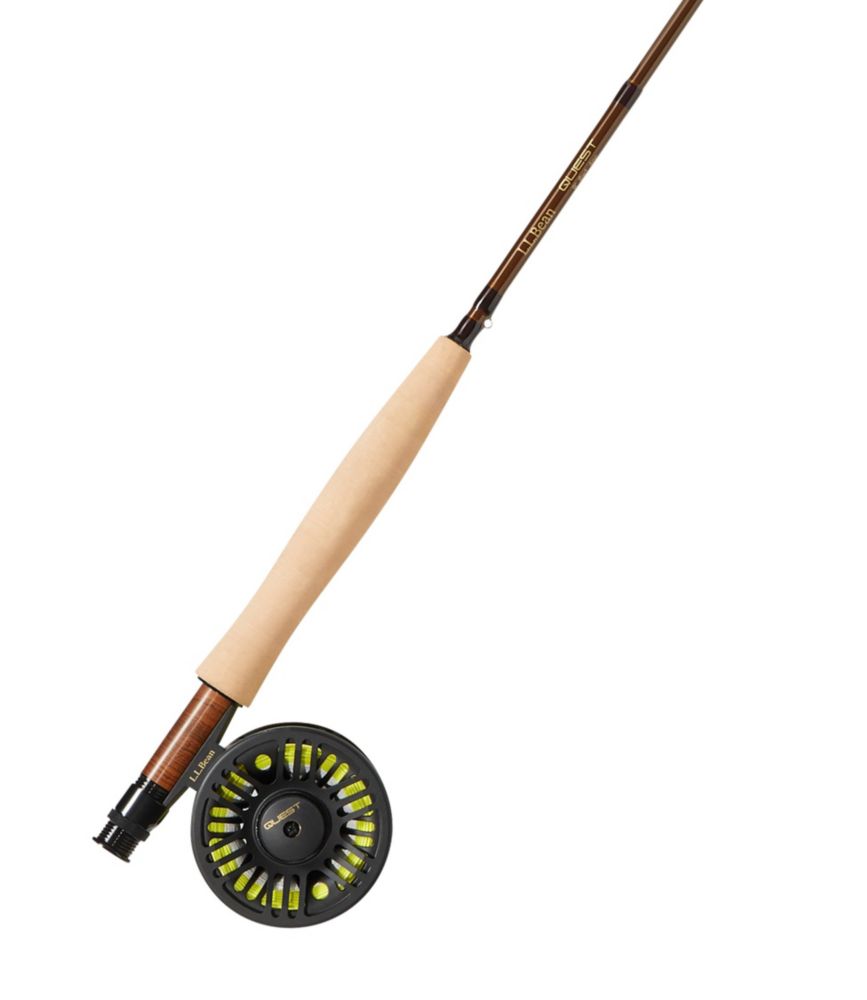 Fly Fishing Vest
Fly fishing vests are a must-have for fly fishermen because it's where everything important is stored like flies, reels, pliers, clippers, nets…etc. Without a fly fishing vest, fishermen are at a big disadvantage for catching and releasing fish. For this reason, they make great fishing gifts for men.
Fly Fishing Net
A fly fishing net is very important, without a net catching bigger fish is next to impossible. This net has rubber netting which protects fish and makes it easier to get hooks and flies out of when compared to rope netting. It can be attached to a fly fishing vest with a clip and lanyard. The lanyard allows the fishermen to let go of the net for hands-free use when unhooking fish after a catch.
Check Amazon's PriceCheck L.L. Bean's Price
Funny Fishing Gifts For Men
Fish Flops – Funny Fishing Flip Flops
Fish flops are funny but functional gifts for fishermen. These flip flops are perfect for the camp, boat, beach, pool…etc.
Fish Bottle Opener
A fish bottle opener is a funny fishing gift for men who like fishing and drinking. It is a fun and handy tool to have in the fishing boat and can easily be stored in a tackle box.
Long Sleeve Shirt Fishing Gift For Men With Ruler
Do you know a fisherman who never has a measuring tape at the ready when catching fish? This funny fish ruler shirt would be a perfect gift. This shirt is also handy for quick fish measurements so that he can release the fish back into the water quickly resulting in less stress on the fish.
Funny Fishing "Keepin' It Reel" T-Shirt Gift For Men
The Keepin' It Reel t-shirt is a perfect fishing gift for men with a sense of humor.
Funny Fishing Tin Sign Decor
This sign says it all " Education Is Important But Fishing Is Importanter". This funny tin sign is perfect for a fishing camp or a man cave.
Conclusion
Hopefully, you found these 101+ best fishing gifts for men in 2023 helpful. This fishing gift idea list was generated from over 20 years of fishing experience in all kinds of different scenarios.
Related Articles:
Looking for more fishing gift ideas? Often fishermen are also hunters and/or campers so these posts might be helpful:
Find Me On: