These best airsoft helmets are protective, durable, and customizable. This post covers full face, tactical, cool, and unique airsoft helmets. Full-face options are anti-fog to maintain vision and comfort.
Airsoft helmets come in at many different prices depending on the quality of materials. This post covers both budget and premium options.
This post contains Amazon and other affiliate links, which means I'll receive a commission if you purchase through my link, at no extra cost to you. Of course, you are not obligated to use my links, but it does help fund these posts in hopes of bringing more value to you!
Best Full Face Airsoft Helmets
Evike Annex MI-7 ANSI Rated Full Face Mask with Thermal Lens
This is a high-quality budget full face airsoft helmet. It's one of Evike's most popular facemasks because of its great value while also providing complete protection to your face. The visor of this helmet is great for blocking sunlight, especially if you're playing outdoors. This helmet also is great if you wear glasses because you can still wear them under the helmet.
Check Evike's Price Check Amazon's Price
Dye i4 Airsoft Full Face Mask
This is another popular paintball facemask that makes an excellent full face airsoft helmet. The thermal lens of this mask prevents the lens from fogging up, it has excellent peripheral vision, you can easily change lenses, and the foam in this mask helps prevent moisture or sweat from getting into your eyes.
Check Evike's Price Check Amazon's Price
Matrix Medieval Iron Warrior Full Head Coverage Helmet
This is a cool medieval-style full-face airsoft helmet. You can choose many different colors, including a more iron-colored helmet, but the camo is great for more concealment. Not only does this helmet cover your entire face but it also covers your entire head for ultimate protection. This helmet comes with some mounting options as well.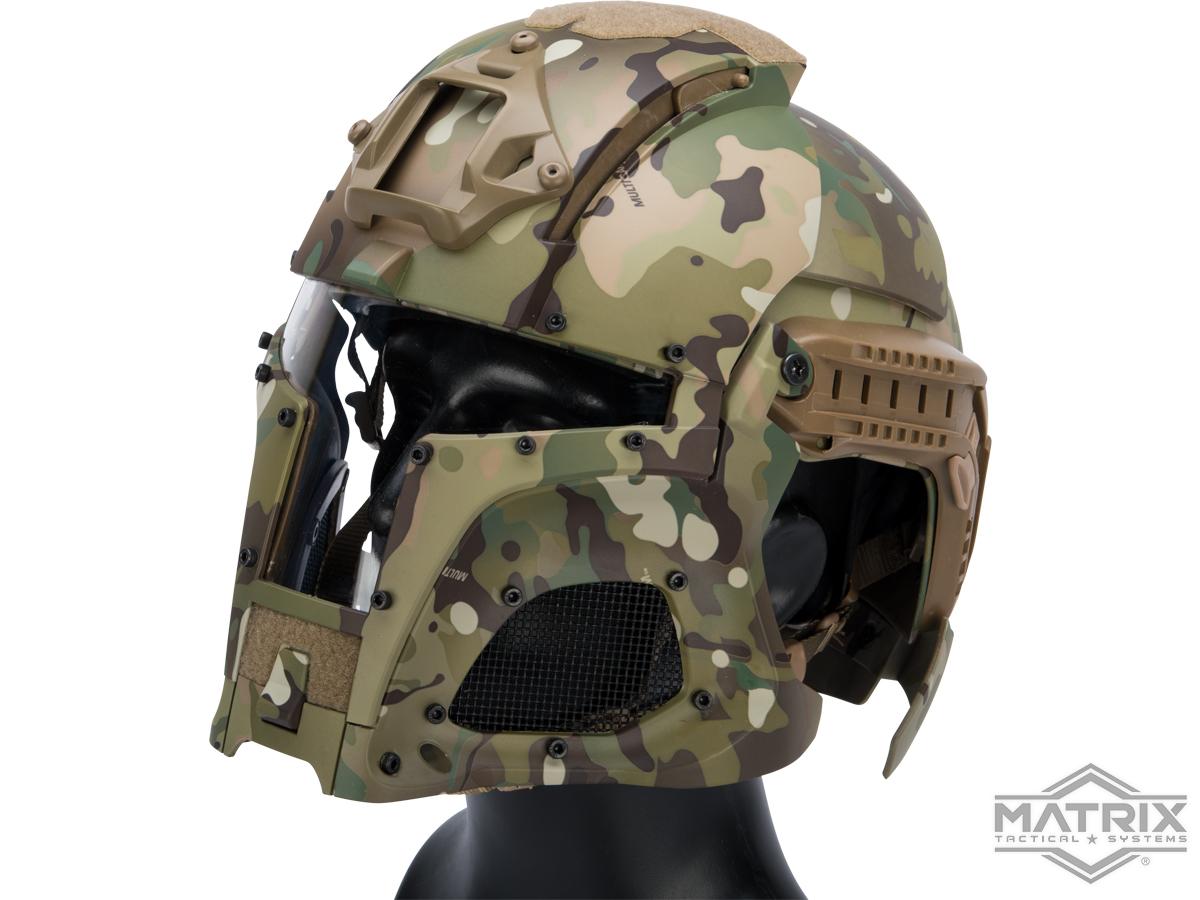 Matrix Iron Face Carbon Steel "Striker" Gen4 Full Face Mask
Another full face airsoft helmet option is the metal mesh. This is a great option for airsofters who are looking for the ultimate breathability and who do not want to deal with goggles getting fogged up. You will need safety glasses or goggles with this mask because you don't want pieces of bbs flying into your eye. However, because of the excellent airflow, they will not fog up.
H World Shopping Tactical Full Face Helmet
This is one of the best full face helmets for airsoft because it is made of mostly metal mesh which gives this helmet ultimate breathability and is lightweight. This means goggles and glasses will not fog up. They also come with built-in glasses to protect your eyes and many mounting options.
M88 Airsoft Tactical Mask with Fan
This is a unique airsoft facemask because it has a powered fan in the mask so that the eyepieces don't fog up. This is one of the best full face airsoft masks for this reason.
N/C Integrated Tactical Airsoft Helmet
This is another great helmet for airsoft players looking for full face protection. Additionally, the goggles and mesh facemask are removable for more versatility. You'll also get some mounting options with the helmet.
Best Airsoft Tactical Helmets with Masks
Tactical Airsoft PJ Helmet – Full Face Protection
This is another popular tactical para jumper helmet for airsoft that has full face protection and a lot of mounting options. 
Full Face Airsoft Tactical Helmet
This airsoft helmet comes with a metal mask for full face protection. It also has a helmet cover for added camo and customization. There are plenty of mounting options on this helmet for attachments too. You will need to buy safty glasses or goggles to go with this setup though because they do not come with this helmet.
Tactical Full Face Airsoft Helmet
This is another full face airsoft tactical helmet that has excellent 4.5/5 star reviews. This helmet offers many places to attach accessories because of the of velcro and rails. The fabric and metal mesh mask provide great protection and breathability.
Full Face Tactical Fast Helmet For Airsoft
The full face airsoft helmet is very similar to the helmet above. They both have excellent reviews and cost about the same amount of money. However, this helmet has many more reviews, which boosts confidence that you're going to get exactly what you're looking for with this helmet.
Best Tactical Airsoft Helmets Without Masks
If you already have glasses, goggles, or a face mask you might not be looking for a full face option. Instead, you might be looking for a high-quality helmet that you can use with the airsoft gear you already have. For this reason, this section is about the best airsoft helmets without included masks.
Novritsch Tactical Airsoft Helmet
This is a helmet by the reputable Novritsch company. Novritsch makes well-thought-out gear at an affordable price point. They are well-known for having some of the best airsoft sniper rifles for the money but also offer lots of other gear. Also, they sell a bunch of attachments for this helmet on their website which makes customizing simple.
MTEK Flux Replica Tactical Helmet
Evike, another reputable airsoft company, also sells a tactical helmet. The MTEK Flux is one of their best-selling tactical models and is very cool because it's a replica. It's a high-quality and durable helmet that uses MLOK accessory rails for mounting all the accessories you need.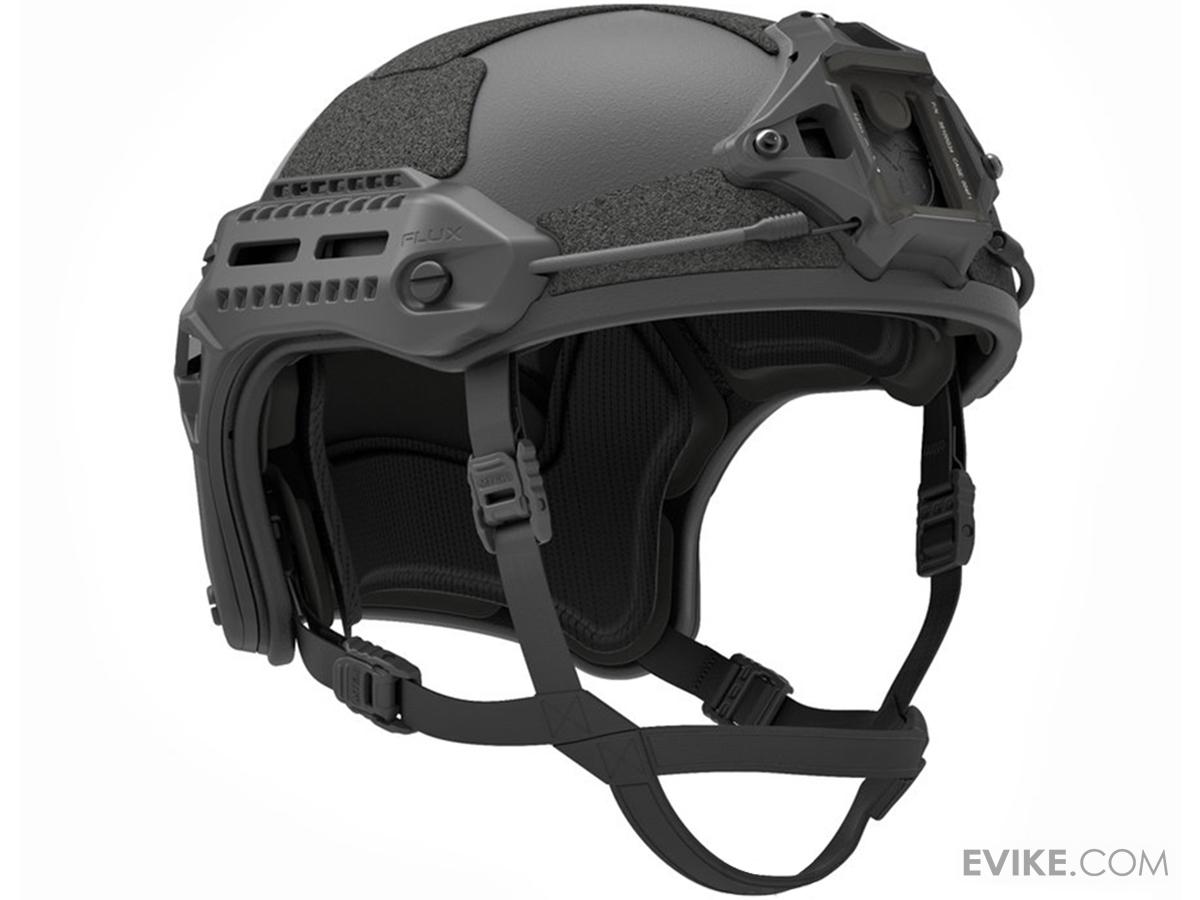 LOOGU Airsoft Military Tactical Fast Helmet
This is another one of the most highly rated airsoft tactical helmets with over 1000 reviews and at 4.5/5 stars on Amazon you can be sure you're getting what you're paying for. Like most of the tactical helmets in this list it has many places to add accessories.
Parajumper Tactical Airsoft Fast Helmet
This is one of the best budget airsoft tactical helmets and with 1000+ reviews and 4.5/5 stars, you can be sure you're getting a good value. Like most of the tactical helmets in this list, it has many places to add accessories. Be sure you have a smaller head though because this helmet will not fit larger heads.
OneTigris Airsoft Helmet with Over-ear Protection
One of the unique features of this helmet is that it has more ear protection than most other tactical helmets. So if you're someone who likes to have the hard shell of a helmet to protect your ears this might be the helmet for you.
Best Airsoft Goggles
Rothco OTG (Over the Glasses) Mil-Spec Ballistic Goggles
Even though this is technically an airsoft helmet blog post, I'm adding one high-quality pair of airsoft goggles to this post because they often are an accessory that you will use in conjunction with an airsoft helmet. These Rothco goggles have excellent reviews and some in different colors so they will match your helmet. They have excellent reviews everywhere you look.
Check Evike's Price Check Amazon's Price
More Airsoft Gear Resources:
Novritsch SSG10 A1 Review (Hands On) | Best Airsoft Sniper Rifle?
14 Best Boots and Shoes For Airsoft [2023] Airsoft Footwear 101
15 Best Cheap Airsoft Sniper Rifles For Beginners On A Budget In 2023
13 Best Cheap Airsoft Guns For Beginners On A Budget In 2023
34 Best Gifts For Airsoft Players [2023] All Budgets & Skill Levels
Reputable Airsoft Brands
Stores That Carry Airsoft Gear
Some great places to find hunting bows include:
Find Me On: