In this post, I share 23 best gifts for turkey hunters in 2023. Finding unique gifts for turkey hunters can be hard, especially if you don't turkey hunt yourself, I make it easy in this post.
This post contains Amazon and other affiliate links, which means I'll receive a commission if you purchase through my link, at no extra cost to you. Of course, you are not obligated to use my links, but it does help fund these posts in hopes of bringing more value to you!
Without further ado, here are the 23 best gift ideas for turkey hunters:
1. Turkey Hunting Vest
I would recommend a turkey hunting vest because you'll be carrying a lot of gear that you may not be aware of. For example; shells, calls, sandwiches, water, bug spray, turkey decoy attachments, and other odds and ends. It's very helpful for getting to Point A to Point B while keeping your hands as free as possible. I always wear my vest or at least bring it with me so that I know I have everything I need when I'm out hunting.
Having a lot of pockets is key, I also like having a lot of inside pockets. Try to get one that has back and seat cushions built-in so you don't have to make a separate purchase. This ALPS vest checks most of the boxes I would be looking for in a vest.
2. Seat Cushion Gift For Turkey Hunting
If you're not going to be hunting from a blind you're going to want something comfy to sit on or you'll be moving around way too much. I suggest something with padding for your butt and your back otherwise you'll get sore faster. Some turkey hunting vests have this as a built-in feature.

3. Touchscreen Camo Glove Gift For Turkey Hunters
The importance of gloves is often overlooked by beginners because they feel like they don't need them. However, your hands are often the most noticeable part of your body because of their excessive movement. Concealing your hands will go a long way to remain undetected. 
Touchscreen gloves are awesome for turkey hunting because I'm often using my Phone GPS to navigate and take waypoints. I'm also using my phone when the hunting is slow. Having gloves that are touchscreen enabled will keep my gloves on my hands so I'm not moving them as much when taking them on and off to use my phone, thus keeping turkeys from spotting the extra movement.
4. The Meateater Fish and Game Cookbook
Level up a turkey hunter's cooking skills with a wild game cookbook. This cookbook by the well-known hunter, Steven Rinella, offers cooking instructions and fantastic photography. Getting better at preparing wild-game meals is something every hunter can appreciate, making it one of the best gifts for turkey hunters.
Rinella's Meateater cookbook is one of the most well-known cookbooks on the market today and has excellent ratings. If you know a hunter who wants to improve their wild-game eating experience, this book would make an excellent gift. (Who knows, maybe you'll selfishly benefit as well).
5. Neck Buff Facemask Gift For Turkey Hunting
Buffs are versatile and can be worn in many different ways. I use mine as a facemask as well as for protection from the sun and insects. This versatile piece of clothing makes for the perfect gift for turkey hunters that seem to have everything. Additionally, turkeys have incredible eyesight, so having a facemask will help you from being detected.
6. Turkey Hunting Slate Call Gift
I use my slate call more than any other call when turkey hunting. I like my slate call because I can make realistic calls when performing both up-close quiet calls or loud calls for shock gobbles. The versatility of a slate makes it a great gift for turkey hunters.
7. Turkey Hunting Mouth Call Gift
A mouth call can be beneficial for those who don't spend much time and prefer to hunt on foot. Using a slate call in these situations can get you seen by turkeys. A mouth call is the most discrete call, making it a great gift for a turkey hunter.
8. Turkey Hunting Box Call Gift
A box call is a great tool for locating gobblers that are far away in the distance because the box calls are generally able to produce the loudest clucks of any type of call besides an electronic call.

9. Turkey Locator Crow Call
When turkeys just don't seem to be cooperating and you can't get one to gobble, a crow call can sometimes get a turkey to 'shock-gobble'. This can be a game-changer for a particular hunt.
10. Electronic Game Caller Gift With Programmable Turkey Calls
An electronic game call not only makes a great gift for a predator hunter, but also for a hunter of many other game species. These calls come with a function that lets you download new sounds, and download custom sounds so that it can be used for any type of hunting. This call can play 2 sounds at the same time and has a 300-yard remote range.
11. Carlson's Turkey Choke Tube Gift



Carlson's choke tubes would make an amazing gift for a turkey hunter. These choke tubes are screwed into shotgun barrels in order to increase shot-pattern density for longer and more lethal shots on turkeys. This is accomplished by using triple-shot technology (TST) in which makes the shotgun pellet spread-rate release more gradually than other choke tubes on the market. This choke-tube features shot-look technology that allows for the tightest patterns and longer downrange reach over any turkey load on the market.
12. Tom Turkey Hunting Decoy Gift
Different decoys are used in different situations in order to get the turkeys to do what you want. A tom turkey in strut when placed next to a hen decoy is used to get another dominant tom fired up and aggressive so that he will want to attack the decoy, thus bringing the bird into shooting range. Jakes will often be scared of a tom decoy so keep that in mind. A tom turkey is one of the best gifts for turkey hunters.
You may like this post for more information: Turkey Hunting Decoy Setups That Work | Positioning Turkeys Decoys

13. Jake Turkey Hunting Decoy Gift
Different decoys are used in different situations in order to get the turkeys to do what you want. A jake turkey that is semi-puffed up with hen decoys will make a tom want to put the jake in its place by letting him know who's boss. This will make the tom want to come in and kick scare the jake away from the hens so he can have them to himself. Additionally, other jakes will feel comfortable coming to join this jake. This can bring in any age male turkey.

14. Hen Turkey Hunting Decoy Gift
Different decoys are used in different situations in order to get the turkeys to do what you want. A hen is used as an attractor for toms and jakes. They can be used alone or with other male decoys. When placed with male decoys, a jealously and territorial trigger button will be pushed within male birds making them want to come into the decoys.
15. Rage Xtreme Turkey Hunting Broadhead Gift
This is a great broadhead because it has a large cutting diameter, but it is expandable so it will fly through the air pretty well for how large it is. Additionally, you can see the arrow stopper built into the tip of the broadhead which creates massive damage and helps prevent the arrow from going all the way through the gobbler. I took my biggest tom to date with this broadhead.
You might like this post for more information: Best Broadheads For Turkey Hunting | Turkey Broadheads Explained
16. Adjustable & Swiveling Blind Chair Gift For Turkey Hunting
All turkey hunters will appreciate a fully adjustable and swiveling blind chair. The legs of this chair adjust which allows for a perfectly leveled seat. This is key in order for maximum comfort. Additionally, the chair swivels 360º so that you can shoot out of any window of a blind easily at the approaching turkeys.  A comfortable chair is key for success because when you're comfortable you can last longer in the blind.
Check Amazon's Price
17. Lawn Chair Gift For Turkey Hunting From Ground Blinds
Lawn chairs are the most affordable and comfortable chairs for ground blinds that I've been able to find. They're so comfortable that when I start to get bored after the morning excitement, I'll often doze off in hopes to be woken up by a gobble (this has happened many times). This is my recommended chair of choice for beginner turkey hunters.
Another benefit is how easily lawn chairs can be transported. They fold up and can be put into a small bag that you can carry over your shoulder. This is something to consider when you're carrying a lot of gear to your spot.
The downside is they aren't as maneuverable as some other ground blind chairs, but most are more expensive than lawn chairs.
18. Pop-Up Blind Gift For Turkey Hunting
For whatever reason, turkeys are just not phased by ground blinds. It's always best practice to conceal them into the environment as much as possible but from what I've experienced, you don't need much. You can also get away with a lot of movement within a blind that you otherwise could not. Although heavy, it's worth its weight in gold. I'm almost always hunting out of a ground blind.
Not only are they fairly affordable, but they also make a huge impact on a hunter's comfort level and success. One of my favorite blinds is the Ameristep Care Taker Ground Blind which offers enough room for two hunters.
It has adjustable shooting windows with removable mesh screening. It's very easy to put up and to take down. It's completely blacked-out on the inside, so hunters stay out of sight. My favorite aspect of this blind is how easy it is to travel with because it comes in a carrying case similar to that of a lawn chair. Also, it's very easy to set up because it pops up in sections similar to an umbrella.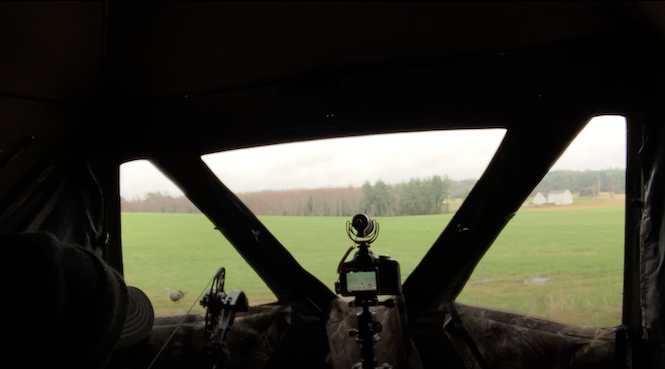 19. Rynoskin Insect Protection Clothing For Turkey Hunting
Ticks and insects are at full force during the springtime. Rynoskin helps keep these pests away. There are many reasons to not spray yourself with bug spray. The poison from the spray is able to penetrate your skin and is unhealthy. Additionally, if your hunting game with a good sense of smell using bug spray is a great way to ruin a hunt. I'm a big advocate for Rynoskin, I wear them religiously to protect me from mostly ticks but also help with mosquitos and other insects. They are a chemical-free baselayer that helps prevent bugs from penetrating the tight mesh. Check out my full review here: Rynoskin Review: Insect and Tick Proof Clothing | Does it Work?
20. Binocular Harness For Turkey Hunting
A binocular harness wraps around the torso and keeps the binoculars at chest level so hunters can be hands-free when hunting. When turkey hunters need their binoculars, they will be able to get to them effortlessly. A binocular harness is one of the best gifts for turkey hunters because binoculars are only needed periodically, a place to store them while maintaining quick-access is very helpful.
Being able to store them in an easily accessible place makes the process seamless when they are needed. Vortex not only makes great binoculars but they also make great binocular harnesses. This harness can fit up to the Vortex 10×50 Binoculars and has additional pockets for other important items, like GPS's.
21. Best Value Binoculars For Turkey Hunting
Binoculars are a staple for turkey hunters and all outdoor-goers. My post: 14 Best Binoculars For Hunting For The Money is a great resource for hunters of all budgets. I bought these 14 binoculars and did a field test review comparing all them. The binoculars below were my favorites after conducting my review.

You can watch my YouTube review here:
22. Rangefinder For Turkey Hunting
There is a lot to like about the Leupold RX-1400i TBR/W. This rangefinder is one of the best rangefinders for hunting for the money because of the price and its ability to be used by both rifle hunters at long range and bowhunters at close ranges. It has angle compensation and internal ballistic profiles.
23. Lacrosse Grange Turkey Hunting Rubber Boot
These boots are perfect gifts for turkey hunters. They are great for spring when there is a lot of mud as temperatures start to increase. I am a huge fan of knee-high rubber boots, in fact, I wear them all season long. These are my favorite mobile hunting boots because they are lightweight, ankle tight, and waterproof. My legs just don't get tired walking in them, they feel like sneakers.
The Grange boots are 18-inches tall which is very handy for crossing streams, brooks, and shallow rivers. Multi-layer rubber on the heel and toe increase durability while the fit helps keep your feet comfortable in the boot. Added benefits include scent-free protection and tear-resistant hand-laid ZXT rubber.
Conclusion
Now that you've read through this post I hope you've found some great gifts for the turkey hunters in your life. If you still haven't found what you're looking for and want something a little more specialized/specific check out my other hunting gift idea posts liked below:
More Hunting Gift Ideas And Resources:
Find the perfect hunting gift faster by navigating to one of my more specific hunting gift idea articles:
Hunting Gift Idea Articles:
Related Gift Idea Articles:
Best Places To Shop For Hunting Gifts
Some other great places to find hunting gifts include:
Find Me On: