Here are 61 best gifts for deer hunters in 2023, sorted by price. You'll easily find the perfect deer hunting gift with this deer hunting gift guide.
Sifting through the vast number of hunting products to find a thoughtful and unique gift can be daunting, especially for non-hunters. For this reason, I created this post so that you know what gift ideas would be best specifically for deer hunters.
Within this post, you'll find great gift ideas for both novice deer hunters and experienced deer hunters.
This post contains Amazon and other affiliate links, which means I'll receive a commission if you purchase through my link, at no extra cost to you. Of course, you are not obligated to use my links, but it does help fund these posts in hopes of bringing more value to you!
Without further ado, here are the 61 best gift ideas for deer hunters:
Best Gifts For Deer Hunters Under 25$
Cookbook: Buck, Buck Moose
This is a cookbook by Hank Shaw that is specifically for cooking four-legged antlered animals, including deer. This cookbook is one of the best gifts for deer hunters looking to level up their wild game cooking skills.
The deer poop necklace – 'cause you ain't killed crap all season' (consider going vegan) is one of the funniest gag gifts for hunters because not only are you getting them deer poop as a present, but you're making fun of them at the same time.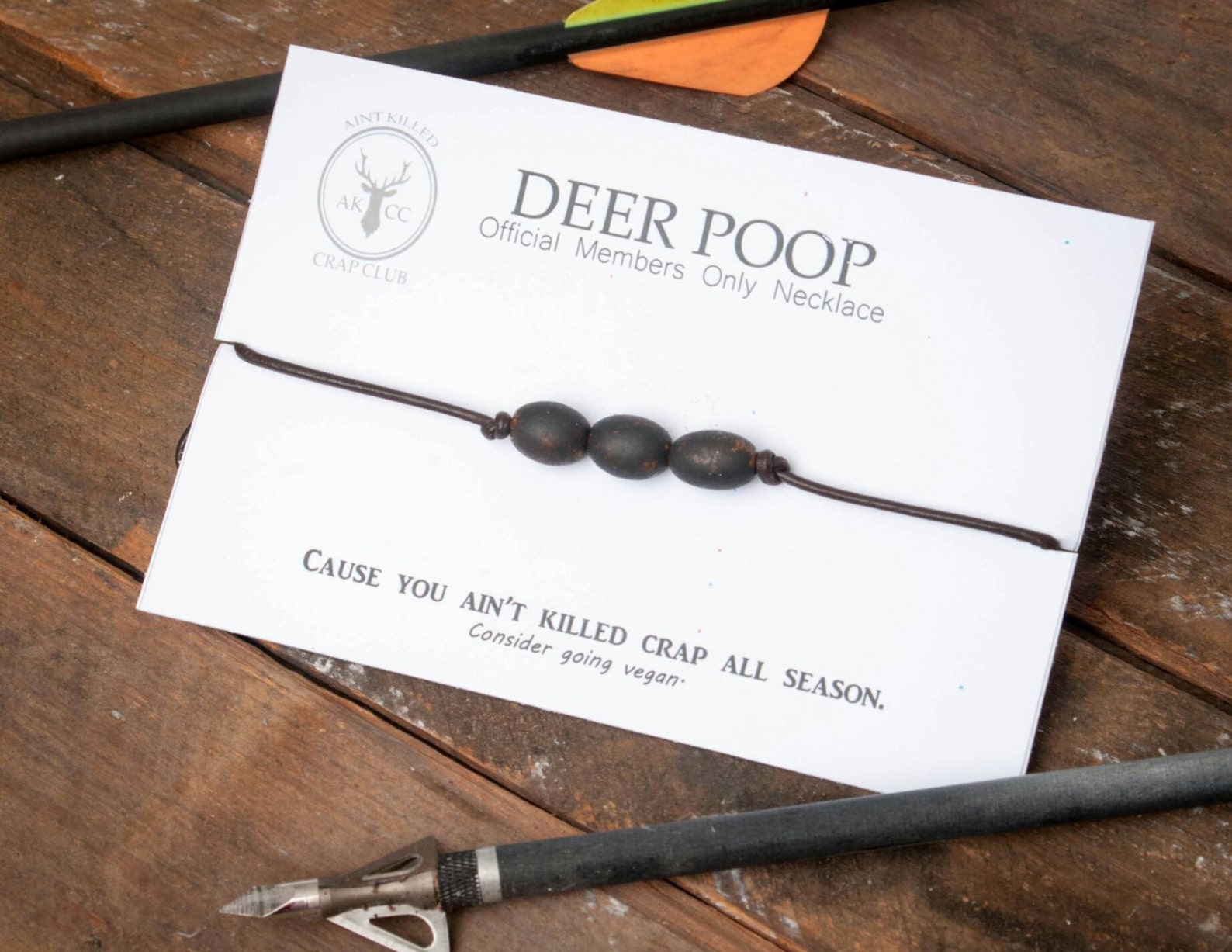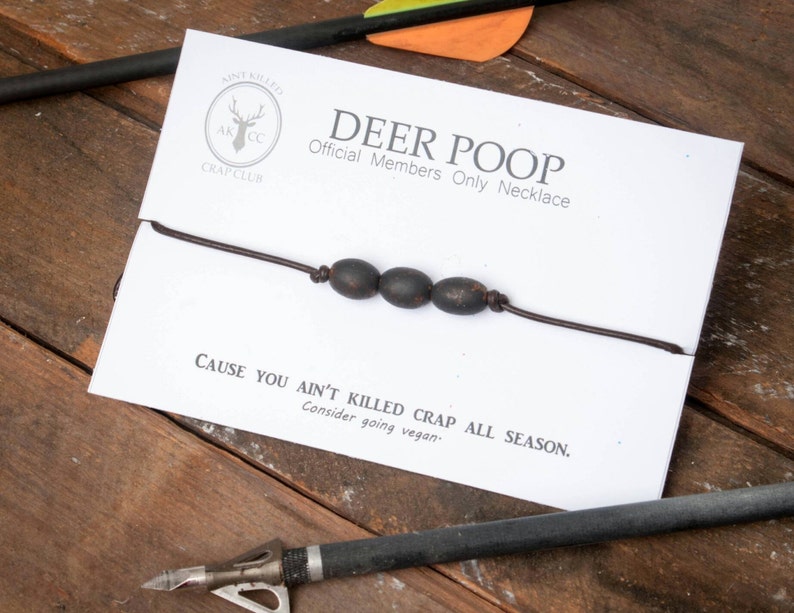 Electric Lighter Deer Hunting Gift
Electrical lighters are flameless and require no gas or butane making them an excellent choice for getting a fire started in poor conditions. This lighter is waterproof, windproof, and made from PVC and Zinc alloy for durability. It's interesting, unique, and functional making it one of the coolest gifts for hunters.
Folding Saw Deer Hunting Prep Tool
A folding saw is an excellent tool for trimming around a new treestand and cutting shooting lanes. It's small and will fit easily into a small backpack or waist pack.
In addition to treestand preparation, hunters that like to hunt from the ground can always make use of folding saws. They're perfect for spur-of-the-moment ground blind creation. They're also a great tool to have when making bush sleds or other tools in an emergency.
Splatterburst Targets
Splatterburst targets make great gifts for deer hunters because the bullet holes are highly visible at a distance. This makes sighting in guns a lot easier because you don't have to walk down-range after every shot in order to see where you hit. If you don't have a scope then you'll still want binoculars though. These targets have thousands of reviews and a solid 5-stars so you know you're getting a quality gift.
Compass For Navigating When Deer Hunting
A compass is one of the most useful tools for safety and navigation while deer hunting. Compasses can be used to get out of the woods when lost or to maintain a straight line. They are also an essential backup for any deer hunter using a GPS. It is never a good idea to rely on electronics, a GPS can fail. In these situations is always a good idea to have a compass for a backup. Compasses do not require batteries, making them very reliable and thus a great gift.
Mobile Trail Camera SD Card Viewer
Every hunter with a game camera will appreciate a mobile SD card reader. Instead of wasting time by bringing the SD card back home to plug into a computer, you can just download photos and videos to your phone and put the SD card back in the camera. This saves a lot of unnecessary time dealing with SD Cards.
Deer Hunting Improvement Books
All hunters are striving to become better hunters. Why not get a book so they can take their hunting to the next level? Check out my post: 10 Best Deer Hunting Books – Wisdom from the Top Big Buck Killing Gurus. I have read many books on deer hunting and these by far are the most impactful and would make a great gift. One of my absolute favorites is Bowhunting Pressured Whitetails by Chris and John Eberhart.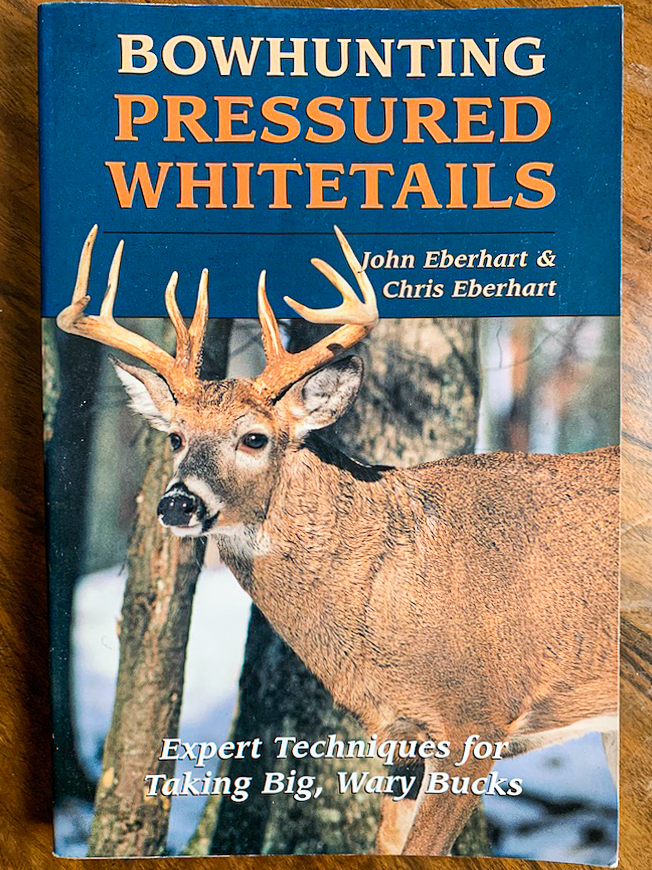 The Meateater Fish And Game Cookbook
Level up a hunter's cooking skills with a wild game cookbook. This cookbook is written by the well-known writer, T.V. Host, hunter, and conservationist Steven Rinella. Within this book, Rinella offers cooking instructions and fantastic photography. Getting better at preparing wild-game meals is something every hunter can appreciate, making it one of the best gifts for hunters.
Rinella's Meateater cookbook is one of the most well-known cookbooks on the market today and has excellent ratings. If you know a hunter who wants to improve their wild-game eating experience, this is the book to get. (Who knows, maybe you'll selfishly benefit as well).
Scent Killer Deer Hunting Gift Kit
It is important for deer hunters to be scent-free. Deer have incredible olfactory senses (noses) and if the wind direction starts swirling a good scent control regime can be the difference between a successful and failure. Dead Down Wind makes a great scent killer kit, I've been buying these kits for years. It's a 10-piece kit. The three items in the kit I use the most are the field spray, laundry detergent, and bar soap.
Lumenok – Lighted Arrow Nock For Deer Hunting
Lumenoks are lighted arrow nocks, when an arrow is shot the nocks light up making them easily visible in low light. For this reason, Lumenoks are a bowhunter's best friend and are one of the bests gifts for deer hunters. The ability to clearly see where the arrow connects with the animal is important for effective recovery decisions.
Having a lighted nock also makes finding the arrow after the shot much easier and can make the difference between a recovered and not recovered animal. Lumenoks make great gifts because you will be a hero to the hunter if the Lumenoks were the only reason a deer was able to be recovered after a sub-par shot.
Best Gifts For Deer Hunters Under 50$
Antler Mounting Kit Gift For Deer Hunters
An antler mounting kit is a great Christmas gift on its own. However, you can take it one step further and mount the antlers for someone else to make it one of the most thoughtful and unique hunting gifts for hunters who have everything.
The Hunter – Call Of The Wild Video Game
Just about every guy loves the excitement of a new video game, this one is designed for hunters. It has hundreds of creatures to hunt and interact with, dynamic weather, animal behavior, sophisticated wind systems that carry scent, and more realistic components to really immerse the player in the hunting experience making it one of the best hunting gifts for a boyfriend. This game is available for Xbox, PC, and Playstation.
Check Amazon's Price
OnX Hunt GPS Mobile App Subscription
Getting permission to hunt new properties is one of the most challenging aspects of deer hunting, especially for new deer hunters. The OnX Hunt App helps to solve this time-consuming process. OnX does this by showing property boundary lines as well as the owners of the property. This makes seeking and asking for permission in order to get new hunting grounds so much easier making it one of the best gifts for hunters. This phone application works across all platforms (apple, android…etc.).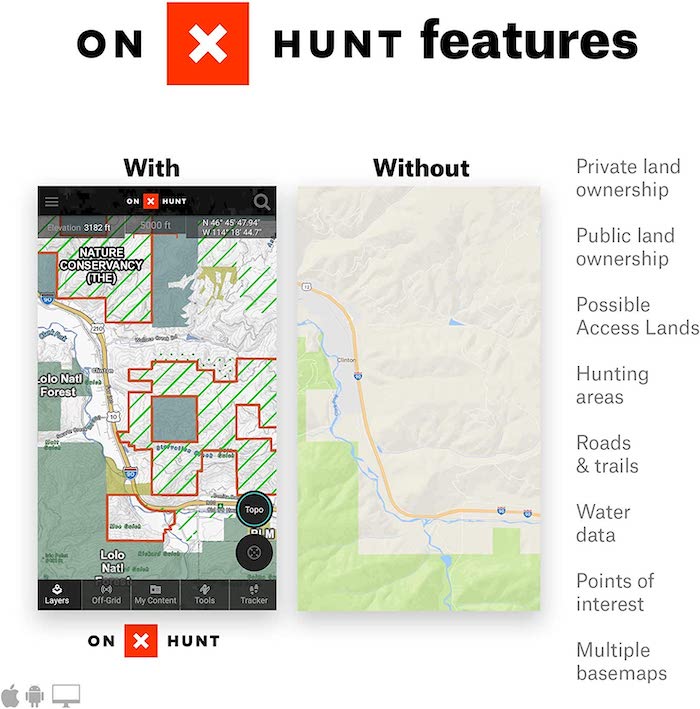 Lithium Batteries Are Overlooked Gifts For Deer Hunters
Lithium batteries make a world of difference and are often overlooked, but are one of the best gifts for deer hunters. This type of battery is much more efficient and works much better especially in cold weather, making them superior for all hunting products. They are especially useful for game cameras. The electronics in game cameras tend to fail in cold weather with regular alkaline batteries, which is very frustrating.
The only downside to these batteries is that they're a little more expensive than regular batteries. I know I don't like spending extra money on lithium batteries so sometimes I'll skimp and buy alkaline batteries. This is why Lithium batteries are great gifts for deer hunters. Lithium batteries can be bought as a gift each year because new batteries will always be needed.
Knife With Replaceable Blade
Re-sharpening a knife is time-consuming and inconvenient, with the Havalon knife you can easily replace the blade at any point. This is one of the best gifts for hunters because the replaceable blades are surgically sharp. Additionally, you can get different blades. There are regular blades, gut hooks, and saw blades for versatility and other hunting-related purposes.
Skull Hooker European Mount Gift For Deer Hunters
European mounts are a cost-effective way to show off a trophy. These "Little Hooker" hangers by Skull Hooker are pretty cool because you can adjust the skull up and down, as well as the side to side.
This is great to be able to place the mount in many locations and position the skull so it still looks good. I also like the movement of the skull hangers because the "good side" can be shown off. The adjustability of these hangers makes them one of the best gifts for deer hunters looking to mount a skull.
Rynoskin Insect Protection Clothing For Deer Hunters 
There are many reasons to not spray yourself with bug spray when deer hunting. The poison from the spray is able to penetrate your skin and is unhealthy. Additionally, deer have a tremendous sense of smell, using bug spray is a great way to ruin a hunt.
I'm a big advocate for Rynoskin Total, I wear them religiously to protect me from mostly ticks but also help with mosquitos and other insects. They are a chemical-free breathable baselayer that helps prevent bugs from penetrating the tight mesh. Check out my full review here: Rynoskin Review: Insect and Tick Proof Clothing | Does it Work?
Bow Buddy Bowhunting Gift – Bow Stand & Arrow Holder
Bow stands are a simple yet useful tool when practicing with a bow. Without a bow stand, you have to set your bow on the grass after you're done shooting in order to retrieve the arrows. A bow stand keeps your bow off the elements and relieves the shooter from having to bend down over and over again to pick up their bow.
It's a small thing but actually is annoying after shooting for a while, especially if the grass is wet, which is why the Bow Buddy is one of the best bowhunting gifts. It comes with a ring to hold arrows which is another convenient feature. This way you don't have to stick the arrows in the dirt to get them to stick up.
Knife Sharpening Stone
The quintessential tool of the hunter needs to be maintained. Nothing is more annoying than trying to do something with a dull knife. A good quality knife sharpener will make it easy to get a sharp blade edge. This is a great option for a sharpening stone because it does not require oil, it only requires water to start sharpening.
The stone is double-sided, for coarse and fine sharpening which is key to get those really dull blades sharp. It can sharpen any blade such as scissors, broadheads, hunting knives, and even axes!  Another benefit is that also comes with an instruction manual for those new to sharpening. If you don't like to read, one quick YouTube video and you'll be ready to go.
Check Amazon's Price
Boot Dryer Gift For Deer Hunters
A boot dryer is definitely one of the best gifts for deer hunters as every hunter needs and wants dry boots. There is nothing more uncomfortable than damp or wet boots during the next day's hunt. Damp or wet boots also speed up getting frozen toes.
Instead, just place boots on the boot dryer after a day of hunting and they'll be warm and dry for the next day. Boot dryers also kill odors and bacteria for even more scent control. This Peet boot dryer can dry every type of boot, even chest waders when folded down.
Best Gifts For Deer Hunters Under 100$
Spotting Scope Window Attachment Gift For Deer Hunters
A handy way to use a spotting scope for scouting deer is by clamping it onto the window of a vehicle. Since spotting scopes have a high zoom level they shake a lot if you don't have something steady to put them on. The window attachment is super handy for getting steady visuals when scouting from the vehicle and looking out into fields or valleys. This makes a great gift for deer hunters that seem to have everything.
Deer Hunting Field Dressing And Meat Processing Kit Gift
A field dressing and meat processing kit is one of the best gifts for deer hunters that are looking to get into processing their own meat. I like to process my own meat when possible. I feel like I am able to use as much of the animal as possible and save money in the process.
A good butchering kit will help make the butchering process flow much smoother resulting in faster processing and more meat in the freezer. This 10-piece Mossy Oak kit will equip you with everything needed to field dress an animal in short-time.
Fatboy Premium Deer Hunting Seat Cushion Gift
Seat cushions are helpful for all types of hunters. I've used mine on top of my ammo box while duck hunting, on the ground for turkey hunting, and on metal treestand seats for deer hunting. I've even used my cushion as a backrest. There are a lot of ways a seat cushion can be used, and it doesn't have to be confined to just hunting applications.
The Fatboy Premium Seat Cushion isn't your average hunting cushion. It uses layers of gel and memory foam in order to create a very comfortable seat. It has quiet fabric and a buckle so it can be easily carried when in transport.
Muddy Treestand Harness Gift For Deer Hunters
Although most tree stands come with a harness, a specialized, quality harness can make all the difference for safety and comfort while treestand hunting. Show the hunter in your life you want them to come home safely!
The Muddy harness is an excellent harness that I've been using for years. It's quiet, quick to put on, and is padded for comfort. These harnesses can be used for more than just sitting in a treestand. I use my Muddy treestand harness all the time in order to prepare treestands for the coming hunting season.
Pole Saw For Clearing Deer Hunting Shooting Lanes
The extendibility of the pole saw allows you to reach branches you otherwise would not be able to reach. They are very helpful for clearing shooting lanes and preparing treestands for deer hunting. Every treestand hunter could use a quality a pole saw to speed up, improve, and perfect treestand hunting setups.
Chest Waders For Deer Hunting & Scouting
Chest waders are one of the best gifts for hunters because they have a variety of hunting applications. I use mine for hunting deer, geese, and ducks as well as scouting and fishing. They are great for scouting deer in marshes and swamps that are too deep for hip boots. TideWe makes a great pair of neoprene waders for hunters. These waders have a very durable construction by using extra liners and stitching to reinforce the design preventing leaks, nobody likes leaky waders.
Deer Hunting Game Cart With Trailer Hitch Adapter
A game cart makes it easy to transport deer. This cart has solid rubber wheels that won't go flat on you in rough conditions and a solid steel axle to hold up to the abuse of rocks or logs. This cart can double as a carrier for hunting blinds, firewood, and whatever else you find yourself dragging into or out of the woods. It's also toolless and rated up to 500 lbs.
Check Amazon's Price

Lacrosse Grange Deer Hunting Boot
This is the ultimate wet environment boot. The rubber can't get over-saturated and start to seep like other materials. The Grange boots are 18-inches tall which is very handy for crossing streams, brooks, and shallow rivers. Multi-layered rubber on the heel and toe increase durability while the fit helps keep your feet comfortable in the boot.
The strong rubber is also naturally scent-free, and tear-resistant. I am a huge fan of knee-high rubber boots, in fact, I wear them all year long. These are my favorite mobile deer hunting boots because they are lightweight, ankle tight, and waterproof. My legs just don't get tired walking in them, they feel like sneakers. These boots would make a great gift for a mobile hunter. They also make great treestand hunting boots in the early season.
Cabela's Guide II Deer Hunting Vest
A blaze orange vest is often a requirement by law for hunting because it keeps hunters safe! Cabela's Guide II vest makes a great blaze orange vest that is lightweight, quiet, and has a lot of useful pockets (inside and outside) for storage which is surprisingly difficult to find in an orange vest.
I use this vest for deer hunting and it works very well. I ordered it one size smaller than normal for a snug fit so it doesn't catch on brush. Although this vest has a bird pouch in the back, I would recommend a different type of vest for specifically bird hunting.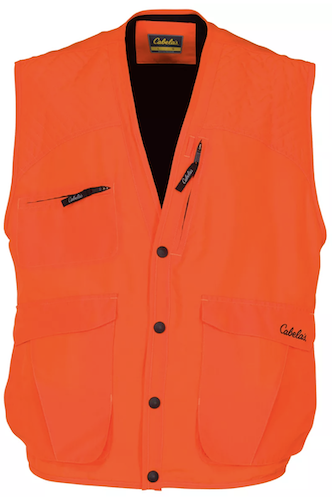 Best Gifts For Deer Hunters Under 300$
Arrow Fletching Jigs
An arrow fletching jig is one of the best gifts for bowhunters because it allows them to customize their arrows exactly how they want them. Hunters like to be able to build their arrows because it gives them more control depending on their hunting style. I personally use the Bitzenburger and I like it a lot.
One of the most common reasons to get a fletching jig is to add some helical (spin) to the fletching's and to add additional fletchings to increase accuracy with broadheads. With the Bitzenbirger you can control the steepness of the helical and has the option to evenly place 3 or 4 fletchings. There are different clamps you can buy for this jig so that you can get a left, right, or straight fletching offset.
Trophy Ridge Bowhunting Sight For Deer Hunters
If you know someone who's looking for a sight for their bow this Trophy Ridge Hotwire is one of the best. It offers 2 fixed pins and a 3rd tool-less adjustable floating pin which is very helpful for practicing at long ranges. The adjustability of this sight makes it versatile and a great choice for bowhunters.
Sitka Gear Windstopper Hand Muff Deer Hunting Gift
Hand muffs are basically gold to deer hunters in frigid temperatures. When hands are cold it's hard to enjoy yourself or think about anything else until your hands become warm. Hand muffs are one of the best gifts for deer hunters for this reason. The Sitka hand muff uses Gore-Tex and Windstopper layers with Primaloft insulation to block wind and keep hands warm.
Another benefit is that you don't need to wear gloves when you have a hand muff. This means shooting there is less to get in the way of accurate shooting. I know my big gloves change my anchor points when shooting a bow. This forces me to re-sight in my bow which is really annoying. A hand muff would prevent this.
Archery Block Target Gift For Bowhunting Deer 
Believe me, there is no such thing as "too many block targets" when it comes to deer hunting. You can set up spare targets at different ranges, heights, or even have them moving to increase your skill and accuracy. Additionally, they get worn out over time so the more targets you have the more you can spread out the wear.
Field logic makes a great target, I've been shooting mine for the last few years and it's held up great. Broadheads and field tips can both be used on this target. Each side of the target has different targets to shoot at to keep things interesting. The durability and versatility of this block target make it one of the best gifts for bowhunters.
Glendel 3D Buck Target Gift For Bowhunting Deer
Every bowhunter loves a good 3D target. The GlenDel Full-Rut Buck is one of the most popular 3D targets and is one of the best gifts for bowhunters. One of the best aspects of this target is the replaceable core. The replaceable core is key because it enables the target to last so much longer.
I've had my target for nearly 10 years, exposed to the elements, and still stands strong! This a great target for archers as it is nearly life-size and helps shooters visualize the moment of truth, as well as the location of the vitals. This target is suitable for longbows, compound bows, and even cross-bows!
Deer Hunting Cellular Trail Camera Gifts
Cellular trail camera are one of the best gifts for deer hunters because photos get sent wirelessly to your devices. This means you don't have to physically check your camera in person, saving hunters a lot of time. With regular trail cameras, you need to check your camera physically which can be time-consuming and inconvenient.
As far as cellular cameras go, this Browning Defender Wireless Pro Scout is one of the best cellular trail cameras for the money. It takes quality images, has a 90 ft detection range, has a fast recovery time for a cellular camera (26s), and has an impressive 10.5 months of battery life (for a cellular trail camera).
If you're looking for the next step up from the Spypoint cellular cameras, the Browning Defender Wireless Pro is an excellent option. For a lot of people, the extra performance of this camera is well worth the price.
Check Amazon's Price
Best Trail Cameras For Deer Hunting
Trail cameras are one of the best gifts for deer hunters because cameras allow you to see the interesting things happening in the woods. Every hunter loves to look through the new photos captured in these areas to see what's going on.
The Browning Spec Ops Elite HP4 is a cool trail camera with some great specs. For example, it has:
This criterion makes this camera perfect for backcountry hunters that can't replace batteries often. Additionally, this camera was awarded one of the best trail cameras for the money in my reviews of trail cameras.
The HP4 also takes 1080p Full HD video up to 60 fps. With the fast trigger speed and high frame rate of this camera, there should be virtually no blurring in photos with movement.
ScentLok OZ Active Odor Destroyer Gift
Scent killing products make awesome gifts for deer hunters because scent plays a huge role. Many animals like deer, elk, moose, and hogs have incredible senses of smell. You may not be able to completely eliminate your scent, but you can reduce it to such low levels that it does not feel as threatening.
A good scent control regimen key and it starts with clothing storage. The ScentLok OZ Active Odor Destroyer storage bag uses Ozone to kill odors caused by bacteria, fungus, and mold. This leaves clothes scent-free and ready to head into the woods.
Meat Grinder Gift For Deer Hunters
A good meat grinder is one of the top gifts for deer hunters. A good grinder will save countless hours when processing deer. I highly suggest buying a meat grinder that does not slow down or bottleneck the speed of your butchering operation.
The faster your meat grinder, the quicker you can get the meat in the freezer! The STX Turboforce meat grinder has a good reputation and is an excellent choice for a gift. It can grind from 180-240 lbs. of meat per hour which is quite fast for a meat grinder at this price. The grinder comes with multiple attachments so you can make burger or sausage.
Jerky Maker Gift For Deer Hunters
Jerky makers are awesome gifts for deer hunters. Being able to make your own jerky from wild-game is a great way to change things up as far as wild-game consumption. When making jerky you can flavor it to your liking and because it's so tasty, it's a great way to introduce others to eating wild game. The Cosori dehydrator comes with 50 recipes and 6 trays for dehydrating. It's easy to use, and easy to clean making it a great gift.
Caldwell Lead Sled Shooting Rest Gift For Deer Hunters
A shooting rest is a great tool for deer hunters who use firearms. Shooting rests are handy because they greatly minimize human error when sighting in guns. A shooting rest helps get sighted in faster with fewer rounds in order to start hitting the bullseye, saving time and money, making it one of the best gifts for deer hunters.
The lead sled isn't any ordinary shooting rest though, it is highly adjustable to fit just about any shotgun or rifle. It has a spot to place weights so the rest does not move when shooting. It also has fine adjustment knobs so looking down your gun when sighting in has zero strain. Instead of adjusting your body to the firearm, this rest adjusts to your body.
Fourth Arrow Deer Hunting Camera Arm Gift
Whether the hunter in your life is a professional videographer, or a hobbyist wanting to capture their hunting adventures, this camera arm is one of the best for improving video quality while maintaining mobility. Fourth Arrow makes one of the best camera arms that is affordable yet durable. This arm is a solid base, preventing 'wiggle' for professional-looking video, keeping the hunting memories alive and well long after the season has ended.
Fourth Arrow has a great reputation in the outdoor industry for great camera arms that create leveled and smooth footage even on awkward trees. This camera arm features loads of adjustments and can handle up to 10 lbs. of camera gear weight. It's made of lightweight aluminum too so it won't weigh you down while hiking out to your stand.
Check Amazon's Price
ScentLok Savannah Aero Quickstrike Deer Hunting Coverall
ScentLok uses carbon alloy technology (activated carbon) for maximum odor adsorption. Activated carbon naturally adsorbs human odor because it has a huge surface area. When used properly Scent-Lok activated carbon clothing is very effective at reducing odor and preventing animals from smelling the hunter. 
Another benefit is that a coverall does not have anywhere for human scent to escape at the waist like regular clothes, this adds for even more scent-control and is why this is my favorite piece of clothing in my scent control regimen.
Check Amazon's Price
Original L.L. Bean Hunting Boot
Originally released in 1912, this is the original hunting boot and is still handmade in Maine. With a moccasin-like design, you can really feel the environment underfoot in order to be as quiet as possible. The leather wrap molds to your leg ensuring a solid fit. An upgraded sole provides better durability and traction. These boots are time-proven and very comfortable making them one of the best gifts deer for hunters.
This boot is water-resistant and a little more breathable than rubber due to the breathability of the leather, this is a great boot for all early/mid-season outdoor activities. I would suggest getting this 16" tall boot for hunters because it will allow hunters to cross shallow streams and creeks without going over the boot. It will also keep dew from tall grasses from soaking the legs on early morning hunts or after rain events.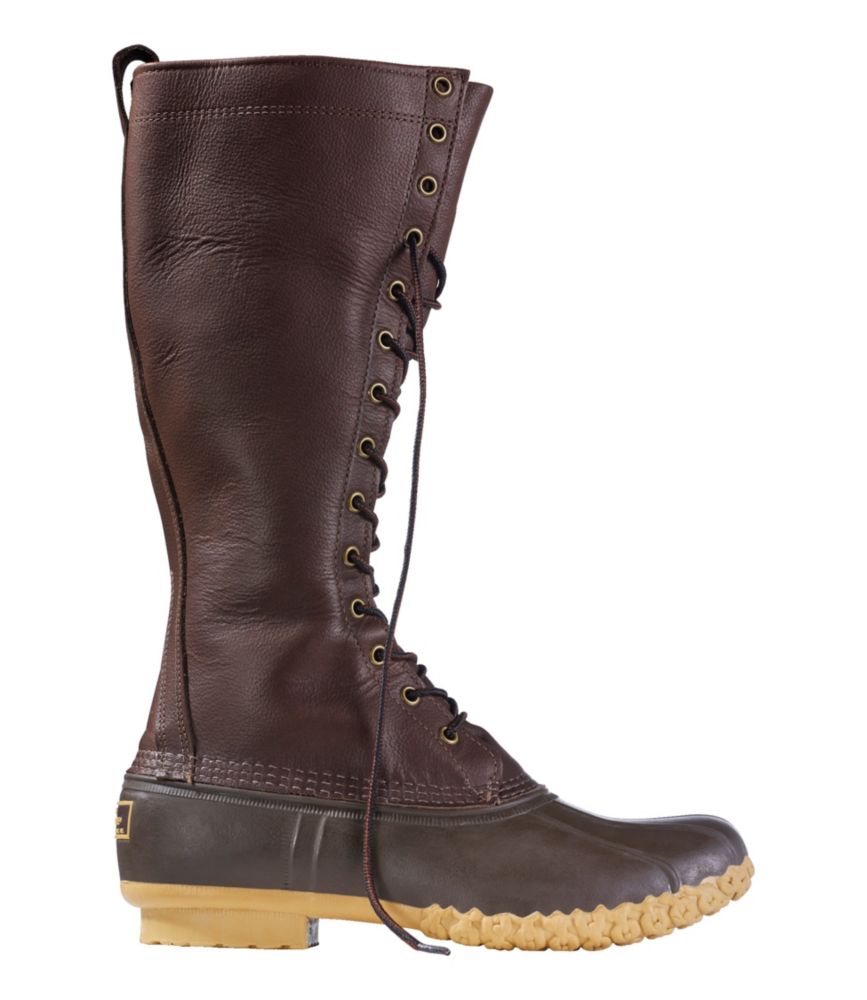 Mobile Climbing Sticks Gift For Deer Hunters
Climbing sticks are easily one of the best gifts for a mobile hunter. The best climbing sticks are lightweight, durable, interlocking, quiet, and easy to transport, pieces of ladder that will get you in the most awkward of trees safely. There are also many 3rd party attachments that be added to climbing sticks for ultimate customization.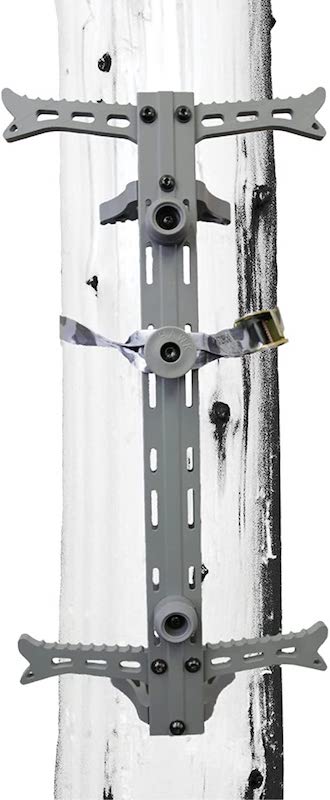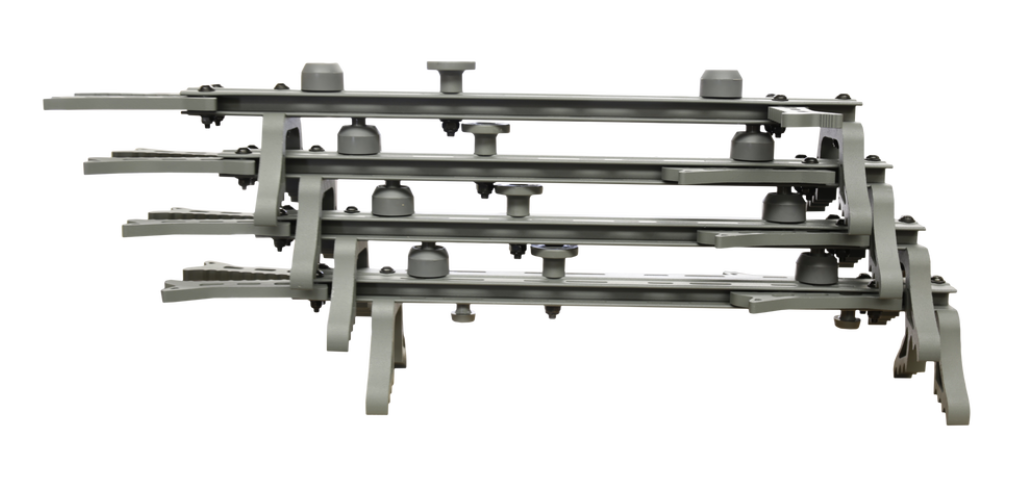 | | | | | | |
| --- | --- | --- | --- | --- | --- |
| Model | HAWK Helium | EWO Ultralight | Shikar FXD | Tethrd One | D'Acquisto Full Sticks |
| Award | Best Budget | Best Value | Well-Rounded | Best Mobile | Best Full-Sized |
| Price Per Stick* | 28.00 | 90.00 | 115.00 | 110.00 | 115.00 |
| Weight Per Stick (lbs) | 2.5 | 1.6 | 1.6 | 1.0 | 2.4 |
| Stacking Height Per 4-Sticks (in) | 9.3 | 10 | 8.1 | 7.3 | 4.6 |
| Stacking Length Per 4 Sticks (in) | 27 | 23.5 | 22.0 | 21.5 | 36.0 |
| Step To Step (in) | 17 | 18 | 20.0 | 17.3 | 14.0 |
| Footroom (in) | 3.5 | 4.9 | 4.0 | 3.5 | 4.5 |
| Availability | Shop Amazon | Shop EWO | Shop OOAL | Shop Tethrd | Shop Lone Wolf CG |
*Price at the time of this post
Meat Smoker Gift For Deer Hunters
Meat smokers are the ultimate gift because they are the gift that keeps on giving. This meat smoker is easy to monitor and control and has a removable ashtray for easy cleanup. This meat smoker has three smoking racks so a good amount of meat can be smoked at one time. Who knows, maybe you'll benefit from the gift as well!
Best Rangefinders For Hunting
There is a lot to like about the Leupold RX-1400i TBR/W. This rangefinder is one of the best rangefinders for hunting for the money because of the price and its ability to be used by both rifle hunters at long range and bowhunters at close ranges. It has angle compensation and internal ballistic profiles.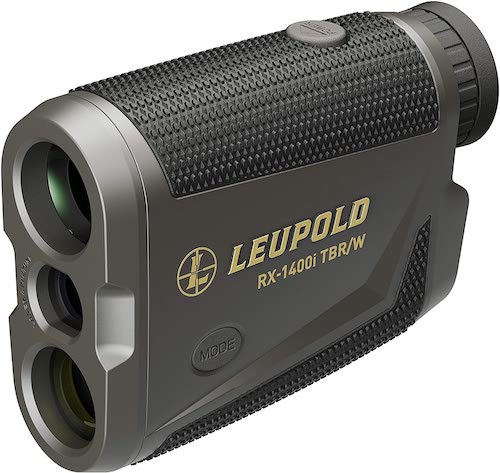 *Price at the time of this post
L.L. Bean Insulated Wool Deer Hunting Jacket
The natural fibers of virgin wool offer many great benefits. Virgin wool fibers are strong, insulating, odor resistant, water-resistant, moisture-wicking, excellent in snow, breathable, warm when wet, and quiet. There's a reason why Maine Hunting Guides swear by wool, it works.
This L.L. Bean wool jacket is one of the best gifts for deer hunters because it can be used in a wide array of settings and weather conditions. In addition to the wool, this jacket has added liners to improve wind-proofing and insulation making it a very warm jacket to fight off the elements. This jacket is very versatile making it a top choice for hunters. It comes in classic plaid color options and is fitted loose for layering.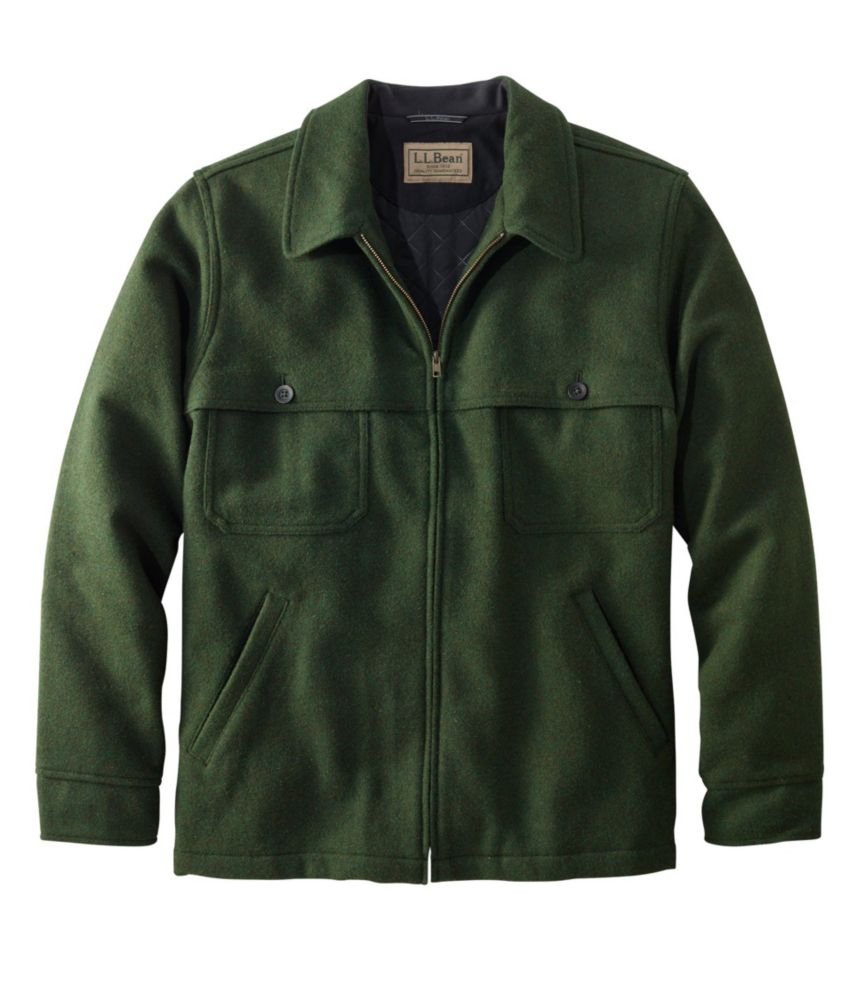 Cold Weather Deer Hunting Boots
Nothing ruins a hunt faster than cold, wet toes! When winter hits it can be hard to maintain comfortably warm feet. These Cabela's Trans-Alaska Pac boots are for hardcore cold-weather hunters that will be stationary for long periods of time. They are waterproof, breathable, have removable liners, offer 3" of material between your feet and the ground, and more. For additional warmth, I recommend getting boots sized slightly larger than normal.
Best Deer Hunting Binocular Gift
Whether you're looking to buy for a waterfowl hunter, deer hunter, turkey hunter…etc. binoculars are a handy tool.
I tested 14 different hunting binoculars from all price ranges to see which binoculars were the best value for the money. IMO the Athlon Midas binoculars were by far the best value. You can check out my video review below:
| | | | | | |
| --- | --- | --- | --- | --- | --- |
| Binocular Model | Vortex Diamondback HD | Athlon Midas ED | Athlon Midas G2 UHD | Vortex Razor UHD | Swarovski EL |
| Award | Best Budget | Best For The Money | Runner Up For The Money | Excellent High-End | Best Overall |
| Price* | 239 | 265 | 299 | 1500 | 2200 |
| Availability | Shop Amazon | Shop Amazon | Shop Amazon | Shop Amazon | Shop Amazon |
*Price At Time of Post
Best Gifts For Deer Hunters Under 500$
SITKA Gear Silent Fleece Deer Hunting Backpack Gift
The Sitka Gear backpack is a great option for deer hunters because of how quiet it is due to the fleece material. There are not many backpacks on the market with this quiet feature.
This backpack makes a hunter much more stealthy on the way to a treestand and reduces noise when rummaging around for an item within the backpack when in the deer stand. Other backpacks are made of noisy nylon material that makes loud scratching noises when touched against the brush.
GoPro Hero 10 For Filming Deer Hunts
The new GoPro's are fantastic for capturing hunts on film. They are one of the greatest gifts for duck hunters looking to get into filming hunts. The new internal computerized gimbal-like stabilization makes the footage look buttery smooth even with excessive movement.
Not only do they have great stabilization but they also have 5K video, slow motion, and much more. The GoPro Hero 10 black has 5.2k video, 20 MP photos, a FAST brand new processor (finally), and also has excellent stabilization.
Compound Bow Package Gift For Deer Hunters
Compound bows are a lot of fun to shoot and to hunt with. Additionally, in many states hunting with a bow allows hunters to extend their hunting seasons significantly. Compound bows are very accurate, and with a little practice, they are easy to learn how to shoot. For a very reasonable price you can get a ready-to-shoot, high-quality compound bow bundle.
This Bear Archery Cruzer G2 is a great bow because it is highly adjustable and can grow with the hunter for a lifetime! The draw length is adjustable from 12" to 30". The adjustability in draw weight from 5 lbs to 70 lbs is also incredible. This bow can literally fit anybody and mold to any experience level. I've personally shot some Bear Archery bows and really like their smooth draw cycle.
Check Amazon's Price
Sitka Fanatic Insulated Fleece Jacket Deer Hunting Gift
Specifically designed for the deer hunter, the Sitka Fanatic Fleece jacket has all the things you love about fleece-like warmth, comfort, and silence. It also has specifically designed pockets for bowhunting tools like rangefinders and calls.
This jacket has a built-in hand muff, a high neck to cut the wind, and a built-in treestand harness leash port. The Gore-Tex and Windstopper fabrics prevent wind from penetrating the fleece making it incredibly warm during cold hunts.
Because Sitka specifically designs gear for whitetail hunters, this fleece is one of the best gifts for deer hunters. This will likely be the last fleece a whitetail hunter will ever need!
Sitka Fanatic Insulated Bibs Deer Hunting Gift
The Fanatic Bibs are designed to be worn with the Fanatic Fleece Jacket for ultimate warmth. The bibs offer the same benefits as the jacket, but for the lower half. These two articles of clothing combined offer an incredible amount of warmth.
Bibs have always been one of the best ways for hunters to stay warm when hunting. Big heavy pants keep the lower half warm. The benefit of the Fanatic Bibs is they're designed to be quiet, and have many pockets, as well as Gore-Tex and Windstopper fabrics to really prevent the elements. This makes a great gift for the cold-weather deer hunter.
Vortex Spotting Scope For Deer Hunting
Spotting scopes offer a little extra reach than binoculars. When binoculars aren't up for the task it's time to break out the spotting scope. Being able to see animals at longer ranges than binoculars makes spotting scopes fantastic tools for scouting and hunting.
Vortex makes great quality glass and suggests them for spotting scopes as well. Again, you've got to appreciate that lifetime warranty. If you're buying for a hunter who hunts or scouts in vast landscapes and needs extra reach, a spotting scope makes a great gift.
Chest Freezer Gift For Deer Meat Storage
Chest freezers are great gifts for deer hunters or any hunter for that matter because it offers an easy place to store meat without taking up the entire daily-use freezer in the kitchen.
Best Gifts For Deer Hunters Over 500$
OZonics OrionX Ozone Scent Eliminator 
OZonics OrionX Ozone Scent Eliminator is easily one of the absolute best gifts for deer hunters because when placed next to the hunter in a treestand, it completely removes human order with Ozone. This tool removes one of the biggest challenges deer hunters face – a deer's nose, which can smell human scent over 1/4 mile away.

Check Ozonics' Price Check Amazon's Price
Garmin In-Reach Backcountry GPS For Deer Hunting
With an affordable subscription, the Garmin In-Reach GPS has many benefits for remote hunters: The benefits of this GPS over others is that it offers an emergency SOS feature and texting without service! The InReach uses satellites to send and receive messages instead of cell towers.
The In-Reach GPS gives the gift of peace of mind when hunting in remote backcountry situations, making it one of the best gifts for backcountry hunters. 
Another great feature of this GPS is that it comes with a pre-downloaded topo map of the U.S. For this reason, the map can also be used without service. The off-grid capabilities of the Garmin InReach are unmatched for the price.
Yeti Tundra 125 Cooler
The Yeti 125 cooler is one of the best gifts for deer hunters or fisherman that need to keep things cold. This cooler has thick 3-inch insulation in order to keep things cool for a long time as you'd expect from Yeti. In addition, this cooler is 'certified bear-resistant' meaning that it is extremely durable and can stand up to the toughest deer hunting trips.

Budget Sony 4K Video Camcorder For Filming Deer Hunts
Sony makes excellent video cameras, the AX100 is no exception. For the price, this camera has a lot of pro features. It has a 1" CMOS sensor which allows it to film in very low light situations. It also supports 4K video and 120 FPS slow motion. This is a one-stop-shop video camera for a hunter starting to film their hunts making it one of the best gifts for hunters.
Although it may seem somewhat pricey for someone that is new to videography when you buy this camera you don't have to buy many add-ons like you do with DSLRs or mirrorless cameras (primarily lenses which often cost more than the camera). All is said and done, this camera ends up being much less and will get you professional-looking quality. The one benefit of DSLRs and mirrorless is that you get a more cinematic look, but they are also more difficult to film with than camcorders.
Sony A7IV For Filming and Photographing Deer Hunting 
The one benefit of DSLR/mirrorless cameras is that you can achieve a much more cinematic, customized, and professional look. They also have the ability to be much better in low-light situations than camcorders which can be very important in hunting situations.  Not only can they do video but they can take professional-quality photos as well.
If the hunter in your life is looking to capture hunting memories and take filming to the next level this Sony mirrorless camera is an excellent choice. You might like my blog post: How To Choose The Best Video Cameras For Hunting | Filming Your Hunt for more information.
Conclusion
Now that you've read through this post I hope you've found some great gifts for the deer hunters in your life. If you still haven't found the deer hunting gifts you were looking for, you may find my other hunting gift idea posts helpful:
More Hunting Gift Ideas & Resources:
Find the perfect hunting gift faster by navigating to one of my more specific hunting gift idea articles:
Hunting Gift Idea Articles:
Related Gift Idea Articles:
Best Places To Shop For Hunting Gifts
Some great places to find hunting gifts include:
Find Me On: