These are the best of the best hunting saddles. The best for you will depend on your personal hunting style and what you value as a hunter. This article dives into the pros and cons of the top hunting saddles on the market this way you can narrow down which is suited best to your hunting style. Based on my experience, I also suggest what type of hunter I think would benefit most from each saddle.
I bought each of these saddles with my own money to test them out. If you're looking for more info on any of these saddles I did a more in-depth review on each of the saddles mentioned in this article. You can find links to the full reviews within the paragraphs below.
This post contains Amazon and other affiliate links, which means I'll receive a commission if you purchase through my link, at no extra cost to you. Of course, you are not obligated to use my links, but it does help fund these posts in hopes of bringing more value to you!
JX3 Hybrid (Most Comfortable Hunting Saddle)
JX3 Hybrid Pros
The pros of this saddle are that you can stay comfortable in your saddle all day with ZERO pain points. This is because the JX3 Hybrid seat does not cause any hip pinch or knee fatigue due to its unique design. Additionally, it has the best back support on the market which makes this saddle feel like a recliner in a tree. You get all of the mobility benefits of a conventional saddle but with more comfort.
JX3 Hybrid

Cons
The cons of this saddle are that it is bulky and a bit heavy (+/-14 lbs). It feels lighter than it is because it comes with backpack straps attached to it for transport. However, it can be tricky getting it deep into the woods with all of your other gear quietly. I've left it at the base of a tree a few times so I wouldn't have to lug it into the woods every day.
Who This Saddle Is For
The JX3 Hybrid is for those who value comfort over everything else. It's for those who don't mind the extra weight, bulk, and noise as long as they will be comfortable once they get situated. For this reason, the JX3 Hybrid is a powerful tool for all-day sits during the rut. The trade-off here is comfort for bulk.
You can check out my full review here: JX3 Hybrid Saddle Review.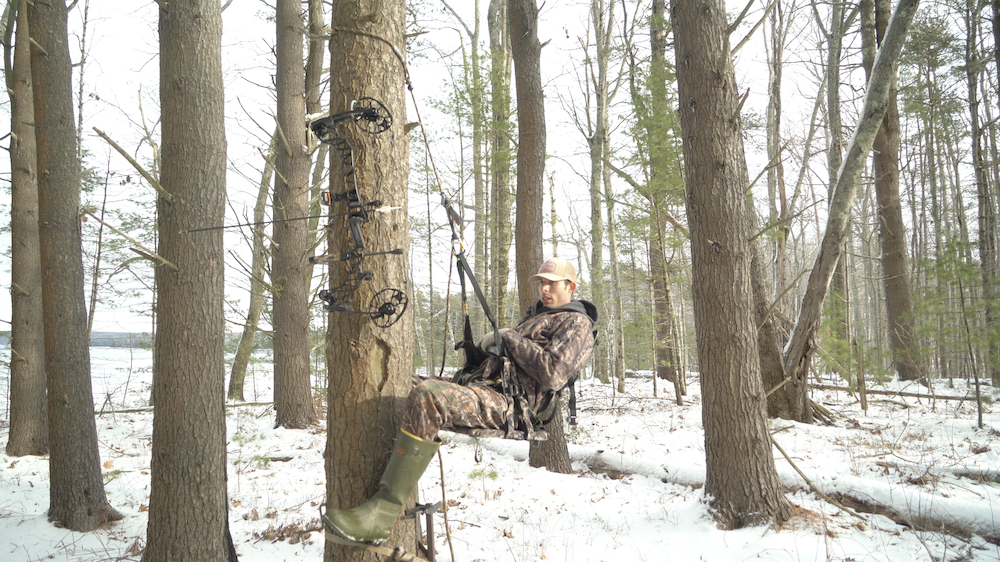 Dryad Drey Hammock (Best Comfort + Minimalist Saddle)
The Drey is very comfortable and gives the JX3 Hybrid a run for its money. This saddle is much more lightweight and packable than the JX3 Hybrid and is almost as comfortable (although not quite as comfortable). However, you still get 80+% of the comfort. In most cases, it is worth the reduced comfort for much greater mobility and stealthiness.
Dryad Drey Hammock Pros
The pro of the Drey Saddle system is that you get a lightweight minimalist saddle with some of the best comfort on the market. You can use it like a conventional saddle, or wrap yourself up into a cacoon to have additional support and relief.
Dryad Drey Hammock

Cons
A con of this saddle is that when the tree is between your legs when you are sitting, the hammock can cause some pinching. This is especially true for larger trees. The hammock wants to push your knees together. It is a better experience to rest your knees on the trunk instead. For this reason, you may want knee pads for long sits.
Who This Saddle Is For
The Drey is for the saddle hunter who wants a small, compact saddle with as much comfort as possible. In some cases, the comfort comes at the cost of maneuverability (like in the cocoon) but it is worth having for extra relief during long hunts.
You can check out my full review here: Dryad Drey Hammock Review.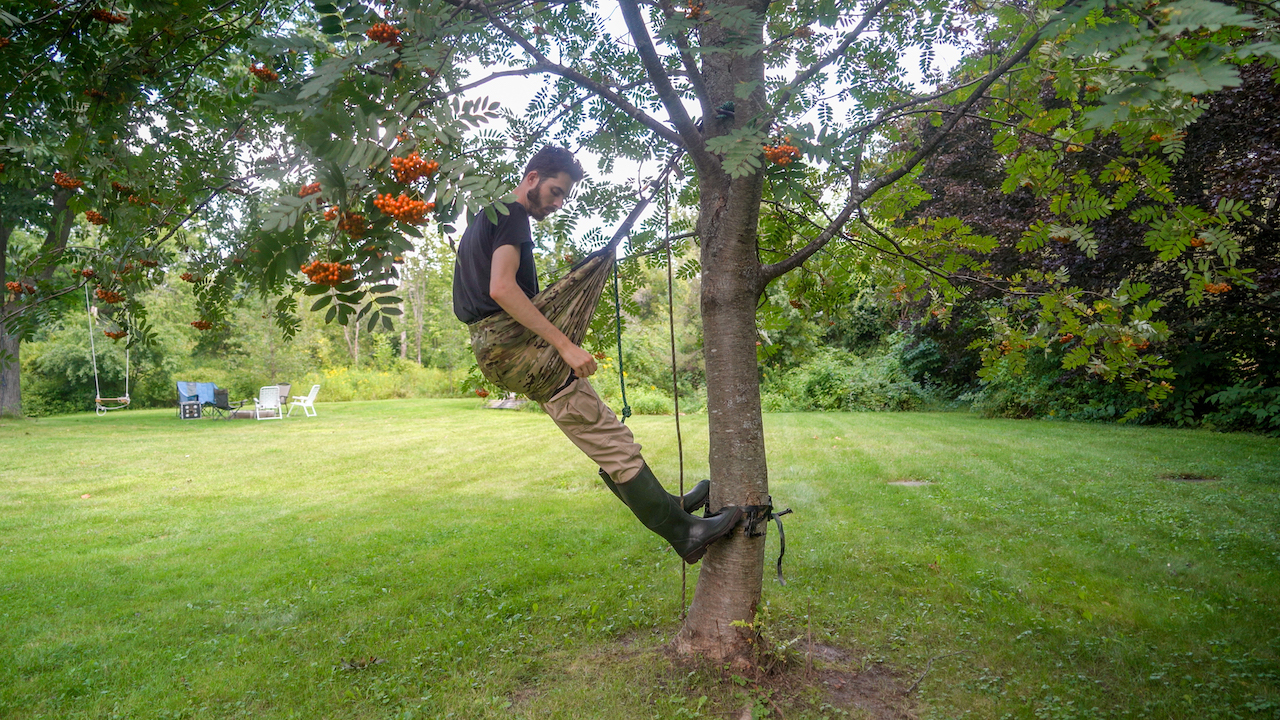 CRUZR XC (Most Well-Rounded Hunting Saddle)
The Cruzr XC is a more conventional hunting saddle. It is known in the saddle hunting world as being one of the most comfortable conventional single-panel saddles. Because of this claim, I had to buy it to test it out myself.
CRUZR XC Pros
The XC was indeed by far the most comfortable conventional saddle I've tried (single panel or double panel). It is more comfortable than the Drey for sitting with the tree between your legs.
It has an adjustable bridge length and bridge pitch. The adjustable pleats are also a game-changer when it comes to added comfort. With these adjustment options, there is no hip pinch which single-panel saddles are notorious for. For this reason, the Cruzr XC is one of the hunting saddles on the market.
CRUZR XC

Cons
The only con with this saddle is it does not have back support (although you can buy one separately). The added back support does help for long hunts but it is not as good as the JX3 Hybrid or Drey hammock.
Who This Saddle Is For
The Cruzr XC is for beginners and veteran saddle hunters alike. Both will love this saddle for its simplicity, comfort, and well-roundedness all in a lightweight and mobile package. This saddle is great for sitting and leaning.
You can find that review here: CRUZR XC Review.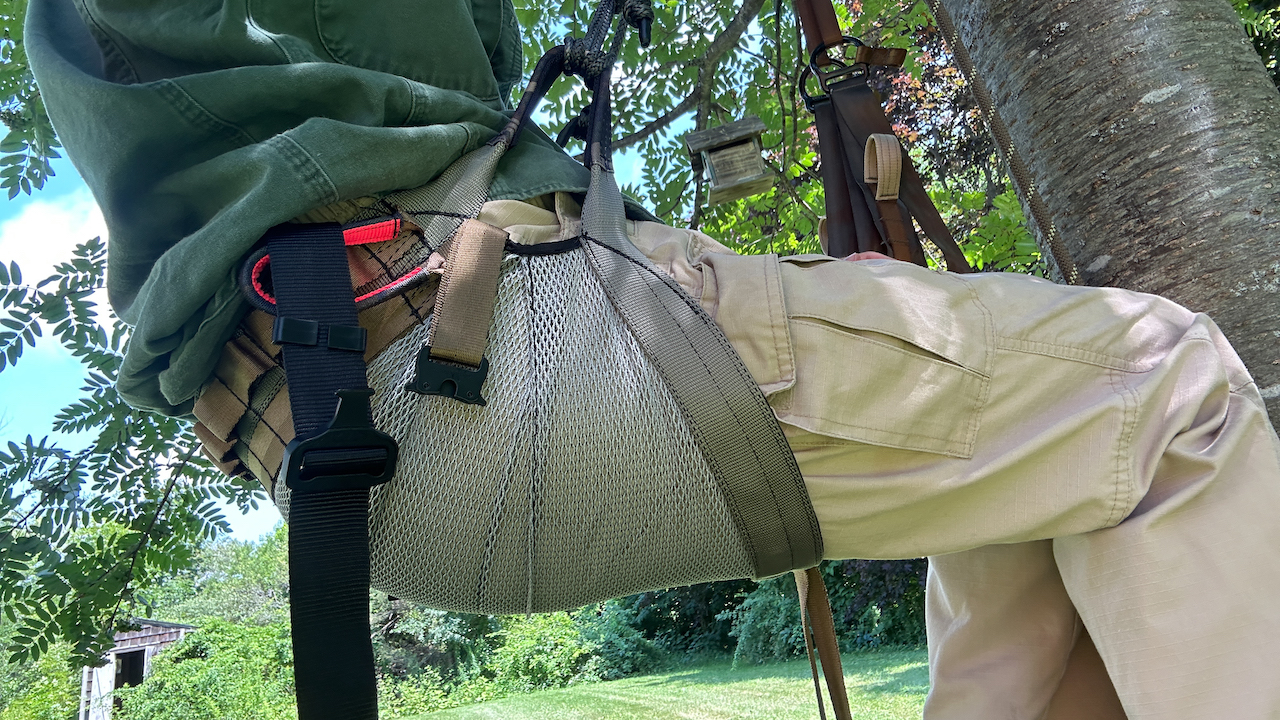 More Saddle Hunting Resources:
Hopefully, you found this review of the best hunting saddle helpful. Find more saddle hunting information easily by navigating to one of my more specific articles:
More Saddle Reviews (Hands-on)
Saddle Hunting Gear & Buying Guides
Best Brands To Look For When Buying Hunting Saddles
Tethrd

JX3 Outdoors

Cruzr

New Tribe Aero Hunter
Best Places To Shop For Saddle Hunting Gear
Some great places to find saddle hunting gear include:
Find Me On: