In this post, you'll find 20 cool gifts for hunters in 2023. The gifts in this post are unique, interesting, and fun which gives them that extra cool factor. Also, the gifts within this post are semi-sorted by price so you can find a cool hunting gift within your budget.
This post contains Amazon and other affiliate links, which means I'll receive a commission if you purchase through my link, at no extra cost to you. Of course, you are not obligated to use my links, but it does help fund these posts in hopes of bringing more value to you!
Without further ado, here are 20 cool gifts for hunters:
Electric Lighters Are A Cool Gift For Hunters
Electrical lighters are flameless and require no gas or butane making them an excellent choice for getting a fire started in poor conditions. This lighter is waterproof, windproof, and made from PVC and Zinc alloy for durability. It's an interesting, unique, and functional gift making it one of the coolest gifts for hunters for the price.
Cool Wood Printed Hunting Photograph Gift
Another cool gift for hunters is getting one of your favorite hunting photos printed on a slab of wood. The combination of a personalized photo on a unique slab of wood picture frame also makes for one of the best Christmas gifts for hunters.
Knife With Replaceable Blade
The Havalon knife is one of the coolest gifts for hunters because it offers razor-sharp replaceable blades which are as sharp as surgical blades.
You can get different blades. For example, there are regular blades, gut hooks, and saw blades for versatility and other hunting-related purposes which makes them unique.
Additionally, Re-sharpening a knife is time-consuming and inconvenient, with the Havalon you can easily replace the blade at any point during the field-dressing process.
Programmable Electronic Game Caller
An electronic game call not only makes a great gift for a predator hunter, but also for a hunter of many other game species. These electronic game calls are cool gifts for hunters because they come with a function that lets you download new sounds.
Additionally, you can download custom sounds so that they can be used for any type of hunting. This call can play 2 sounds at the same time and has a 300-yard remote range.
Tactacam 5.0 Action Camera Cool Gift For Filming Hunts
The Tactacam is a cool gift for hunters trying to get interesting angles. A Tactacam is an action camera that is weatherproof, image-stabilized, 4K, offers 120 fps slow motion, and has 8x zoom. The zoom is a great feature and is something that lacks in the GoPro.
The Tactacam cameras are versatile and are easily mounted to scopes and bows in order to easily capture hunts. They also make a great backup in addition to the main camera to ensure you get the moment of truth on film.
Tactacam FTS (Film Through Scope) Hunting Gift
The Tactacam FTS is an attachment for the Tactacam. It is a cool gift for hunters because it enables a Tactacam to attach to scopes and film through the scope.
This means the magnification of your scope will allow the Tactacam to be magnified as well, allowing the hunter to zoom in extra far. The Tactacam FTS fits just about all scopes. For this reason, it makes a perfect gift for hunters who want to get cool video angles.
Trail Cameras Make Cool Hunting Gifts
Trail cameras are cool gifts for hunters because cameras allow you to see the interesting things happening in the woods. Every hunter loves to look through the new photos captured in these areas to see what's going on.
The Browning Spec Ops Elite HP4 is a cool trail camera with some great specs. For example, it has:
This criterion makes this camera perfect for backcountry hunters that can't replace batteries often. Additionally, this camera was awarded one of the best trail cameras for the money in my reviews of trail cameras.
The HP4 also takes 1080p Full HD video up to 60 fps. With the fast trigger speed and high frame rate of this camera, there should be virtually no blurring in photos with movement.
Cellular Trail Cameras Are Cool Gifts For Hunters
A cellular trail camera is one of the coolest gifts for hunters because photos get sent wirelessly to your devices. This means you don't have to physically check your camera in person, saving hunters a lot of time. With regular trail cameras, you need to check your camera physically which can be time-consuming and inconvenient.
As far as cellular cameras go, this Browning Defender Wireless Pro Scout is one of the best cellular trail cameras for the money. It takes quality images, has a 90 ft detection range, has a fast recovery time for a cellular camera (26s), and has an impressive 10.5 months of battery life (for a cellular trail camera).
If you're looking for the next step up from the Spypoint cellular cameras, the Browning Defender Wireless Pro is an excellent option. For a lot of people, the extra performance of this camera is well worth the price.
Check Amazon's Price
Fourth Arrow Camera Arm Gift For Filming Hunts
Whether the hunter in your life is a professional videographer, or a hobbyist wanting to capture their hunting adventures, the Fourth Arrow camera arm is a cool gift for hunters looking for a quality camera arm. Fourth Arrow makes one of the best camera arms that is affordable yet durable. This arm will keep cameras sturdy for professional-looking video.
Fourth Arrow has a great reputation in the outdoor industry for great camera arms that create leveled and smooth footage even on awkward trees. This camera arm features a lot of adjustments and can handle up to 10 lbs of camera gear weight. It's made of lightweight aluminum, so it won't weigh you down while hiking out to your stand.
Check Amazon's Price
Climbing Sticks Are Cool Gifts For Mobile Hunters
Easily one of the coolest gifts for a mobile hunter. The best climbing sticks are lightweight, durable, interlocking, quiet, and easy to transport, pieces of ladder that will get you in the most awkward of trees safely.
They are cool because they are effective, efficient, and customizable which is what mobile hunters are looking for in climbing sticks. There are many 3rd party attachments that be added to climbing sticks for ultimate customization.

Howard Leight Sound Amplification Hearing Protection
The Howard Leight earmuffs are cool gifts for hunters because they have an adjustable amplification knob so you can still have conversations. However, as soon as the noise is too loud, the headphones will automatically block it. Now there is no reason to not wear hearing protection.
Hearing protection is one of the best gifts for duck hunters. Keeping the ears protected during repeated shooting is essential for hearing longevity. If you know someone who needs a good pair of hearing protection they'll appreciate it, and even more so in the long term.
Cool Rangefinders For Hunting
Rangefinders are cool gifts for hunters, especially ones that take all of the guesswork out of shooting. For example, automatic angle compensation calculations and ballistic profiles allow the device do the hard work so you don't have to think about it in the moment of truth.
The Leupold RX-1400i TBR/W is one of these rangefinders which makes these calculations, making it a great option for both rifle hunters and bow hunters. For this reason, it is one of the best rangefinders for hunting for the money.
Hunting Smartwatches Are Cool Gifts For Hunters
Hunting smartwatches are one of the coolest gifts for hunters in 2023 because of their customizability and abundance of cool hunting features. For example, smartwatches are helpful tools for hunters because they have GPS, ABC (Altimeter, Barometer, and a Compass), weather, sunrise times, sunset times, moon phases…and much more.
My article 7 Best Smartwatches For Hunting In 2023 Reviewed and Compared will help you choose the right smartwatch for the hunter in your life.
The Garmin Instinct Solar is one of the best smartwatches for the money on the market. The screen has an integrated solar panel so the battery lasts longer between charges.
Binoculars Are Cool Gifts For Hunters
Binoculars are handy tools for pretty much every type of hunting. They are cool gifts for hunters because quality glass makes a big difference in a hunter's ability to see animals when hunting, especially in low-light conditions.
I tested 14 different binoculars from all price ranges to see which binoculars were the best value for the money. In my opinion, the Athlon Midas binoculars were by far the best value. You can check out my video review below:
Spotting Scopes For Hunting
When binoculars aren't up for the task it's time to break out the spotting scope. It's very cool to see animals at long ranges and makes spotting scopes important tools for scouting and hunting.
Vortex makes great quality glass and suggests them for spotting scopes. Again, you've got to appreciate that lifetime VIP warranty. If you're buying for a hunter who hunts or scouts in vast landscapes and needs extra reach, a spotting scope makes a very cool hunting gift.
Kestrel 5700 Ballistics Weather Meter with LiNK
Weather meters are cool gifts for hunters who like to shoot long-range because it takes into consideration ballistics and environmental data. It will then give you the calculations that you need to adjust your scope so that you're hitting accurately based on the current conditions. It's very cool that this meter can calculate so many variables for accurate long-range shooting.
Benjamin Marauder Bolt-Action PCP Air Rifle
The Benjamin Marauder is a cool PCP air rifle and is one of the best air rifles on the market for hunting. Air rifles are a cost-effective way to practice shooting and have fun doing so, which is what makes them one of the coolest gifts.
This is a bolt-action Marauder that comes with a 10-round magazine. Once you fill the air rifle with the air you will get about 30 shots before you need to refill your gun. This makes it a great option for hunting small game as well.
The Marauder gets up to 1000 FPS with .22 cal pellets. You also have the option to buy a .177 cal and .25 cal with the Marauder platform. The .25 cal will be slower (900 FPS) and won't shoot as flat but will have a lot of take-down power and is subsonic for quieter shooting. The .25 cal can deliver 50 FPE, making it very deadly.
Food Dehydrator (Jerkey Maker)
Jerky makers are another cool hunting gift and make for one of the best hunting gifts for him. Being able to make your own jerky from wild-game is a great way to change things up as far as wild-game consumption.
When making jerky you can flavor it to your liking. Because it's so tasty, it's a great way to introduce others to eating wild game. The Cosori dehydrator comes with 50 recipes and 6 trays for dehydrating. It's easy to use, and easy to clean.
Jackery Explorer 1000 Portable Power Station With Solar Panels
If you know a hunter who has a remote hunting camp that does not have electricity or looking for an alternative to a generator, these Jackery portable power stations are cool gifts for hunters. They are a long-lasting rechargeable battery with many outlets and plugs to recharge anything you might need.
They can be recharged via outlet, car, or solar power making them very versatile. They're great for backcountry or remote hunts to keep essential gear charged when there's no electricity.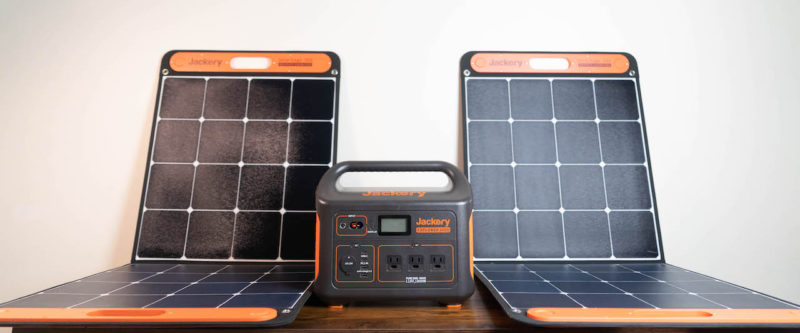 Sony Alpha 7 IV Full-frame Mirrorless Camera
DSLR/mirrorless cameras are cool cameras for filming hunts because you can achieve a much more cinematic, customized, and professional look. They also have the ability to be much better in low-light situations than camcorders which can be very important in hunting situations.  Additionally, they take professional-quality photos as well.
If the hunter in your life is looking to capture hunting memories and take filming to the next level this Sony mirrorless camera is an excellent choice. You might like my blog post: How To Choose The Best Video Cameras For Hunting | Filming Your Hunt for more information.
More Hunting Gift Ideas And Resources:
Hopefully, you found some cool gifts for hunters in your life. If you're looking for more hunting gift ideas you can find more within the articles linked below.
Hunting Gift Idea Articles:
Find the perfect hunting gift faster by navigating to one of my more specific hunting gift idea articles:
Related Gift Idea Articles:
Best Places To Shop For Hunting Gifts
Some other great places to find hunting gifts near you include:
Find Me On: